Where to Shop in Tokyo: Shinjuku, Harajuku, Ginza, Nakameguro, and More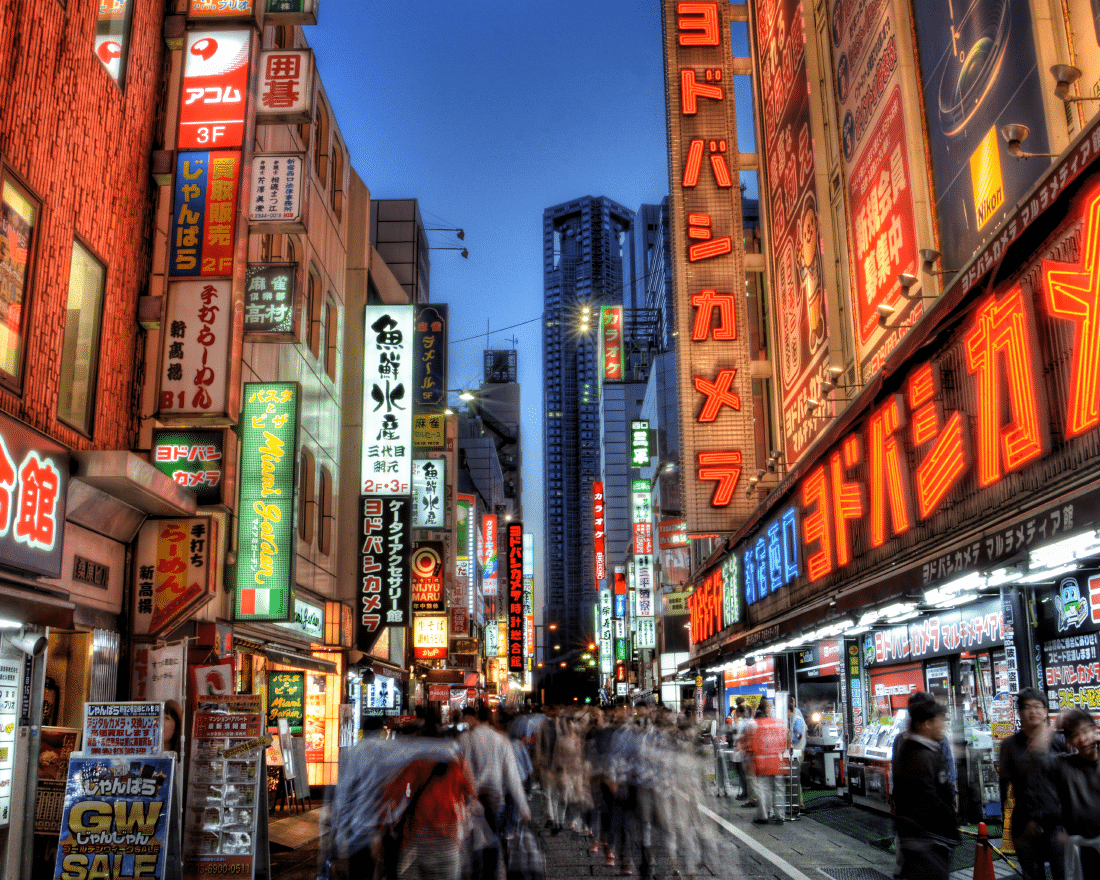 PUBLISHED September 14th, 2017 06:00 am | UPDATED February 6th, 2020 05:00 pm
When it comes to shopping, Tokyo has it all: wild uninhibited fashion as worn by the cool youth of Harajuku, vintage gems in Shimokitazawa, traditional crafts perfected through generations, gadgets only the Japanese could have dreamed up, rare otaku toys that bring you back to childhood days, and plenty more things you never knew you needed.
Beyond the ubiquitous department stores dotting the city, there are endless shopping streets – from lush boulevards lined with luxury brands to quaint alleyways filled with hipster-esque shops – around every district ready to dish out some much-needed retail therapy. To help you get the mood on, we've rounded up the best neighbourhoods in Tokyo to bust out the cash and plastic.
Shinjuku
Prepare to be overwhelmed the moment you step into Shinjuku, the one-stop shopping destination with a plethora of store offerings. Boasting the busiest train station in the world – itself a large shopping complex that serves more three million people a day – as well as two underground malls and a number of massive department stores, Shinjuku is a shopper's paradise once you get past the noise, lights, and mad crowds.
[button color="red" size="normal" alignment="none" rel="follow" openin="samewindow" url="https://prf.hn/click/camref:1011l8zrz/destination:https://www.vrbo.com/search/keywords:shinjuku-tokyo-japan"]Find accommodations in Shinjuku from US$36/night[/button]
Make sure to stop by Isetan, established in 1886 to become one of Japan's most respected department store brands, as well as the famous fashion mall Lumine for the latest women and men's fashion trends. Both buildings are connected to the train station. Find the large Bicqlo building nearby, a unique collaboration between Japanese giants Uniqlo and Bic Camera that sees a joint retail space with mannequins sporting both fast fashion and lifestyle electronics. If you're into Japanese street culture, the Beams flagship store in Shinjuku spans six stores of clothing, crafts, and art, with a branch of Sarutahiko Coffee, the dinky coffee shop from Ebisu, down on the ground floor.
Nearest train station: Shinjuku
Harajuku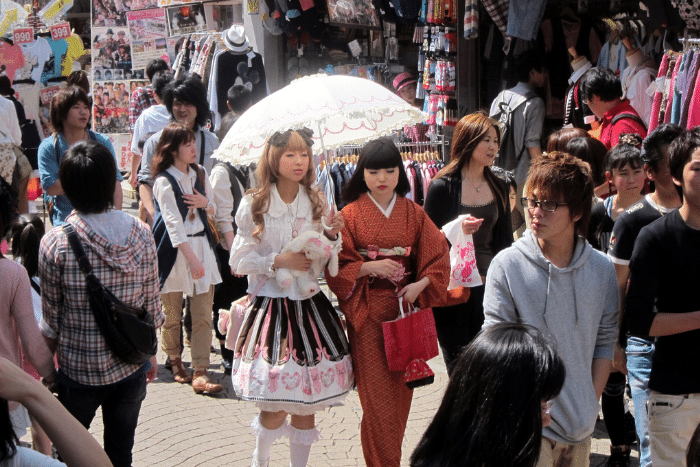 This neighbourhood, teeming with the famed Harajuku girls – and boys – in their kawaii clothes and eccentric accessories, is awesome for finding experimental and haute couture fashion. It is where you'll find Takeshita-dōri, the youthful shopping strip with countless small stores as far as the see, including many Japanese crepe stalls and purikura (also known as neoprint) shops. Get started at any of the numerous 100 yen accessory stores (a three-storey Daiso, anyone?) lining the street, as well as the vintage second-hand and novelty shops along the smaller alleyways.
[button color="red" size="normal" alignment="none" rel="follow" openin="samewindow" url="https://prf.hn/click/camref:1011l8zrz/destination:https://www.vrbo.com/search/keywords:harajuku-shibuya-tokyo-japan"]Find accommodations in Harajuku from US$43/night[/button]
Further down south is the stylish Omotesando Hills complex, a spellbinding tree-lined boulevard that's been nicknamed Tokyo's Champs-Élysées. The stores here are more sophisticated, combining haute couture with more eclectic brands to cater to a more mature clientele. Visit Studious' flagship store for the best of Japanese brands, including John Undercover, Jam Home Made, and White Mountaineering, 6%DOKIDOKI for decora-style clothing and accessories, and the Kyoto-based Sou-Sou for traditional Japanese wear.
Nearest train station: Harajuku
Akihabara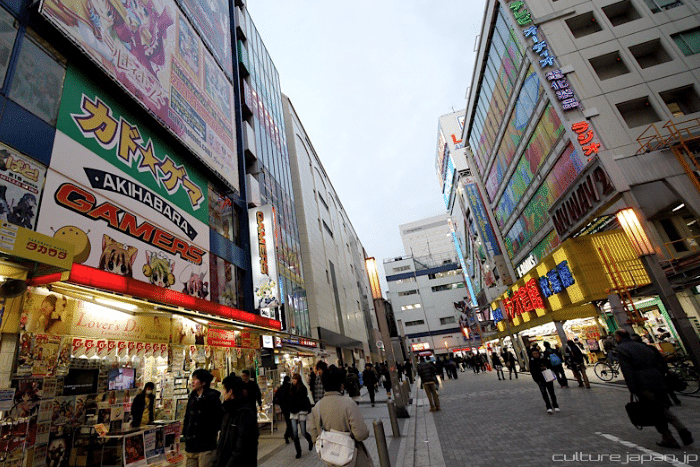 No doubt you've already heard of Akihabara, the Electric Town of Tokyo. Famous for being a haven for otakus and their obsession with all things Japanese geek culture, this district is also known for its abundance of cheap electronics and appliances, as well as arcades and maid cafés. Look out for the towering Mandarake Complex right next to the station, which is a sort of paradise for geeks. Think eight floors packed back to back with video games, anime figurines, manga, cosplay goods, toys, board games, and more.
If you're looking for electronic components and all manner of lifestyle gadgets, try the Yodobashi (the main competitor of Bic Camera) flagship store at the Showa-dori exit. Akihabara is also home to the fascinating under-the-train-tracks artisanal craft bazaar 2k540 Aki-Oka Artisan, and neighbours the nearby town of Jinbōchō – famed for having over a hundred used bookstores and publishing houses. Whether you're into boys or girls, don't miss a chance to visit the famed maid cafés, which doesn't exist anywhere else in the world. You won't need our help finding one – they'll find you.
Nearest train station: Akihabara
Shibuya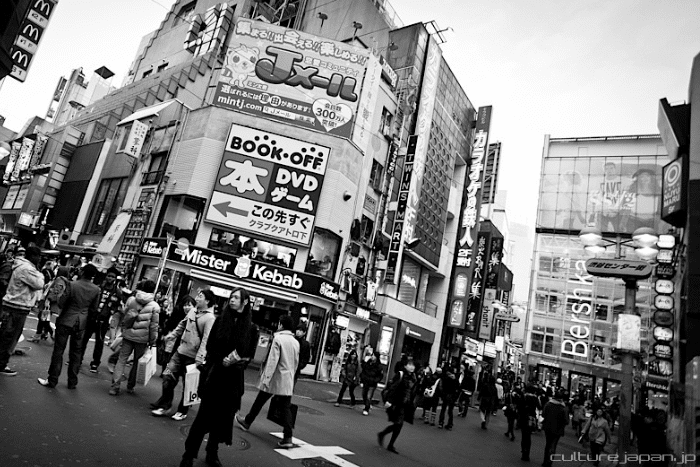 This one's for the youth and young at heart. Shibuya is full of fashionable and hip kids, as record stores and outrageous apparel shops abound. A must-visit is the Shibuya 109, situated right next to the iconic scramble crossing. A mecca for young women and schoolgirls, this is where you'll find a neon maze of independent fashion shops and beauty brands spread across 10 floors. The music is loud and the atmosphere tumultuous, but it's worth a visit. Head to Tokyu Hands and get lost amongst the floors of cute accessories, stationery, and homeware there, or walk along a quiet back street (towards Yoyogi National Stadium) to find Fake Tokyo and its collection of wild fashion by emerging and established Japanese designers, including Candy and Mikio Sakabe. You'll want to check out Okura for clothing and textiles inspired by traditional Japanese techniques and fabrics, from Kimono-motif jackets to Japanese-style socks and indigo-dyed sweaters by Blue Blue Japan. Consider yourself a well-dressed gent? United Arrow & Sons, with its wide array of in-house brands, collaborative pieces and other labels, is highly respected in the Japanese fashion industry.
Nearest train station: Shibuya
Ginza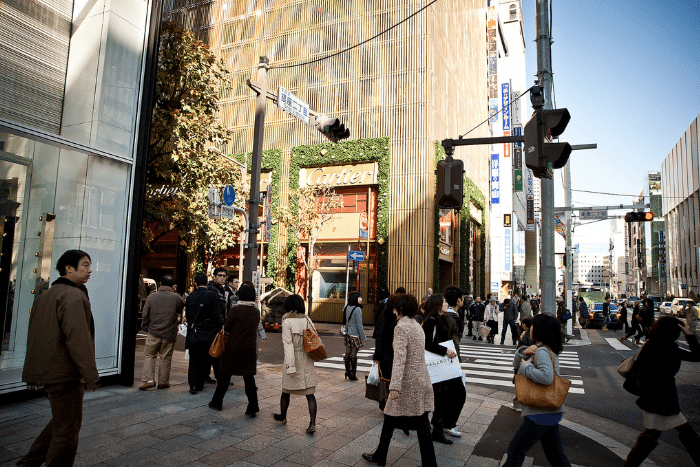 Perhaps the most glamorous district in Tokyo, Ginza is popular among the city's most affluent and home to posh boutique stores, high-street fashion labels, and the Mitsukoshi department store. Most of the action takes place along the kilometre-long Chuo-dori street, which closes to vehicles on weekend afternoons and public holidays. Just like New York, Fifth Avenue or London's Oxford Street, you'll see an array of international designers brands like MCM, Christian Dior, Louis Vuitton, as well as homegrown successes Issey Miyake, Dover Street Market, Yoshida Porter and indie cult brand Sacai. In between all the impressive facades and glitz also lie traditional craft businesses such as Takumi and its folk art, and the multi-storey Hakuhinkan Toy Park, one of Tokyo's biggest novelty toy store.
Nearest train station: Higashi-ginza
Nakameguro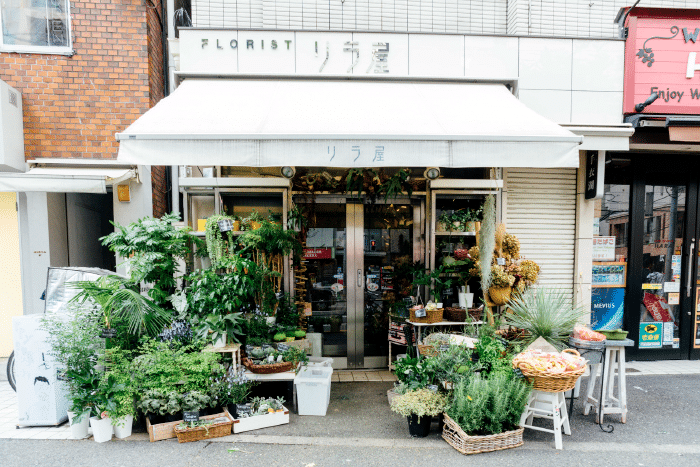 If there's one district on this list you've never heard about, it's Nakameguro with its sakura-tree-lined canal and large number of artisanal coffee shops, obscure clothing boutiques, and design stores. Primarily a residential enclave, the laid-back ambience here is a stark difference from its peers in the city. Head to Vase, an impeccably curated store that stocks avant-garde designers and vintage pieces for both men and women, or to 1LDK Apartments, a beautiful design store with minimalistic and abstract clothing by brands such as Cosmic Wonder and Hender Scheme. Don't leave before having a cup of coffee at the latter, before moving on to the plant-filled Roots to Branches space for its inspiring collection of ceramics and related products.
Nearest train station: Daikan-yama
Shimokitazawa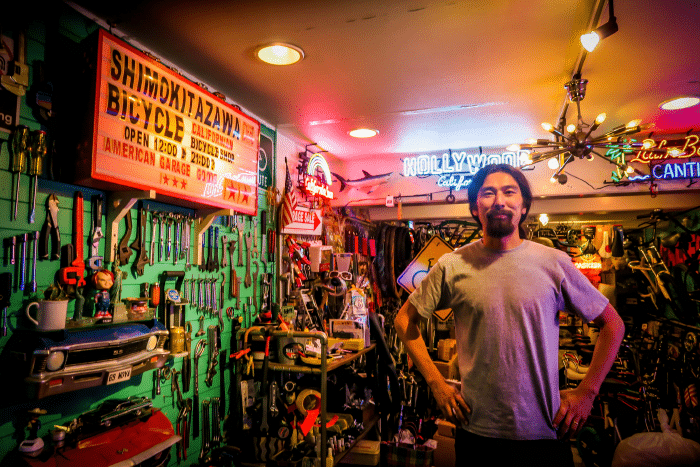 If you're a lover of all things second-hand, look no further than the cosy neighbourhood of Shimokitazawa and its mixed bag of clothing stores, record stores, and general vintage items. Take a whole day to explore the ins and outs of the district, on bike or by foot. We love Shimokitazawa Garage Department and Haight & Ashbury, the former for its wide array of individual second-hand stores and the latter for its Victorian-era embroidered dresses. There's also Ragtag, a thrift store like you've never seen before with an impressive brand list that includes Bape, Supreme, Neighbourhood, Visvim, APC, and Maison Margiela, all in almost-new condition. Don't be afraid to dig – you might just find a ridiculous steal. Shimokitazawa is also popular among the music buffs, due to its impressive number of record stores such as Disk Union and Otonomad, where vinyls start from just 400 yen per piece.
Nearest train station: Shimo-kitazawa
---
Like this article? Check out our Guide to Thrift Shopping in Shimokitazawa or our tips on a day trip to Yokohama. For accommodation in Tokyo, Keio Plaza has spacious room with a lovely Club Lounge in Shinjuku while HOSHINOYA Tokyo is a perfect modern ryokan experience.
Top Image: Harajuku, photo courtesy of DILLEmma Photography