Greek Food in Singapore: 6 Restaurants For The Best Of The Aegean Sea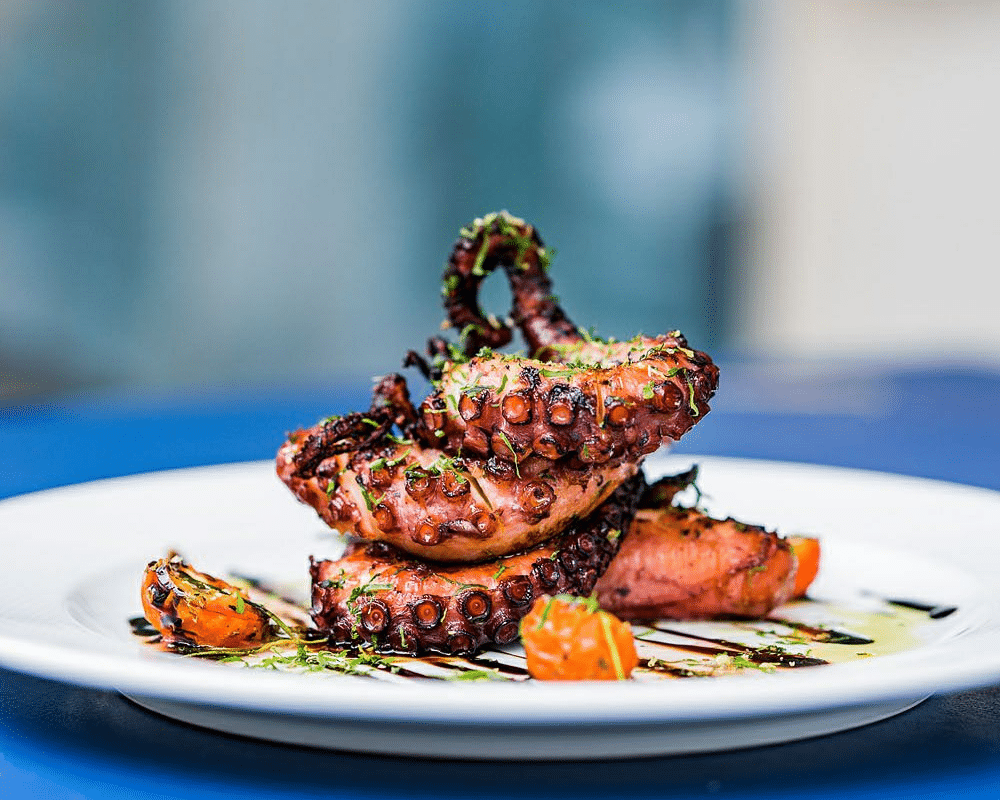 PUBLISHED October 2nd, 2017 03:00 pm | UPDATED December 22nd, 2017 02:31 pm
Wholesome, rich, and – to a large extent – healthy, it's no surprise that Singapore is slowly catching up on the Greek culinary scene, with establishments scattered across the city in hotspots like Amoy Street and Tiong Bahru. From yogurt dips and grilled octopus to saganaki, and paidaki, they've got it all. The only thing missing are the waves of the Aegean Sea lapping at your feet.
Alati

Alati, or "salt" in ancient Greek, first opened its doors in 2015 with a classic Mediterranean uniform of blue and white, serving up meticulous Greek dishes made painstakingly by hand, including the pastries, meats and bread. Fish, like the fantastic Grilled Seabass ($9.30 per 100g), are flown into Singapore overnight the moment they're caught at the Port of Chalkida. Executive Chef Ioannis Stefanopoulos also serves up a mean Greek Octopus ($39), grilled with vinegared onions and confit tomatoes, and a yummy Filo-wrapped Feta ($18) drizzled with greek honey and toasted sesame seeds. Read our review here.

Alati is located at 73 Amoy Street, Singapore 069892, p. +65 62216124. Lunch is available Mon-Fri, 12pm to 2.30pm and Dinner from Mon-Sat, 6pm to 12am.
Bakalaki

Bakalaki strays from the usual blue colour scheme as it pays tribute to the cheerful tavernas of Greece. Here, Executive Chef Spiros Palaiologos whips up a refreshing Horiatiki $20.90) salad with assorted fresh vegetables, as well as a fabulous goat's milk Halloumi ($16.90) – a real winner in our books. For a real summer treat, try the Kalamari Tiganito ($22.90), or bite-sized morsels of deep-fried squid that pairs amazingly with the premium Greek wines as well as inspired cocktails on offer. Read our review here.

Bakalaki Greek Taverna is located at 3 Seng Poh Rd, Singapore 168891, p. +65 6836 3688. Open Mon-Thu 6pm – 12am, Fri-Sun 12pm – 2.30pm, 6pm – 1am.
Mykonos on the Bay

It's not quite the Mediterranean sea, but dining at Quayside Isle's Mykonos on the Bay is the closest you'll get to being on the popular glamour island. There's an especially large variety of mezedes (hot and cold appetisers) here, including the classic Greek Salad (cherry tomatoes, crunchy cucumber, capsicum, red onion, Kalamata olives, $19) and Graviera Saganaki (pan-fried cheese with ouzo and lemon juice, $18.50). From grandma's recipe book comes the Moussaka ($27), a creamy 'casserole' of sorts with Greek eggplant, beef, and béchamel sauce that's just scrumptious.
Mykonos on the Bay is located at #01-10 Quayside Isle, 31 Ocean Way, Singapore 098375, +65 6334 3818. Open Mon – Fri 6.30pm – 11.30pm, Thu-Fri 12pm – 2pm, Sat-Sun 11am – 11.30pm.
Blu Kouzina

Besides Greek cuisine, Blu Kouzina's menu also sees a decent range of dishes from the lands around the Mediterranean sea, including Turkey, Libya, and the Levant. You'll find the same quintessential yoghurt, wheat, and vegetable staples – think olives, tomatoes, fresh seafood, and dairy – as well as meaty dishes like the marvelous Paidakia Stin Shara ($32.80), an exquisite medium-rare lamb chop served with mashed sweet potato, and the Kalamaki Souvlaki ($18.80) – beef kebab with fresh pita and some spectacular tzatziki yoghurt dip on the side. Be sure to check out the reasonably-priced list of Greek wines as well.

Blu Kouzina is located at #01-21, 10 Dempsey Rd, Singapore 247700, p. +65 6875 0872. Open Mon-Thu 6pm – 10pm, Fri-Sun 12pm – 2.30pm, 6pm – 10pm.
ERGON Deli + Cafe

Indulge in a hearty Mediterranean gastronomy introduction with ERGON's handpicked selection of premium Greek products, artisanal Greek coffees, and a modest range of hot foods and pastries. We recommend starting with a Mediterranean cheese or charcuterie board from $16, then go for a Spinach and Feta Cheese Pie ($9) or some Pastourmas – spicy pastrami and salami with fried egg and pepper spread on sourdough toast ($16). It's the desserts we're most impressed with, from the the shredded filo Kataifi ($8) with walnuts and syrup to the Revani Semolina cake ($8).
ERGON Deli + Cafe is located at Temasek Boulevard #01-365, Suntec Convention Center Entrance, Singapore 038983, p. +65 8360 3616. Open Mon-Fri 8.30am – 10pm, Sat-Sun 10am – 10pm.
Souvlaki Gyromania

For a sensational Greek meal with authentic gyros (a Greek meat dish, usually lamb and pork, cooked on a vertical rotisserie) and souvlaki, head down to Clarke Quay's Souvlaki Gyromania, where you'll see immense cones of fresh meat cooked rotisserie-style in front of you. Enjoy 200g of Chicken or Pork Gyros at just $18.80, while a special Salonika Beef Soutzoukakia (beef slices served with fried potatoes and yoghurt sauce) will set you back $22.80. Brilliant when paired with some housemade Tzatziki (yoghurt with cucumber, olive oil, and garlic, $3.40) and pita bread seasoned with paprika, sea salt, and oregano.
Souvlaki Gyromania is located at 9 Circular Rd, Singapore 049365, p. +65 9711 1298. Open Mon-Sat 11am – 10pm. Closed Sun.