Restaurant Review: Lucali BYBG Brings Brooklyn's Famous 18-Inch Pizza to Kampong Bugis, Singapore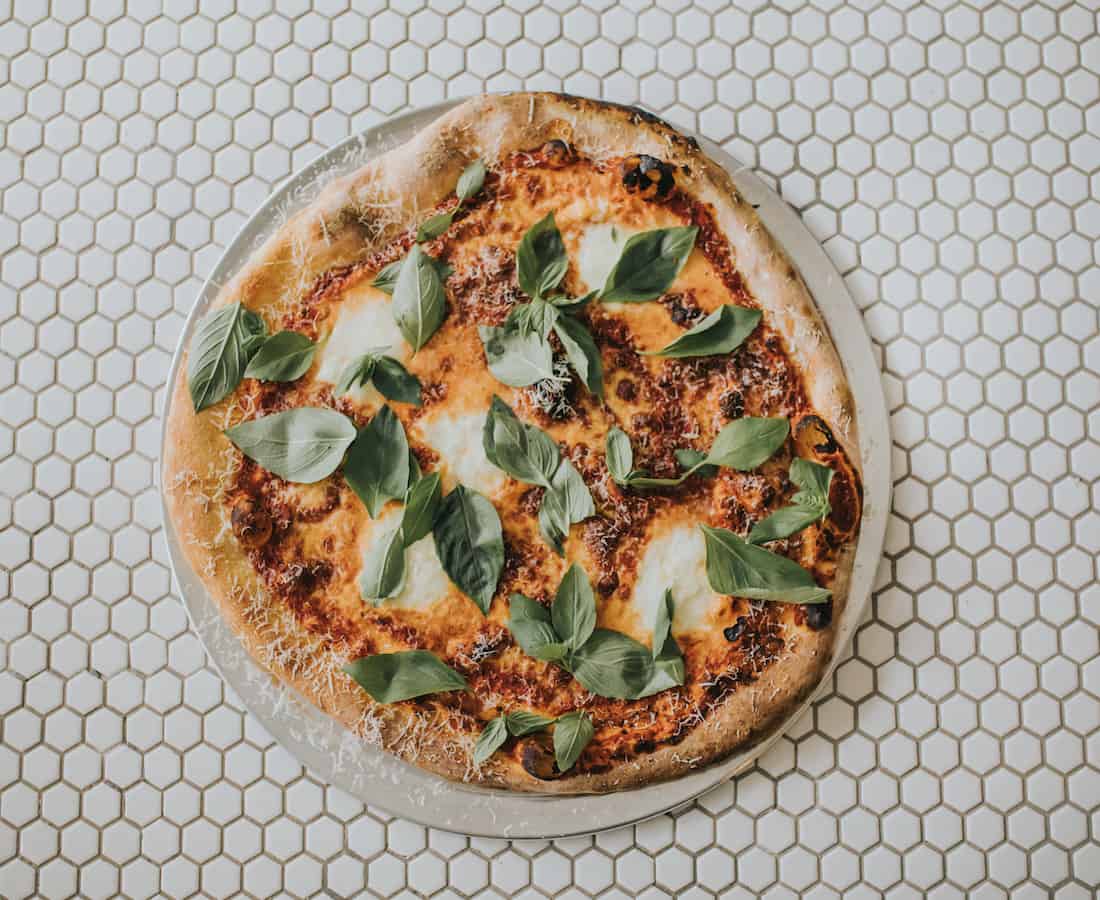 PUBLISHED July 27th, 2020 11:15 am | UPDATED August 1st, 2020 01:26 pm
Somewhere in a former candy store in Brooklyn, New York City, sits Lucali by Mark Iacono, where there are no reservations, drinks are BYO, and the menu really only consists of two things (pizzas and calzones). Ironically, we learn from Gibran Baydoun, Iacono's partner in Singapore's Lucali BYBG, that the experience departs from the original in so many ways is a result of his purposeful decisions to recreate the Brooklyn ritual as the both of them knew it.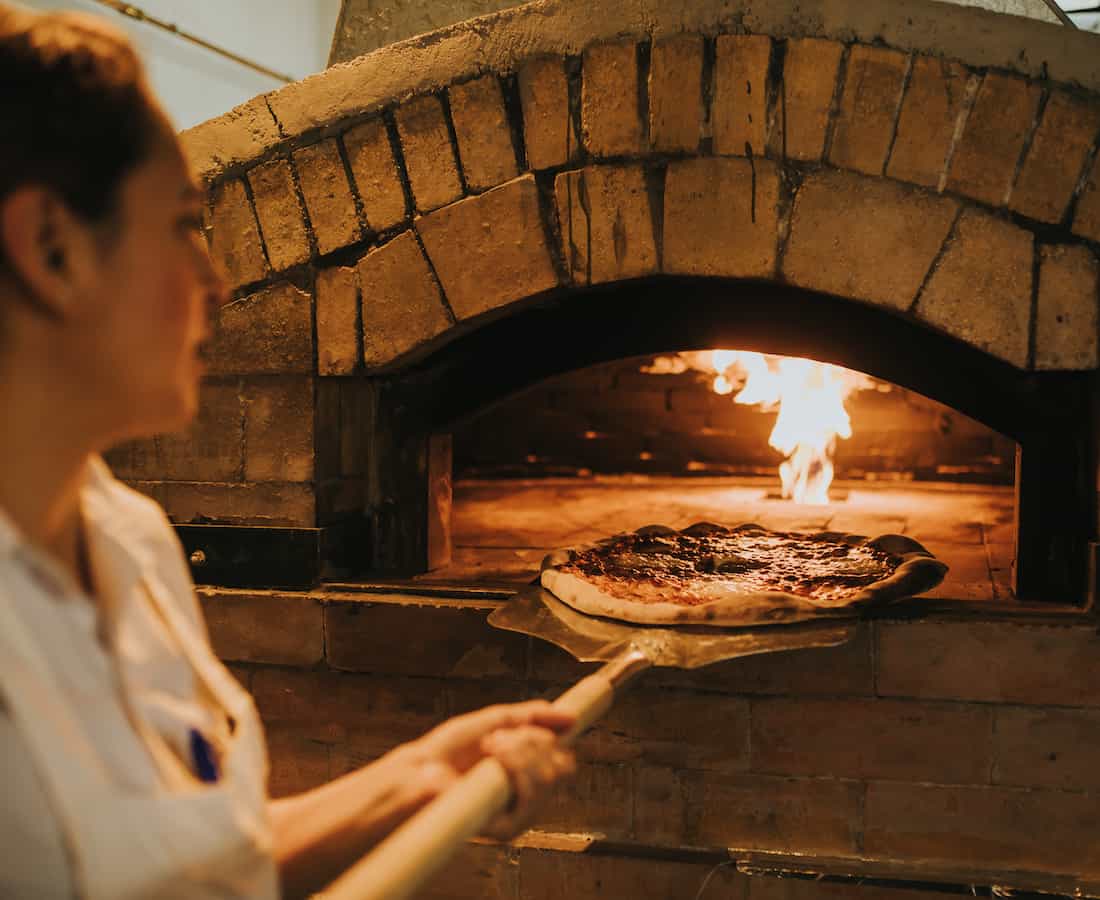 Baydoun's friendship with Iacono flourished during his time in New York managing Momofuku's operations, when he made pilgrimages to Lucali for pizza and calzones – followed by ice cream sundaes at a drugstore around the corner – every Sunday. If it sounds like a perfect cap to the weekend to you too, no worries, you'll get it all in Lucali BYBG…albeit at a much heftier price.
At S$55 each (feeds two to three), the famed 18-inch Lucali Pie is rightly delicious and you'll fine yourself easily reaching for the next slice. Cooked in a wood-fired oven, designed by the same mason who delivered Lucali's original oven 15 years ago, every component was pretty much perfectly executed. The base is simultaneously light and crispy yet fluffy and chewy – it doesn't leave you with the gut-busting vibe when you're done – and the combination of buffalo mozzarella, low-moisture mozzarella, and slightly nutty shaved Grana Padano hits off well with toppings of fragrant, fresh basil.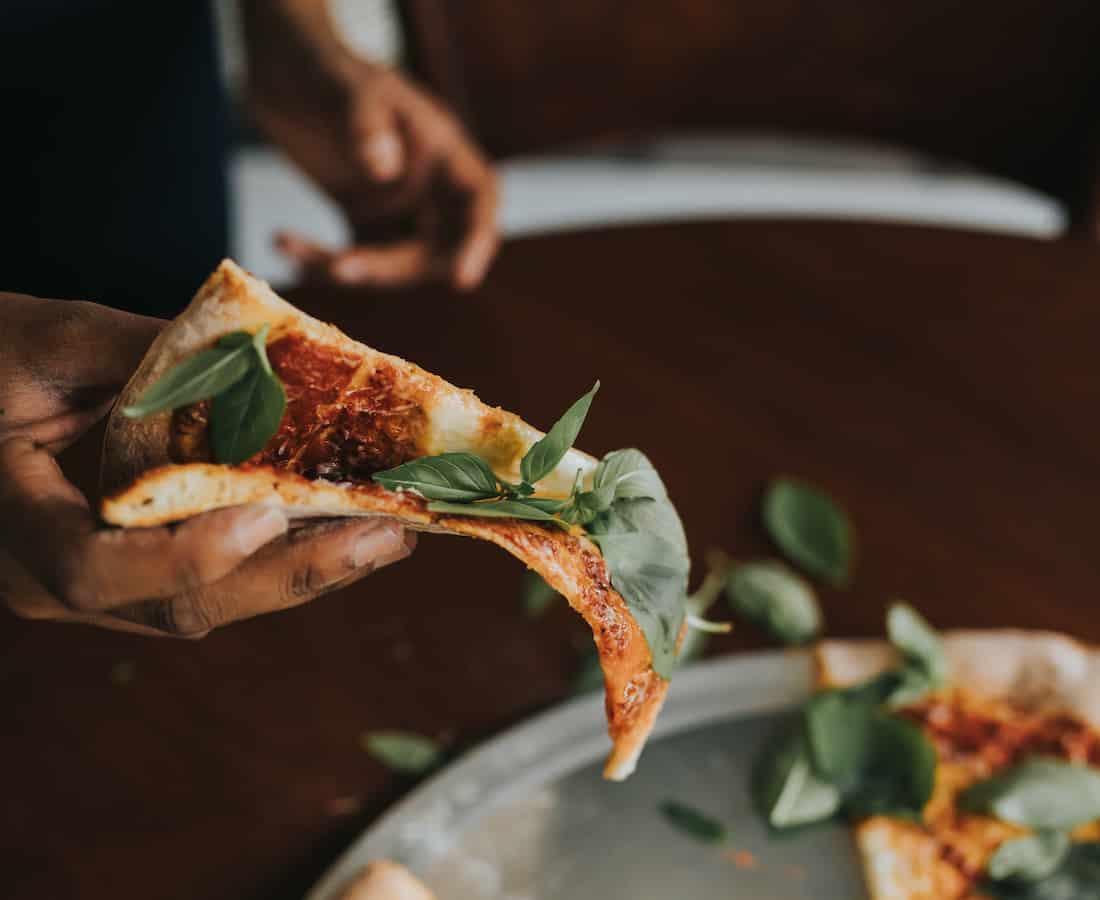 And how can we can't forget the four-hour tomato sauce? More acidic than the usual but also more aromatic, it's made with a secret recipe passed down by Iacono's grandmother. Not only does it go on the pie, it's served by the bowl alongside the rustic, ricotta stuffed Calzone (S$40 full, S$30 half). We might be biased because we don't know anyone else who makes a calzone half as good as the one at Lucali BYGB in Singapore, but it was the hero of the night for us.
Additional toppings (at $5 each) for the pizza and calzone are available accordingly to seasonality, but you'll always find the likes of pepperoni, onions, olives, and mushrooms on the menu.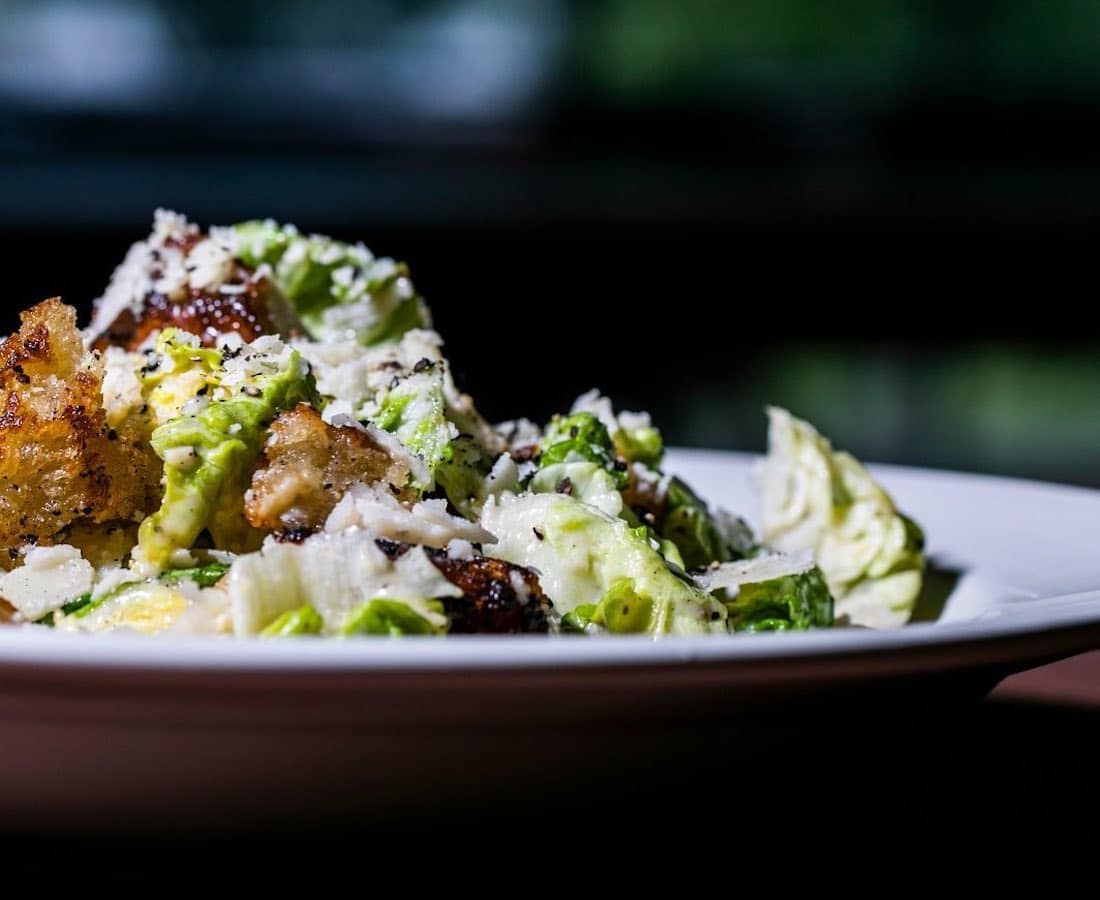 The kitchen helmed by Chef Ariana Flores, whose last stint was at Nancy Silverton's Osteria Mozza at Marina Bay Sands as Executive Pastry Chef, also puts out a small list of salads, as well as simply cooked pastas and nostalgic dishes (think meatloaf).
Other savoury highlights of our meals include the well-dressed Caesar Salad with anchovies and sourdough croutons – probably the only salad I've ever tried that I would pay S$25 for – and the vodka-spiked Spicy Rigatoni (S$35). The spicy sauce had tangy shades of American hot sauce; we wiped out the whole serving in less than 10 minutes.
And those sundaes we mentioned? You don't have to go to a drugstore to get them. They're available at Lucali BYBG with your choice of toppings (S$20) – the soft served melted a little too quickly for our liking but the caramel is damn good.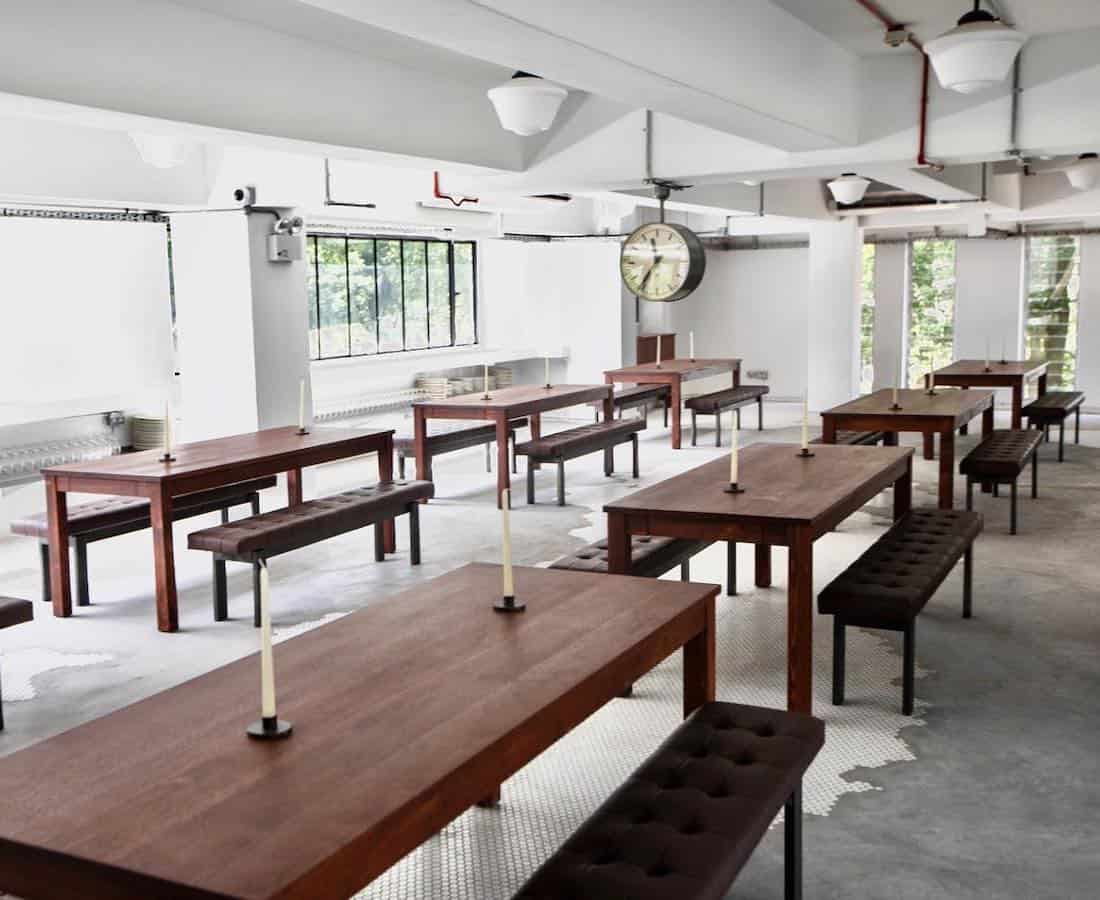 On the boozy beverage front, they've bought in a row of exposed convenience store style fridges arranged by price, ranging between S$60 to S$600 – a nod to Brooklyn's BYOB policy. The selection oscillates between natural wines and cult favourites – this was evident from both bottles of our night picked by Marcus Chen, formerly of JAAN.
The Spanish Telmo Rodriguez Gaba do Xil Godello 2018 (S$90) was a pleasant surprise with notes of pineapple, melon, and honey on top of a slightly creamy and rounded finish. The New Zealand Kindeli Tinto 2019 (S$120) is something we've had and enjoyed before; a blend of shiraz and pinot noir grapes, this vintage of the spritzy red had a wonderful herbaceous underbite that went well with the pepperoni on our pizza.
Our verdict? This destination dining spot is lovely for date nights with its candlelit atmosphere and easy menu, but to get the most value out of your experience, come with three of your pals instead and share everything.
Lucali BYBG is located at Level M, 66 Kampong Bugis, Singapore 338987, p. +65 8284 1325. Open Wed-Fri 5pm-10pm, Sat-Sun 11am-10pm. Closed Mon-Tue. Prices include GST but not service charge.