Review: The Orientalist House Singapore, Michel Lu's New Tasting Room & Private Kitchen in Geylang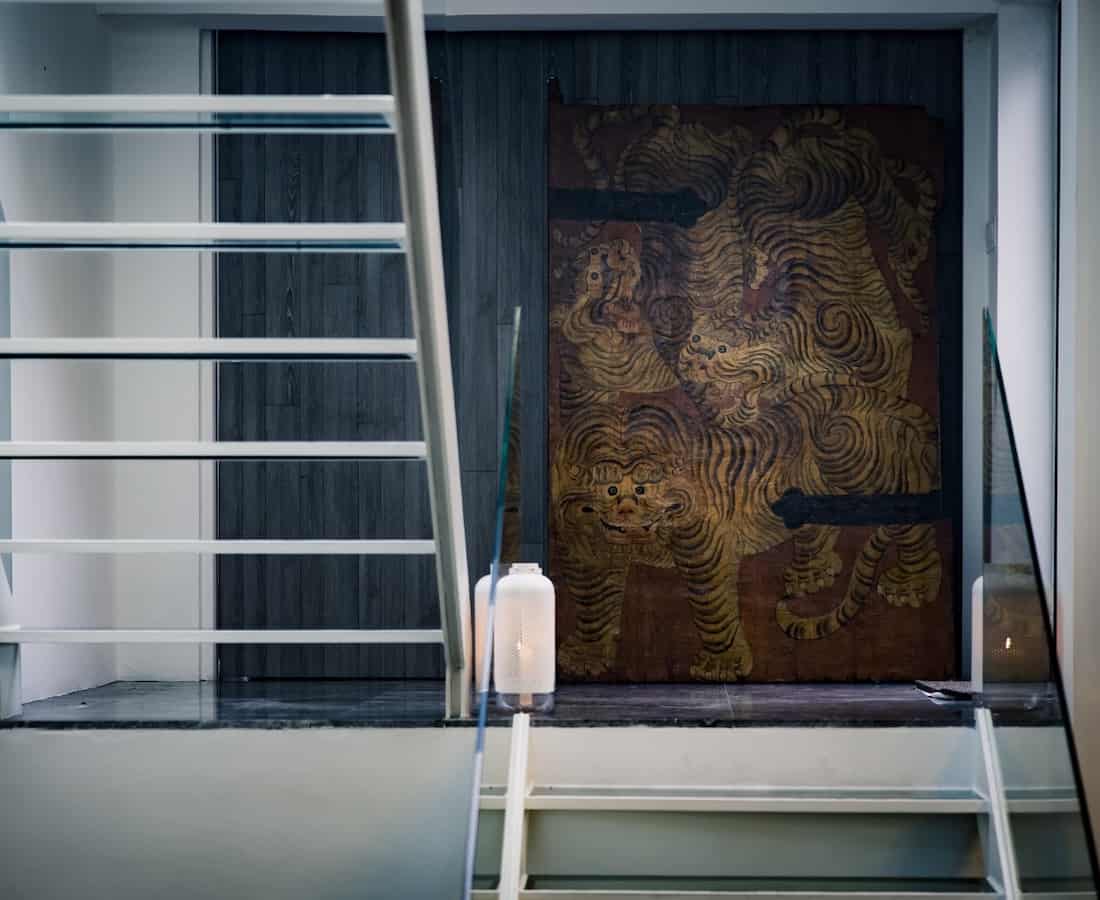 PUBLISHED November 26th, 2020 07:00 am | UPDATED December 2nd, 2020 07:04 pm
Many of us know Geylang as the place to go for local delicacies like Hokkien mee, frog porridge, and zi char; now, it's home to veteran F&B entrepreneur Michel Lu's  private kitchen and tasting room to showcase the products of his Pan Asian craft spirits company. Located on a quiet, mostly residential lorong, The Orientalist House is in fact, a landed property that belongs to a friend of Michel.
Now, it's home to Bar Manager Bai Jiawei (you might remember him from Employees Only) and Chef Timothy Ho, fresh off his four-year stint at the highly acclaimed Canlis in Seattle.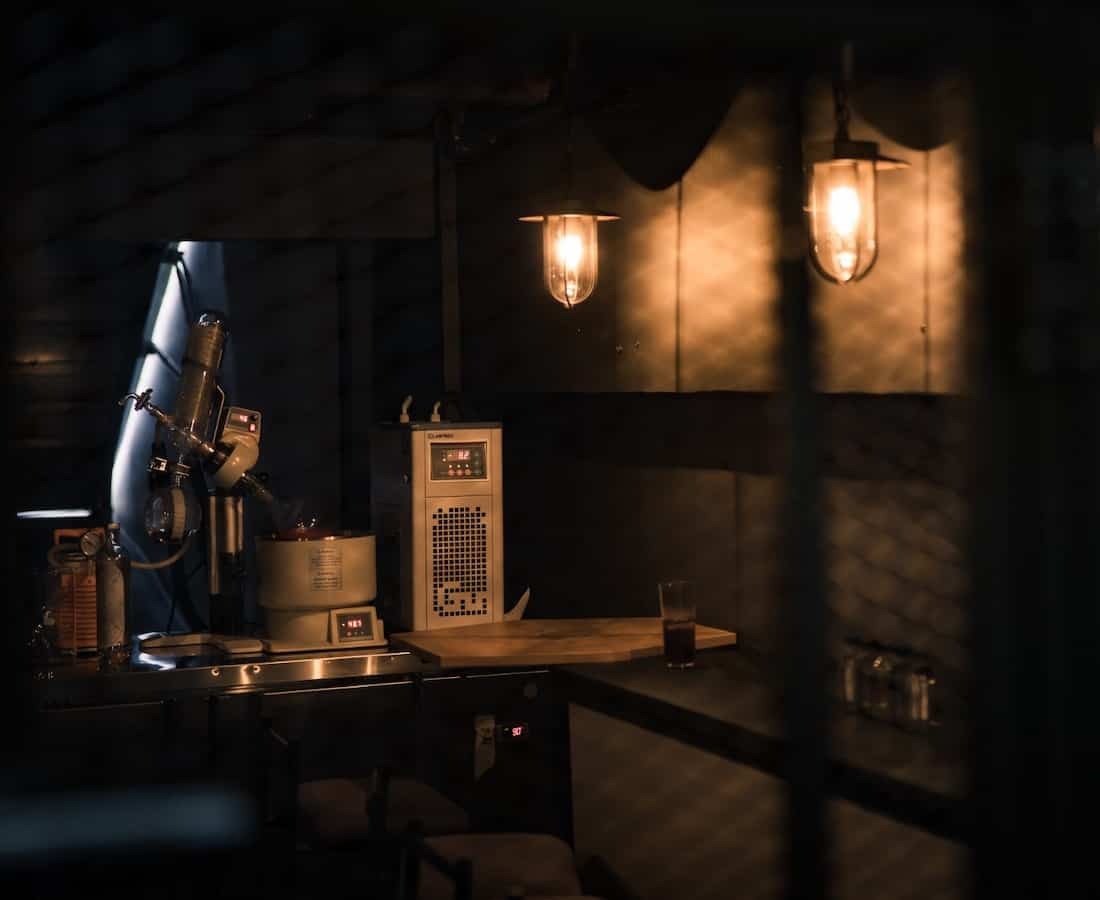 With current social distancing restrictions to groups of five, The Orientalist Room is open to two groups of five guests every operational night. From 5pm to 6.30pm, Jiawei hosts a Up Close with The Orientalist Spirits tasting session (S$60 per person) that includes a guided sampling of the three spirits and two bespoke cocktails made with the spirits per person.
Our 90-minute sesh started with The Orientalist Spirits' creamy, silky, and naturally sweet Origins Vodka concocted with organic longan honey, as well as Tibetan highland barley and premium potatoes.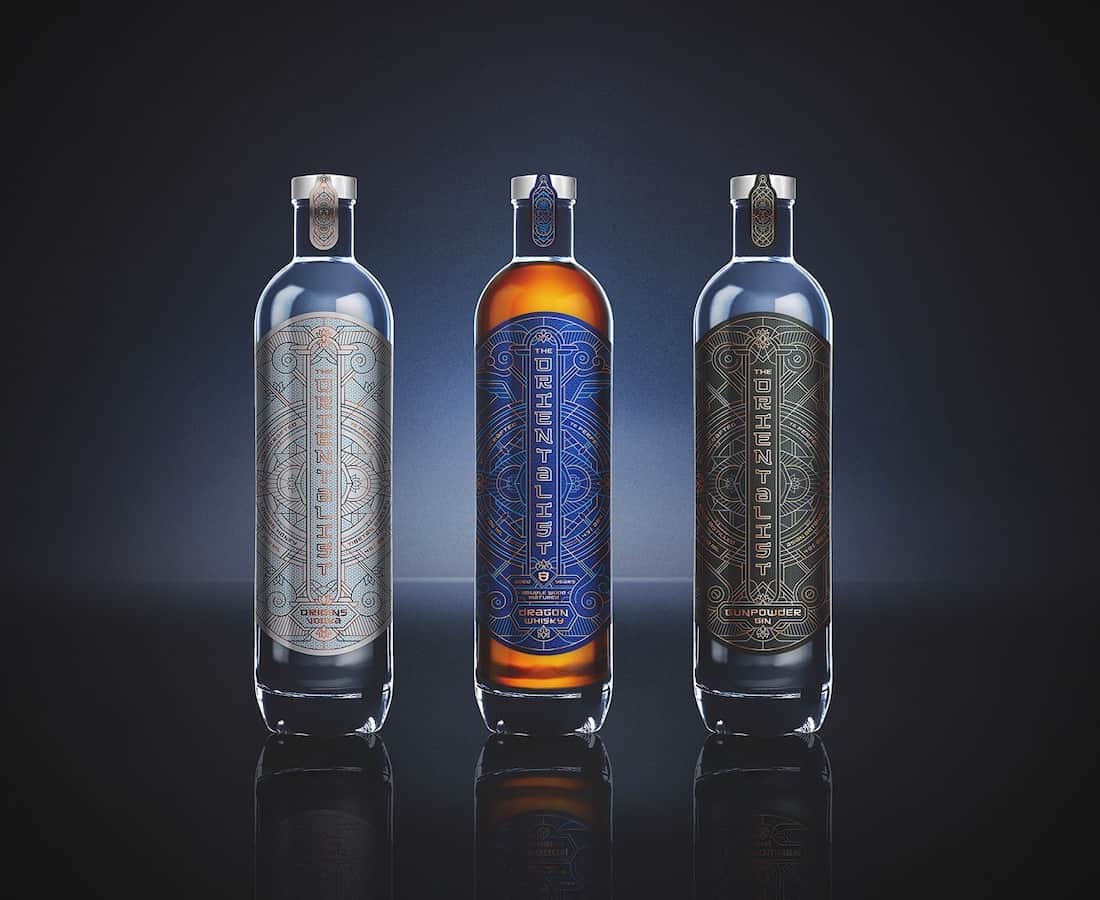 The gentle Gunpowder Gin followed; you'll smell and taste Asian botanicals like Taiwanese gunpowder tea, Korean omija, Kampot peppercorns, and osmanthus flowers. The last, an eight-year old Dragon Whisky, is the world's first all-Asian blended. Featuring liquids from Japan, Taiwan, and India, the whisky is matured in both bourbon and oloroso sherry casks, resulting in notes of figs, dried fruit, and spice.
For cocktails post tasting, we highly recommend the refreshing the palate with a roasted barley highball. The nutty, toasty flavours accentuated the botanical notes of the gin nicely. There was also a lovely vodka and pink guava tipple, and a tangy, floral whisky-shiso-plum creation by Jiawei. Can't decide? You can't go wrong with a martini or a whisky sour. If you have time for more than two drinks, highballs are priced at S$18 nett while other cocktails go for S$23 nett, which is also how much drinks would be priced for dinner guests.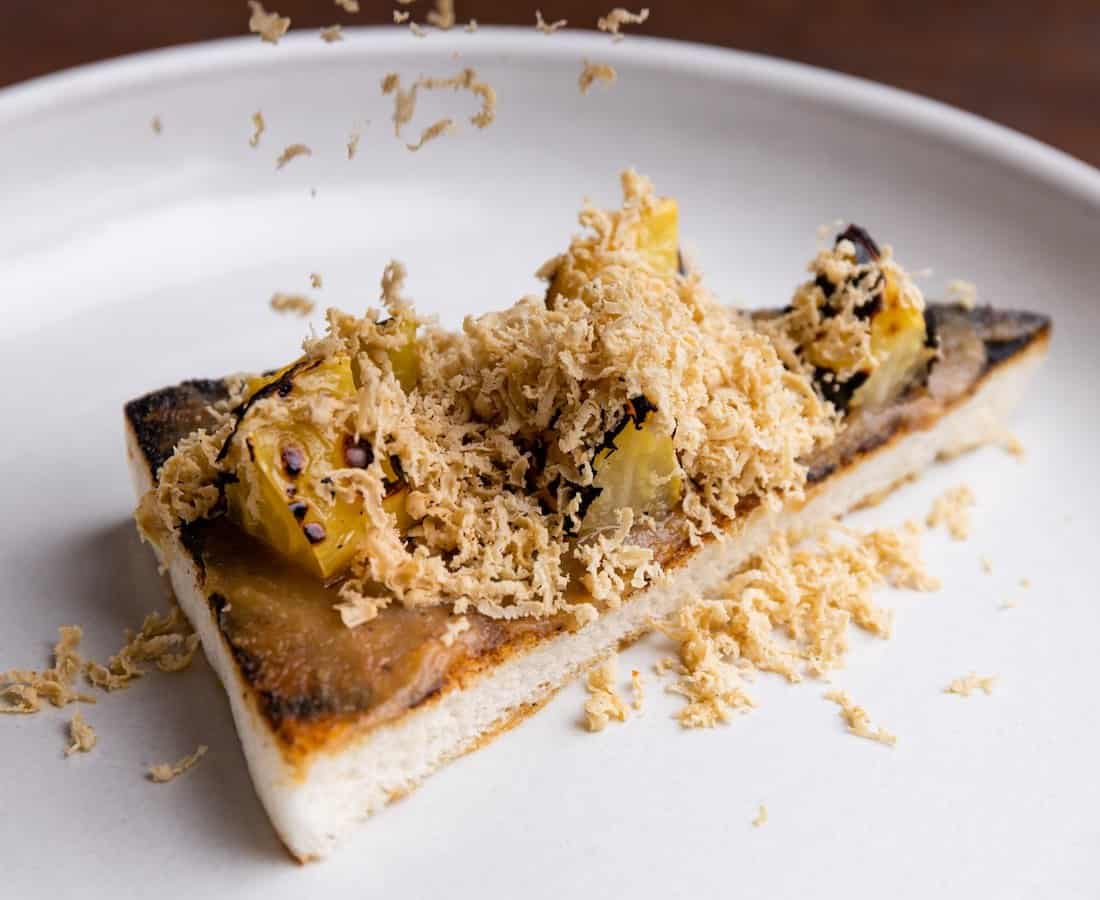 At S$138 nett per person for Dinner for Five, Chef Tim presents a multi-course modern Asian menu. Starting with some small snacks to whet our appetite – a tart mandarin gummy, miso powder topped pickled apple for umami, and a gruyere cheese puff with autumn truffle – the first course surprised us by coming across as a riff on a zi char favourite. Featuring live prawns sourced from local vendors, minced pork, and pork jus on smooth chawanmushi, it's come pretty close to the flavours of hot plate tofu – without the sizzle.
Plates bearing local white bread, butter, starfruit jam, and charred starfruit then made their way to our table. Chef Tim shaves Dragon Whisky-cured foie gras torchon over the bread for a very different, very delicious version of kopitiam toast.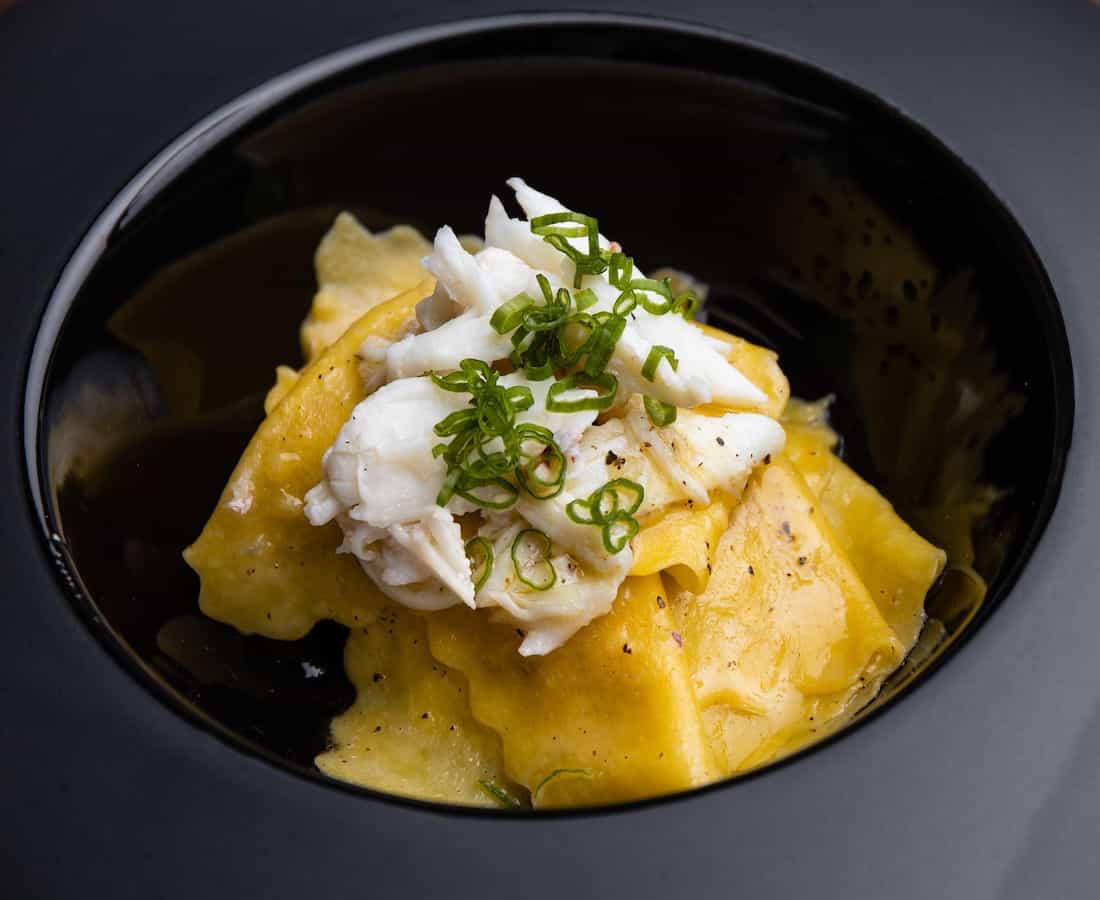 My personal favourite of the night though, has to be Chef Tim's take on the black pepper crab – think thin, buttery sheets of silky fazzoletti di seta (silk handkerchiefs in Italian) pasta topped with chunks of handpicked flower crab. Pair it with a gimlet that cuts through the creaminess and have you going back for more.
The last savoury course features miso basted Dorper lamb from Western Australia cooked just right, served with charred chye sim (Chinese flowering cabbage), sweet potato puree, and chicken jus. Even folks who wouldn't typically order lamb of the menu can get behind this.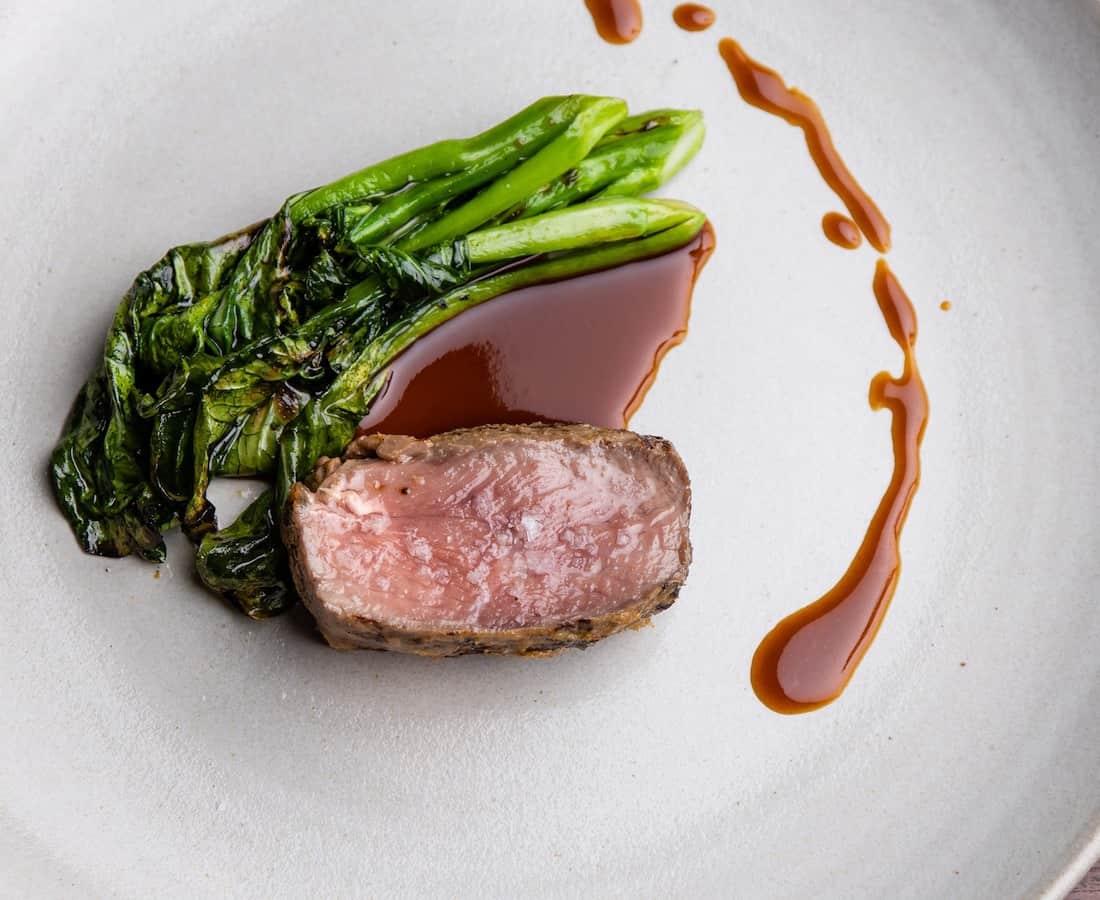 With the spins on Singaporean dishes and the use of local ingredients, it's no surprise that dessert again took inspiration from nostalgic childhood treats including chendol and kueh bangkit (a biscuit made from sago starch found in Singapore and Malaysia). Topped with coconut cream and crumbed sablé on the side, the gula Melaka caramel oozes out the moment we dug into the pandan chiffon cake. Instagram worthiness aside, it's absolutely delicious and sets the stage for the pandan madeleines that followed as petit fours.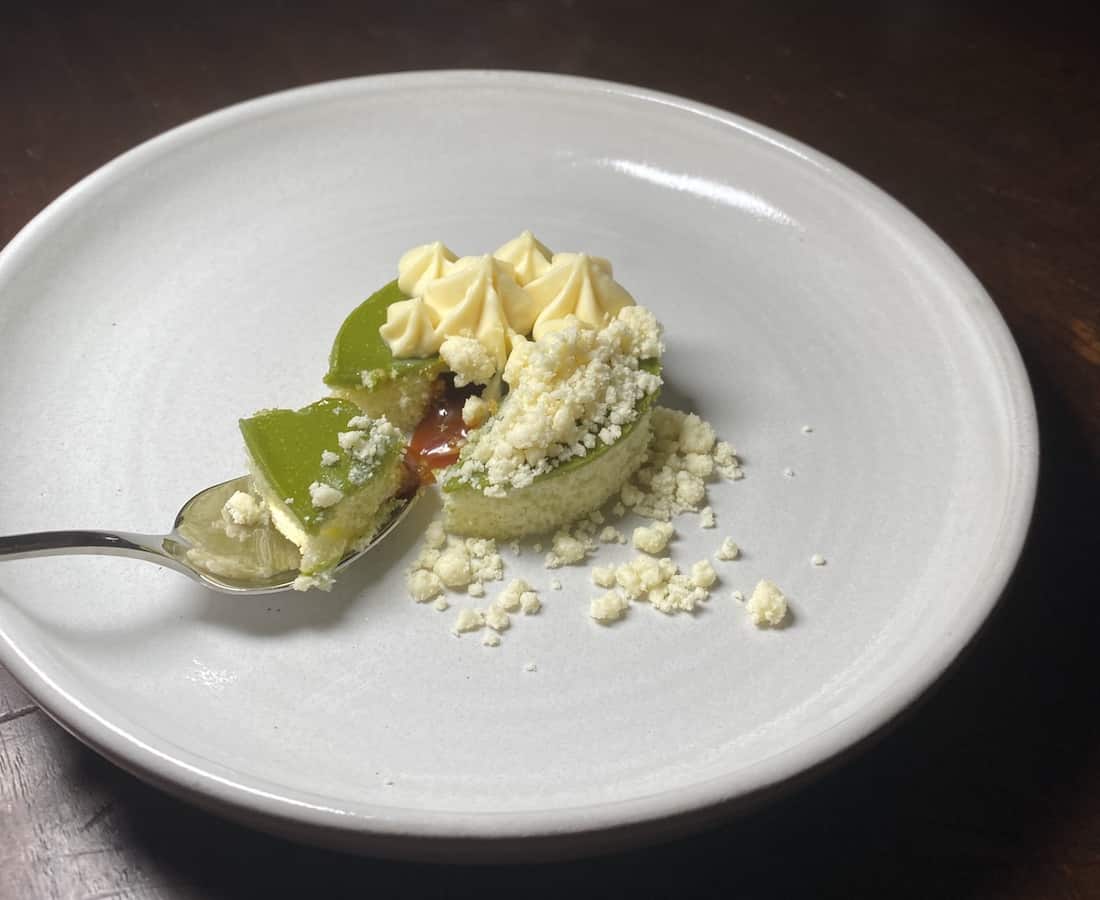 Rounding off our meal with an espresso martini – gin, vodka, and arabica coffee – we marvelled at the evening that passed all too quickly in the presence of a fine, well executed dinner and an impressive range of cocktails (made with just three spirits). It's no wonder they're booked out till Christmas Day at the moment, so act fast when new dates are dropped on social media.
The Orientalist House is located at 2 Lorong 36 Geylang, Singapore 398137, p. +65 9061 9636. Open Tue-Sat 5pm-12am. Closed Sun-Mon. Reservations here.