40 Lorongs of Unlimited Food Options: A Dining Guide to Singapore's Geylang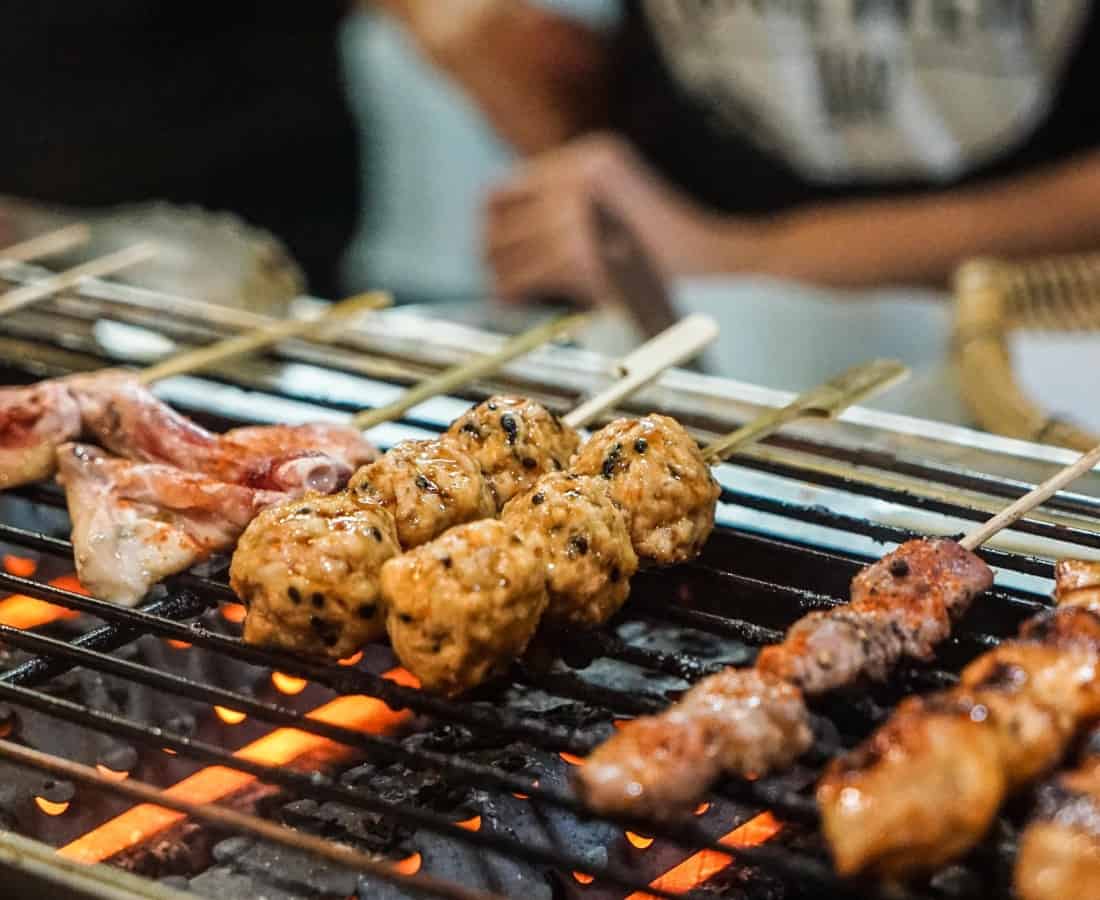 PUBLISHED March 13th, 2021 06:00 am | UPDATED March 17th, 2021 10:47 pm
If hawker food is a cornerstone of Singapore's history, Geylang Road is its literal backbone. Weaving through alleys of strange foreign mini marts, countless durian stalls, and wanton mee richer than the district's cultural diversity, Geylang is the OG pride and joy of the East. We scaled all 40 lorongs of Singapore's sauciest district to satiate your hawker food cravings.
Jalan Sultan Prawn Mee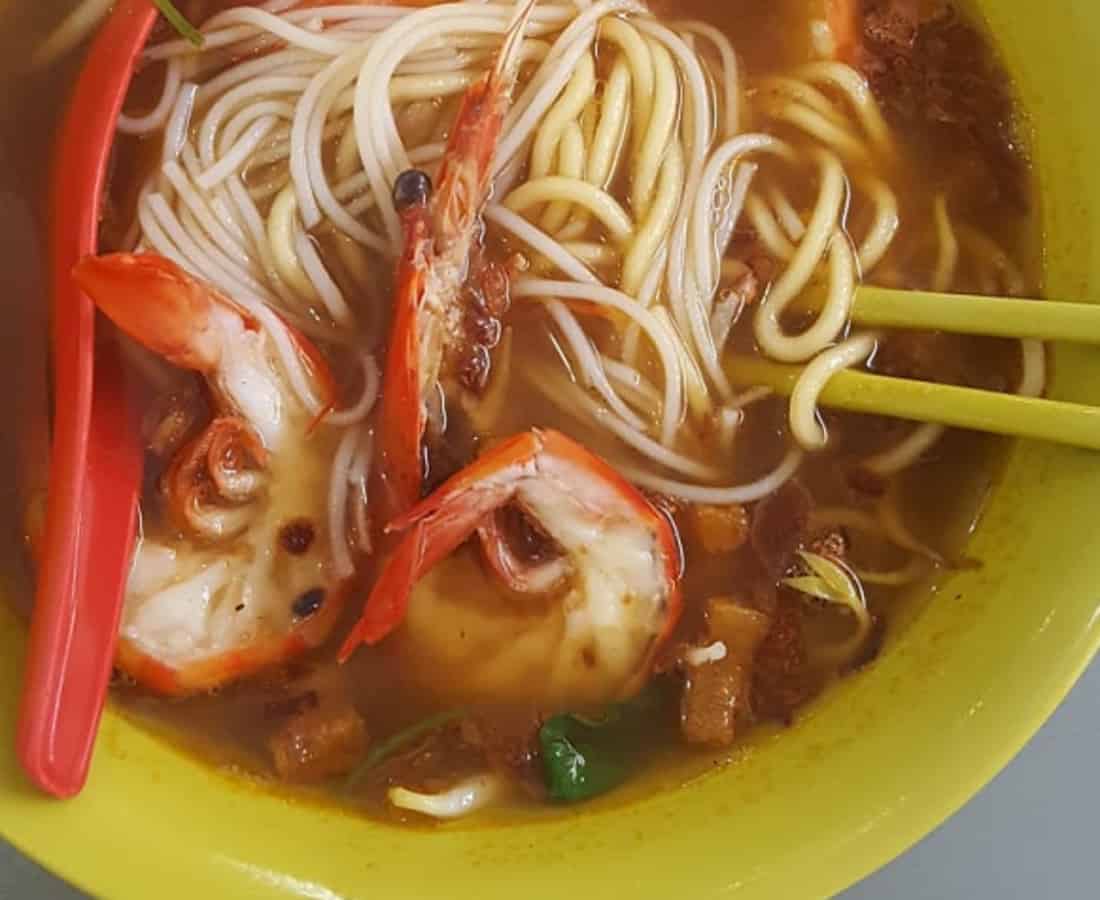 With over 70 years of history and a Michelin Guide recommendation, Jalan Sultan Prawn Mee is a must to visit. You can get your fix with regular and "King" sized prawns, with bowls starting at S$6 for regular prawn mee or S$5 for pork rib soup. For the best of both, we suggest splurging on a mouthwatering bowl of King Prawn Pork Ribs Noodle (S$8/$10), which includes tender pieces of both prawns and pork ribs.
Jalan Sultan Prawn Mee is located at 2 Jalan Ayer (Lorong 1 Geylang), Singapore 389141, p. +65 6748 2488. Open Wed-Mon 8am—3.30pm.
Sia Kee Duck Rice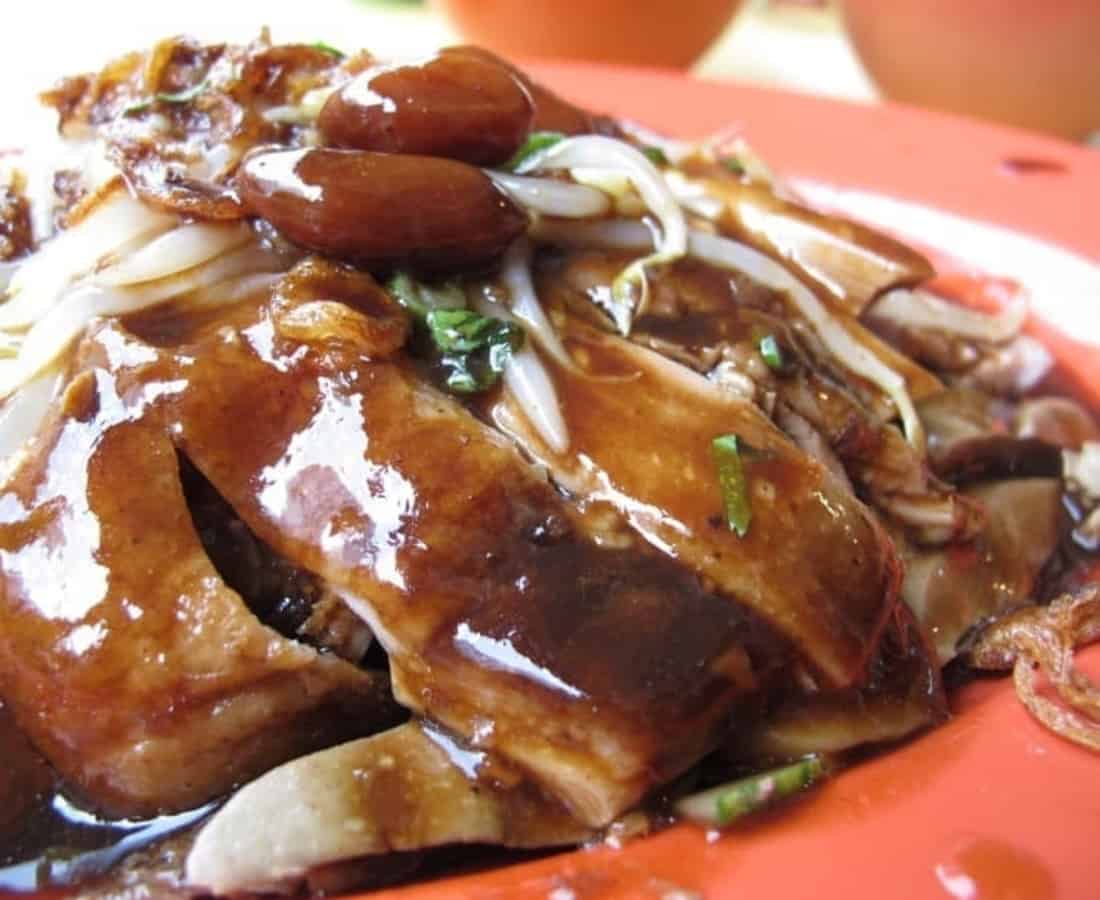 The last year saw Sia Kee Duck Rice sprouting hip new offshoots at Tanjong Pagar and Bishan, but our hearts still lie with the 40-year-old institution on Geylang's Lorong 35. You might have to wait a while, but it's all worth it when your Mixed Duck Platter (S$18) arrives – heaped high with tender duck meat alongside fixings like eggs, fishcakes, tofu, and beansprouts, all glistening with sweet, fragrant braised duck gravy. The flavour-packed herbal soup is no afterthought too.
Sia Kee Duck Rice is located at 659-661 Geylang Lorong 35, Singapore 389589, p. +65 9757 5255. Open Sun-Fri 11.30am—6pm. Closed Sat. 
Banh Mi Thit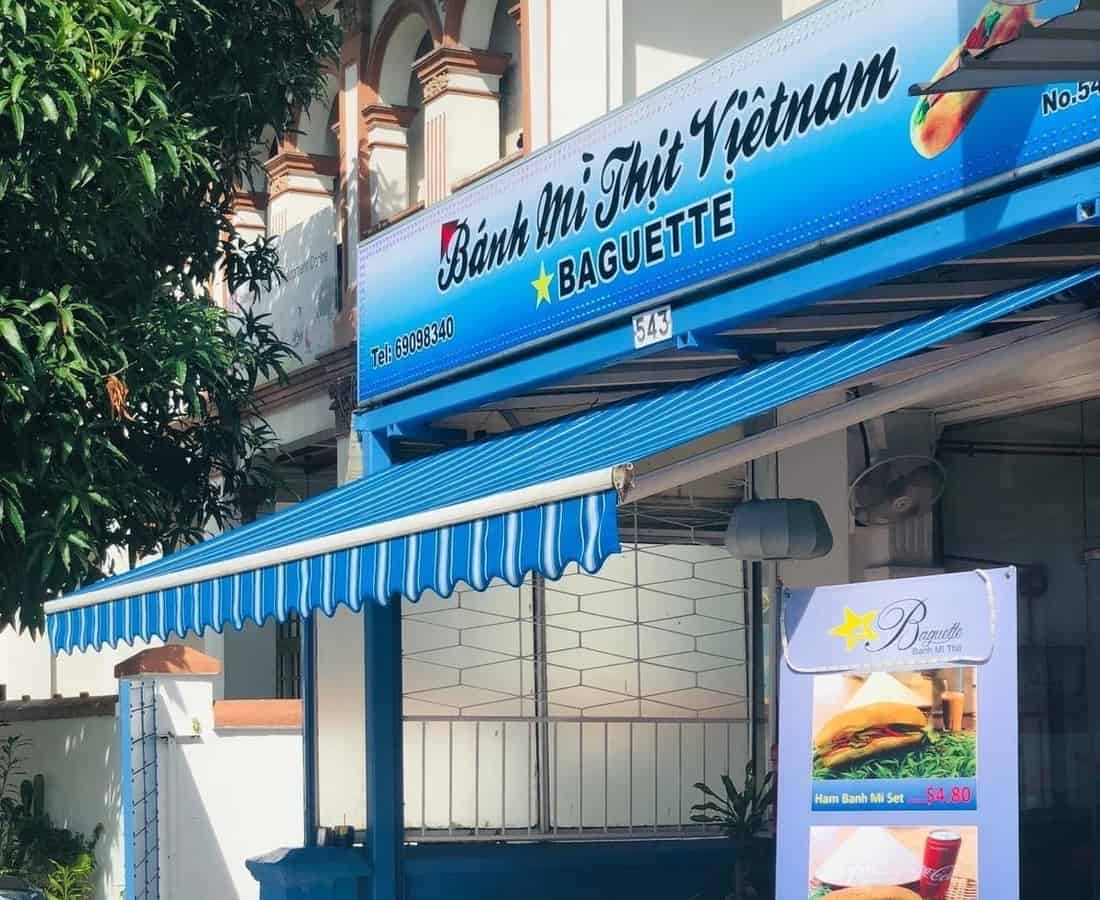 Run by a Singaporean and his Vietnamese wife, Banh Mi Thit takes pride in dishing up authentic renditions of the Vietnamese staple – down to the wallet-friendly price point. Baked fresh in-house daily, the baguettes here are fabulously crusty and well-stuffed with your choice of meats or egg. A crowd-favourite is the Beef Banh Mi (S$4.50), crammed with chunky beef slices and best had with a sprinkling of sliced chili. Meanwhile, the Pork Banh Mi (S$4.50) packs plenty of textures in each mouthful thanks to a mix of pork pâté, ham, and thin slices of pork belly.
Banh Mi Thit is located at 543 Geylang Rd, Singapore 389498, p. +65 6909 8340. Open Tues-Sun 10am–10pm. Closed Mon. 
Geylang Lor 9 Frog Porridge Singapore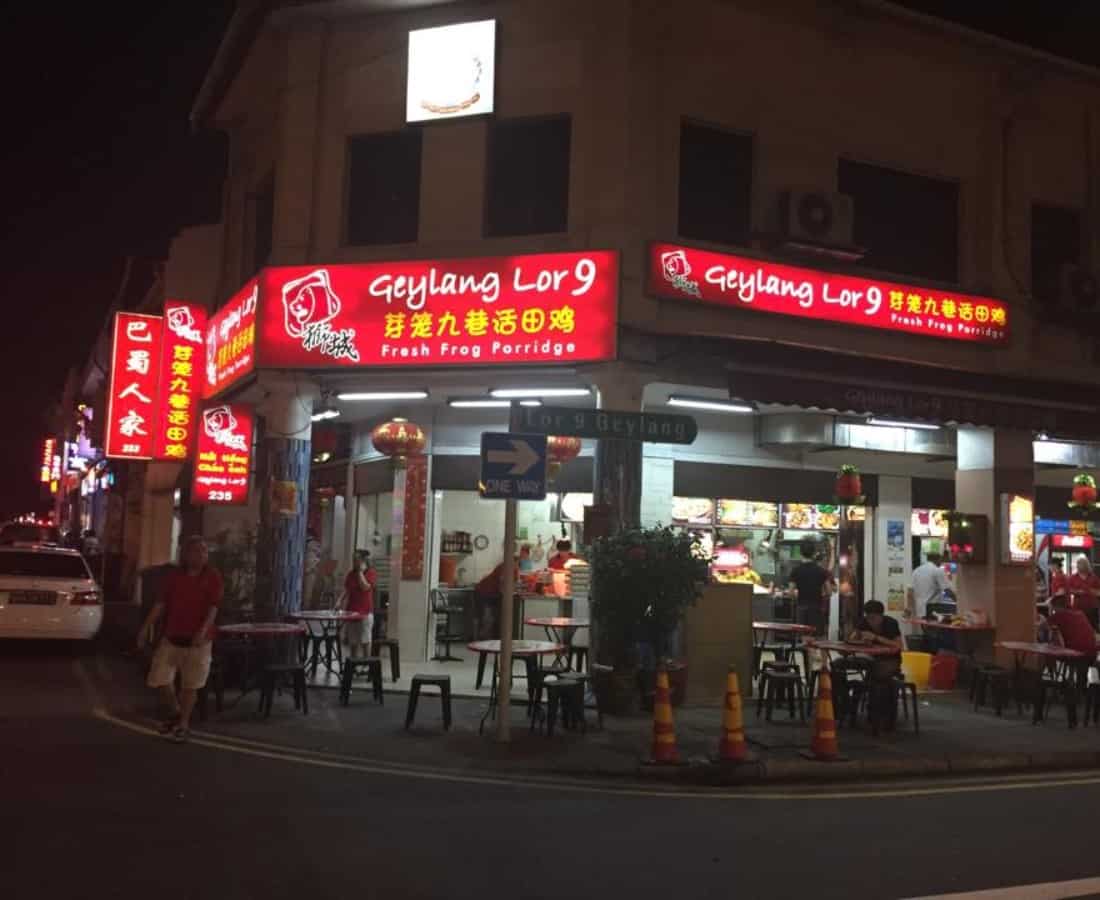 Situated in Lorong 9 is a classic neighbourhood dish – frog leg porridge. Geylang is no stranger to the delicacy, with countless stalls over the years all claiming to have the best frog leg porridge – but we know what's up. At S$8.50, Geylang Lor 9's Frog Porridge may not be the most affordable, but the frogs boast a tender chew and soak up the kung pao or spring onion sauces nicely. For the more germaphobic folks, you'll be glad to know that hygiene here might just be the best in the 'hood.
Geylang Lor 9 Fresh Frog Porridge Singapore is located at 235 Geylang Rd, Lorong 9 Geylang, Singapore 389294, p. +65 8688 8839. Opens daily 12pm-4am.
Leong Kee (Klang) Bak Kut Teh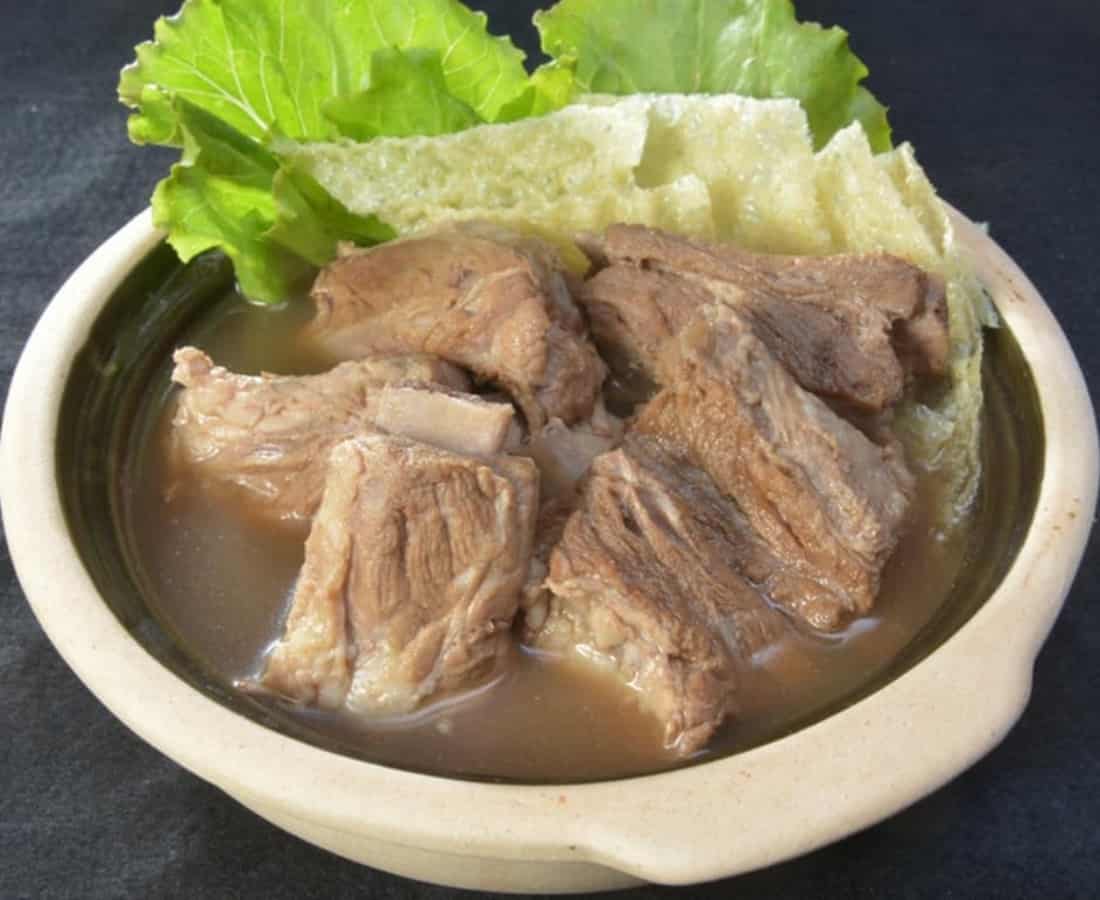 There're two main kinds of bak kut teh in Singapore – and Leong Kee is the rare herbal needle in the peppery haystack. As opposed to the Teochew-style version filled with garlic and white pepper, Leong Kee's Malaysian-style Bak Kut Teh (about S$20 for a 3-person portion), serves up a strong, rich, earthy soup. You can't leave without also trying their cult-favourite Dry Bak Kut Teh (S$10) that comes with pork ribs in dark soya sauce and dried chilli.
Leong Kee (Klang) Bak Kut Teh is located at 251 Geylang Lorong 11, Singapore 389309, p.+ 65 9380 1718. Open daily 11am-1.30am.
The Orientalist House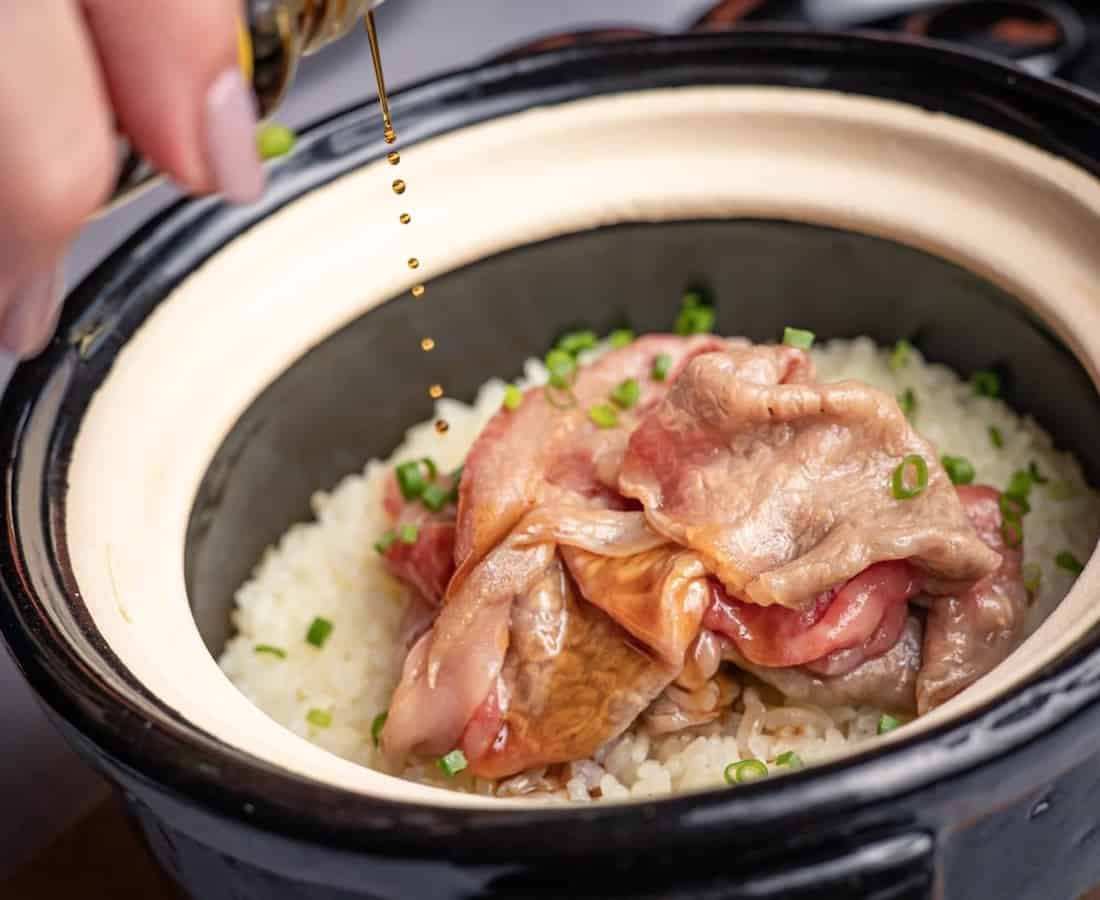 'Geylang' and 'omakase' might seem to hail from far-flung ends of the gourmet universe, but they come together in one landed property at The Orientalist House. Helmed by F&B veteran Michel Lu, this private kitchen and tasting room showcases both gourmet experiences and pan-Asian craft expressions from The Orientalist Spirits. Their current 9-Course Private Dining Experience (S$138 per pax) is a three-hour omakase meal starring produce flown in from top Japanese vendors, while the Tasting Session of The Orientalist Spirits (S$60 per pax) guides you through the brand's three unique spirits – Origins Vodka made with organic longan honey, Gunpowder Gin, and Dragon Whisky 8YO.
The Orientalist House is located at 2 Lor 36 Geylang, Singapore 398137, p. +65 9061 9636. Open Tues-Sun 5pm–10.30pm by appointment only. Closed Sun & Mon. 
Mini Star (HK) Fermented Beancurd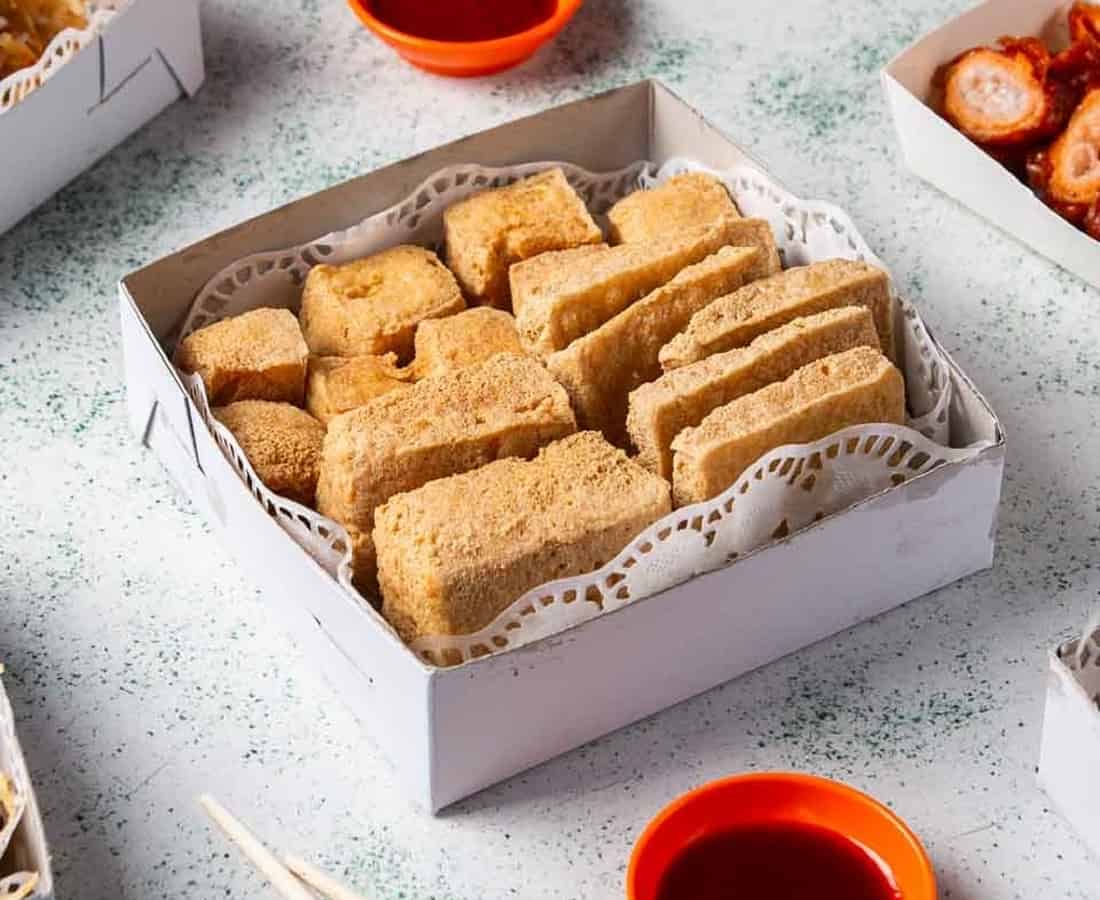 If you love your stinky tofu, Mini Star is one of Singapore's rare eateries specializing in the pungent, toothsome stuff. Their Fermented Beancurd (S$4 for two pieces) comes deep-fried to a crisp on the outside, encasing soft and piping-hot goodness on the inside; for something even punchier, they do a mean Mala Fermented Beancurd (S$6). Make it a feast with their wide array of Hong Kong street eats, including Fried Pig Intestines (S$4) and Hong Kong Curry Fishballs with Cuttlefish (S$8).
Mini Star (HK) Fermented Beancurd is located at 795 Geylang Rd, Singapore 389678, p. +65 6744 1353. Open Tues-Sun 12pm–12am. Closed Mon. 
L32 Handmade Noodles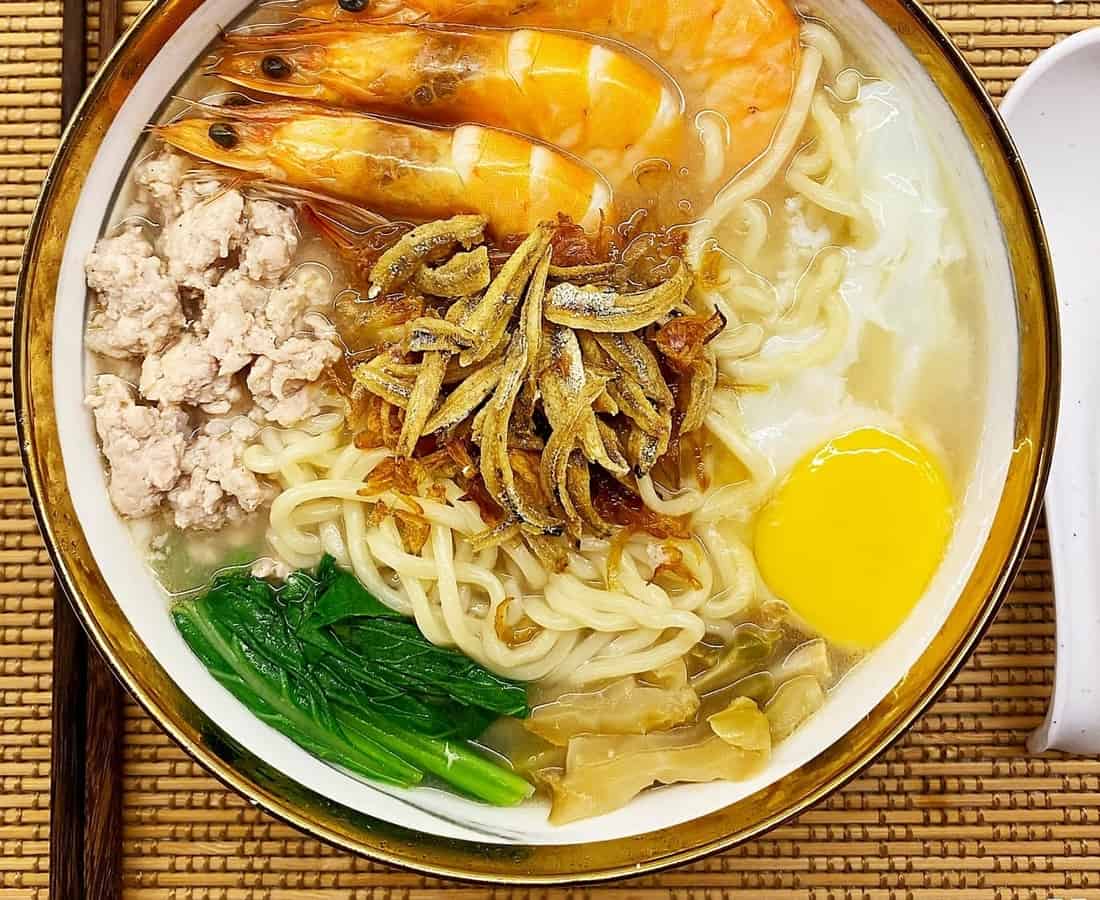 While authentic Chinese food is everywhere here, the best ban mian on the stretch is, surprisingly, started up by two locals with nothing but a piping-hot love for noodles. Located in the L32 kopitiam just a ten-minute walk from Paya Lebar MRT station, all noodles here are made fresh daily, and the soups are stewed overnight for maximum broth intensity. You'll be thankful for the immense selection of toppings as well, and the price isn't much further from regular hawker ban mian, so you can get a bowl of regular Dry Pork Banmian (S$4.30) on the cheap.
L32 Handmade Noodles is located at 558 Geylang Road, Lorong 32, Singapore 389509. Open Tues-Sun 11.30am — 9.30pm.
Swee Guan Hokkien Mee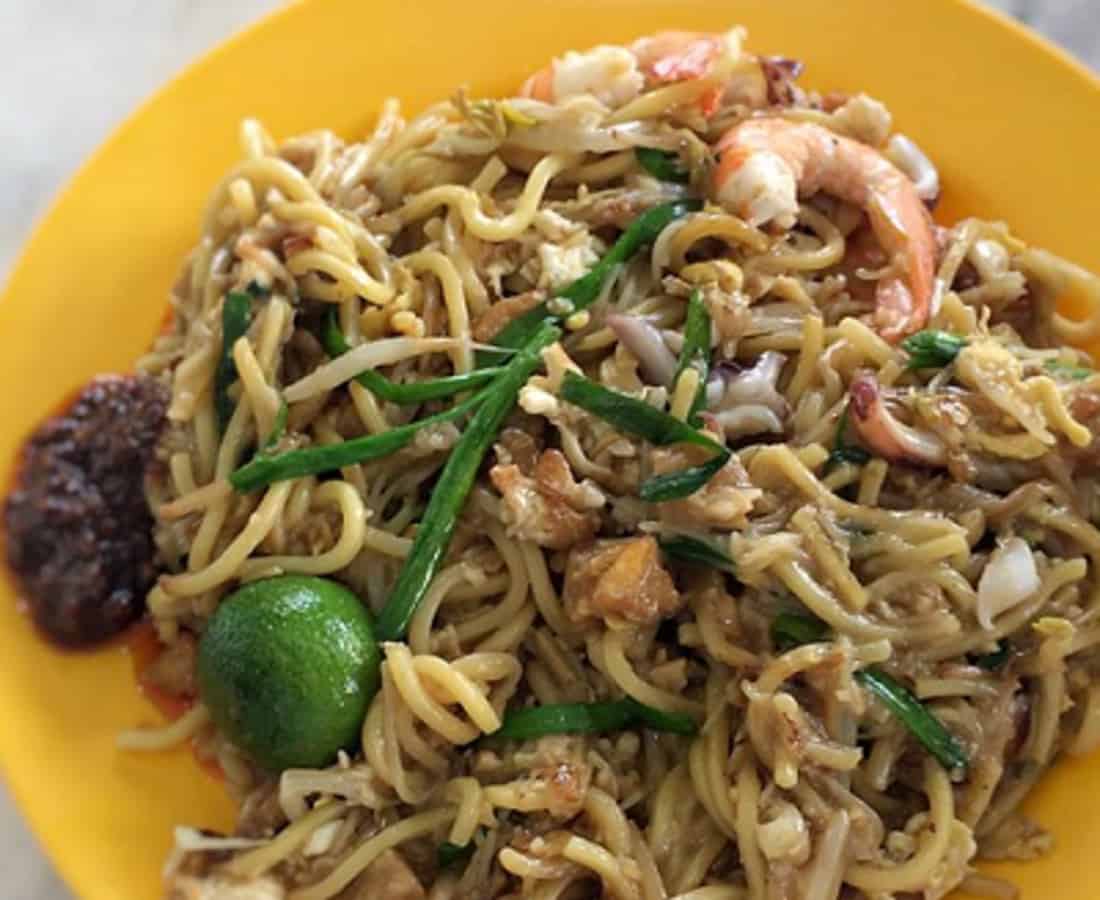 If you're a fan of hokkien mee, then you'll be familiar with Lorong 29's famous stall. Queues snake through the tiny coffee shop on the daily, with hungry patrons lined up and ready for their own little parcel of oily heaven. Their secret? They still use charcoal fires to keep that signature char (wok hei), a hallmark of any good wok-fried noodle. One smokey plate of sin starts at S$6, but be forewarned if you're trying to cut down on oily food – this bad boy is definitely not going to help your arteries.
Swee Guan Hokkien Mee is located 5 Lorong 29 Geylang, Singapore 388060. Opens Thurs-Tues 5pm—10pm.
The Skewer Bar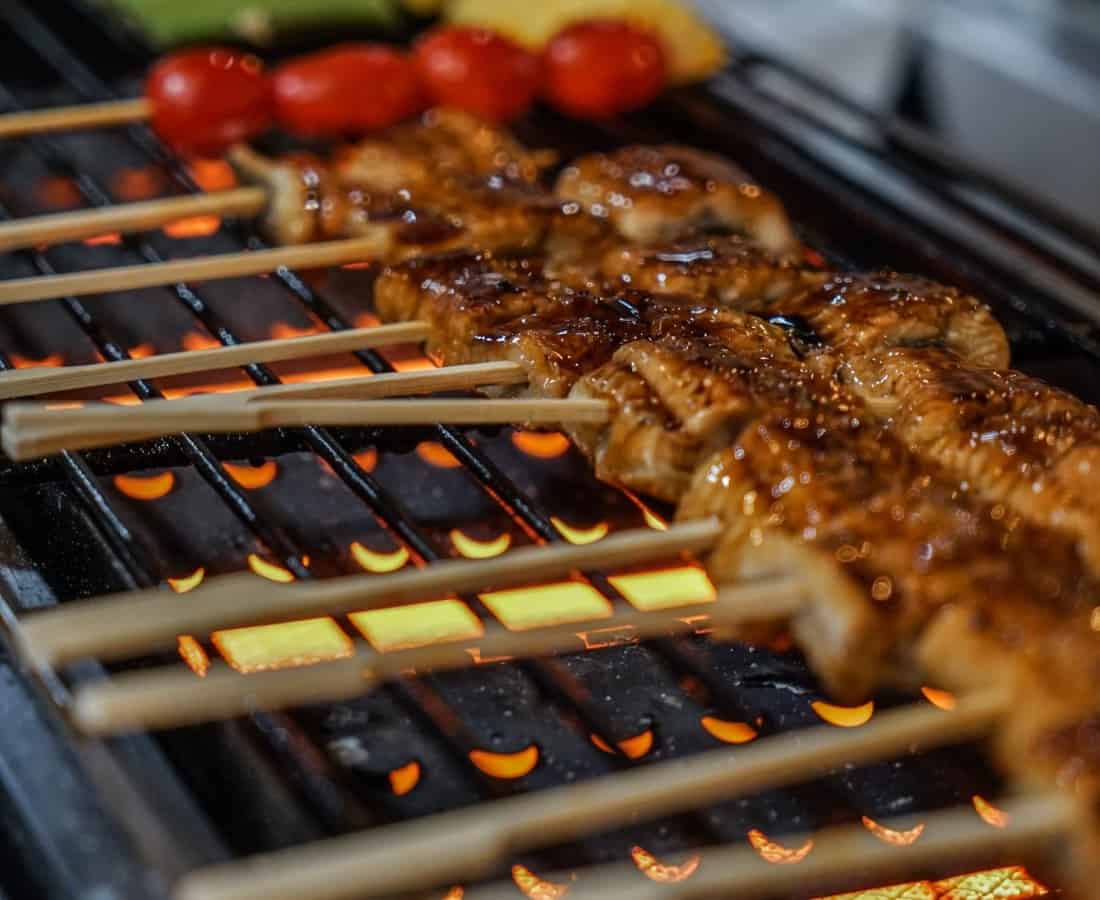 While not a hawker establishment, it'd be remiss of us not to mention this tucked-away yakitori gem. The Skewer Bar serves up greasy, carb-heavy, bar food favourites from Grilled Pork Collar (S$6.90) and Unagi Don (S$12.90) to a range of freshly-grilled yakitori skewers – think classic Chicken Teriyaki (S$1.50) alongside more unconventional picks like Bacon Wrapped Lychee (S$2.60). And with a wide range of drinks from beers to soju to Japanese whiskies and sakes, you're set for your next night out with friends.
The Skewer Bar is located at 2 Lorong 25 Geylang, Singapore 388287, p. +65 9642 0837. Open daily 5pm—12.30am.
Tanjong Rhu Pau & Confectionery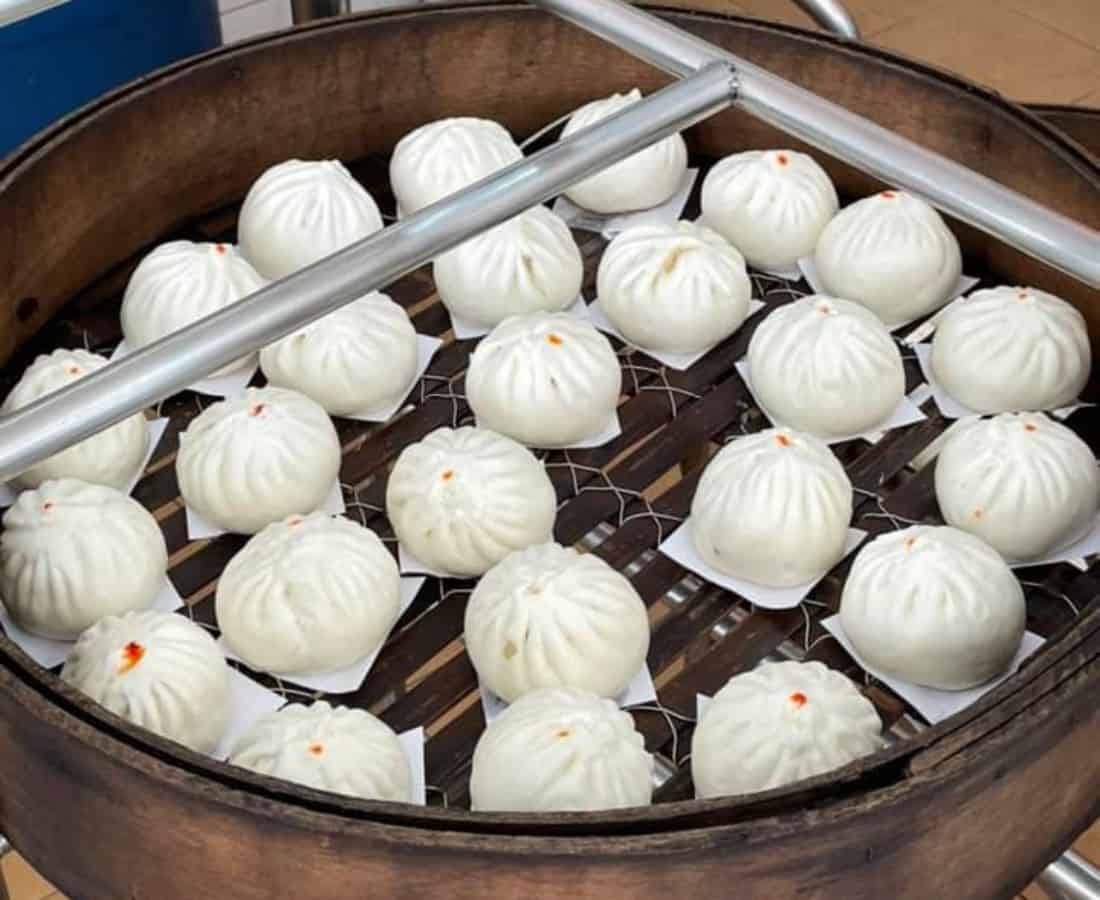 It might not be on the main stretch of Geylang Road, but Tanjong Rhu Pau & Confectionary is a must-have on this dining guide nevertheless. This old-school bun shop offers simple traditional Chinese confectionery that's great to bring home for Mum and Dad. Besides a good selection of dim sum like siew mai and bite-sized char siew pau, their egg tarts are also to die for.
Tanjong Rhu Pau & Confectionery is located at 389 Guillemard Road, Singapore 399788, p. +65 6842 2112. Open daily 10am-8pm.
Hong Qin Fish and Duck Porridge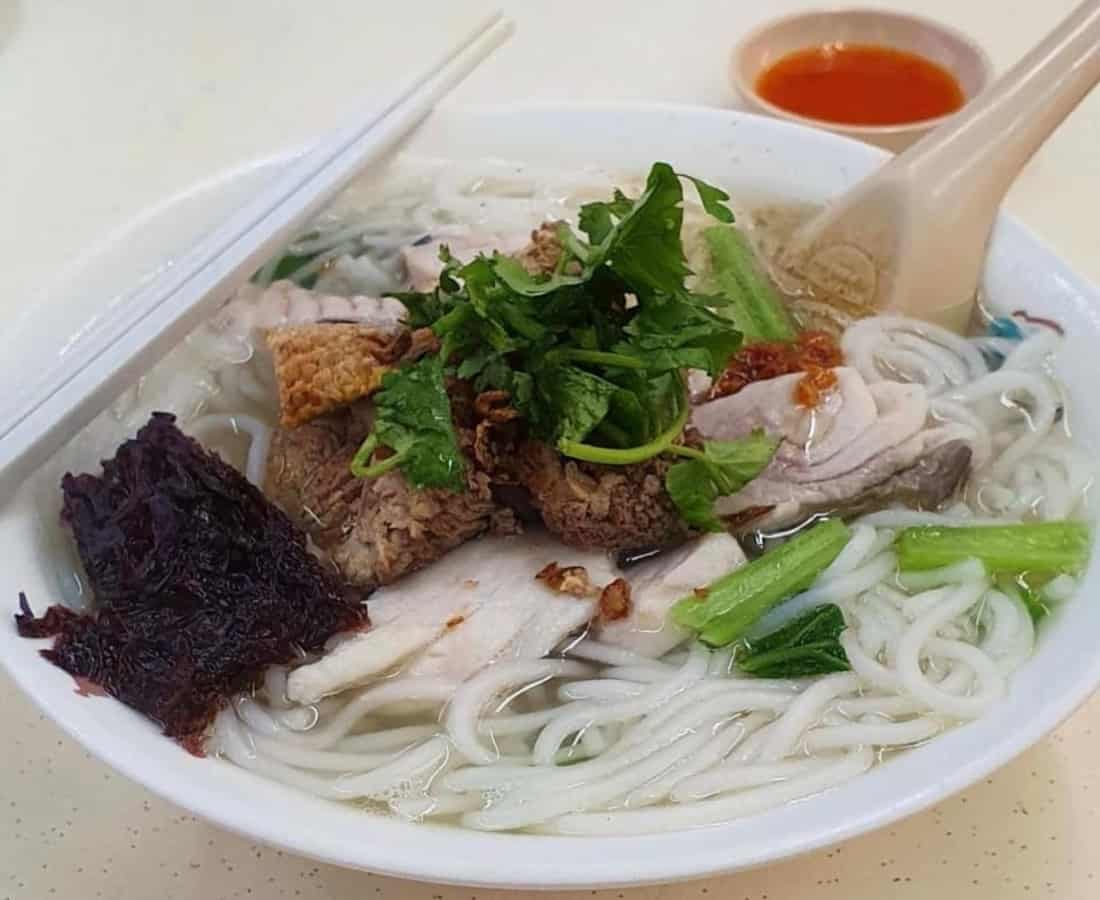 Hong Qin brings together the best of two traditional comfort broths, drawing in a stream of loyal patrons for both their sliced fish soup and duck porridge. The Sliced Fish Soup comes clean and light, swimming with consistently fresh slices of batang fish. Meanwhile, their Teochew-style Duck Porridge is a well-balanced flavour bomb of sweet, savoury, and herbal, packed with generous duck chunks. They're known for their succulent Braised Pig Trotters too.
Hong Qin Fish and Duck Porridge is located at 134 Geylang East Ave 1, Singapore 380134, p. +65 9061 4988. Open daily 5.45am–3.30pm.
Tan Ser Seng Herbs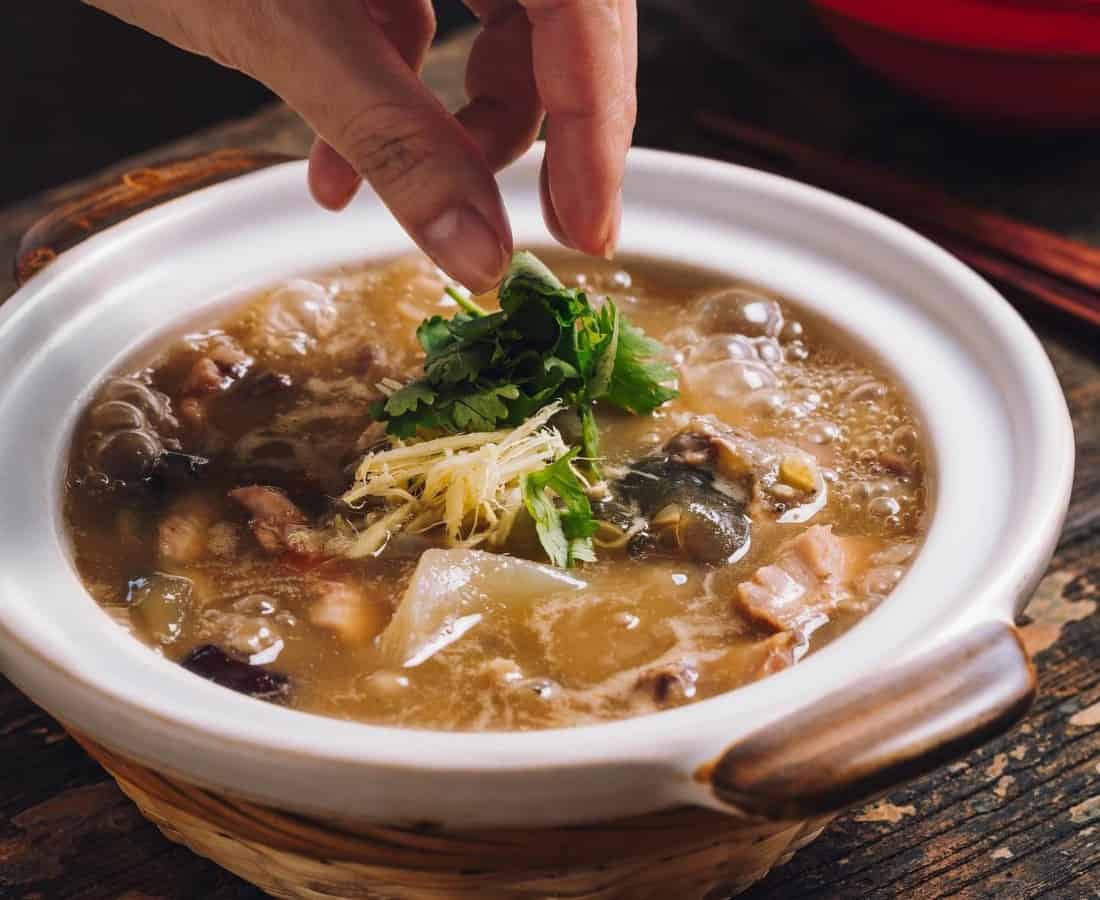 Part of Geylang's charm is its pockets of old-world cuisines and lesser-known food. Back in the 50s, soft-shell turtle soup was a common sight in Singapore. Over time, a mix of reasons led to dwindling demand for this delicacy, but you can still find it at Tan Ter Seng Herbs. The shop is run by third generation owners, and hawks up a collection of double boiled soups and yam rice. The Claypot Turtle Soup (from S$24) is a potent herbal soup with succulent meat — a must-try heritage recipe.
Tan Ser Seng Herbs is located at 29A Lorong Bachok (off Geylang Lorong 21), Singapore 387791, p. +65 6748 3953. Open daily 11am—8.30pm.
JB Ah Meng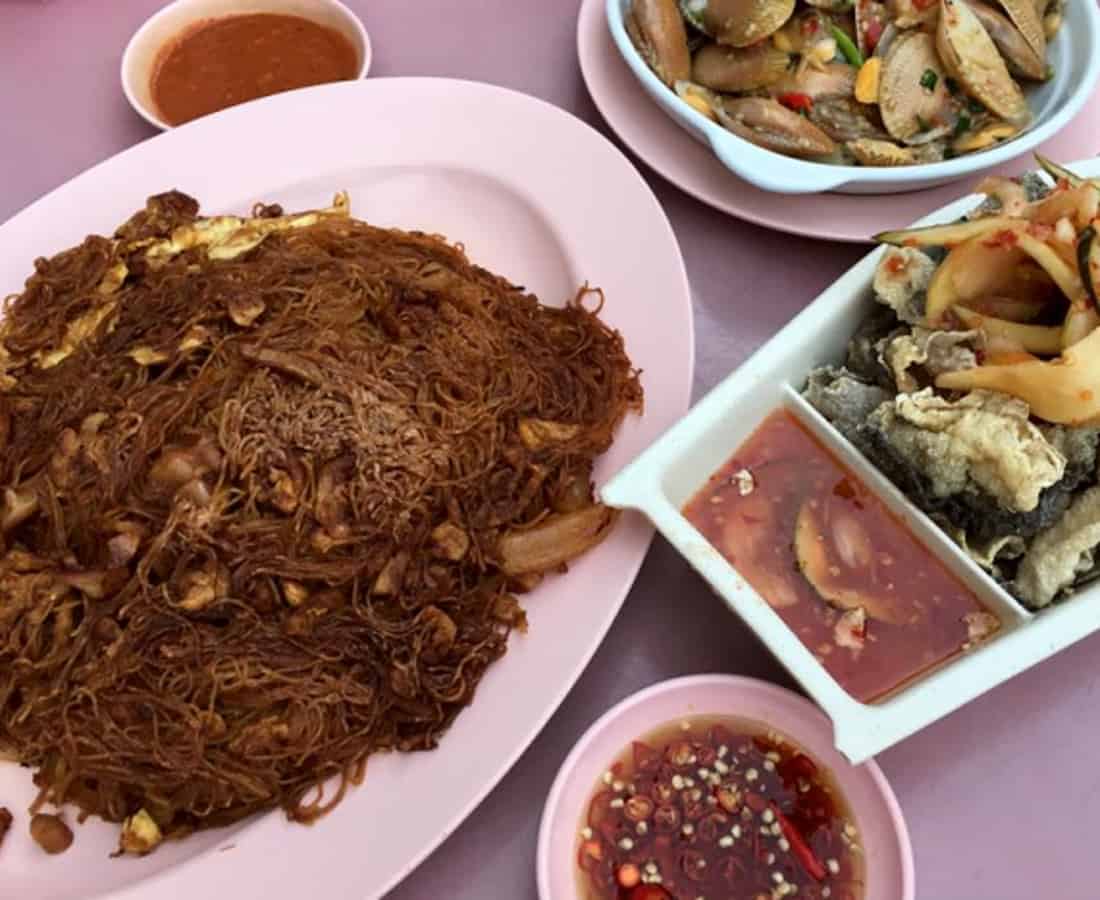 Moving closer to Aljunied MRT, Geylang's popular zi char stall is now relocated to Lorong 30, bringing its bold Malaysian flavours with it. The stall is in constant chaos – in a good way. Popular as ever, it's especially famous for its JB San Lou Meehoon (S$7/$11/$14), White Pepper Crab (around $50), and Deep Fried Fermented Bean Paste Pork Belly. In Geylang's colourful district, being kotoh (or cheated) by seafood sellers isn't unheard of, but JB Ah Meng has a pretty good reputation against that.
JB Ah Meng is located at 534 Geylang Road Lorong 30 Singapore 389490, p. +65 6741 2418. Open daily 5.30pm-2.30am.
Eminent Frog Porridge & Seafood
The second frog porridge on the strip worth mentioning, Eminent Frog Porridge clinched a Michelin Bib Gourmand for their S$8 frogs (or 4 for S$22). Sauces available include spring onion, garlic and white pepper, Chinese essence, and the most famous Gong Bao. Get your favourite with a piping hot bowl of porridge and throw in a few zi char items to round off the meal.
Eminent Frog Porridge is located at 323 Geylang Road (Lorong 19), Singapore 389359. Open daily 5pm-4am.
126 Dim Sum Wen Dao Shi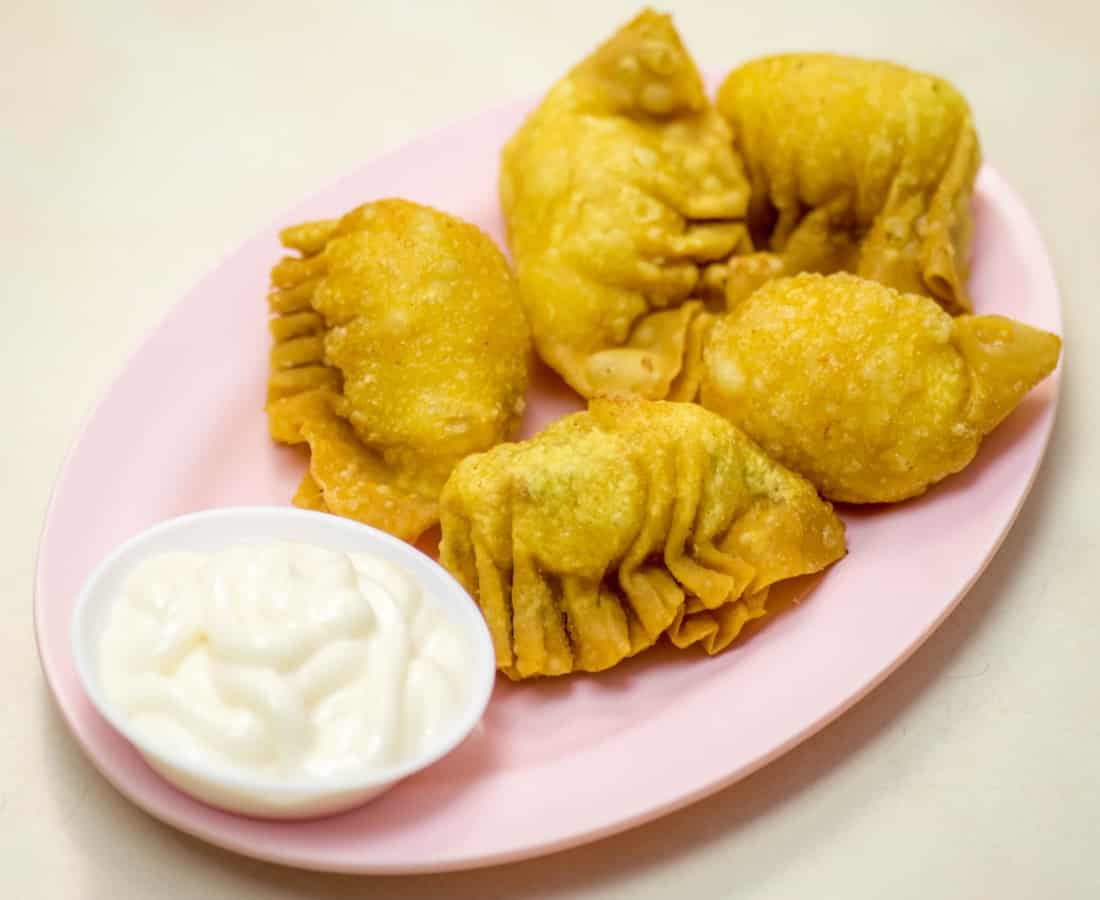 A dim sum inclusion is more than necessary for any Geylang guide. More colloquially known as 126, regulars know them for traditional Hong Kong comfort food, and they don't disappoint on that front. From obscure oldies like Chicken Feet and Vinegar Pork Trotter to newer fusions like Seafood Tom Yam Siew Mai, 126 has for sure resisted the wave of gentrification washing over Geylang. And it doesn't hurt that they're open 24 hours every day, too.
126 Dim Sum Wen Dao Shi is located at 126 Sims Ave, Singapore 387449, p. +65 6746 4757. Open 24 hours daily.
Top image: The Skewer Bar