40 Lorongs of Unlimited Food Options: The Ultimate Guide to Singapore's Geylang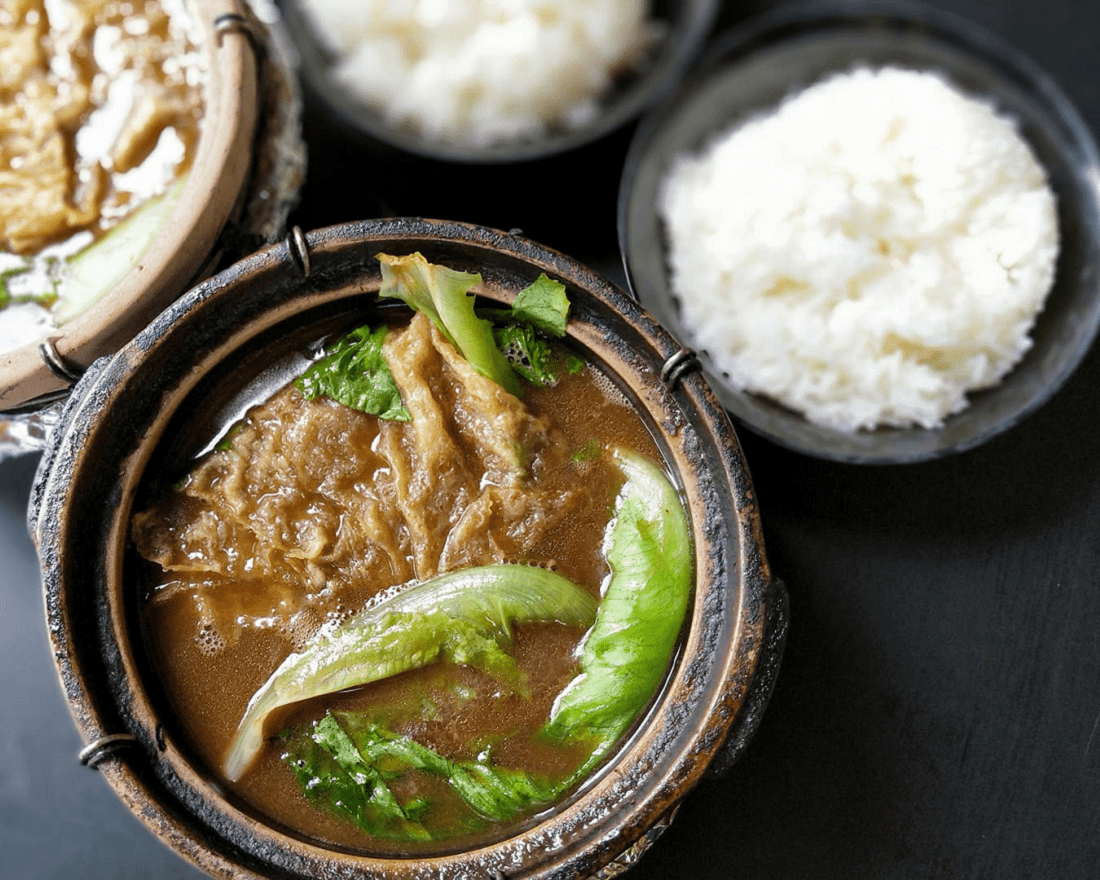 PUBLISHED June 27th, 2019 07:00 am | UPDATED July 10th, 2019 01:06 pm
If street food is a cornerstone of Singapore's history, Geylang Road is its literal backbone. Weaving through alleys of strange foreign mini marts, countless durian stalls, and prawn mee richer than the district's cultural diversity, Geylang is the pride and joy of the East (and it was here way before Jewel). We scaled all 40 lorongs of Singapore's sauciest district to satiate your hawker food cravings.
Jalan Sultan Prawn Mee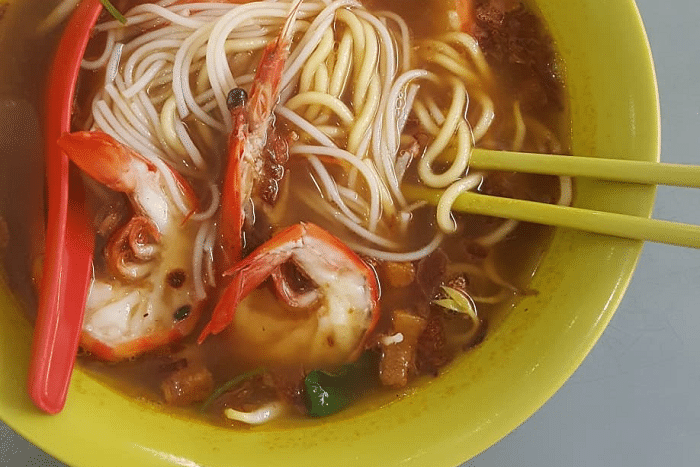 With over 70 years of history, Jalan Sultan Prawn Mee is just a few minutes walk from Kallang MRT Station. You can get your fix with regular and "King" sized prawns, with bowls starting at S$6 for regular prawn mee or S$5 for pork rib soup. For the best of both, we suggest splurging on a mouthwatering bowl of King Prawn Pork Ribs Noodle (S$8/$10), which includes tender pieces of both prawns and pork ribs.
Jalan Sultan Prawn Mee is located at 2 Jalan Ayer (Lorong 1 Geylang), Singapore 389141, p. +65 6748 2488. Opens Wed-Mon, 8am-3.30pm.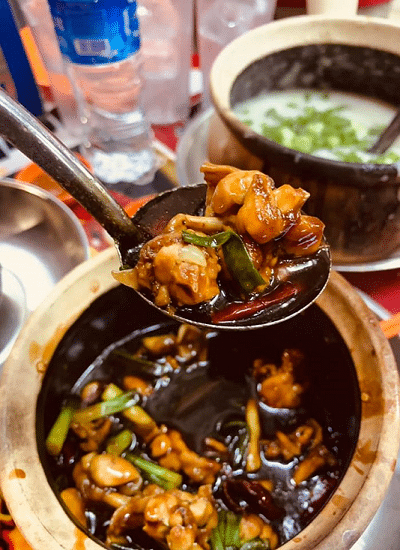 Geylang Famous Beef Kway Teow
Kway Teow or hor fun is one of those signature dishes that Geylang is ultimately famous for, and it's open late enough to be a great supper spot.
The Lorong 9 beef version is Michelin-recommended, priced from SGD$7 to $28, and made famous by its generous portions of fork-tender beef slices lathered in a thick gravy (which used to be thicker), with an acceptable amount of wok hei, though regulars point out that the aroma and char isn't as strong as it used to be.
Geylang Famous Beef Kway Teow is located at 237 Geylang Rd, Singapore 389296, p.+ 65 9388 0723. Opens Tue-Sun 12pm-2.30am, Mon 4pm-2.30am.
Fresh Frog Leg Porridge
Across the street from Lorong 9's beef hor fun is yet another classic neighbourhood dish – frog leg porridge. Geylang is no stranger to the delicacy, multiple stalls have opened up over the years claiming to have the best frog leg porridge, but we know what's up. Because of it's popularity, the price hike doesn't make the Gong Bao Frog (SGD$8.50) the most affordable, but the food here is still pretty good nonetheless. For the more germaphobic folks, you'll be glad to know that hygiene here might just be the best in the 'hood.
Lorong 9 Fresh Frog Porridge is located at 235 Geylang Rd, Lor 9 Geylang, Singapore 389294, p. +65 8688 8839. Opens daily 12pm-4am.
Leong Kee (Klang) Bak Kut Teh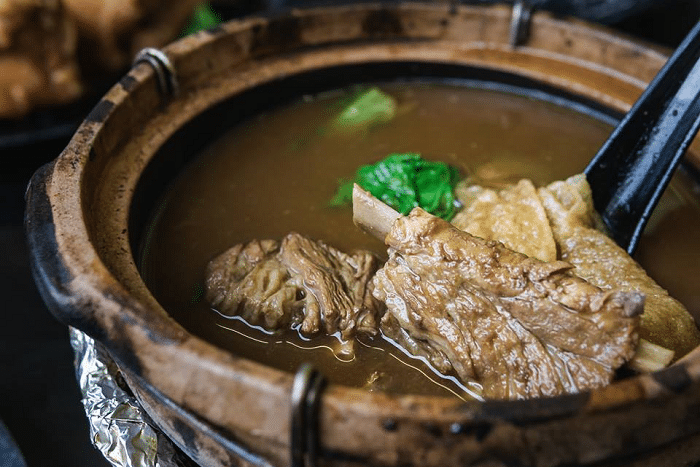 There's two kinds of bak kut teh in Singapore – and Leong Kee is the rare herbal needle in the peppery haystack. As opposed to the Teochew-styled version filled with garlic and white pepper, Leong Kee's Malaysian style Bak Kut Teh (about S$20 for a 3-person portion), serves up a strong, rich and earthy soup. They also have a lesser-known Dry Bak Kut Teh (S$10) that comes with pork ribs in dark soya sauce and dried chilli.
Leong Kee (Klang) Bak Kut Teh is located at 251 Geylang Lorong 11, Singapore 389309, p.+ 65 9380 1718. Opens daily, 11am-1.30am.
Eminent Frog Porridge & Seafood
The second frog porridge on the strip worth mentioning, Eminent Frog Porridge most recently received a Michelin Bib Gourmand for their S$8 frogs (or 4 for S$22). Sauces available include spring onion, garlic and white pepper, Chinese essence, and the most famous Gong Bao. Get your favourite with a piping hot bowl of porridge and throw in a few zi char items to round off the meal.
Eminent Frog Porridge is located at 323 Geylang Road (Lorong 19), Singapore 389359. Opens daily 4pm-4am.
L32 Handmade Ban Mian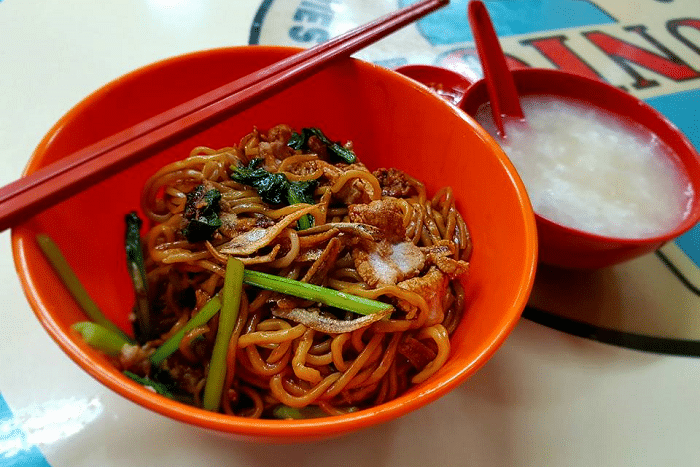 While authentic Chinese food is everywhere here, the best ban mian on the stretch is, surprisingly, made by two locals with nothing but a love for noodles that got them started. Located in the L32 kopitiam just a 10 minute walk from Paya Lebar MRT station, all noodles are made fresh daily, and soups are stewed overnight for maximum broth intensity. You'll be thankful for the immense selection of toppings as well, and the price isn't much further from regular hawker ban mian, so you can get a bowl of regular Dry Pork Banmian (S$4.30) on the cheap.
Swee Guan Hokkien Mee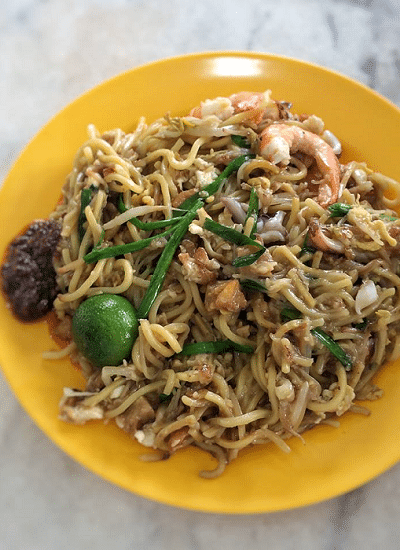 If you're a fan of hokkien mee, then you'll be familiar with Lorong 29's famous stall. Queues snake through the tiny coffee shop on the daily, with hungry patrons lined up and ready for their own little parcel of oily heaven.
Their secret? They still use charcoal fires to keep that signature char (wok hei), a hallmark of any good wok-fried noodle. One smokey plate of sin goes for an average of S$5, but be forewarned if you're trying to cut down on oily food – this bad boy is definitely not going to help your arteries.
Pair it with some Kwong Satay for good measure, and some say the frog leg porridge beats other more famous places on the strip.
Swee Guan Hokkien Mee is located at 5 Lorong 29 Geylang, Singapore 388060. Opens Thu-Tue 5pm-10pm.
Tanjong Rhu Pau & Confectionery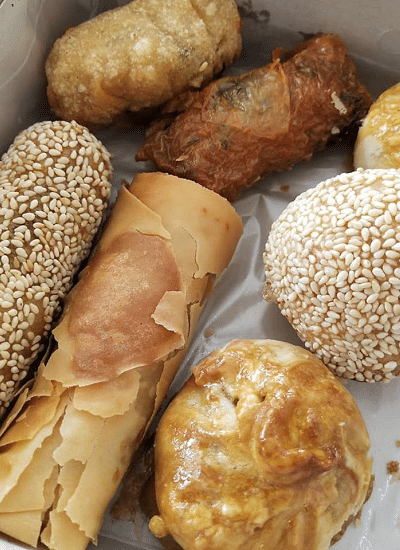 This might not be hawker fare as you imagined it and it might not be on the main Geylang Road, but Tanjong Rhu Pau & Confectionary is a must-have on this guide nevertheless.
Tanjong Rhu Pau's old-school bun shop offers simple traditional Chinese confectionery that's great to bring home for Mum and Dad. A good selection of dim sum like siew mai, their egg tarts are also to die for.
Tanjong Rhu Pau & Confectionery is located at 389 Guillemard Road, Singapore 399788, p. +65 6842 2112. Open daily, 10am-8pm.
Tan Ter Sen Herbs
Part of Geylang's charm are the pockets of old world cuisines and lesser-known food. Back in the 50s, soft-shell turtle soup was a common sight in Singapore. Over time, a mix of reasons led to dwindling numbers, but you can still find it at Tan Ter Seng Herbs. The shop is run by third generation owners, and hawks up a collection of double boiled soups and yam rice. The Terrapin Herbal Soup (S$24) has flavours akin to herbal bak kut teh with gelatinous turtle claw meat. While they taste similar to chicken eggs, the Turtle Eggs (S$3) also lend a curious popping texture when bitten into.
Tan Ser Seng Herbs (Turtle) is located at 29A Lorong Bachok (off Geylang Lorong 21), Singapore 387791, p. +65 6748 3953. Opens Fri-Wed 11am-7pm.
JB Ah Meng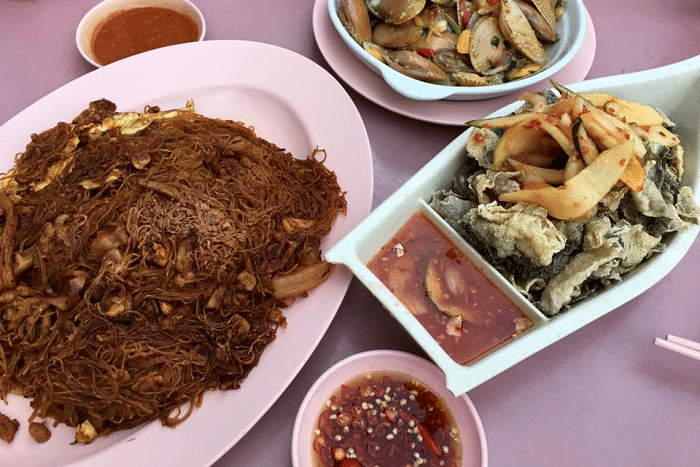 Moving closer to Aljunied MRT, Geylang's popular zi char stall is now relocated to Geylang Lorong 30, bringing its bold Malaysian flavours with it. The stall is in constant chaos – in a good way. Popular as ever, it's especially famous for the JB San Lou Meehoon (S$7/$11/$14), White Pepper Crab (around $50) and 3 Delicacy Beancurd. In Geylang's colourful district, being kotoh (or cheated) by seafood sellers isn't unheard of, but JB Ah Meng has a pretty good reputation against that.
JB Ah Meng is located at 534 Geylang Road Lorong 30 Singapore 389490, p. +65 6741 2418. Opens daily 5.30pm-2.30am.
126 Wen Dao Shi Dim Sum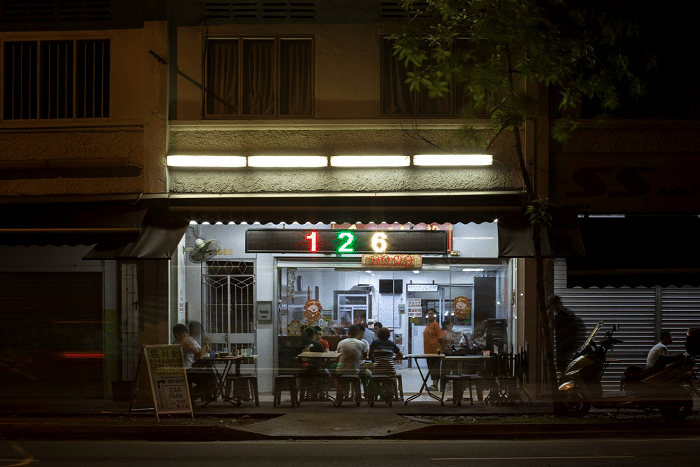 Last, but not least, a dim sum inclusion is more than necessary for any Geylang guide. More colloquially known as 126, regulars know them for traditional Hong Kong comfort food, and they don't disappoint on that front. From obscure oldies like Chicken Feet and Vinegar Pork Trotter to newer fusions like Seafood Tom Yam Siew Mai, 126 has for sure resisted the wave of gentrification washing over Geylang. And it doesn't hurt that they're open 24 hours every day, too.
126 Wen Dao Shi is located at 126 Sims Ave, Singapore 387449, p. + 6746 4757. Opens all day, all night.