Where to Eat & Drink in Boat Quay, Singapore: Best Restaurants, Bars, and More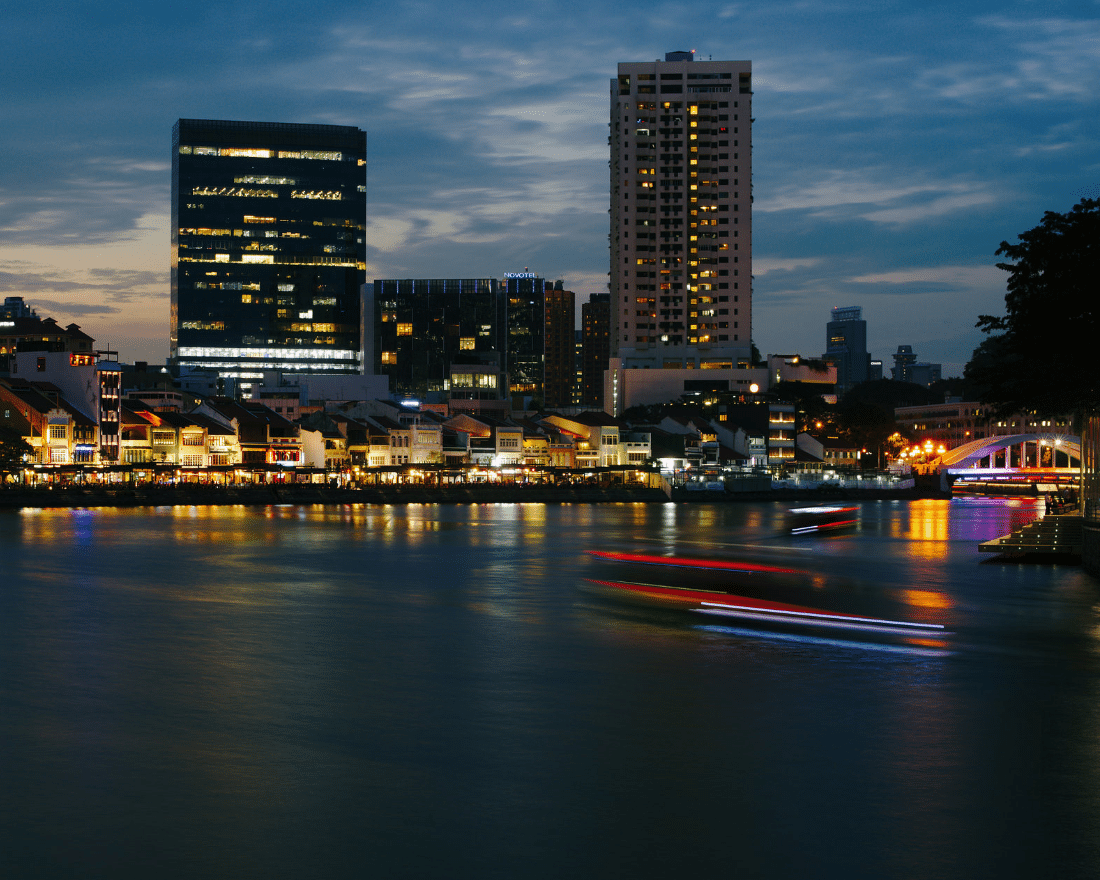 PUBLISHED October 16th, 2017 07:00 am | UPDATED May 18th, 2020 04:25 pm
The grittiest of all the Quays in Singapore (Clarke Quay and Robertson Quay being the other two), it's difficult not to think of massive crabs in tanks and restaurant touts that don't take no for an answer as representation of the place. But as new establishments pop up alongside the old veterans in Boat Quay, we see a stretch that's now full of excellent places to eat and drinks – and it's just the beginning. Here's the lowdown on the once squalid neighbourhood.
---
Check out our other area guides, Tiong Bahru – Our Food, Drink and Fashion Guide and Dining Guide To Keong Saik Road: The Foodie's Haven.
---
Restaurants in Boat Quay
Menya Sakura
First established in Nagoya in Japan and then Indonesia, Menya Sakura made its way to Boat Quay just earlier this year. Focusing on the real taste of classic Japanese ramen, enjoy the richness of the Premium Tonkotsu Shoyu Ramen ($15.90), the Tokyo-style Chuka Soba ($10.90) with chicken, or the Spicy Tonkotsu Tsukemen, which combines a clear tonkotsu broth with a full-bodied seafood soup, and of course, chilli. Read our review here.
Menya Sakura is located at 69 Boat Qy, Singapore 049857, p. +65 9469 3366. Open Mon-Sat 11.30am – 10.30pm (last order at 10pm). Closed Sun and PHs.
Aburiya & the Container

Part restaurant and part bar, Aburiya & The Container is a dual-concept joint that fuses exquisite grilled Japanese wagyu beef and a cocktail bar that interestingly, takes inspiration from the elements of earth, fire, air, and water. Try the finely-aged Jukusei Atsugiri Tongue ($24.90) or assorted Family Platter ($24 for 150g), then head outside for innovative drinks like the smoky Kemuri No Kontena ($18) an intriguing cocktail that encompasses apricot liqueur, brown syrup, and whisky that's been fat-washed with wagyu. Read our review of Aburiya here.
Aburiya & The Container is located at 78 Boat Quay, Singapore 049866, p. +65 6532 0365. Open Sun-Mon, Wed-Thu 6pm – 11pm, Fri-Sat 6pm – 11.30pm. Closed Tue.

Katanashi

Casual, reasonably priced Japanese tapas is what this place is all about. Expect a well executed, but limited menu from this Singapore outlet of the famous Katanashi Japanese chain, served up with the warm hospitality and excellent service standard that can only be from Japan. The tantalising collection of dishes include Chirashi Sushi ($18.80), prepared Katanashi-style, Tako Wasabi ($4), and a fantastic Roast Pork Teppanyaki ($9.80).
Katanashi is located at 77 Boat Quay, Singapore 049865, p. +65 6533 0490. Open daily 12pm – 11.30pm.
Kinara

One of the oldest dining venues on the quayside, Kinara is somewhat of a hidden gem offering genuine delicious North Indian food at a fair price. Expect a solid assortment of curries, tandoor dishes and some robust Indian beer to quench the spice. Ideal for a romantic alfresco dinner by the waterside, there are a several dum biryanis from different parts of India to choose from, an assortment of flaky nans, seafood baked in the tandoor, and some satisfying fish curries – get the Kinara Fish Curry.
Kinara is located at 57 Boat Quay, Singapore 049846, p. +65 6533 0412. Open daily 11.30am – 2.30pm, 6pm – 11pm.
Gosso Yakitori Dining

This Japanese diner specialises in yakitori and rice bowls, though it also offers salads and hot pots. While you'll find the common sasami (chicken fillet),  and tsukune (chicken minced ball), the signature dish at Gosso is the part of the chicken that it's named after: gosso dama. Referring to the white chicken liver, it is wrapped in a netting of fat (more delicious than it sounds) and grilled. Once ready, you're supposed to eat it within 40 seconds, so don't bother trying to take a photo or all that goodness starts to deteriorate.
Gosso Yakitori Dining is located at 64 Boat Qy, Singapore 049852, p. +65 6533 5152. Open Mon-Fri 11.30am – 2.30pm, 5.30pm – 1am, Sat-Sun 5.30pm – 1am.
Braci

If you're familiar with renowned Italian restaurateur Beppe De Vito, you'll know about the one-Michelin-starred Braci, his new modern Italian restaurant and rooftop bar perched on top of a heritage shophouse. Charcoal is what it's all about here, and the menu sees modernised classic Italian fare (think the likes of Aged Duck with apple, Pork Cheek with chanterelles, and Mayura Beef with truffle and almond fondue) cooked with not just a Josper oven, but also the small Japanese shichirin grill.
Braci is located at L5/6, 52 Boat Quay, Singapore 049841, p. +65 6866 1933. Open Mon-Sat 6pm – 10.30pm (Bar 5pm – 12am). Closed Sun.

My Little Spanish Place

My Little Spanish Place has been around for years, though a later revamp boasts a new impressive Jamon bar and well-stocked Spanish pantry. Get the Tabla de Cinco Jamones platter at $75, and indulge in the whole array of cured meats. For something more substantial, the Paella de la Casa ($49) is a must-try, packed with chicken, seafood, and plenty of flavour. Read our review here.
My Little Spanish Place is located at 619 Bukit Timah Toad, Singapore 269720, p. +65 6463 2810. Open Tue-Fri 6.30pm – 11pm, Sat-Sun 11am – 3pm, 6.30pm – 11pm.

Bars in Boat Quay
Ah Sam Cold Drinks Stall

Founded by former Jigger & Pony bartender Sam Wong, Ah Sam's Cold Drinks Stall is a great little drinks spot – cozy, simple, and no frills. Just a friendly and personable team making excellent classic cocktails, as per your request, in a second-floor escape along with delicious Singapore-inspired bar grub like Hokkien Mee ($12) and Har Cheong Gai ($10). While Sam is no longer part of the establishment, all the things that made this bar so popular can still be found. Read our review here.
Ah Sam Cold Drinks Stall is located at 60A Boat Quay, Singapore 049848. Open Mon-Thu 6pm – 12am, Fri-Sat 6pm – 3am. Closed Sun.
Skinny's Lounge

If you like a noisy bar, Skinny's Lounge is the place for you. This is an American dive bar meets KTV – drinks are fast and well-priced, the music is kickass, and the people are amazing. Plus, they do some amazing hot dogs. And have we mentioned that it's a hotspot for the local bartender community? Read our interview with Skinny's Lounge's founder Nick Haas here.
Skinny's Lounge is located at 82 Boat Quay, #01-02, Singapore 049870, p. +65 9653 8886. Open Mon-Fri 5pm – 3am, Sat 7pm – 4am. Closed Sun.
Bee Bee's

The newest bar on this list, Bee Bee's is a Tiki cocktail bar that gets a spicy boost from Peranakan flavours, courtesy of head bartender and co-owner Bryan Kishore, who has Straits Chinese roots. Most cocktails on the menu are priced at a very affordable $15 nett, and sees tipples such as the fruity Sorry Not Sorry (inspired by the ubiquitous red dragonfruit and soursop drink found in hawker centres) and the punchy bourbon-based Respite, aptly served in a literal 'punch' bowl.
Bee Bee's is located at 55A Boat Quay, Singapore 049844, p. +65 9172 6729. Open Mon-Sat 5pm – 12am. Closed Sun.
Top Image: Courtesy of Marek Kubica