10 questions with George Abhishek Cherian Owner and Head Barman at The Spiffy Dapper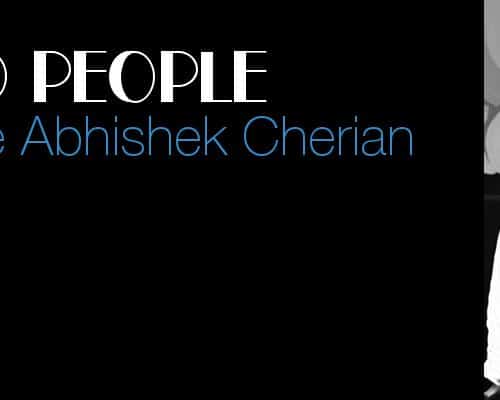 PUBLISHED February 25th, 2014 01:34 am | UPDATED May 18th, 2020 04:55 pm
If you haven't heard of The Spiffy Dapper…urm, like…where have you been dude? The Spiffy Dapper is a small bar in Boat Quay that is the antithesis to every swanky, soul-less, cheesy bar serving watered down fruity cocktails you've ever been to. Instead, in the words of the owner George Abhishek Cherian…"We do well balanced cocktails at reasonable prices in a casual atmosphere. We don't care about how you dress and who you come with. Just chill out and have some fun."
Having gained a reputation for their cheeky marketing campaigns and 'anything-goes' party vibe, The Spiffy Dapper is the coolest bar we know that doesn't care that it's cool – they also make a mean cocktail. We caught up with George to find out what motivates him, what inspires him, and what you'll see him sipping on!
1. Tell us about what you do…
I build dreams and people. I own and run The Spiffy Dapper, a small cocktail bar in Boat Quay. I also head up Dapper Coffee, a coffee brand completely owned by employees. Also in the works is a co-working space and a small private equity firm that will focus on building small brick and mortar businesses in Singapore.
2. What was the worst piece of advice you have been given?
Can't really think of any. I try to retain only positive information that matters to me. I guess the more consistent tone in the advice that I have ignored is 'to be normal and to stop being such a stupid moron'. I have categorically ignored that advice, because even though it is rational, anecdotal evidence has led me to believe that my stupidest decisions have brought me most happiness, coolest experiences and greatest triumphs.
3. Pick two celebrities to be your parents
This is a hard one. The thing closest to an idol I have is Jack London the author, so he would be the father figure. My mother is not a celebrity, but she is the most badass, stubborn, principle-driven and loving person ever. Most of the time we disagree on most issues, but I would not want to be the son of any other woman.
4. We give you a million dollars to launch your best entrepreneurial idea right now….What is it?
A company that builds sustainable aqua phonics farms. The idea is to create a farm, sell it back to the farmers who run the farm for a 2 X multiple of investment and use the profits to repeat the process. The number of farms that can be deployed becomes exponential and millions of people would have access to sustainable and healthy food sources. Idealistic, I know, but the realm of possibilities are only as big as your imagination.
5. If you knew then what you know now, what would you tell your 18-year-old self?
Nothing. I think the stupid things I did taught me a lot. I don't think I want to be any less stupid. All in due time. All in good time.
6. You're about to meet Barrack Obama and you can only ask one question. What do you ask?
So, what's up with the aliens man?
7. What has been the happiest moment of your career to date?
The night I opened The Spiffy Dapper. It was the culmination of a lot of things. I was able to have a place of my own to explore cocktails and I got together with the love of my life on that day after a 1 year wait. So probably the most awesome day of my life so far.
8. When things get tough, how do you keep yourself going?
I was going through a rough patch for a couple of years. And I chanced upon the movie, Invictus. I loved the poem that inspired the name of the movie and learnt it by heart. I used to recite it over and over again to myself when things were especially bad. I still do I guess. But most things seem easy these days compared to those times.
I have three laws that I live by. They get me through most days.
1. Keep your peace
2. Live as today is your last day
3. Always be thankful
Last but not least, I love the short verse from the movie The Grey.
"Once more into the fray. Into the last good fight I'll ever know. Live and die on this day. Live and die on this day."
I kinda recite stuff like this to give myself a kick in the butt when things get rough.
9. If you could be a superhero, who would you be?
Ozymandias from the Watchmen comics. He is regarded as a villain by most people. But he makes pragmatic and tough choices objectively for the greater good. Plus he is human and not like he has fallen from some f$%*king star.
10. What is your favourite drink?
Ocho Reposado Tequila on ice or a nice glass of Rioja. For cocktails, a La Paloma at 28 HKS will be my go to.
You can find George, his excellent cocktails and The Spiffy Dapper at 61 Boat Quay, Second Floor, Singapore, 049849. Opening hours are Monday – Thursday: 6pm – midnight. Friday: 5pm – 2am. Saturday: 8pm – 2am. You can check out their Fb page here.
---
Written by Heh Zee