Phuket Old Town: Our Guide to a Cultural Adventure on the Other Side of the Island in Thailand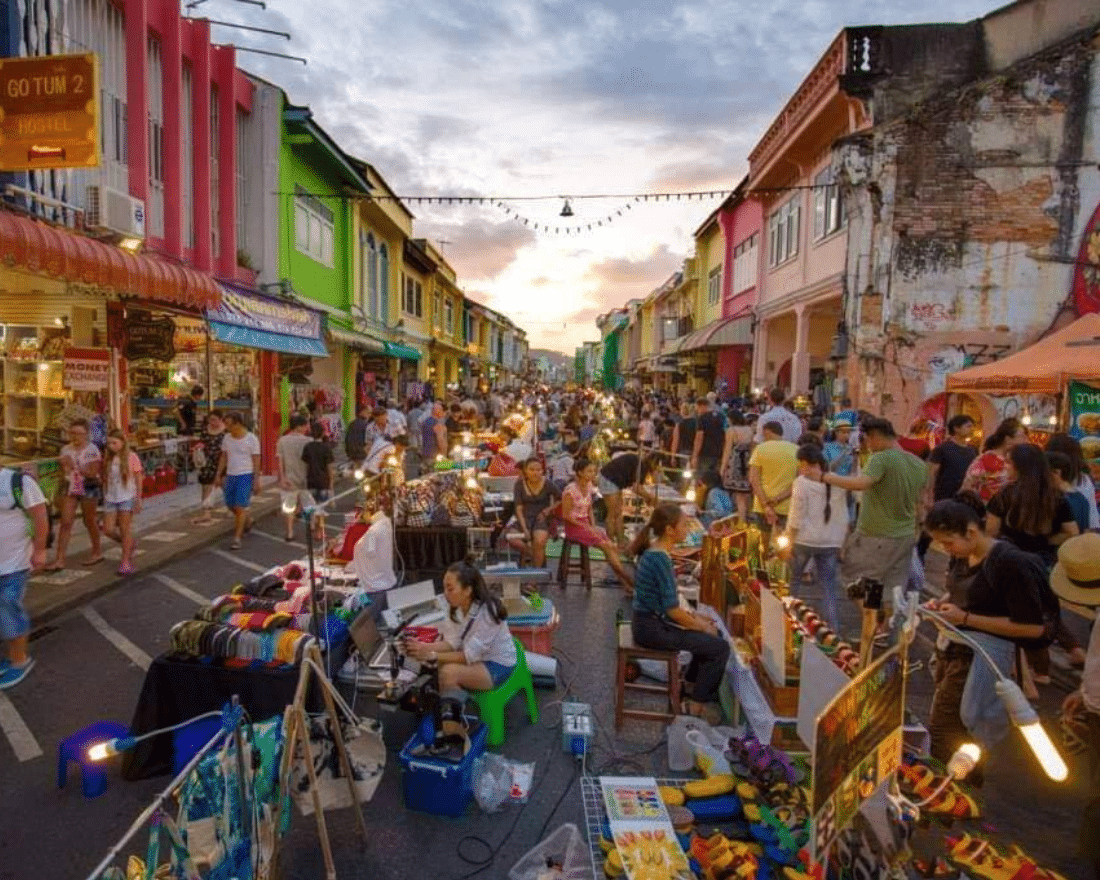 PUBLISHED August 15th, 2019 06:00 am | UPDATED January 7th, 2020 09:52 am
Often, the first thing that comes to mind when someone says "Phuket" is beach paradise: sunny weather, clear waters, and white sands. But next time, venture into Phuket Old Town – a highly underrated gem that's worth ditching those gorgeous beaches for. A 30-minute drive from the infamous Patong beach, this Sino-Portuguese district has been dubbed as the "City of Gastronomy" by UNSECO. Admire the vibrantly-coloured shophouses, now home to hostels, cafes, and restaurants that you can seek refuge in during the midday scorch. Here's what to expect:
Refuel with Thai Classic Dishes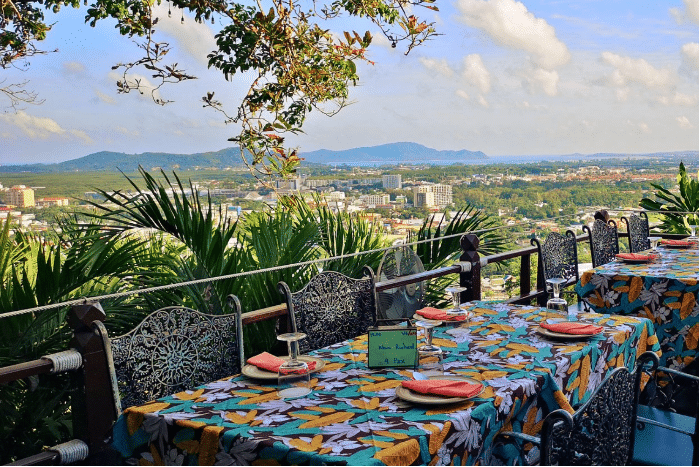 Visit Blue Elephant Restaurant for Royal Thai cuisine in an ancient old Governor's Mansion, and try out a cooking class if there's time to spare. Or curb those hunger pangs with hearty homecooked meals at China Inn Café & Garden Restaurant, a restored shophouse with Chinese lacquerwork and a Feng-Shui-inspired backyard. For a magnificent view atop Khao Rang, travel out a little to Tunk-ka Café for some delectable Thai dishes above street level.
Blue Elephant Restaurant is located on 96 Krabi Road; China Inn Café is located at 20 Thalang Road; Tunk-ka Café is located at Khosimbi Road Ratsada Road.
[button color="blue" size="normal" alignment="none" rel="follow" openin="samewindow" url="http://www.kqzyfj.com/click-9211920-13787508″]A hand selection of luxury Phuket villas with customised personal service. Book now.[/button]
Keep Your Eyes Peeled for Murals and Colourful Shophouses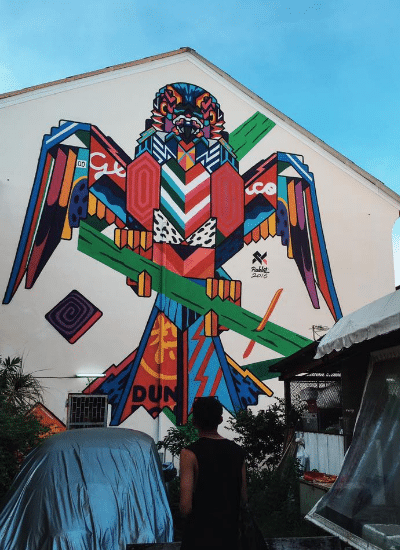 Phuket Old Town is one of the best places to explore on foot, with the intricate Sino-Portuguese architecture and artistic murals adorning the little nooks and cranks of every street.
While most just head for ex-red-light district Soi Romanee for their colourful shophouses, do check out Thalang Road in the evening for their colour-changing LEDs lights. Don't skip out on the street alleys either – they're home to many beautiful murals that brighten up the little town.
For those willing to venture further afield, there are a few old and beautiful mansions worth seeing that bring more to your cultural journey, such as Baan Chinpracha (built in 1903 by Thai Chinese Pratipak Chinpracha) and the Thai Hua Museum.
Formerly a Chinese language school founded in 1934, the latter building of the l features a stunning combination of Chinese and European architectural styles, and inside, you'll find photos, videos and English-language exhibits on Phuket's history.
Seek Refuge from the Sun with Sweets, Coffee and Cakes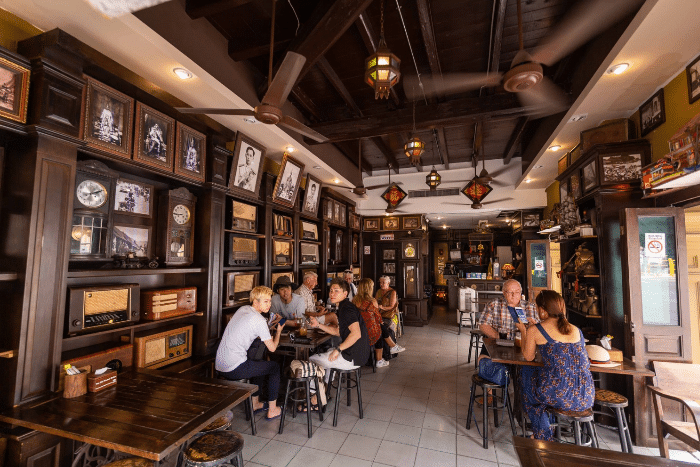 Phuket Old Town is the perfect place for some café-hopping. The locals' favourite The Old Phuket Coffee "Coffee Station" serves up strong coffee in a retro-furnished setting, while hipster book cafe Bookhemian has a mini cinema upstairs. For a bite to-go, check out traditional sweet shop Keng-Tin; they're renowned for their tau sar piah, a fragrant ball of pastry that's filled with sweet or savoury bean paste. Operating since 1942, choose between their assortment of handmade sweets for a taste of Phuket's history.
Bookhemian is located on 61 Talang Road, The Old Phuket Coffee "Coffee Station" is located at 72/1 Yaowarat Road; Keng-Tin is located at 342-344 Phuket Road.
Check Out Phuket's Bustling Markets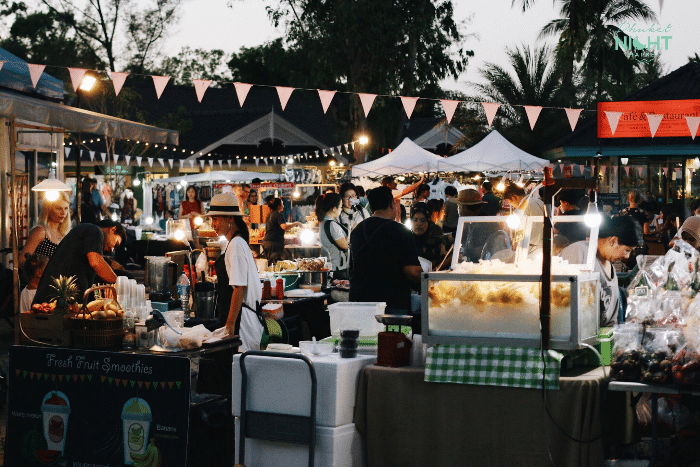 Markets are a must-visit for experiencing Thailand's culture, whether it's cheap thrills or a street food galore. Visit Phuket Town Central Market, a daily morning market that's popular with locals and tourists alike, for a sight of vendors selling anything from fresh fruits to clothes to snacks. If you're in on a Sunday, visit the Sunday Walking Street Market along Thalang Road for a glimpse of Thailand's street food scene. Besides the food, there's many retail goods and street performances that's as colourful as the shophouses there.
Cheers To A Great Day At Phuket Old Town
A trip to Thailand isn't complete without appreciating its nightlife. Phuket Old Town is home to many bars that don't just serve good ambience and drinks, but also a night of fun and sometimes, mayhem. Unwind at locals' favourite Ka Jok See Restaurant and Bar: this intricately-decorated place dishes out large portions of Thai classics for dinner. Be warned, the mood escalates come 9pm, with diners dancing on the table, and insane numbers of bongo drums and party hats passing around. An all-inclusive party that isn't for the faint-hearted, or those with work the next day.
Feeling slightly intimidated? Check out 1920s-inspired Prohibition Bar instead; it's still exciting with a swinging bookshelf door leading to a secret room. Or if you don't mind traveling out a little further, try Music Matter Jazz Club for lovely Jazz music with solid Mojitos.
Ka Jok See Restaurant and Bar is located at 26 Takua Pa Road; Prohibition Bar is located at 87 Yaowarat Road; Music Matter Jazz O Cocktail Bar is located at 119 Chanajaroen Road.
A Home Like No Other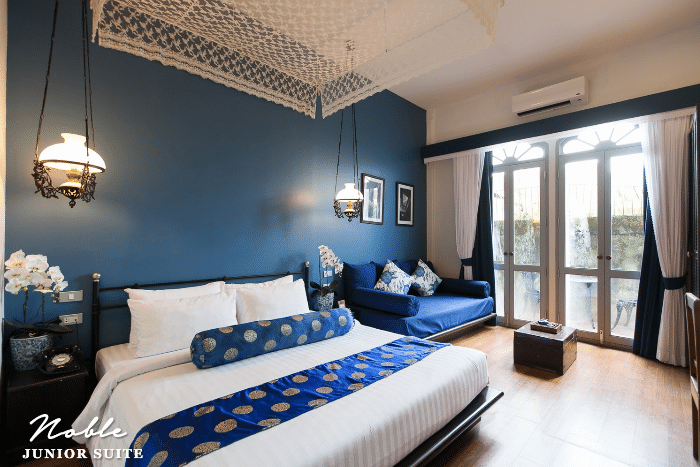 You might remember Leonardo DiCaprio's "The Beach" opening scene, with young Leo checking in to a backpacker hostel. That cheap-looking accommodation is none other than On On Hotel, although it has since undergone major renovations to become The Memory at On On Hotel. Despite the upgrades, it continues to preserve its heritage from 1929, and is definitely worth a day-trip visit. Another comfortable yet affordable place is Quip Bed and Breakfast, too located at the heart of Old Phuket Town.
The Memory at On On Hotel is located at 19 Phang-nga Rd, Amphoe Mueang Phuket; Quip Bed and Breakfast is located at 54 Amphoe Mueang Phuket.