Things You Must Absolutely Do in Cappadocia, Turkey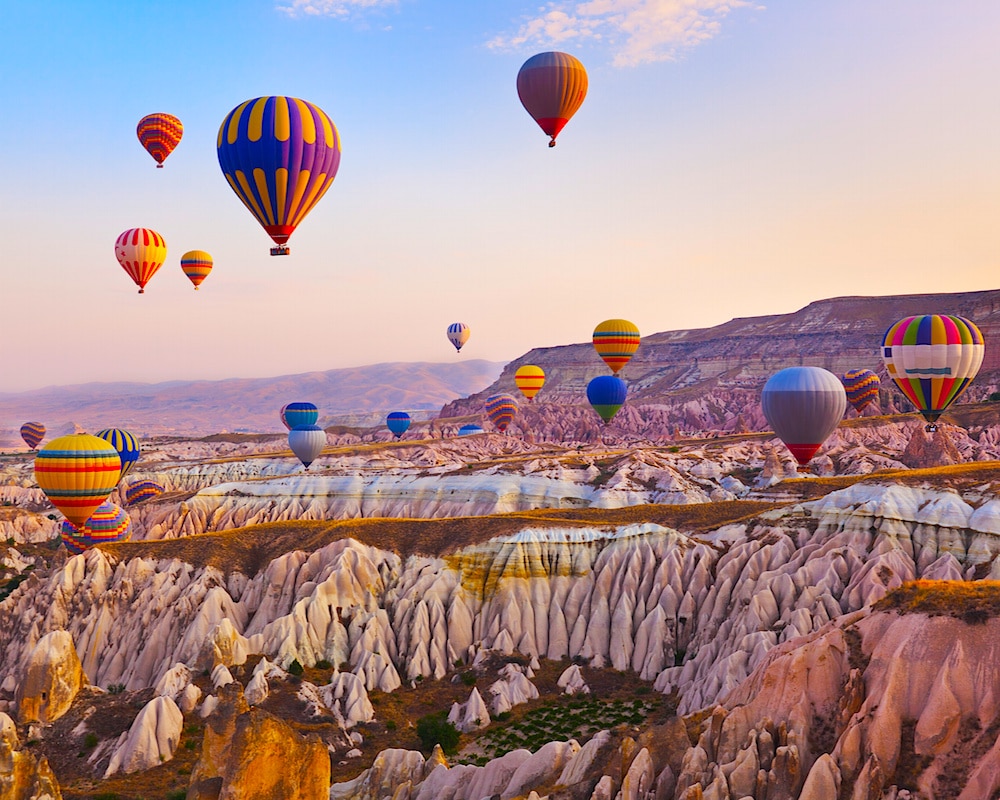 PUBLISHED March 29th, 2016 06:00 am | UPDATED February 6th, 2020 05:04 pm
Turkey is a fascinating country. From people to culture to food to nature, no matter where you are in Turkey, the variety of experiences will keep you coming back for more.
And despite the vastness of Turkey, there is one specific place beyond any earthly imagination. Ever heard of fairy chimney houses? Volcanic granite mountains? Large underground cities of 60m in depth? A 16km long volcanic gorge in the middle of a dry area? Tiny rooms and alleyways carved from rocks in the mountains as a refuge? Or riding in a hot air balloon to catch the sunrise with breakfast included?
Welcome to Cappadocia, Turkey!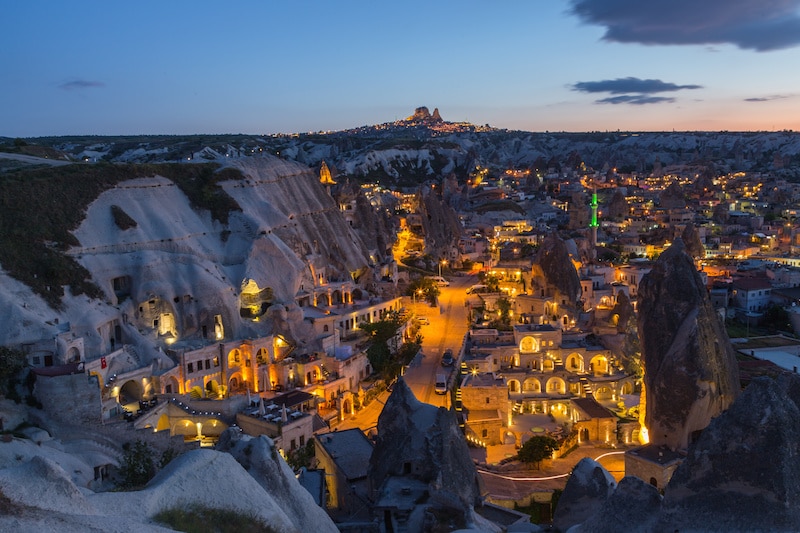 Located in central Anatolia, a region known as the "birthplace of civilization",  it's no wonder that Cappadocia puts a spell on anyone who cares to visit. The carvings and frescoes on the walls of every room, church and temple are just unbelievably stunning. Not to mention the skill and effort involved in carving out rooms, tunnels, and living quarters.
Here are  is a list of places which will not only render you utterly speechless, but it is thought provoking as to what exactly did happen in Cappadocia! Who were these people with such intelligence? Where are they now? Where are their remains? Why was nature carved into such profound shapes? It gives no answers as to the reason why. Cappadocia stands as an intriguing mystery, but how phenomenal would it be to be present and experience the awesomeness of such a creation!   
We have listed at least 10 activities to ensure a true capturing of the essence of Cappadocia.
Hot Air Balloons
The beauty of Cappadocia is so vast that getting to see it from the air is the best way to go, especially at sunrise.
Hot air balloon operators usually start pick ups at 5am from your hotel and then drive you to the spot where the balloon basket awaits you. The fantastic bonus is that breakfast is also included, as they know full well that you'll miss the one provided by the hotel. For photographers,a hot air balloon ride is a must as you will be able to capture the charming landscape of Cappadocia in its entirety.
Afraid of heights? There's a sunrise platform overlooking the plains of Cappadocia. You can sit there with your flask of hot coffee and just enjoy the view of hot air balloons dotted against the magnificent scenery.
Walking, Trekking & Hiking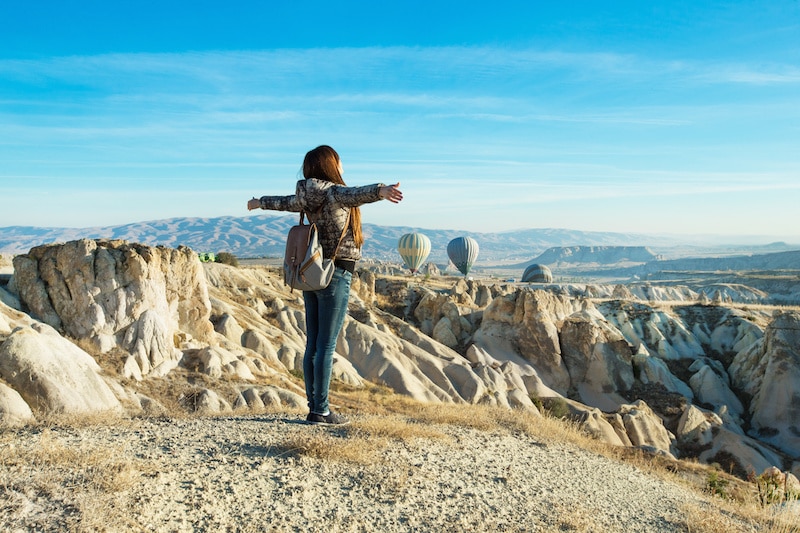 There are at least 8 official hiking trails in the valleys of Cappadocia and a dozen unofficial walking routes for shorter distances. As you go through the valleys, you will see the odd formations of Cappadocia. From mushroom shaped rocks to spire shaped rocks in the "Love Valley", and a network of caves and rooms which have been carved out of these rocks, there's loads to explore.
The canyons and the rock formations are believed to have been shaped through deep erosion and compacted with volcanic lava. As you walk, you will notice how soft the elements are. They don't make good handholds or footholds, so it's not advisable to climb over rocks.
At each of the hiking and trekking routes, there's usually a panoramic platform for you to look back at the distance of how far you've walked and what you've gone through.
Horseback Riding, Cycling or ATV Wheeler
If you like horseback riding, this is definitely a spot where you will have your thrill with horses. The calm environment coupled with pleasant weather also makes cycling a great way to see the sights. You can also hire an ATV with or without a driver. It's very different from driving on the road or even on an even plain of a dry desert; the ups and downs of the canyon can prove challenging and exciting as long you don't get stuck on the edge of a rock!
Cappadocia's Underground Cities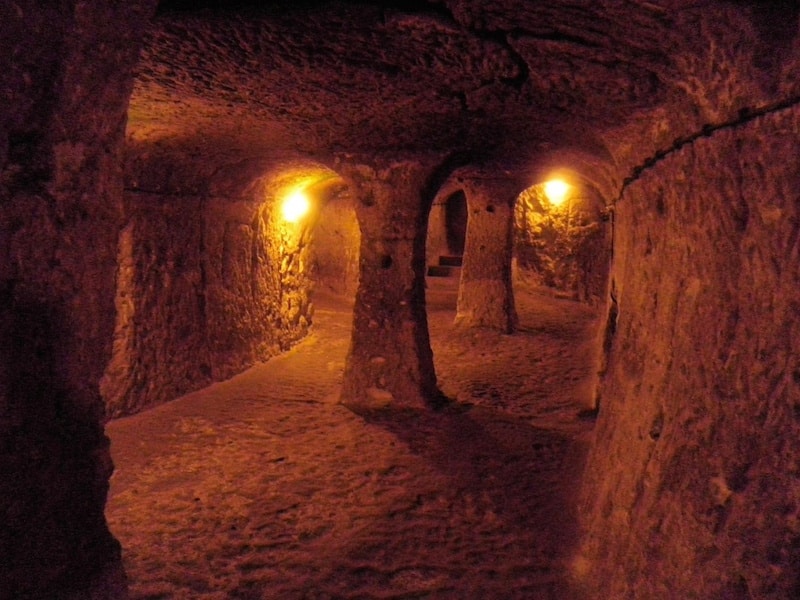 Some of these underground cities and built 10 floors beneath your feet, with alleyways are so narrow that only those with a certain body size can pass through. Tunnels and room spaces along with air shafts straight up to ground level are quite something and are mind boggling. They have a water system, animal living quarters, cooking area and toilets, just like a house with tunnels linking to another person's living quarters. Those with claustrophobia, however, need to reconsider visiting this attraction and many of them are dark and at least 60m below ground level.
Ihara Valley – Volcanic Gorge
Ihara Valley is a canyon formed by the Melendiz River thousands of years ago. Walking through the 16-kilometre gorge is the perfect way to appreciate this wonder created by mother nature. Think lush greenery along the stream, free ranging animals that feel completely at ease, caves carved out from the canyons as living spaces along with a peaceful atmosphere with only the sounds of nature and the chirping of the birds. It's so beautiful, that if you only have time for one thing on this list, it should be this.
For more things to do in Turkey, see our feature on Istanbul here.