Singapore Flavours: Chef Shen Tan's guide to the top 5 Nasi Lemak in Singapore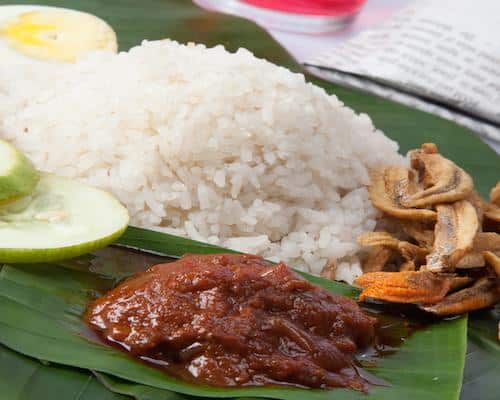 PUBLISHED July 2nd, 2014 10:36 am | UPDATED May 22nd, 2017 02:47 pm
Nasi Lemak is one of Singapore's most popular local dishes. Originating in the Malay peninsula, 'Nasi Lemak was traditionally a big breakfast dish to keep local fishermen full all day until they came home' according to Chef Shen Tan. Today it is consumed en mass all over Malaysia, Singapore, Brunei and parts of Indonesia at most times of the day.
So what is Nasi Lemak?
If you're reading this is a tourist or simply haven't had the chance to 'experience' nasi lemak, you my friend, are in for a real treat.
Nasi lemak literally translates as 'oily or fatty rice', however  this name is derived from the cooking process whereby rice is soaked in coconut cream and then the mixture steamed. Nom nom nom.
Traditionally, nasi lemak is served with various side dishes, including fresh cucumber slices, small fried anchovies (ikan bilis), roasted peanuts, hard boiled egg, and hot spicy sauce (sambal). In Singapore, it is also commonly served with a deep fried chicken drumstick… However the possibilities are endless and many eateries will serve theirs with rendang, fried fish, other veggies and more. As long as it's all spicy lah.
Who is Chef Shen Tan ?
Put simply, Shen is one of my favourite Chefs in Singapore. Aside from being a voracious foodie and incredible Chef, she's also of the most delightful people in the industry, and as mentioned in our article Singapore Cuisine: Past, Present and Future, she is one of Singapore's culinary treasures.
In other words, she really knows her stuff. So it was a great privilege that Shen shared with me her top nasi lemak spots in Singapore, and not just because I had to travel around Singapore eating them all! So without further ado here are our…
Top 5 places for Nasi Lemak in Singapore!
1A Commonwealth Drive, Singapore, 141001
Our first stop on the Nasi Lemak journey. One of the hidden gems and very much off the beaten path, the Nasi Lemak at Tanglin Halt is awesome. Away from Orchard and the CBD, this hawker centre and its surrounding HDB's make you feel like time has stood still for decades. Old uncles and aunties stroll by and hungry workers gather for their breakfast. Chef Shen tells me that 'if you want to eat the Nasi Lemak here, you should come before 9.30am as they are incredibly popular and run out every single day'.
After finally sitting down and munching away at our enormous breakfasts, I can see why. Aside from the standard rice, sambal and ikan bilis, Maria also cooks up a load of other tasty Malay treats such as her mouthwatering serunding (grated coconut and chilli), fried tempeh with long beans, achar, beef lung and much more. If you're looking to really get away and have a local, local experience, eat some amazing nasi lemak and pay less than $8, this is your place.
2 Adam Road, Singapore, 289876
Run by siblings Abdul Malik Hassan, Mohd Fadzillah and Faezah Binte Hassan, Selera Rasa has been going strong since its founding in 1998. It is without a doubt one of the most famous and popular Nasi lemak stalls. You just need to look at their massive line of loyal patrons queue up as they wait for their dose of fried chicken, sambal and coconut rice. It's probably their fried chicken that they are most well known for; crispy and salted skin with tender, succulent meat inside. Perfectly paired with the chilli and rice.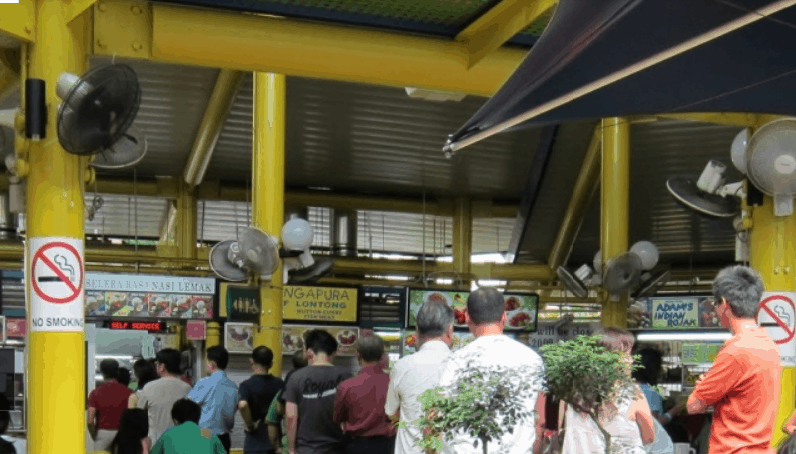 Whilst they have another stall at Ang Mo Kio, it's the Adam Road branch is the one to go to…and not just because of the traditional hawker atmosphere. Prices for nasi lemak start at $2.50! Whhhattt!!
2 Changi Village Road, Singapore, 500002
Mizzy's corner tops many nasi lemak aficionados lists of the best in town. Located in the remote Changi Village, this is a great place to stop and makan before a day our at Pulau Ubin. The fare is pretty simple here and most would agreed it should stay that way. Mizzy's is best known for their super crispy chicken wings and delicious sambal, so do make sure you can handle the heat . 😉
It's also very affordable. Chicken wing, otah, ikan bilis and egg with your rice only set you back $4.50.
#01-152/154, Vivocity, 1 Harbourfront Walk, Singapore, 098585
As a young enthusiastic foodie, Kwan Swee Lian aka Madam Kwan was inspired by the rich cultural mix of cuisine in Malaya, including of course Nasi lemak. Today her name is synonymous with good Malayan food, of course nasi lemak being one.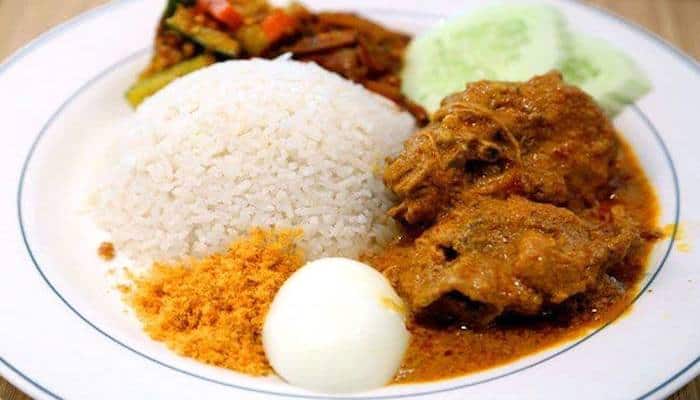 Her branch 'Madam Kwan's' is conveniently located Vivo City if need a filling meal before an outing to Sentosa or just need a break from all the shopping!
Whilst her nasi lemak is very well known, I'd also highly recommend her Nasi Bojari which kicks some major derrière. Be warned however, food at Madam Kwan's is not that cheap. Expect to pay at least $20 per person.
328 North Bridge Road, #01-10, Raffles Hotel Arcade, Singapore, 188719
Well it would be unfair if I didn't mention Ujong, the very restaurant where Chef Shen Tan cooks up her own version of Nasi Lemak. Needless to say, it's beautiful. One very cool twist is that the nasi lemak here is served with crispy chicken as supposed to a chicken leg. Alternatively you can order your nasi lemak rice with beef rendang which is absolutely divine!
Just a note – being that Ujong is at the Raffles Hotel, expect to pay a little more than at the local hawkers -$15-20.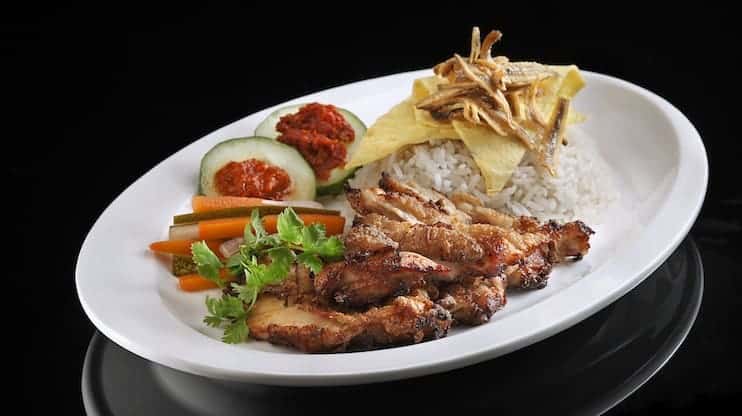 Feeling hungry yet?
Where is your favourite Nasi Lemak joint in Singapore?
Read more about local grub at Where to find the best Roti Prata in Singapore and 5 rising Chicken Rice masters you have to try in Singapore