3 Restaurants For A Fabulous Japanese Lunch at Raffles Place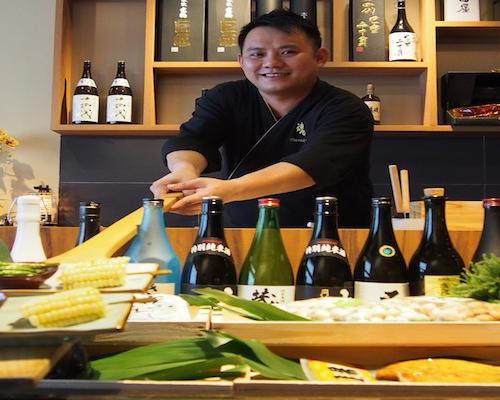 PUBLISHED November 5th, 2013 01:05 am | UPDATED March 14th, 2018 02:11 pm
Are you working at Raffles Place and craving Japanese food for lunch? Here are our top three favourite spots to get your fix!
For the young, trendy office executives: KINKI
You've probably heard about Kinki's hipster rooftop bar as the after-work spot to unwind over DJ-spun tunes in our Rooftop Bars feature. But don't pass it off as just a watering hole; Kinki actually serves really smashing Japanese food! The urban Japanese hipster theme oozes a comfortable contemporary vibe, perfect for a casual midday break from the office.
In the day, the restaurant on the second level offers set lunches ranging from $20-$46. The freshness of the sashimi here is astounding, its no wonder the Executive Sashimi ($46)and Chirashi ($42) are its most popular sets. The Nori Crusted Spicy Salmon ($28) is also excellent. The flesh of the fish is so terrifically soft, and the Japanese chilli pepper aioli gives it a slight kick. Topped with a layer of seaweed and panko crust for a nice salty crunch and you've got yourself a winner. Lunch sets come with a garden salad, miso soup and mochi dessert. That should be enough to fill you, but don't leave without trying one of Kinki's custom crafted sushi like the Foie Gras & Scallop Sushi. Though exorbitant at $22 a piece, its so ridiculously good that we unanimously gave it a minute of respectful silence.
Kinki is located at 70 Collyer Quay, Singapore 049323. Opening hours for lunch are Monday – Friday from 12pm (last order 2.30pm). 

For the ultimate paddle experience: Tamashii Robataya
Though Tamashii is relatively new to the dining arena, Chef/owner Patrick Tan behind it is not. Having worked at Tatsuya and M Hotel, and co-owning Japanese restaurant Robataya Yoyogi, this Singapore born and bred chef knows exactly what makes locals tick. So you can expect the entire experience here to be largely tailored to pleasing the Singaporean palate. The best part? Every course will be served to you on a large wooden paddle, like how the Northern Japanese fishermen of centuries ago used to serve their catch-of-the-day.
Basic lunch sets are value-for-money, ranging from $16.80-$25.80. Choice of the usual suspects of grilled fish, chicken and beef come with a side of salmon sashimi, salad, rice and miso soup. There is also the more premium Executive Lunch Set ($45) and Tamashii Lunch Set ($55) that has more items and comes with a platter of assorted sashimi. Tamashii sources almost all its ingredients from Japan so quality is never compromised. Never thought you'd eat flowers? Try the Kiku Tatami, or grilled 'mats' of chrysanthemum flowers just for the novelty. Subtle yet fragrant, this is the only place in Singapore you can get these toasty flowers.
Tamashii Robataya is located at 12 North Canal Road, #02-01, Singapore 048825. Opening hours for lunch are Monday – Saturday, 12pm – 2.30pm. For more information see their Facebook page here.

For the traditionalists: SANTARO @ HINOKI
Look no further than Hinoki if you need a place to hold a business lunch meeting or to entertain clients. Here you will enjoy quiet respite from the bustle of the CBD and attentive, soft-spoken waitresses at your service. Named after Chef Santori Li who helms the kitchen, the restaurant sees diners returning for his omakase. Not surprising since Chef Li packs over 40 years of culinary experience ever since learning the art of cooking from Japan's first Iron Chef, Michiba Rokusaburo.
A mini kaiseki lunch course is available at $68, but the simpler option will be to go for their bento sets ranging from $28-$48. Each set mixes and matches different combinations of items, so everyone will definitely find something that tickles their fancy. Big eaters go for the Signature Bento ($48). Assorted tempura, sushi and sashimi, grilled fish, stewed dish; along with salad, soup and dessert makes for a substantial meal. The grilled fish and stewed dish changes to according the whim of the chef. You might get an interesting grilled cod wrapped in seaweed, deep-fried in a light tempura batter with a touch of sweet sauce; and a curious yam ball that has unagi hidden within. Whatever it is, the old-school will get their authentic Japanese food here.
Santaro @ Hinoki is located at China Square Central, Singapore 048423. Opening hours for lunch are Monday – Saturday 11:30am – 2.30pm. To make a reservation call 65367746. For more information see their website here.
---
Written by M.
On this occasion the meals were compliments of the establishments featured.