5 Yu Sheng Sets Worth Taking Home this Chinese New Year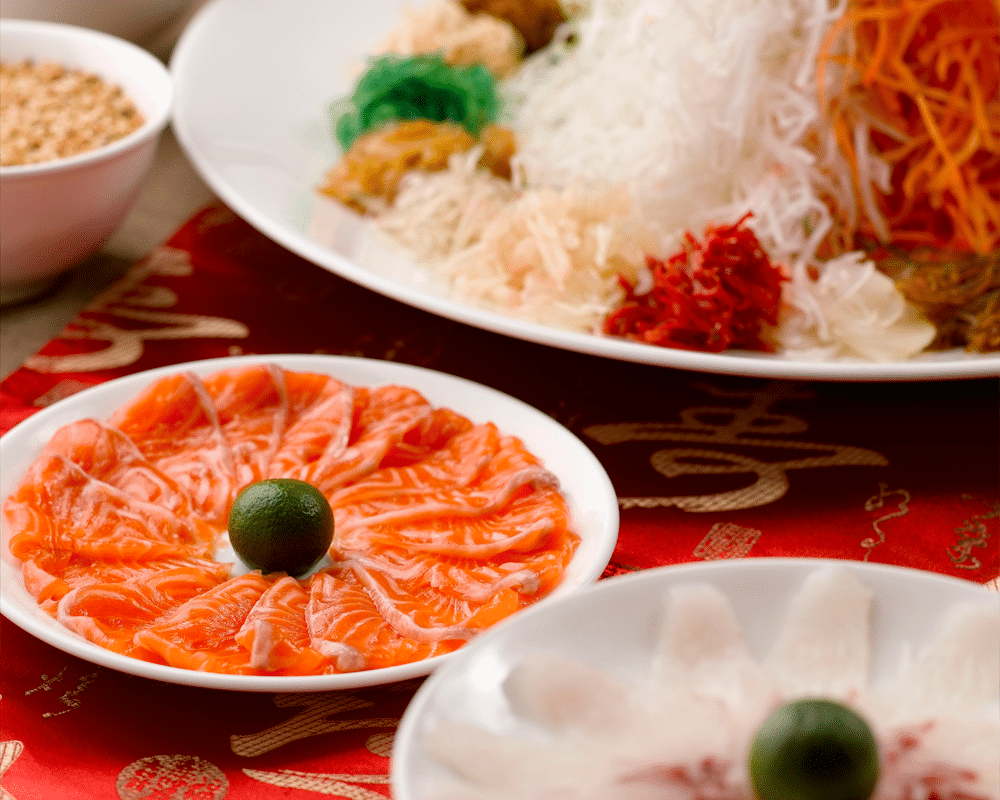 PUBLISHED January 5th, 2017 06:00 am | UPDATED January 8th, 2017 04:43 pm
Many things – good or bad – come and go throughout the year, but the one thing that's constant is the yusheng (aka the prosperity toss), where we gather with family and friends to receive the next Chinese New Year with open arms…albeit in a loud and messy way. It doesn't matter whether you're a foreigner or non-Chinese; all are welcome to participate in this celebrated tradition. Because when Singapore's top chefs pull out all stops with special ingredients and creative presentations – one can't help but shout: huat ah!
Double Happiness and Good Luck Yusheng, mezza9

As its name suggests, enjoy fortuitous luck and double the joy with mezza9's signature yusheng. Topped with certified-sustainable Norwegian Atlantic salmon and yellowtail kingfish that are as fresh as it gets, the affordably-priced yusheng feeds up to four hungry revellers. Incidentally, you'll also want to check out the premium 100 Blessings of Good Fortune (priced at $288 nett) that makes for an extravagantly auspicious gift – a 100-piece chocolate praline set that features a hundred unique character styles of the Chinese word fu (fortune) in flavours like cognac, earl grey, mint, mocha, peanut butter, and of course, orange.
Price: $48++ (three to four persons)
Where: mezza9, Grand Hyatt Singapore, 10 Scotts Rd, Singapore 228211
Available: 1 January – 11 February 2017. For orders, please call +65 6887 5492.
Golden Eight Treasures Yusheng, The Carvery

Chinese New Year gets a little Japanese touch this year at The Carvery as it presents its own take on the traditional dish. Think julienned vegetables loaded with marinated baby octopus, salmon roe, fresh wakame (seaweed), and jellyfish, in addition to premium cured Norwegian trout and crispy fried fish skin. Then, top that up with a crown of housemade plum sauce and crisp Pok Chui crackers for extra crunch and maximum flavour. Do note that this yusheng is only available for dine-in.
Price: $38.80++
Where: The Carvery, 7 Alexandra Rd, Park Hotel Alexandra, Singapore 159972
Available: 10 January – 11 February 2017. For orders, please call +65 6828 8880.
The Queen's Yusheng, Antoinette

Nothing shouts prosperity louder than a golden egg – a chocolate egg, that is. The classic dish takes on a sweet interpretation at Antoinette, marrying Chinese motifs and ingredients with the art of French patisserie and chocolate making. The egg nests in an array of sweets, including almonds, cashews, meringue kisses, yam, and sweet potato chips. Break open the egg to reveal diced and shredded pineapple, Thai green mango, red dragon fruit, and pomelo. A sight to behold, for sure.
Price: $88
Where: Antoinette, 30 Penhas Rd, Singapore 208188
Available: 1 – 29 January 2017. For orders, please call +65 6293 3121.
Just like the various kitchens of [email protected], the restaurant's take on lo hei incorporates the various flavours of Japanese, French, and Chinese cuisine. The traditional ingredients are retained, but are elevated by the vibrant medley of fresh salmon trout sashimi, hokkigai (surf clam), and Hokkaido ikura topped with black winter truffle shavings, treasured for their chocolatey and earthy aroma. It goes even further, with enoki mushroom, white radish, daikon cress, and Japanese cucumber, leading to a perfect blend of textures and truffle power.
Price: $98++ (four persons), $188++ (eight persons)
Where: [email protected], 50 Collyer Quay, Singapore 049321
Available: 9 January – 11 February 2017. For orders, please call +65 6634 4555.
Black Truffle Yusheng, Man Fu Yuan

In a gloriously decorated rendition, a must-try this year is Man Fu Yuan's luxurious Black Truffle Yusheng with deep sea red crab, crispy silver bait fish, and an assortment of fresh fruits to signify refreshing beginnings for the new year. Also debuting on the takeaway menu is the new Double-boiled Pig Tripe Soup with Seafood ($128 for five persons), comprising exquisite ingredients like Sri Lankan crab, prawns, pig stomach, chestnuts, gingko nuts, and barley that will hit home (and all its warmth) like nothing else.
Price: $138++ (eight to ten persons)
Where: Man Fu Yuan, InterContinental Singapore, 80 Middle Rd, Singapore 188966
Available: 2 January – 11 February 2017. For orders, please call +65 6338 7600.