Army Days at Court Martial Bar, JW Marriott Singapore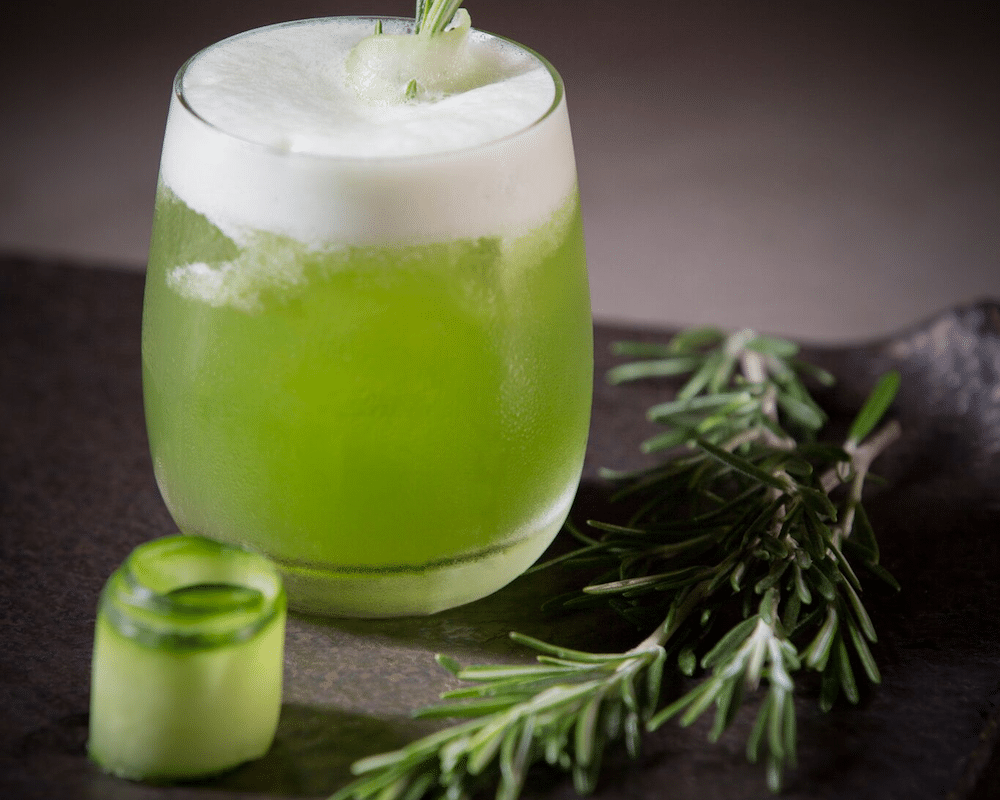 PUBLISHED July 22nd, 2017 06:00 am | UPDATED May 18th, 2020 04:25 pm

Step inside the dimly lit Court Martial Bar, and you'll immediately feel the heritage and history of the space. From the clear perspex floors revealing underground machinery to the spare engine parts doubling as utensil holders, the building's past as a military garage is quickly evident. The references don't stop here- the menu is studded with cocktails reinvented to suit the historical theme.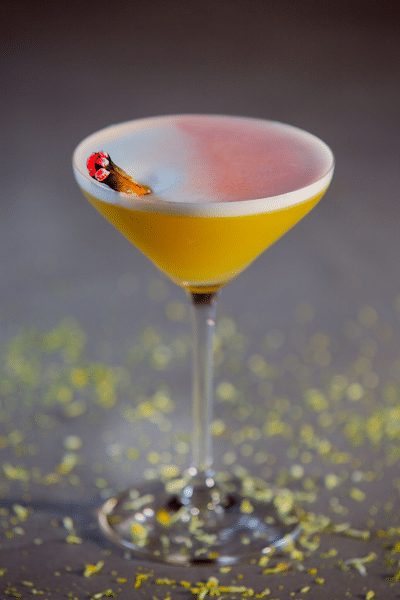 The South Beach Sour ($25) is one such cocktail, Referring to the outlet's South Beach location, it's made with Johnnie Walker Gold Label whiskey, lemon juice, lime juice, lemonade, and homemade barley syrup. Tart and refreshing, it's a decent take on the classic whisky sour and a good accompaniment to the bar food. It's pretty too, served with torched cinnamon stick and a majestic griffin (JW Marriott's mascot), courtesy of a Bordeaux mist.
This attention to detail is testament to bartender Navin Raj's dedication to his craft. His passion extends to the individual components of each cocktail, be it making his own syrups or aging his own cocktails. Which is why it's a pity that the homemade pistachio syrup in the Ol' Fashioned ($24) was too subtle in the sweetish mix of Wild Turkey 101 bourbon, orange bitters, and angostura bitters. The aged Rum Ol' Fashioned ($23) fared better with a combination of Havana Añejo 7 years rum, homemade barley syrup, and chocolate bitters. Complex and intense, it's proof of a successful experiment.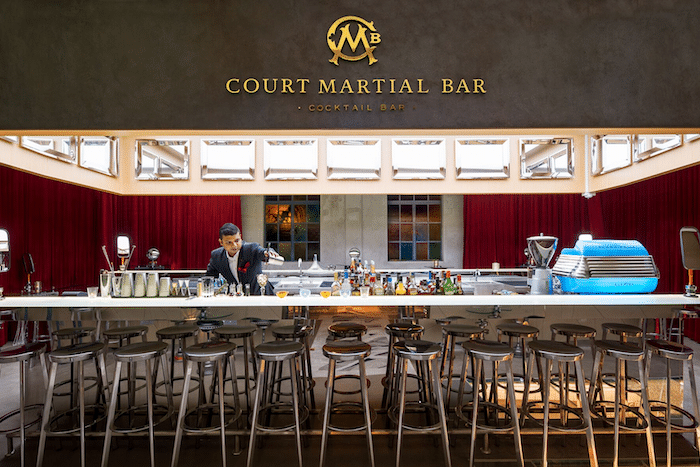 For something a little lighter, the French 75 ($20) is a lively champagne cocktail that will certainly lift your spirits. With Monkey 47 gin, homemade vanilla syrup, lemon juice, and a healthy splash of Taittinger champagne, it's a great quality spritzer for the price. The Caipirinha ($18) uses gula melaka to keep things from being too acidic from its other ingredients, Cachaca 51 and lemon juice.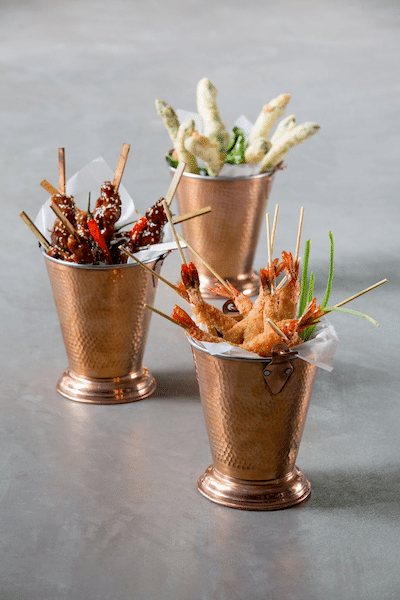 This acidity is sure to help whet your appetite, so reach for the bar's Bucket List- a selection of bar bites served in, well, buckets. The Signature Coconut Prawn ($30) sees fragrant, deep fried prawn coated with a coconut crust and served with a solid onion sambal. The succulent prawn with its crispy coconut shell is served peeled and skewered on a stick for easy eating, so don't worry about getting your hands dirty. Another skewered must-order is the Wagyu Beef Satay ($45), juicy, tender bites of flame broiled meat that are certain to hit the spot after a night of drinking. The accompanying peanut sauce also went great with the other bar bites, such as the Sriracha Asparagus Fritters ($29). Order this for some semblance of health on your night out, as the thick, crunchy asparagus keeps things fresh and relatively light despite the deep fried beer batter coating.
With its warm lighting, lush armchairs, and an easily accessible bar, Court Martial Bar creates a cosy, intimate atmosphere that's a far cry from its rigidly regimented past. It might be a little more pricey than what it is, but it doesn't really have much competition on the South Beach block (yet).

Court Martial Bar is located at 30 Beach Road, Singapore 189763, p +65 6818 1916. Open daily 5pm-12am. Look forward to 1-for-1 house spirits, house wine and beer from 5pm-9pm, as well as 25% off cocktails from 7pm-11pm.