Audi Fashion Festival Diary- from a fashionable Nomad indeed!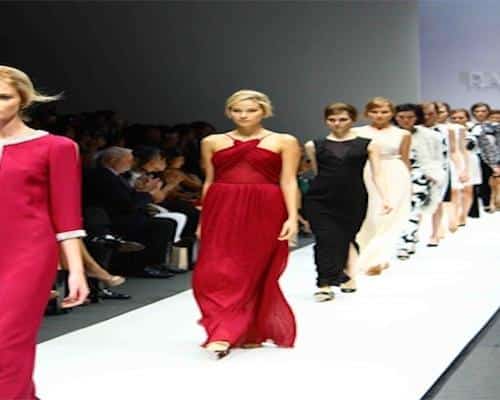 PUBLISHED May 31st, 2013 01:11 am | UPDATED May 18th, 2020 04:44 pm
Each year a fashion extravaganza descends on Singapore in the form of the Audi Fashion Festival, and this year was no exception with splendid parties, captivating shows and an air of sartorial decadence. We sent along our very own A Fashionable Leo to scout out the best bits…
CAROLINA HERRERA
On the 15th of May, Audi Fashion Festival kicked off with a showcase from Venezuelan-American fashion designer Carolina Herrera presenting her Fall 2013 runway collections. The show featured looks from her New York ready-to-wear and bridal collections, as well as CH Carolina Herrera, the brand's lifestyle ready-to-wear and accessory collection for men and women.
For the catwalk, Herrera stayed true to her reputation of evoking timeless elegance. Two piece suits and pantsuits in dark neutrals, additions of classic hounds tooth print and the injection of red – one of the season's most popular colours – exuded an air of sophistication. Lines were clean-cut and fuss-free, with the reoccurrence of the cinched in waistline, which served to emphasize the feminine silhouette.
For evening wear, silk fabrics and subtle embellishments made an appearance, but all looks still retained the quintessential Herrera trademark of understated luxury.
Favourite looks included the navy blue printed shift dress and THAT fur caplet.
AUDI STAR CREATION 2013 FINALISTS SHOW
Audi Star Creation, the annual Asia-wide fashion design competition, returned again this year for young designers to battle it out and showcase their capsule collections to a panel of judges.
Winners this year included Haziq Putra, Singapore, Sun Yi Jin, China and Vu Ta Linh, Vietnam, each who took away S$10,000, an internship with leading fashion retailer F J Benjamin, and the chance to launch a capsule collection at Audi Star Creation 2014.
It was Singapore who truly came out on top as Putra was also chosen for the Audi Young Designer award, given to the winner whose design best embodies the Audi design spirit of innovation, technology and progression. Putra's market-ready menswear collection featured hand-dyed batik, from which he created digital print.
Favourite collections of the day were from Ngo Hoang Kha, Vietnam and Korean designer Ham Yu Lan. Props to all the young designers though for making it so far as finalists. Overall, the designs were sophisticated and collections well thought-out, coherent and sensitive.
COLLETTE DINNIGAN
Aussie label Collette Dinnigan gathered a large crowd for it's Asian catwalk debut in Singapore, showcasing feminine designs for F/W 2013 accentuated by lace and embellished materials with a neutral colour palette. Verdict: subtly sexy and definitely wearable.
RAOUL
Homegrown fashion star Raoul sent many a tailored number down the runway and played with brocade and metallic accents. Gold and black was a prominent and bold colour combination, followed by paisley prints and simple silhouettes that echoed the 60's era.
ZARDOZE
Founded by Singaporean Raveena Lal K and led by creative director John Paul Rangel, independent fashion label Zardoze markets itself as a brand synonymous with success and confidence – all of which should be traits of the modern woman. Their A/W 2013 collection, however, failed to make much of impression with what looked more like glorified office-wear in shift dress shapes and slight embellishments.
The Panthea collection, showcased second on the runway and Zardoze's more formal eveningwear line, showed more promise. Dresses used an array of materials including silk and tulle and bold colours to create more interesting and visionary styles with a hint of couture inspiration.
PARCO NEXT NEXT
The Parco next Next Showcase was probably the most fun catwalk show of Audi Fashion Festival. Singapore's most exciting young labels including LION EARL, WDSM, Mash-Up, Revasseur, Kae Hana, Evenodd, 20:TwoThree and Coupe Cousu sent their collections down the runway. Bloggers, personalities, roller skating girls and a beat boxer were also part of what was a truly energetic show. Favourite pieces included LION EARL's final piece de resistance (loving that headpiece) and Revasseur's Polka Dot jumpsuit.
PETER PILOTTO
With his modern take on elegance, Peter Pilotto bought his trademark prints to Singapore for the first time this year. Exhibiting an array of dresses with flattering, softly structured silhouettes with bold patterns and bright colours grounded with neutrals.
Huge thanks to everyone involved for creating such a wonderful spectacle, we oohed, we aaahed, we wore fabulous shoes, and we can't wait for next year!
---
Written by A Fashionable Leo