Best Cocktails Bars in Singapore: Top Spots Every Discerning Drinker Should Know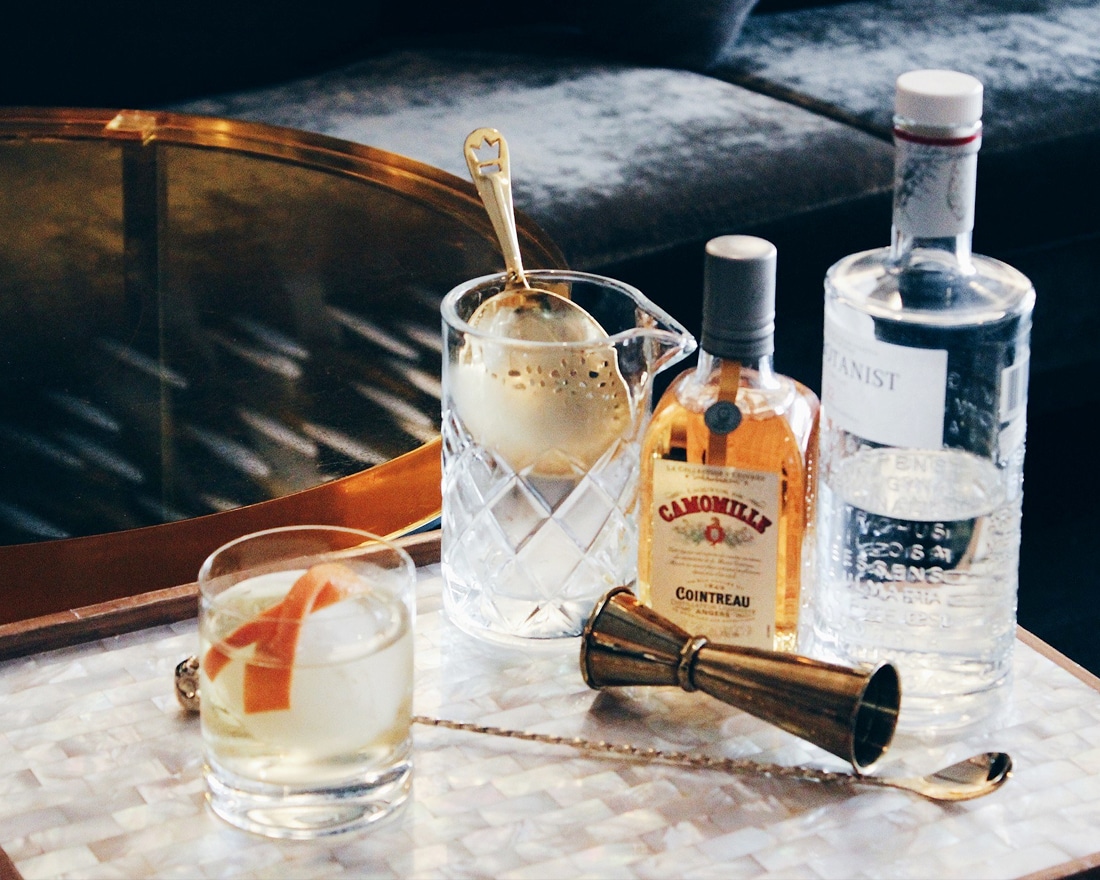 PUBLISHED September 27th, 2018 05:08 pm | UPDATED May 18th, 2020 04:23 pm
You don't need us to tell you that cocktail culture is peaking in Singapore right now. We've dominated the list of Asia's 50 Best Bars two years in a row, and international guest bartenders dropping in for a guest shift is something we've come to expect with regular frequency. With so many places to visit – on top of specialty concepts like gin bars, whisky bars, and sake bars – we've narrowed it down to the 18 best watering holes in Singapore that shake and stir the best cocktails, great hospitality, and an all-round excellent drinking experience.
Here we go, in alphabetical order…
Anti:dote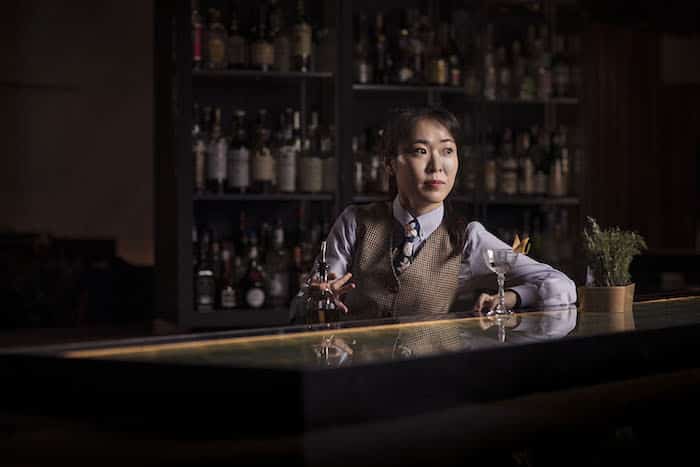 One of the first hotel bars in Singapore to launch with a serious cocktail programme in 2013, Anti:dote is currently helmed by power couple Head Craftsman Bannie Kang (also the global winner of the Black Cow Gold Top Cup 2018) and Head Chef Tryson Quek. Most of the herbs that go into Bannie's cocktails come from the hotel's rooftop garden, and they range from with the whimsical like gin-based Rabbit Hole ($23) garnished with a baby carrot to punchy tipples like Philoso'Me ($25) made with rum, mezcal, Campari, sherry, and muscavado. Pair them with Tryson's modern Asian-influenced tapas for the full experience! Read our review here.

Anti:dote is located at L1, Fairmont Singapore, 80 Bras Basah Road, Singapore 189560, p. +65 6431 5315. Tapas menu is available Mon-Wed, Sat-Sun 6pm-10.30pm and Thu-Fri 6pm-11.30pm. Bar is open Sun-Thu 5pm-1am, Fri-Sat 5pm-2am.
Atlas

Known for its one-of-a-kind ambience and the enormity of their gin collection, Atlas was the most anticipated bar opening of 2017, which has since produced a Bacardi Legacy Singapore winner in Senior Bartender Sim Sze Wei, who made it to the Top 16 at the Global Finals. Coupled with great food courtesy of Executive Chef Daniele Sperindio and an excellent collection of champagne, Atlas is the perfect spot for celebrations of any kind. Read our review here.
Atlas is located at 600 North Bridge Road, Parkview Square, Singapore 188778, p. +65 6396 4466. Open Mon-Thu 10am-1am, Fri 10am-2am, Sat 3pm-2am. Closed Sun.
Bar Stories
Located on the second floor of a shophouse along buzzy Haji Lane, Bar Stories is one of the few that have gone the distance (of seven years) in Singapore. There are neither signature cocktails nor a menu after all this time; head honcho Dave Koh still makes bespoke drinks, usually priced between $20 to $25, with fresh produce that are tailored to each individual's palates. So sit back and let Dave tell you a story with a cocktail he formulates on the spot.
Bar Stories is located at Level 2, 57A Haji Lane, Singapore 189248, p. +65 6298 0838. Open Mon-Thu 5pm-1am, Fri 5pm-2am, Sun 5pm-1am.
Bitters & Love
If you enjoy small, cosy bars and don't mind rubbing shoulders (or bumping backs) with other patrons, Bitters & Love on Telok Ayer Street is right up your alley. Sharing the space with their day-time café concept, Free The Robot, Head Barman Naz Arjuna is a whiz with local flavours, shaking up cocktails like the signature Kaya Toast ($25) though classics like the Paloma ($23) are also available. Hungry? Their comfort food menu is hits all the right notes, featuring the likes of pastas and Steak Frites ($25).
Bitters & Love is located at 118 Telok Ayer Street, Singapore 068587, p. +65 6438 1836.Open Mon-Thu 6pm-12am, Fri-Sat 6pm-2am. Closed Sun.
D. Bespoke
D. Bespoke could be a little intimidating with the dark wood, large leather armchairs, and a lack of prices on the menu, but we daresay they have the best Ginza-style cocktails in town. Customised cocktails start from $27, as do the neat spirits, which shouldn't be overlooked as they also have one of the best selections of sherries, calvados, Armagnacs, and vintage rums in Singapore. Read our review here.
D. Bespoke is located at 2 Bukit Pasoh Road, Singapore 089816, p. +65 8141 5741. Open Mon-Thu 6pm-1am, Fri-Sat 6pm-2am. Closed Sun.
Employees Only Singapore
The first overseas outpost of the unapologetic New York bar (there's Employees Only Hong Kong in Lan Kwai Fong now), EOSG has become well-loved for staying true to itself. For instance, bossman Steve Schneider – who came to Singapore after working his way up in the New York institution – is tasked with training the bar team on providing the EO experience, such as the free-pouring style of making a cocktail. It also helps that the food is delicious – think hand-chopped steak tartare ($27), bone marrow poppers ($15), and bacon wrapped lamb chops ($32). Read our review here.

Employees Only Singapore is located at 112 Amoy Street, Singapore 069932, p. +65 6221 7357. Open Mon-Fri 5pm-1am, Sat 5pm-2am, Sun 6pm-1am.
Flagship

Touting itself as the home of the Old Fashioned in Singapore – they certainly do have one of the best – Flagship has also carved out a special place in people's hearts with its all-embracing whisky list and the super addictive Pok Pok wings ($20). With dive bar vibes, a playlist is full of good ol' rock, and excellent happy hour prices at $14++ for selected cocktails and 1-for-1 Classic Old Fashioneds ($22), it's a great place to get your night out rollin'.
Flagship is located at 20 Bukit Pasoh Road, Singapore 089834, p. +65 9011 8304. Open Mon-Thu 6pm-1am, Fri-Sat 6pm-2am. Closed Sun.
Gibson

Bukit Pasoh's intimate second floor cocktail bar has gotten much recognition in the cocktail circle, by coming in No. 22 at the Asia's 50 Best Bars this year, as well as No. 76 on the world's edition. Named after the classic tipple, Gibson's current menu is a reflective exploration of ingredients and flavours that the team has grown up with or discovered during their travels in Asia. Case in point: the namesake Gibson ($23) is made with Japanese gin and a vermouth specially commissioned from a sake brewery in a Kansai region. Read our review here.

Gibson is located at Level 2, 20 Bukit Pasoh Road, Singapore 089834, p. +65 9114 8385. Open Mon-Thu 6pm-1am, Fri-Sat 6pm-2am.
Jigger & Pony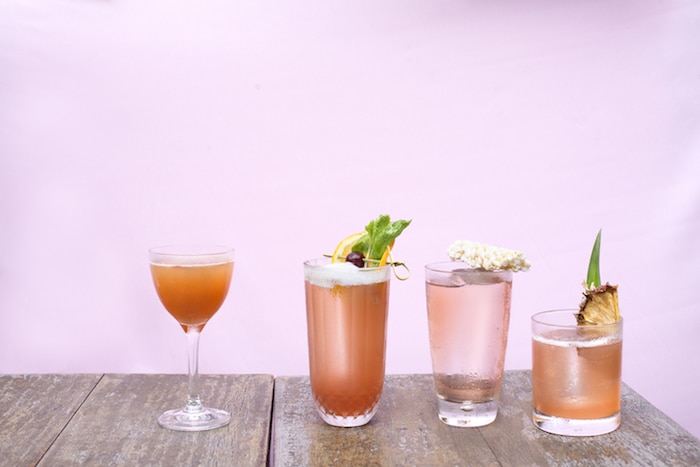 Having just moved from Amoy Street into their new home in Amara Singapore (and thus officially becoming a hotel bar), Jigger & Pony V2.0 boasts a sexy new space and a 27-cocktail strong menu across a Monocle-inspired magazine that's actually available for purchase at $18+. We highly recommend their Asian Classics like the Java Cooler ($23) and the Martinis ($23). Best part? A selection of drinks from the menu are available at $15++ during happy hour from 5pm to 8pm daily. Read our review here.

Jigger & Pony is located at Amara Singapore, 165 Tanjong Pagar Road, Singapore 088539, p. +65 9621 1074. Open Mon-Thu 5pm-1am, Fri-Sat 5pm-3am, Sun 5pm-1am.
Junior The Pocket Bar
Brainchild of the team behind 28 HongKong Street and Proof & Company, Junior changes its theme every six months. The first, Norma, put the the spotlight on agave cocktails, while the current concept, Magnolia, celebrates the craft and tradition of New Orleans cocktail culture, Creole cuisine, and their musical heritage. Look forward to cocktails like the Ramos Gin Fizz and Truffled Sazerac to go with cuisine classics such as Jambalaya and Beignets with café au lait custard.
Junior The Pocket Bar is located at 43 Tanjong Pagar Road, Singapore 088464, p. +65 8121 1462. Open Mon-Sat 6pm-12am. Closed Sun.
Manhattan 
The best bar in Asia for two consecutive years probably needs no introduction. Good looks, great cocktails inspired by the eras of New York, and an excellent hospitality makes this place hard to beat. Love American whisky? Consider joining their American Whisky Embassy, which features a collection of over 150 bottles of rye, bourbon, and moonshine, as well as special events, masterclasses and tasting sessions. Oh, and they also do a free-flow cocktail brunch for adults only if you feel like leaving the kiddos behind one Sunday. Read our review here.

Manhattan is located at Level 2, Regent Singapore, 1 Cuscaden Road, Singapore 249715, p. +65 6725 3377. Open Mon-Thu 5pm-1am, Fri-Sat 5pm-2am, Sun 12pm-3pm & 5pm-1am.
Native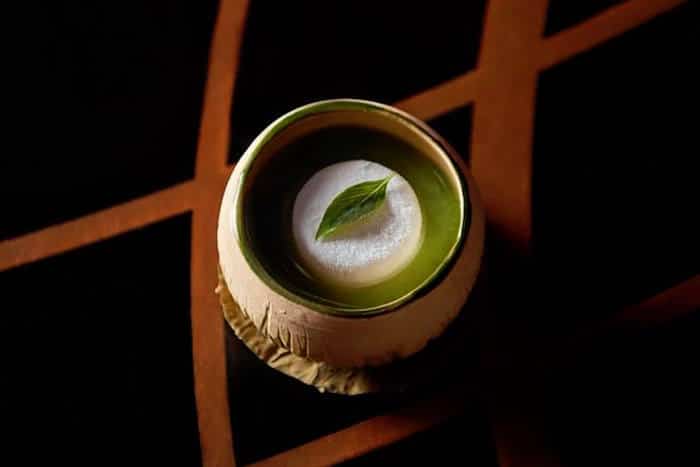 Native prides itself on using only products sourced from the region. This is emphasised by drinking vessels (think ceramic and porcelain), the playlist piping out from the speakers, and of course, the cocktails and spirits list.For instance, get a taste of Thailand with Grasshopper, where actual grasshopper is incorporated with Thai basil-infused Thai rum and coconut ice cream for a creamy dessert finish. Read our review here.
Native is located at 52A Amoy Street, Singapore 069878, p. +65 8869 6520. Open Mon-Sat 6pm-12am. Closed Sun.
Nutmeg & Clove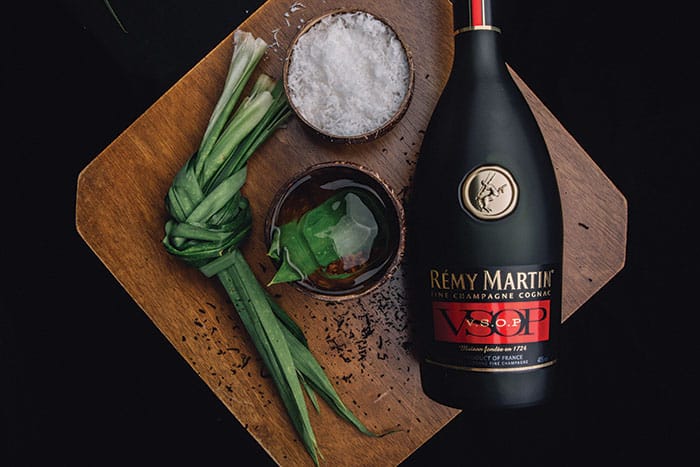 Like Native, Nutmeg & Clove goes beyond the surface when it comes to local ingredients and flavours, looking to colonialist William Farquhar's Collection of Natural History Drawings. The book of 477 drawings of flora and fauna indigenous to Malacca and Singapore in the early 1800s have led to a menu of 12 classic cocktails and its local botanical twist. For instance, Call Me Old Fashion ($22) features coconut fat-washed cognac with suze, and coconut-pandan sugar rather than the usual whisky or rum rendition we've come to expect. Read our review here.

Nutmeg & Clove is located at 10A Ann Siang Hill, Singapore 069789, p. +65 9389 9301. Open Mon-Thu 6pm-1am, Fri 6pm-2am, Sat 6pm-1am. Closed Sun.
Origin Bar
Winner of Best New Bar at The Bar Awards Singapore 2018, Origin at Shangri-La Hotel Singapore might be a 20-minute trek from the nearest MRT station, but it's definitely worth it. The tipples are inspired by five key neighbourhoods in Singapore – Orchard, Chinatown, Little India, Boat Quay and Marina Bay – with drinks such as Leaf the Curry, a rum cocktail featuring curry leaf, tamarind and green cardamom. We hear Head Bartender Bystrik Uko's classic cocktails are pretty good too. Read our review here.

Origin Bar is located at Tower Wing, Shangri-La Hotel Singapore, 22 Orange Grove Road, Singapore 258350, p. +65 6213 4595. Open Mon-Thu 5pm-1am, Fri-Sat 5pm-2am, Sun 5pm-1am.
Operation Dagger
Despite all the accolades – they've been on the list of the World's 50 Best Bars for three years in a row – Operation Dagger still feels like the cool kid that does well in school, but refuses to conform. Its singular style is evident in the raw concrete, shelves lined with apothecary-style tinted bottles, and the large cloud of lightbulbs above the bar. Drinks and food are equally cutting age – be it in terms of techniques or flavour profiles – with founder Luke Whearty's belief in enforcing sustainability and minimal waste. Read our review here.
Operation Dagger is located at 7 Ann Siang Hill, #B1-01, Singapore 069791, p. +65  6438 4057. Open Tue-Sat 6pm-12am. Closed Mon-Tue.
Tippling Club
Imagine making about 1,000 gummy bears a day…and not even selling them. These are the lengths to which Tippling Club go to for a new menu. In this case, it's Dreams and Desires, a menu of 12 cocktails (all priced at $24++)where 12 gummy bears come in a green-and-white striped candy bag to help you make a decision. Try the sweet and tart Happiness, garnished with a passionfruit-flavoured edible paper, or Success, an extra heady combination of all-boozy ingredients of red wine, amaro, cognac, and whisky. Read our review here.

Tippling Club is located at 38 Tanjong Pagar Road, Singapore 08846, p. +65 6475 2217. Open Mon-Fri 12pm-12am, Sat 6pm-12am. Closed Sun.
The Other Room
Lying behind velvety dark curtains, privy only to those in the know, The Other Room is a secret drinking house in the heart of Orchard Road. While spirits are a big draw here with exhaustive array of more than 300 spirits finished in different types of barrels, the cocktails on point with veterans Nicholas Quattroville managing the bar and Dario Knox leading the beverage experience of the FOC group. Look out for their sister bar The Other Roof, coming to you soon in the Ann Siang neighbourhood. Read our review here.

The Other Room is located at Singapore Marriott Tang Plaza Hotel, 320 Orchard Road, #01-05, Singapore 238865, p. +65 6100 7778. Open Mon-Thu 6pm-3am, Fri-Sun 6pm-4am.
28 HongKong Street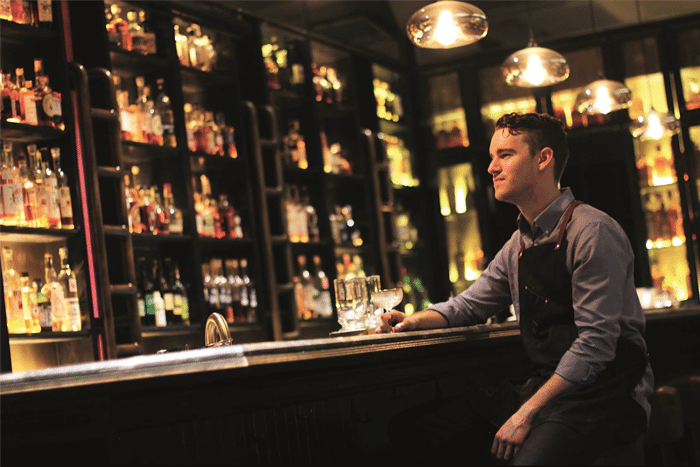 Opening its doors without any fanfare in 2011, 28 HongKong Street is one of the pioneers of the local cocktail scene. Seven years on, without social media presence and a sign on its old-school beige doors, the bar still manages to be buzzy most nights with its hip-hop playlist, American-styled libations, and snazzy interiors. And how can we forget the bar grub? The macaroni and cheese balls and Brussel sprouts with bacon are legendary.
28 HongKong Street is located at 28 HongKong Street, Singapore 059667, p. +65 6533 2001. Open Mon-Thu 6pm-2am, Fri-Sat 6pm-3am.
Top Image: Anti:dote