Best Mexican and Latin American Restaurants in Singapore: Where to Go for Tacos, Guacamole, Burritos, Quesadillas, Fajitas, Salsa, and Margaritas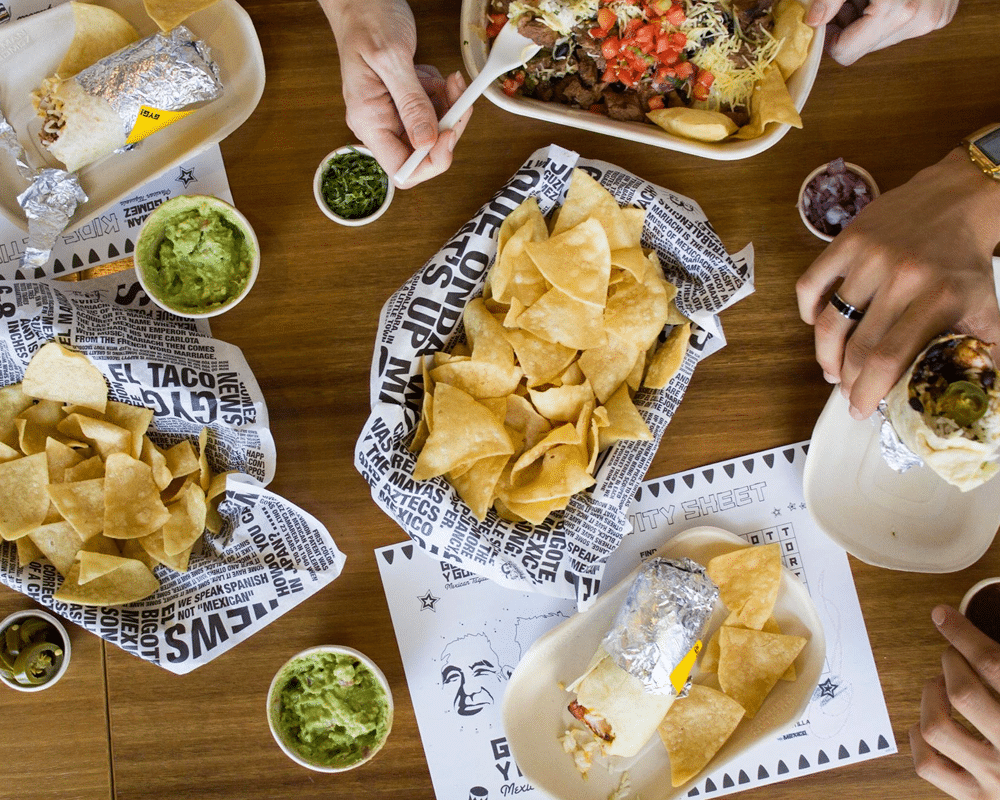 PUBLISHED January 11th, 2018 07:30 am
The cuisine of South America might not be as popular as Italian, Japanese, or Spanish,  but it has certainly captured enough hearts and stomaches to have a significant presence in the city (hands up if Baja Fresh is a guilty pleasure). If you've been wondering where to find the top Mexican and Latin American restaurants in Singapore, we've got you well covered so you can munch on some tacos, burritos, a delicious jug of margarita, and lots more. For now, we say, hasta luego!
Mexican Restaurants in Singapore
Lucha Loco

Forget Americanized tacos with vast amounts of condiments – it's authentic Mexican street food which rules the roost at this Duxton Hill joint that holds the spirit of a Mexican Taqueria. Think dishes packed with fillings, bursting with flavour and everything from Wild Snapper Mango Ceviche ($12) and Pork Belly Tacos ($9) to all sorts of tostadas, plus a great number of cracking drinks. Their Mojitos ($18), made with two types of rum and another agave spirit, are a must try. See our review here.
Lucha Loco is located at 15 Duxton Hill, Singapore 089598. Open Tue-Fri 12pm – 4pm, 5pm – 11.45pm, Sat 6pm – 1am. Closed Sun & Mon.
Señor Taco


With not just one but two outlets now open here, this established Mexican venture sure knows its tacos, whether it's spit-roasted chicken (Tacos al Pastor, $7), beer-battered fish, or even vegetarian Mexican chorizo you're craving for. Señor Taco's varied menu shows that there's life beyond just tacos, with dishes such as a giant Quesadilla Grande ($23) and traditional Pozole Pork Soup ($24) with allegedly prevents hangovers like magic. Spicy daredevil? Make sure to ask for all their pepper sauces, including smoky chipotle, guacamole, and habanero.
Señor Taco is located at 3A River Valley Rd #01-07, Singapore 179023, p. +65 6337 6376 and #01-06 Orchard Towers, 1 Claymore Dr, Singapore 229594, p. +65 6235 5116. Open daily 5.30pm – 2am.
Barrio by Mex Out

This new kid on the block may not be the most accurate representation of traditional Mexican flavours, but you can bet that the creations here are amazing anyway. From the yellow-green of its guacamole to the gentle red of the pico de gallo (fresh salsa), you can also go for some Loaded Nachos ($13.60), decked with heaps of cotija cheese, chilli con carne, and guac, or the chipotle-marinated Pulled Pork Torta ($15.90), one of our personal favourites. Read our review here.
Barrio by Mex Out is located at [email protected], #01-14/15 313 Orchard Rd, Singapore 238895, and VivoCity 1 Harbourfront Walk #01-116, Singapore 098585, p. +65 6265 6260. See individual outlets for opening hours.
Muchachos


Muchachos is one of our top spots to get an excellent, super charged, authentic, and very reasonably priced burrito. It also helps that it's conveniently located on the Keong Siak stretch, making the joint a perfect place to line your tummies before a boozy night out. Excellent burritos aside (Breakfast Burrito with scrambled eggs, hash brown, cheese, bacon, and breakfast sausages, anyone?) go for the Carne Asada Fries, made with delicious fries, beef, sour cream and guacamole. And if you remember the scrumptious cheeseburger that made its debut at Ultra 2017, guess who's finally coming on board the menu?

Muchachos is located at 22 Keong Saik Rd, Singapore 089129. Open Mon-Thu 12pm – 4pm, 6pm – 10pm, Fri-Sat 12pm – 10pm. Closed Sun.
Guzman Y Gomez


If you're working around the CBD or in Novena, you've probably heard of this cult Mexican chain from Australia. It's a little bit more Sydney-style Mexican than the absolute real deal, but if you're looking for a good value burrito to have on the hop, then make your way to Guzman Y Gomez and get your order in for some street-style enchiladas, nachos, and a range of soft shell and hard shell tacos at decent prices. For the health conscious, you'll do well with the Pan-seared Barramundi Fillet Salad with roasted jalapeno salsa.
Guzman Y Gomez is located at Asia Square Tower 2, Chevron House, and The Star Vista. See individual outlets for opening hours.
Piedra Negra

Walk down Haji Lane and chances are you'll come across the kaleidoscope of colours that is Piedra Negra, complete with salsa and Mexican-inspired decor. It's as genuine as they come – start with the Mango Madness Ceviche ($12.90) and get the hearty beef Alambre ($15.90) topped with melted cheese, to be eaten with the accompanying flour tortillas. You'll do well to order the Guacamole ($10.90) as well, which the staff literally makes fresh in a stone pestle and mortar right in front of you.
Piedra Negra is located at 241 Beach Rd & 3 Haji Ln, Singapore 189753, p. 6291 1297. Open Mon-Thu 12pm – 12am, Fri 12pm – 2am, Sat 3pm – 2am.
El Mero Mero

Aiming to delight with the best of contemporary Mexican cuisine, El Mero Mero sources its ingredients directly from Mexico, makes its salsas and sauces fresh in-house, and also handpicks a curated selection of tequilas, mezcales, and Hispanic wines and beers. You'll want to take a seat at the open-kitchen and watch as the chefs dish out small plate after small plate of corn tacos, Josper-grilled dishes, and signature creations like the San Remo Prawn Ceviche with sea urchin and the Tiger Prawn Tempura Taco.
El Mero Mero is located at 30 Victoria St, #01-20 Chijmes, Singapore 187996. Open Sun-Wed 12pm – 3pm, 5pm – 11pm, Thu-Sat 12pm – 3pm, 5pm – 1am.
Chimichanga

In the heart of Little India lies Chimichanga, the small but great Mexican restaurant that takes its name after a deep-fried burrito – which is delicious, by the way. Create your own burritos, tacos, or quesadillas with your choice of meat (Carnita Pork, Chipotle Chicken, Boracho Fish, and Ancho Beef) along with salsa, vegetables, and carbs at a maximum price of only $10, and remember to get some wings to go along. Plus, look forward to attractive drinks promotions every day, including 2-for-1 margaritas on Mondays!
Chimichanga is located at 36 Dunlop St, Singapore 209364, +65 6293 3314. Open Mon-Tue 11am – 11pm, Wed-Sat 11am – 12am. Closed Sun.
Latin American Restaurants in Singapore
Bochinche


As proof that Argentinian cuisine is about more than just hulking great slabs of meat, Bochinche serves up its brilliant contemporary Argentinian dishes in small plates style – think grilled octopus, prawn ceviche and much more. Grab a seat by the open-concept kitchen for ringside action and take in whiffs of heady aromas while the boisterous chefs serve up a mean Ojo de Bife rib eye steak and signature Provoleta, comprising provolone cheese, almonds and oregano honey. Read our review here.
Bochinche is located at 115 Amoy St #01-02, Singapore 069935. Open Mon-Thu 12pm – 2.30pm, 6pm – 10.30pm, Fri 12pm – 2.30pm, 6pm – 11pm, Sat 11am – 3pm, 6pm – 11pm, Sun 11am – 3pm.
Brazil Churrasco


Dubbed the finest (and oldest, since 1994) Brazilian steakhouse in Singapore, this place keeps true to the typical concept in a Brazilian meat restaurant – which is to say, pay a set price (a very reasonable $49++ here) and the meat keeps coming until you can't eat anymore. Look forward to incredibly delicious and succulent meat such as Rump Cap with Garlic, Chicken Liver, Beef Short Ribs, Smoked Duck Breast, Lamb Leg, and plenty others. As expected of a place that keeps Brazilians come back again and again.
Brazil Churrasco is located at 16 Sixth Ave, Singapore 276476, p. +65 6463 1923. Open daily 6pm – 10pm.
TONO Cevicheria

TONO Cevicheria brings to the city true-blue ceviche, fresh seafood, and other authentic Peruvian dishes with a sustainability slant, courtesy of Peruvian Chef Daniel Chavez. Crowd favourites at this cosy joint include the classic Tono ceviche ($28) laced with the mild smoked aji amarillo pepper, and the Nikkei ($24), a Japanese take with raw yellowfin tuna, soy, mirin, and hondashi. The folks here do a fantastic Pisco Sour ($15), as any Peruvian establishment should. Read our review here.
TONO Cevicheria is located at 7 Fraser St, Duo Galleria, #01-49, Singapore 189356, p. +65 6702 7320. Open Mon-Fri 11.30am – 2pm, 6pm – 10pm, Sat 6pm – 10pm. Closed Sun.
Vasco

Vasco is more than just an amazing Latin American cocktail bar, as exemplified by Head Chef Jennifer Lee's top-notch menu of bold flavours and fresh ingredients. Think Ceviche de Camaron ($20) – beer-boiled prawns with tomato, lime, and coriander, Anticuchos De Pollo (chicken skewers with coconut chipotle, $16), and fabulous Patatas Fritas – hand-cut cassava fries with cayenne pepper salsa. The latter, especially, makes a good finger-snack to accompany Latin American drinks like the Santiago Sour ($22), a Chilean classic, and the signature Hand of God ($22) – Fernet Branca, burnt pineapple, and Argentinian mate herbal tea. Read our review here.

Vasco is located at 42 HongKong St, Singapore 059681, p. +65 8799 7085. Open Mon-Sat 6pm – 1am. Closed Sun.