BURNING BRIGHT: An Appreciation Concert!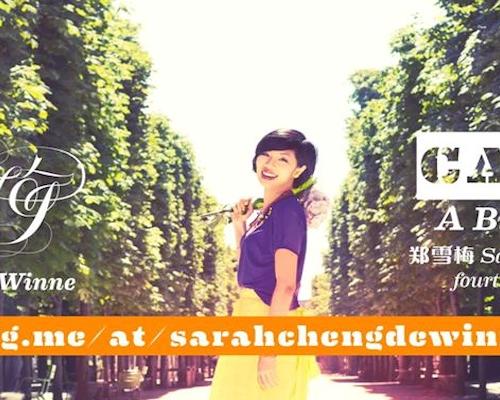 PUBLISHED September 11th, 2014 03:47 am | UPDATED May 9th, 2018 03:13 am
Featuring:
Sarah Cheng-De Winne
23 Sep 2014, 8pm (Doors open 7.30pm)
Entry & contributions:
Delight in the uplifting, soulful sounds of singer-songwriter Sarah Cheng-De Winne in an appreciation concert for all who contribute to the Indiegogo campaign to produce a uniquely bilingual EP, CANDLE. The concert will feature full-band performances of Sarah's previous works from the releases Let's Pretend (2010), Brand New (2012) and Yao Ni De Ai (2014), alongside new original material that Sarah seeks to record for CANDLE.
With a velvet blend of Soul/R&B, Indie-Pop & Jazz, Sarah was named Winner at the 12th Independent Music Awards (US) for her song, Love-Shape Void (Contemp. Christian/Gospel), with a second nomination for Diagonal Rain (R&B/Soul). Her voice is heard in over 18 countries worldwide on the theme song of The Apartment Style Edition, while she was Singapore's sole representative at The Voice China Season 2's closed door recording rounds.
Touring Taipei extensively this year to build inroads into the global Chinese music industry, Sarah is working on her fourth recording project, CANDLE — a bilingual EP, with top industry professionals from Taipei and Singapore. Enlisting supporters through a crowdfunding campaign on Indiegogo, Sarah and her team seeks to raise USD20,000 to help bring this project to life by defraying costs of production, promotion and regional touring.
Get your tickets [here](https://www.indiegogo.com/projects/candle-a-bilingual-ep-of-soul-pop-songs-for-youths-young-adults).