8 Sumptuous Chinese New Year Reunion Meals Under $100++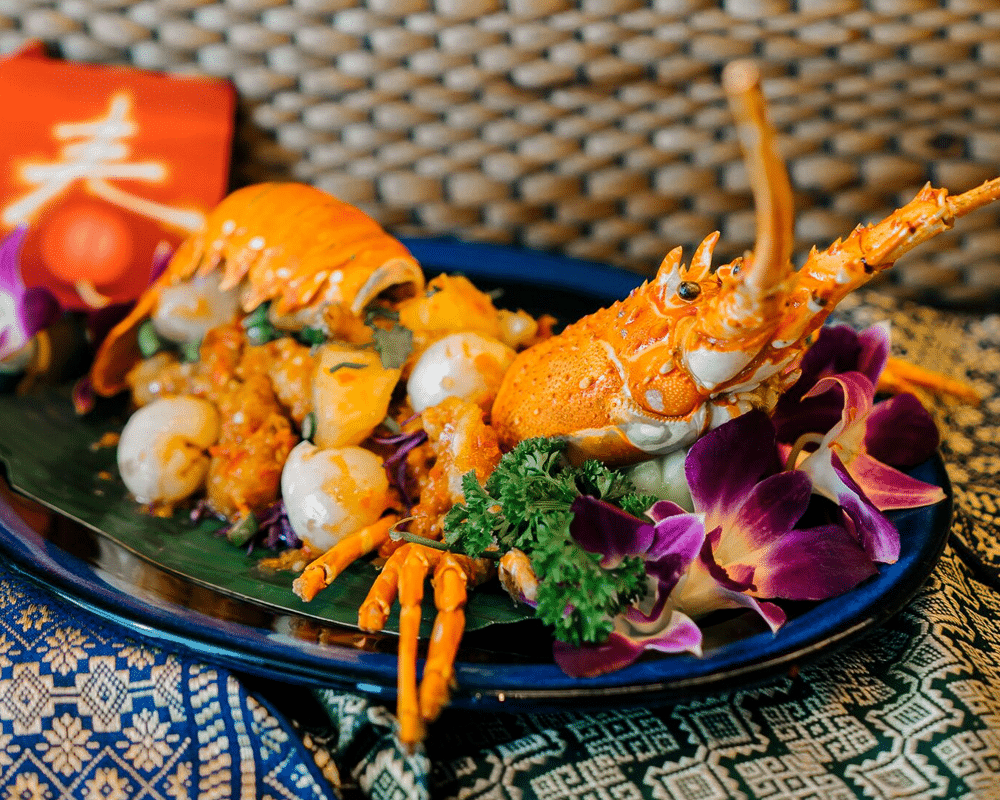 PUBLISHED January 16th, 2017 02:29 pm
Chinese New Year is a happy time for sure; we're surrounded by families and friends, our favourite haunts are full of bright colours, and then there's the quintessential reunion meal(s) as we toss to a new year of prosperity and success. If you have more than a few to attend, it's understandable that you wouldn't want to break the bank; so we've teamed up with Chope to bring you 8 spots with quality reunion meals for less than $100++ per person!
For a Lucky Lunch: EMPRESS

Wealth flows extra close to you at EMPRESS, which directly overlooks the Singapore River. If the evening's not a good time for everyone to get together, how about having a Chinese New Year lunch instead? With six courses including a Smoked Salmon & Silver Bait Yusheng, Double-boiled Stock in Young Coconut (full of dried scallops, lotus, and chicken), Braised Australian Abalone & Sautéed King Prawns, as well as a strapping Triple Roast Platter – Char Siew, Crackling Pork, and Sweet Pork Ribs – we can guarantee it's no loss at all.
6-Course CNY Lucky Set Lunch: $68++ per person
Available: 9 January to 12 February 2017
EMPRESS is located at 1 Empress Place, #01-03 Asian Civilisations Museum, Singapore 179555.

For a Prosperous Buffet: Spice Brasserie

Buffet meals for Chinese New Year are pretty unusual, but that doesn't mean they can't become the norm. Aside from a Seafood Yusheng that's served right to your table, Spice Brasserie offers bountiful amounts of appetisers and salads, sushi, sashimi, soups, and mains such as Drunken Prawns in Herbal Stock, Braised Fish Maw Soup with Crab, Steamed Seabass, Stir-fried Clam Lala, and Steamed Kampong Chicken. Even the usual desserts see a Lunar New Year take, with Pandan Kaya Cake, Steamed Nian Gao, and Black Sesame Glutinous Dumplings.
For dinner, you'll receive a complimentary Fivefold Fortune bundle that includes a Prosperity Pot and Braised Lobster in Superior Stock.
Fivefold Fortune Reunion Buffet: $50++ (lunch) or $78++ (dinner) per person
Available: 23 January to 1 February 2017
Spice Brasserie is located at PARKROYAL on Kitchener Road, 181 Kitchener Road, Singapore 208533.

For a Peranakan-style CNY: Baba Chews

Celebrate this yearly tradition the Straits Chinese way with Baba Chews. Think a set menu with classic Salmon Yusheng; hee peow teng (Peranakan fish maw soup); Pork Knuckle braised in fermented soybeans and topped with black moss and dried oysters; Fried Marble Goby; as well as the restaurant's signature three-flavour (sweet, sour, and savoury) Stir-fried Fresh Prawns and more. To end off, how does an Osmanthus Goji Jelly with Lemongrass Syrup sound?
8-Course CNY Set: $228++ for table of four ($57++ per person)
Available: 16 January to 11 February 2017
Baba Chews is located at 86 East Coast Road, #01-01 Katong Square, Singapore 428788.

For Traditional Cantonese Flavours: Kai Garden

We managed to squeeze Kai Garden into our budget with it's $98++ price tag, though you'll find every dish highly value-for-money. Start off with the Prosperity Salmon Yusheng (with julienned sweet potatoes for extra sweetness), Braised Shark's Fin with Assorted Seafood, and Braised Whole Melon before indulging in a luscious combination of Baked Cod Fillet ladled in Teriyaki Sauce and Kurobuta Pork wrapped with golden mushrooms. Then, dig into some Poached Vermicelli and Pork Dumplings served in a rich Lobster Broth before licking up the essential Deep-fried Nian Gao.
7-Course Harmony Set: $98++ per person
Available: 10 January to 11 February 2017
Kai Garden is located at 6 Raffles Boulevard, #03-128A/B, Marina Square, Singapore 039594.

For Modern Creations: Jade

Luxurious elegance is taken to the next level with the artful touch of Jade's Master Chef Leong Chee Yeng – from the Gold Rush Salmon Yusheng with Champagne Jelly and Honey Pineapple Dressing to the Poached Cockscomb-shaped Chicken Dumpling. Then, bite into springy Fish Maw with Dried Scallops, which is also accompanied by deep-fried fish maw, and Stewed Pork Belly with lotus seed and yam. This is followed by the highlight of the set: Sautéed Sliced Red Grouper with Foie Gras, an unusual combination that unsurprisingly, works.
7-Course Family Style Set I: $98++ per person (min. 5 pax)
Available: 9 January to 11 February 2017
Jade is located at 1 Fullerton Square, The Fullerton Hotel, Singapore 049178.

For International Renditions: Ellenborough Market Café

Also located along the banks of the Singapore River, Ellenborough Market Café presents a tantalising medley of signature festive dishes such as Teochew Steamed Cold Crab, Waxed Duck with Sausage Rice, and Nyonya creations like Ayam Buah Keluak, and housemade Kueh Pie Tee. Expect handcrafted festive goodies, crispy-battered Nian Gao and our personal favourite, a Mandarin Orange Chocolate Fountain. And yes, it's an all-you-can-eat buffet.
Feasts of Prosperity Buffet: $62++ (lunch), $78++ (dinner)
Available: 16 January to 12 February 2017
Ellenborough Market Café is located at 20 Merchant Road, Swissotel Merchant Court, Singapore 058281.

For Prosperous Nourishment: Souper Tang

With a strong foundation in Chinese herbs, you can be sure that Chinese New Year at Souper Tang is bound to be a nourishing one. As its name suggests, soups feature prominently on the usual menu, though this time not so much. Although you have to top up $28.80++ for a yusheng, Souper Tang's five-course meal includes the signature Imperial Good Fortune Pen Cai – a basin loaded with luxurious ingredients like scallops, abalone and fish maw; a Sauteed Fish Head, Eight Treasure Vegetable Pot, Black Fungus tossed with Garlic Bits, and finished with Snow Jelly and Gingko Nuts.
5-Course Supreme Delight Set: $398.80++ for table of six ($66.50++ per person)
Available: 15 January to 11 February 2017
Souper Tang is located at 176 Orchard Road,#02-52 The Centrepoint, Singapore 238843.

For a Thai-style CNY: Sawadee Thai Cuisine

Inject a titillating dose of spicy Thai-flavours to your Chinese New Year celebrations with a compelling menu that includes Royal Prosperity Abalone Yusheng, Grilled Kurobuta Pork Collar, Golden Crispy Chinese Pomfret with Mango Sauce, a whole Lobster with Thai-style Three Flavour Sauce, as well as Sawadee's special Seafood Fried Rice and more. And of course, no visit to a Thai restaurant can end without some Mango Sticky Rice, which Sawadee does extra fragrant in our opinion.
9-Course Prosperity Set: $548+ for table of eight ($68.50+ per person)
Available: 16 January to 11 February 2017
Sawadee Thai Cuisine is located at 9 Tan Quee Lan Street, TQL Suites #01-01, Singapore 188098.