Droolworthy Take-Away Options for Your Christmas Party 2014!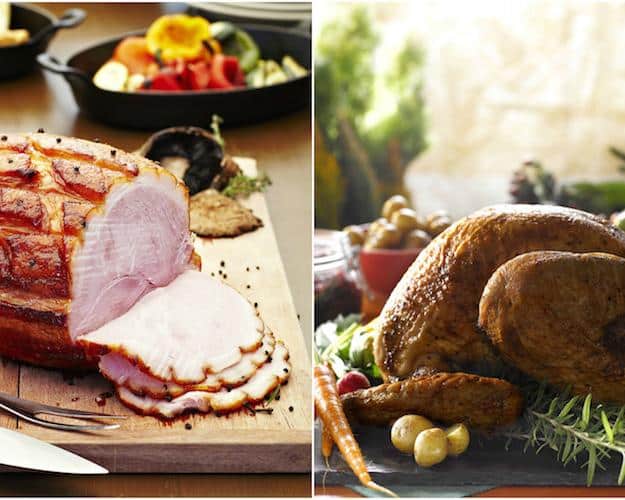 PUBLISHED November 19th, 2014 04:00 pm | UPDATED January 19th, 2016 09:37 pm
If you've decided to entertain at home this Christmas instead of heading out, the countdown has begun so it's time to start planning your do. While we're en route to becoming domestic gods and goddesses, we're not embarrassed to admit we need help with some, if not all, of it. Check out our food guide for the Yuletide (rhyming not intended), and you'll definitely be crowned hostess with the mostess by your guests before the night ends.
Plan Ahead
Brunch, lunch, or dinner? Then you also have to decide whether you'd like a sit-down dinner, barbeque, buffet, or if you're feeling really lazy, a potluck so your guests have to pull their own weight. One thing's for sure though: quality over quantity.
Menu Design
Next thing on your list is definitely what food and drink to serve at your party – no fear, we have a few spots to recommend that'll have your festive staples covered so you don't end up slaving in the kitchen the entire time.
Appetizers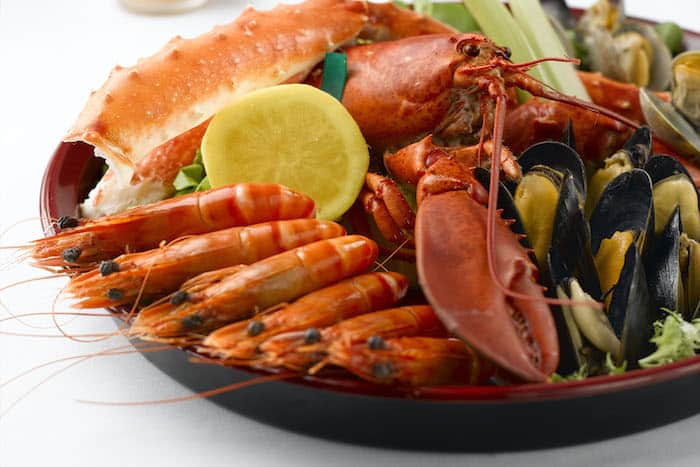 Chilled Seafood Platter, Grand Hyatt
Santa's Shop at Grand Hyatt is supported by mezza9 so make a beeline for the Chilled Seafood Platter ($158), which includes a whole lobster, prawns (4 pieces), mussels (4 pieces), clams (4 pieces), and half a king crab. We'd also get their Sushi Selection ($68, 20 pieces) to whet appetites, because nobody says no to sushi.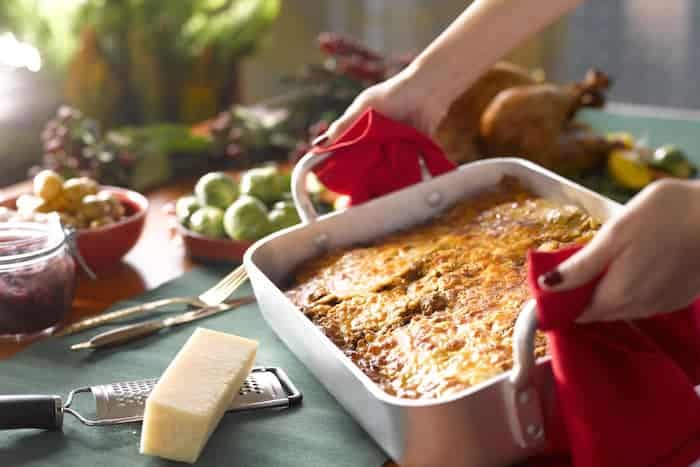 Prego's Signature Lagsana, Fairmont Singapore
If you're looking for something kid-friendly, Fairmont Singapore's Café Noel has Prego's Signature Lasagna ($66, serves 6) – alternating layers of handmade pasta with beef Bolognese and creamy béchamel and mozzarella cheese – available for takeaway.
The Homemade Charcuterie and Terrines ($98, serves 6) comprising of parma ham, country pate, and foie gras amongst others, will have the adults at hello.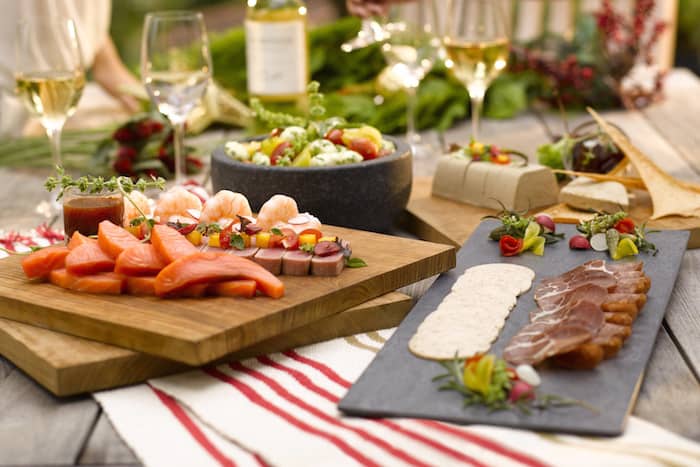 Homemade Charcuterie and Terrines, Fairmont Singapore
Meaty Mains
What's Christmas without good ham? The absolutely divine Honey-glazed Gammon Ham with Buttered Vegetable, Apple and Cinnamon Compote, Mash Potato and Honey Pineapple Sauce ($298, 6kg) from St. Regis is best for large-scale dinner parties, or if your guests really like ham.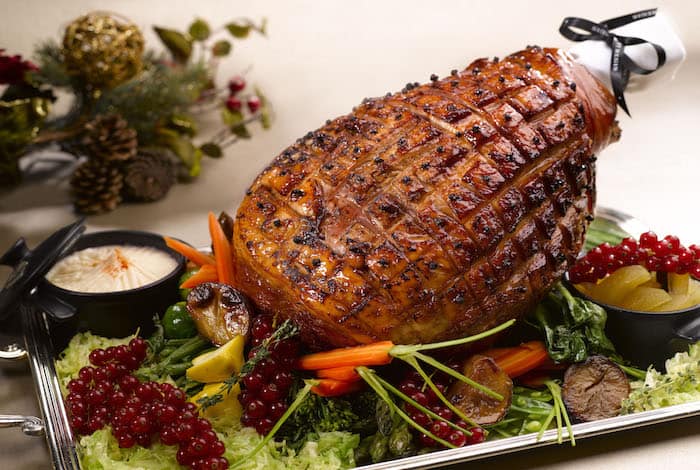 Honey Glazed Gammon Ham, St. Regis
Another Christmas mainstay is, of course, turkey. Grand Hyatt's Whole Christmas Tom Turkey ($145, approx. 5kg) was fork-tender, and is served with the mandatory turkey gravy and cranberry chutney.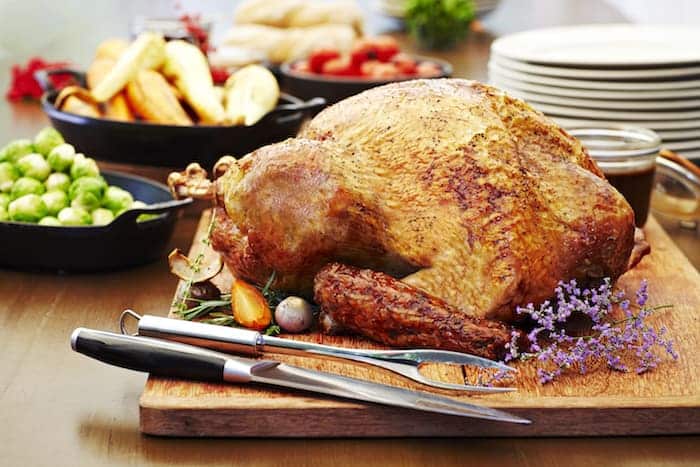 Whole Christmas Tom Turkey, Grand Hyatt
Their very excellent New Zealand King Salmon baked in sea-salt crust ($195, 4-5kg) is a great alternative to heartier meats – or if you have more than a few pescetarian friends like we do.
For more unconventional meats – eating the same stuff at every Christmas dinner is never fun – look no further than Swissôtel The Stamford. The succulent goodness within a crackling crisp that is the Crispy Pork Knuckle ($38 per kg) from Café Swiss and the Roasted Leg of Lamb with Garlic Herb Provence, Rosemary Gravy, and Mint Jelly ($148, 1kg) is another meat you'll be drooling over.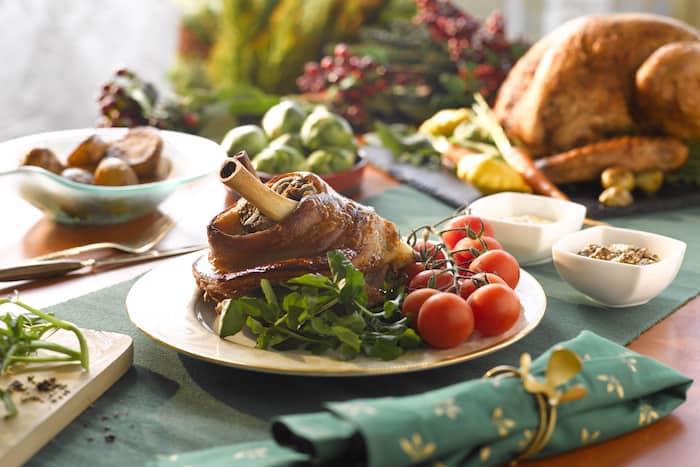 Cafe Swiss Crispy Pork Knuckle, Swissôtel The Stamford
Sweets
As much as we'd like to keep the weight gain to the minimum, the amount and variety of inventive sweets that swing our way during Christmas makes that really hard.
Featuring yet another frequent festive ingredient, Grand Hyatt's Caramel Chestnut Log Cake ($68 per kg) is surprisingly light and well-balanced – we never thought caramel could complement chestnut so well.

Caramel Chestnut Log Cake, Grand Hyatt
Enjoy a dose of tradition with their Christmas Plum Pudding, served with brandy sauce ($32, serves 4) while their 9-piece pralines ($24) make great party door gifts.

Pralines, Grand Hyatt
Durian fans, rejoice! The D24 Durian Christmas Log Cake ($64, 1kg) at Goodwood Park Hotel is back by popular demand. The Jivara Chocolate, Passionfruit and Mango Log Cake ($68, 1kg), however, would be good for your non-durian lover guests.

D24 Durian Christmas Log Cake, Goodwood Park Hotel
Looking for something exotic, yet a definite crowd pleaser? Fairmont Singapore's Chocolate Log with KaruKera 70% Chocolate Mousse and Caramel Banana ($65, 1kg) is probably the one then.

Chocolate Log with KaruKera 70% Chocolate Mousse and Caramel Banana, Fairmont Singapore
The more adventurous can opt for the Pistachio Chiffon with Milk Chocolate Ganache ($65, 1kg) instead. For a unique take-home present, we're totally for their KaruKera 70% Chocolate CD ($24, 80g) in Lavender and Chipotle Salt!
When You've Decided
Whether you've decided to order from one place or two (or all), here's the information you need:
For Fairmont Singapore & Swissôtel The Stamford, head over to their super user-friendly Cafe Noel here to place your orders online. Alternatively, email your wish list to cafe [email protected] or call 6338 8785 (hotline available Mon-Sat 9am-5.30pm).
You can shop Grand Hyatt's Santa Shop online here, or place orders via email at [email protected] or call 6737 6627 (hotline available 10am-8pm daily) from now till 3 January 2015.
For St. Regis and Goodwood Park Hotel, check out their websites for ordering information.
Top Image: Grand Hyatt Honey Glazed Ham and Fairmont Singapore Roasted Tom Turkey
---
Written by Emily S.