East Coast & Katong: Home to Cuisines Around the World
PUBLISHED July 14th, 2016 11:56 am | UPDATED August 29th, 2016 12:10 pm
Despite the lack of parking spaces and an MRT station, the area of East Coast (encompassing the Joo Chiat, Tanjong Katong, and Siglap neighbourhoods) sees people visiting from all over the island for its colourful 20th-century Peranakan-inspired shophouses and more importantly, hidden food gems.
This heritage stretch is home to one of the most ethnically diverse food offerings in Singapore. In collaboration with the American Express Member Favourite programme, take a walk round East Coast with us as we discover what's good in the neighbourhood: the best of cuisines around the world.
Indian – Zaffron Kitchen

One of the best places in Singapore to find both classic North and South Indian cuisine, Zaffron Kitchen's perpetually-crowded premises is a testament to its delicious offerings. The restaurant was also recently awarded as a Bib Gourmand Restaurant for the inaugural 2016 Michelin Guide Singapore.
When it comes to Indian food, you'll always smell it coming before it reaches your table, as was the case for the restaurant's fragrant signature Butter Chicken ($17). We enjoyed it with the Kashmiri Naan ($6) – leavened flatbread with dates, apples, and nuts mixed in before being baked to crisp perfection, along with the indulgent Zaffron Tandoori Platter ($39.50), which offers the finest selection of Tandoori Malai Chicken Tikka, Chicken Tikka, Mutton Kebab, Murg Pudina Chicken Tikka, and Fish Tikka.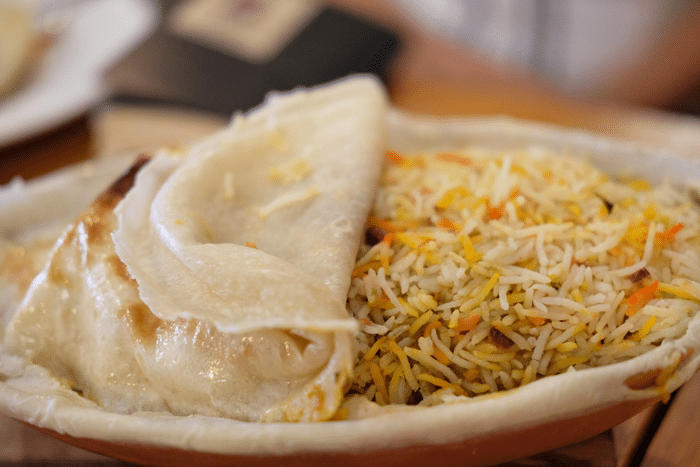 Must-tries are the Dum Chicken Biryani ($14.50) – cooked with a layer of dough on top to help keep the steam in, complete with fluffy and light basmati with juicy chunks of chicken, as well as the Gajar Ka Halwa ($8), likely to be one of the most unique desserts you've tasted. Made with shaved carrots mixed with milk and sugar, this North Indian dessert is absolutely delightful when eaten together with a side of Mövenpick vanilla ice-cream.
Zaffron Kitchen is located at 135/137 East Coast Road, Singapore 428820, p. 
6440 6786. Open Mon-Thu 11.30am – 3pm, 5pm – 11pm, Fri 11.30am – 3pm, 5pm – 11pm, Sat-Sun, PH & Eve of PH 11.30am – 11pm.
Japanese – Kodawari Katsuya

This little Japanese diner along East Coast Road has been managed by Chef Kervin Tay since 2011, and you can be assured that the katsu sets dished out here is top-notch. Chef Kervin trained in Tokyo for two years before being presented a chef license, certified by the Tokyo governor himself. For a healthier and more enjoyable dining experience, Chef Kervin shares that the secret ingredient to his non-oily katsu is the trademark "Premium Sunflower Oil", known for being light in taste and free of cholesterol.
More than just the usual Seafood, Chicken, and Pork, expect unexpected ingredients like Iberico Black Pork, Lamb, and even Unagi (Eel) in KATSUYA's katsu set (Niigata rice, sliced cabbage, red bonito miso soup, and fruit). There's also the A4 Japan Wagyu Set with its perfect balance of marbling and meat, to be consumed with either mustard, yuzu kosho, and lemon salt on the side.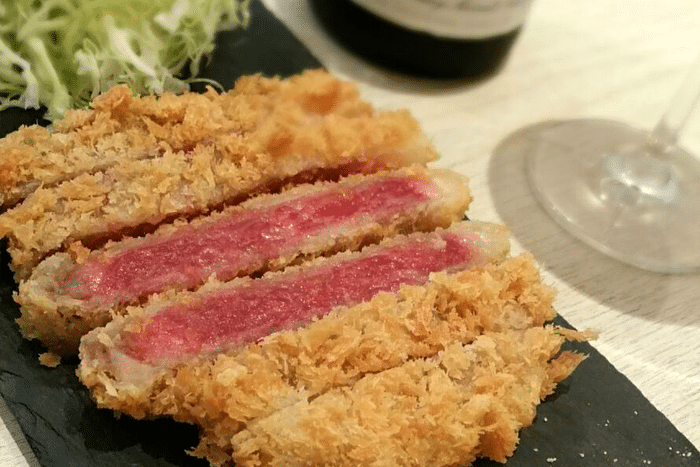 KATSUYA is all about freshness, cleanliness, and the satisfaction of customers. The restaurant is small but personal, and the huge glass panel separating the kitchen and dining area allows you to peer inside as Chef Kervin prepares your food (Kodawari means "focus", which is essential when cooking the best katsu for you). Also, the space gets pretty packed in the evenings, so it's best to phone in first.
Kodawari Katsuya is located at 85 East Coast Road #01-01, Singapore 428787, p. 6344 8183/9656 8183. Open Tue-Fri, 6pm – 10pm, Sat-Sun 12pm – 3pm, 6pm – 10pm. Closed Mon (feeding pigs).

Italian – Bruno's

Step inside Bruno's and you'll find yourself transported to a homely trattoria in Italy. It's a relatively cosy space charmingly accented with checkered table cloths and European street lamps that lend an al fresco vibe; and on the yellow-wooden walls are several chalk boards listing the specials of the day. There's nothing fancy here; just a perfect place for delicious comfort food in huge portions.
We started with the classic Spaghetti Alle Vongole ($19.90) – a flavourful al dente spaghetti infused with white wine sauce, fresh live clams, garlic and red onions. We got a lot of clams on our plate, which goes brilliantly with the buttery sauce. It was superseded by the heavenly Spaghetti with Crayfish in Lobster Tomato Sauce ($25) – meaty, juicy crayfish in a rich and creamy tomato sauce that's incredibly satisfying to eat.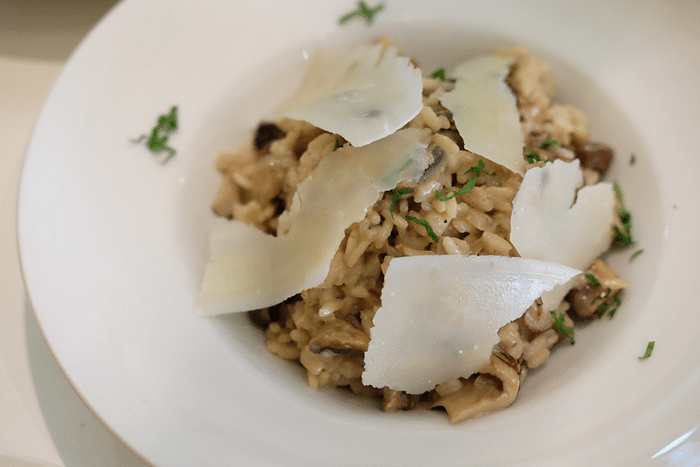 Another star dish is the Risotto Al Funghi Porcini ($25). Creamy Italian rice cooked with gourmet porcini mushroom and three other types of mushrooms; the mushroomy taste hits your palette immediately with just a hint of white truffle oil, the rice cooked to perfection with just the right amount of bite, topped with shaved parmesan for some nuttiness.
Bruno's Pizzeria & Grill is located at 344 Tanjong Katong Road, Singapore 437113, p. 6440 4525. Open Tue-Sun 12pm – 2.30pm, 6pm – 10.30pm.

Bruno's Bistrot is located at 201 Telok Kurau Road, Singapore 423910, p. 63463970. Open Wed-Mon 1pm – 2.30pm, 6pm – 10.30pm.
Thai – The Seafood International Market & Restaurant

If you've been to East Coast Park in the last 30 something years, you might have seen The Seafood International Market & Restaurant around. This stalwart seafood destination has been around since 1983, known for its excellent Thai-Chinese offerings. Walk through the market and select from a variety of fishes, prawns, shellfish, lobsters, and crabs to be prepared by the culinary team, or enjoy the A la Carte Thai Style Buffet Lunch for the best of everything.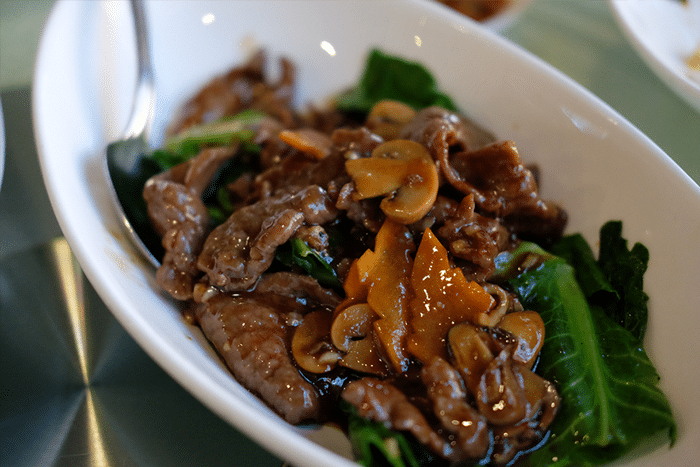 At $29.80 per adult ($32.80 on weekends and public holidays), take your pick of the restaurant's top selections such as the Braised Mini Whole Abalone with Oyster Sauce, super tasty Stir-fried Prawn with Butter, Crispy Oats & Egg Floss – fresh de-shelled prawns well-coated fine cereal that's slightly salty and zesty. I really liked the tender Thai Stir-fried Beef with Kai Lan, but the standout dish has to be the Stewed Seafood Vermicelli with Fish Gravy – light rice noodles in flavoursome broth and generous morsels of prawns, squid, and fish.The best part? There's plenty more dishes where that came from.
On October 2016, the lease at Big Splash will expire and the site will be returned to the government for redevelopment. The Seafood International Market & Restaurant's last day of operation is on 15 September 2016.
The Seafood International Market & Restaurant is located at 902 East Coast Parkway, Blk A #01-01 Big Splash, Singapore 449874, p. 6345 1211. Open 11.30am – 2.30pm, 5pm – 12am.
Western – VieBar

On the busy intersection of Siglap Road and East Coast Road is Vie Bar. Established way back in 1997, the place is as chill and friendly as they come, featuring a free-to-play pool table and even a dart board.
With more than 60 labels of quality, affordably priced wines, beers on tap, and classic cocktails, Vie is a true blue dive bar. The food is good as well: think Steak 'N' Fries ($15.80) – New Zealand ribeye steak served with Japanese steak sauce and fries. We ordered medium rare, and it arrived so perfectly executed that we could almost kiss the cook.
On weekends, Vie is where all the soccer action is, with live matches shown on a wide screen. The peckish can enjoy sides like Chicken Ngoh Hiong ($9.80) with their flavourful house-made sambal chili. It's Happy Hour everyday from 4pm to 8pm with two pints at $18; half pints at $5.80; house pour wines and spirits at $6.80; and 10% off all bottles. On Fridays, get two martinis at only $20 and the signature steak and fries at $12.80. Finally, enjoy fresh oysters at $2 each on Wednesdays.
Vie Bar is located at 914 East Coast Road, #01-02 The Domain, Singapore 459108. Open Mon-Fri 3.30pm – 1am, Sat 3.30pm – 2am, Sun 3.30pm – 1am.
---
From July to December 2016, City Nomads will be partnering with American Express to release a series of neighbourhood guides on the best places to shop, dine, and play for AMEX Card Members – basically, what's good in the neighbourhood.
The American Express Member Favourite programme recognises select small merchants that are the most popular – identified through spending patterns by AMEX Card Members. Find other popular merchants by looking out for the American Express Member Favourite decal on shop windows, or by clicking here.
Top Image: craigwinstanley