In the Lime House kitchen with Chef Hasan de Four – Jerk Chicken recipe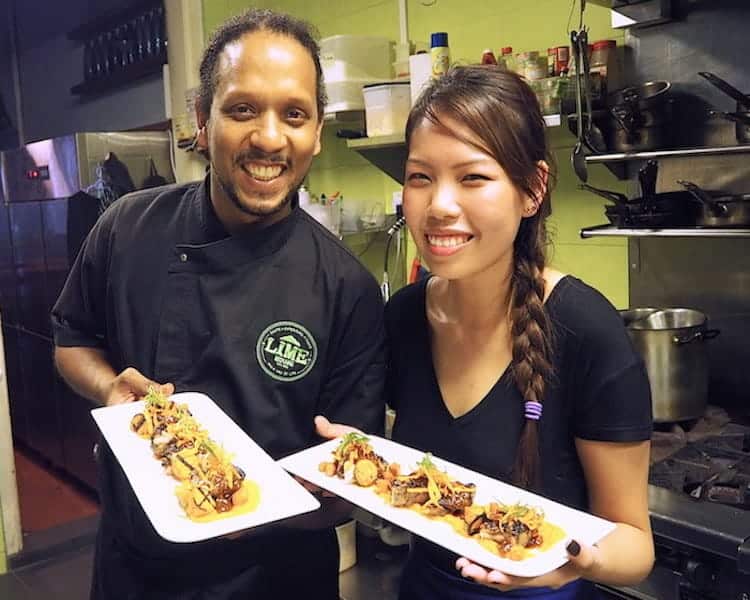 PUBLISHED February 2nd, 2015 04:00 pm | UPDATED September 22nd, 2020 04:26 pm
How awesome is Jerk? Easily one of the Caribbean's best loved dishes. Jerk chicken is spicy, sweet and incredibly tasty. It's rammed full of flavours and is not for the faint-hearted, especially considering one of its key ingredients is the famed scotch bonnet peppers. So, if you're planning for a BBQ or for a fun evening and want to impress your friends, this dish is relatively easy to make and tastes great! And just to show how easy it is, we joined Lime House's Executive Chef Hasan de Four in the kitchen to try it for ourselves and his very own Jerk chicken recipe.

Chef Hasan de Four of Lime House
Ingredients
3-4 chicken parts, thigh and breast is best (deboned for ease)
1/2 cup ground allspice berries
1/2 cup packed brown sugar
6 to 8 garlic cloves
4 to 6 Scotch bonnet peppers, seeded and cored (wear gloves!).
1 Tablespoon ground thyme or 2 Tablespoons thyme leaves
2 bunches escallions (green onions)
1 teaspoon cinnamon
1/2 teaspoon nutmeg
Salt and black pepper to taste
2 Tablespoons soy sauce or Molasses to moisten
Method
Place ALL ingredients (that's the allspice berries or allspice powder, brown sugar, garlic, scotch bonnet peppers, thyme, green onion, cinnamon, nutmeg, salt, pepper) in a food processor until smooth. Some people add soy sauce to give the dark colour and flavour. I use a bit of molasses which does a great job with added intense flavour. I prefer to use allspice berries instead of the powder. Scotch bonnets are key as it gives that Caribbean flavour, but if you can't find them you can use Habaneros.
Rub the meat with the seasoning. With the chicken, rub under skin and in the cavities. You can scour the chicken and bigger joints of meat and rub seasoning into it. This seasoning can also be used with fish or vegetables too.
For best results, marinate overnight.
A flaming piece of 24 hour marinated Jerk chicken
Once the meat is well marinated, it's time to cook. My favourite method is the BBQ, but a grill is also great for getting those charred lines. Failing that, the oven will also do a good job. It should take about 10 minutes to cook through (5 minutes on each side depending on thickness of cut).
Just look how juicy it is!!!!
Serve
Once the meat is cooked and juicy. Dish it up with some yummy sweet potato. Feel free to add any extra jerk marinade on top as well (if you can take the spice!) and a bit of coriander for garnish. Voila.

Garnishing the final product