Inside KLOUD Serviced Co-Office: A Premium Way To Work in Singapore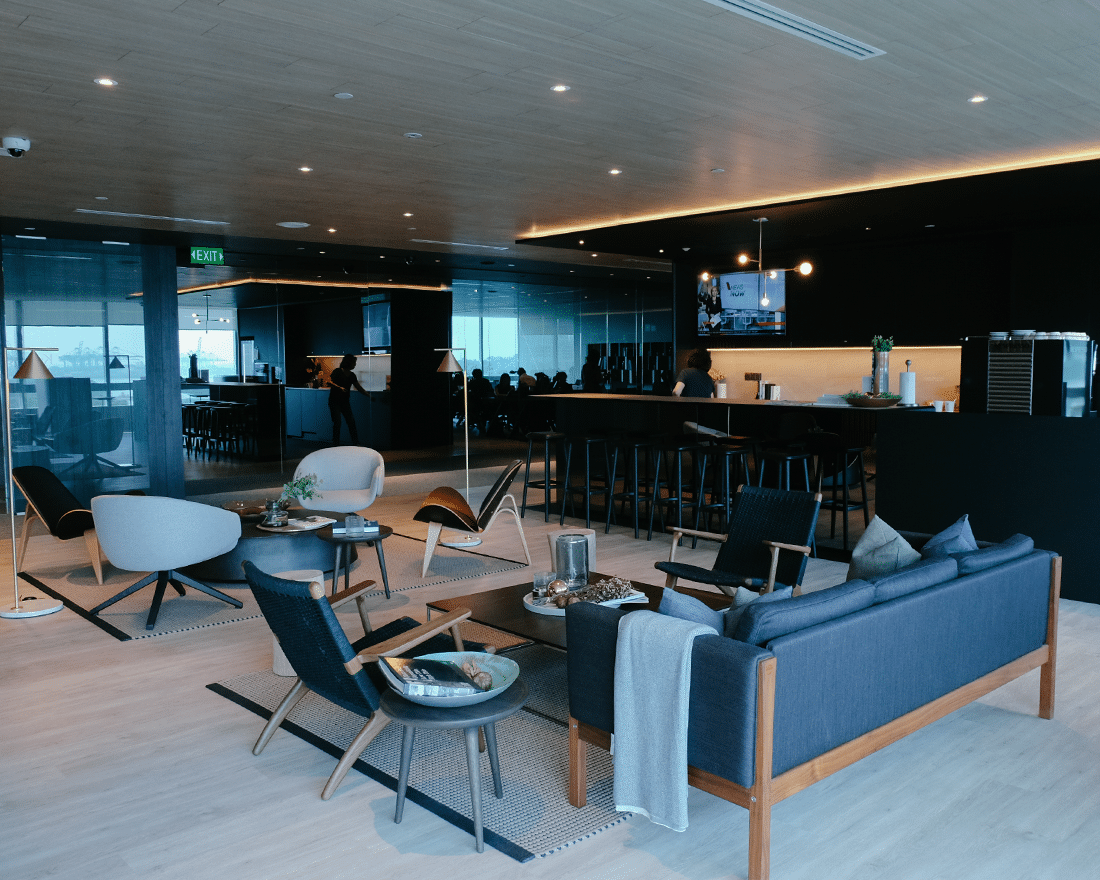 PUBLISHED June 12th, 2017 06:00 am | UPDATED May 18th, 2020 04:57 pm
Gone are the days of formulaic white-walled offices with barely a window in sight, translucent glass cubicles tightly packed desk to desk, and dingy carpets that smell like they haven't been cleaned in years. As co-working spaces in Singapore start seeing more popularity among the creative, marketing, and public relations crowd (heck, we've even seen an auditing firm), one particular new addition stands out from the rest, only this isn't exactly a co-working per se.
Branding itself as a co-office, KLOUD is a fully-serviced shared office space occupying the 13th floor of Keppel Bay Tower, itself a prime business address that offers glorious views of the South China Sea. With HarbourFront MRT Station and the lifestyle megamall VivoCity just a stone's throw away, commuting islandwide or getting some last-minute shopping done is quite literally a breeze.
Design
KLOUD resembles more of a premium home than it does a traditional workplace, which seems to be the trend these days. Step in from the lift lobby into the carpeted lounge entrance and you're greeted by a commodious reception space that's part Scandinavian and part Contemporary, abound with sleek black and warm wood tones and coffee tables stacked with a collection of design-lifestyle titles. Intentionally focused on open and light-filled layouts, KLOUD invokes almost a sort of residential or 'office apartment' type of atmosphere.
Facilities
There are several pleasant surprises here – the stylish pantry and gathering area, equipped with a barista-grade Aguila 220 Nespresso Machine and a large fridge for storing your drinks and bites, is one. If you're tired out from running around between meetings, a cosy private room with a luxurious VITRA Gran Repos chair – with its generous padding and high back – is perfect for some much-needed rest.
There's also a small study for confidential business or conference calls, a boardroom (with an interactive projector screen and smart light controls sure to impress) for corporate or team meetings, and two 'libraries' – small ideation rooms that fit up to four. Also, while not exactly a facility, KLOUD utilises a smart mobile app that let's you book meeting rooms, have the lights dimmed as you prepare your presentation, and perhaps the coolest feature: unlocking the door with your phone like a Jedi knight.
Office Offerings
The idea for KLOUD is to be a high-end office space solution that offers users the benefit of a scaled organisation without any of the scale. Which means, thriving businesses or growing start-ups can become part of a vibrant office community and culture before it's ready to ramp up on manpower, allowing access to collaborators and even potential clients for knowledge sharing. Need help with something? Walk over to to your software developer neighbours next door for tech support, and likewise for any of your contemporaries across a large range of industries – from law and marketing to finance and public relations, right on the same floor.
With 50 office suites and some 270 workstations spread over the floor, choose from a more affordable hot desk ($650 monthly or from $200 for five days of use per month) or enjoy a fully-furnished private office with dedicated work desks (from $800 monthly) for two people, up to 20. Whatever you choose, you'll be greeted each day with amazing waterfront views, in-house business support services, as well as high-speed broadband and WiFi connectivity that lets you easily communicate and share files with your business partners and clients across the globe. The best part? Lease periods are as flexible as a rubber band, whether you're looking for pay-per-use plans or planning a long-term stay.
Our verdict? KLOUD, while a tad pricier compared to many similar co-working spaces in Singapore, will surely get tongues wagging with its classy design, service, top-quality furnishings, and comprehensive and open office solutions. Its waterfront location, too, helps differentiate the space from its competitors around the CBD. More than just an office, it's a place to engage and proliferate. Contact them for a tour – it's free!
By the end of 2017, KLOUD will also see centres in Ho Chi Minh City and Yangon.
KLOUD is located at #13-03, 1 Harbourfront Ave, Keppel Bay Tower, Singapore 098632, p. +65 6208 8888. For more information, please email to enquiry@kloudsco.com.