Just Opened July 2017: New Restaurants & Bars in Singapore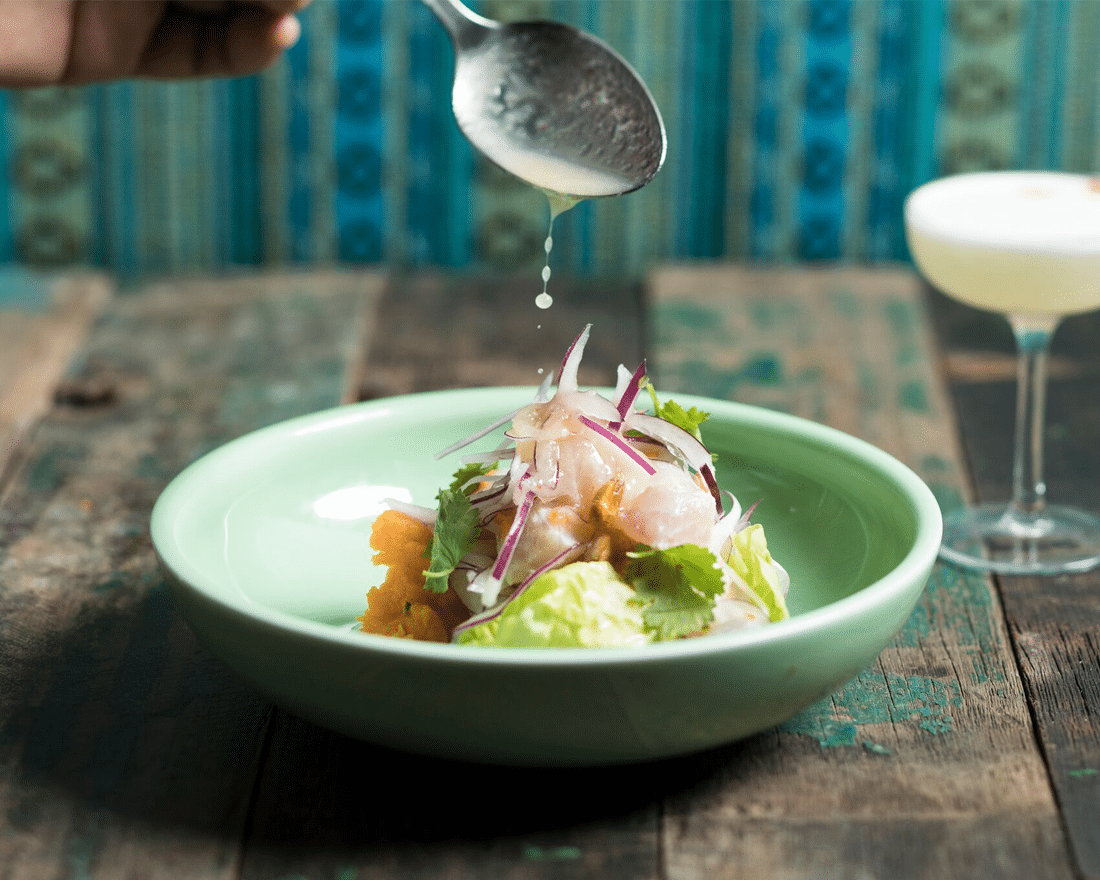 PUBLISHED July 4th, 2017 07:00 am | UPDATED May 18th, 2020 04:47 pm
Welcome in the second half of the year with a new crop of restaurants and bars in Singapore, from the city's first authentic Peruvian cevicheria to Chef Ivan Brehm's (previously of Bacchanalia) new Asian-inspired private dining room. We're also seeing more Greek joints opening up, with Bakalaki entering the scene this month. Also, wagyu whisky, anyone?
New Restaurants in Singapore
Kogane Yama

From the same folks who brought us the Korean fried chicken chain Chir Chir and meat stew restaurant Masizzim comes Kogane Yama, a cosy eatery that pays homage to the humble tendon bowl. Perfectly fried, golden pieces of tempura atop a mound of fluffy Japanese carbs are what you can expect. Simply pick from four meat bowls (Chicken, Prawn, Vegetable, and Mixed – for those who must have crispy prawns, chicken fillet, long beans, carrot, shiitake and enoki mushrooms, sweet potato, and a dollop of ebiko) from $11.80, choose from classic short-grain rice, soba, or thin udon (the latter two steeped in fragrant dashi broth), slather some sweet-savoury tentsuyu sauce, and then add on additional items like chawanmushi and miso soup to create a set meal.
Kogane Yama is located at #02-50 Bugis Junction, 200 Victoria St, Singapore 188021. Open Sun-Thu 11am – 10pm, Fri-Sat 11am – 11pm.
TONO Cevicheria

Say hello to the first authentic Peruvian cevicheria in Singapore! At TONO Cevicheria, look forward to true-blue ceviche, fresh seafood, and other carefully sourced ingredients with a sustainability slant, courtesy of Peruvian Chef Daniel Chavez and his team of Lima-trained Latin American chefs. Highlights include the Jalea (crispy seafood, smoked chilli mayo, fried tapioca and salsa criolla), Anticuchos (marinated chicken or beef skewers, chalaquita sauce and panca chilli), and Punta Sal, a dish featuring tuna, smoked Tiger's Milk, chalaca, avocado, and jalapeños.
TONO Cevicheria is located at 7 Fraser St, Duo Galleria, #01-49, Singapore 189356, p. +65 6702 7320. Open Mon-Fri 11.30am – 2pm, 6pm – 10pm, Sat 6pm – 10pm. Closed Sun.
Bakalaki

Is it us or is Greek cuisine seeing a boom in Singapore? Fans of Mediterranean cuisine can now get their fix of authentic tzatziki (yogurt dip), moussaka (layered casserole) at Bakalaki, nestled in the heart of Tiong Bahru. The extensive menu covers a whole range of appetisers, salads, oven-baked dishes, and grilled seafood, seeing names like Pan-fried Feta Cheese ($16.90), Horiatiki (a tradtional Greek salad of tomatoes, green pepper, Kalamata olives, and feta cheese, $20.90), and as expected at any self-respect Greek restaurant, Grilled Octopus ($32.90) seasoned with nothing more than lemon, oregano, and top quality olive oil. And we haven't even mentioned the variety of Greek wines and boutique beers available.

Bakalaki is located at 3 Seng Poh Rd, Singapore 168891, p. +65 6836 3688. Open Mon-Thu 6pm – 12am, Fri-Sun 6pm – 1am.
Blue Lotus Chinese Noodle Bar

In true Blue Lotus style, its new Chinese Noodle Bar offers a quirky modern dining concept brimming with a distinct perspective on New Age Chinese cuisine. Northern-style dumplings and la mian (hand-pulled noodles) are the name of the game here, and highlights include the Grilled King Prawn Noodle ($16) with fiery Lau Gan Ma chilli sauce and signature Crispy Pork Lard Truffle Noodle ($12). As delicious as the noodles are on their own, don't miss out on starters like the Drunken Chicken Drumstick ($9) made with Hua Tiao wine and uplifting Szechuan Beef Shank and Tendon ($9).

Blue Lotus Chinese Noodle Bar is located at #01-26 Savourworld, 2 Science Park Dr, Singapore 118222, p. +65 6910 0880. Open Mon-Fri 11.30am – 3pm, 5pm – 10pm. Closed weekends.
Wine & Chef

Chinese fare with an Italian spin? Executive Chef Wilson Ang, who's cooked in the kitchens of DB Bistro and Spruce, heads this restaurant along Keong Saik Road that dishes out Hokkien-inspired dishes that exemplify the essence of Italian cooking. Whether it's Homemade Tofu and Century Egg ($6), Steamed Black Mussels ($18) in Chinese rice wine or Salmon Confit Barley Risotto ($18), your cravings for all things Mod-Sin will be satisfied here, along with a marvellous collection of very affordable Italian wines like the Beppe Marino Quattrofilari and Tanore Valdobbiadene DOCG starting from just $25 per bottle.

Wine & Chef is located at 7 Keong Saik Rd, Singapore 089115, p. +65 6221 9279. Open Mon-Sat 11am – 11pm, Sun 5pm – 11pm.
Nouri

After leaving The Kitchen at Bacchanalia (where he led the restaurant to its first Michelin star), Chef Ivan Brehm is back in action with Nouri, a private dining room, bar, and restaurant inspired by flavours found all around the globe. With two tasting menus for dinner, and a teishoku-style a la carte menu and five-course omakase menu for lunch, things are kept simple but experimental. Think Acarajé (an African white pinto bean fritter) that's paired with turmeric and coconut curry, reminiscent of familiar Asian flavours, and the Silken Cheese that resembles an Italian panna cotta but can easily be interpreted as tofu, depending on the diner's cultural background. Even the wine list is far from the usual, with organic, biodynamic, and natural wines making the majority.

Nouri is located at 72 Amoy St, Singapore 069891, p. +65 6221 4148. Open Mon-Fri 11.30am – 3pm, Mon-Sat 6pm – 12am. Closed Sun.
FIVE TEN

Inspired by the kuai chao (stir-fry) restaurants of Taiwan, FIVE-TEN is named after the popular pre-drinking enjoyed by Singaporeans. Here, Chef Shawn Koh (previously of Salted & Hung) dishes out affordable small ($5++) and large plates ($10++) with a quintessential Taiwanese influence. Look forward to a selection of cold brew, beers, wines, and spirits, also priced at $5 and $10. Industry veteran Shawn Kishore (The Bespoken Group and FRESH!) is behind this dynamic pop-up, so you know it's going to be nothing short of amazing.
FIVE TEN is located at 237 South Bridge Rd, Singapore 058786, p. +65 6924 7352. Open Tue-Sun 10am – 10pm. Closed Mon.
Aburiya & The Container

Aburiya & The Container is a dual-concept establishment that fuses a top-of-the-line Japanese wagyu beef restaurant with a tapas and cocktail bar that draws inspiration from the esoteric elements of earth, air, water, and fire. From Aburiya, don't miss out on their famous barbequed beef cuts, driven by a 'nose to tail' philosophy that encompasses even the less-popular parts of the cow. The finely-aged Jukusei Atsugiri Tongue ($24.90), for one, delivers perfection in every bite with its gorgeous blend of spices, complemented by innovative cocktails like the smoky Kemuri No Kontena ($18), an intriguing 'wagyu whisky' mixed with apricot liqueur, brown syrup, and angostura bitters – right next door.

Aburiya & The Container is located at 78 Boat Quay, Singapore 049866, p. +65 6532 0365. Open Sun-Mon, Wed-Thu 6pm – 11pm, Fri-Sat 6pm – 11.30pm. Closed Tue.
New Bars in Singapore
The Writing Club

Dim lighting, check; leather sofas, check; dark wooden furniture, check. The Writing Club, located right in the heart of Orchard Road, has all the hallmarks of a classic whisky bar, not that there's anything wrong with that. Chill and hangout amidst a brilliant collection of whiskies, from the Dewars White Label and rare Kawasaki 1982 100th Anniversary Exceptional Taiwan Edition to the Uniting Nations 40 Year Old Essence of Karuizawa, which blends the best finest Japanese and Scotch whiskies.
The Writing Club is located at #02-10, 390 Orchard Rd, Singapore 238871, p. +65 9767 7613. Open daily Sun-Thu 12pm – 11pm, Fri-Sat 12pm – 12am.
Paulaner Bräuhaus

The brand Paulaner Bräuhaus itself may not be new, but we couldn't miss out the reopening of this German beer institution following its two-month renovation. Spread across three floors of Millenia Walk, the Asian flagship establishment now sports an incredibly stylish palette of light maple, tan leather, matte gold, and royal blue, to go with its onsite microbrewery and fresh German beers on tap. Go back to basics with three proprietary styles of beer all year round: the malty Helles Pale Lager ($13.30/300ml) with subtle notes of hops; the full-bodied Dunkel Dark Lager ($13.80/300ml) with notes of caramel and roasted malt; and the fresh and fruity Weissbier Wheat Beer ($16.80/500ml).
Paulaner Bräuhaus is located at #01-01 Millenia Walk, 9 Raffles Blvd, Singapore 039596. p. +65 6883 2572. Open Sun-Thu 12pm – 1am, Fri-Sat 12pm – 2am.