Restaurant Review: Mediterranean Dinner Delights at Moosehead Kitchen & Bar in Telok Ayer, Singapore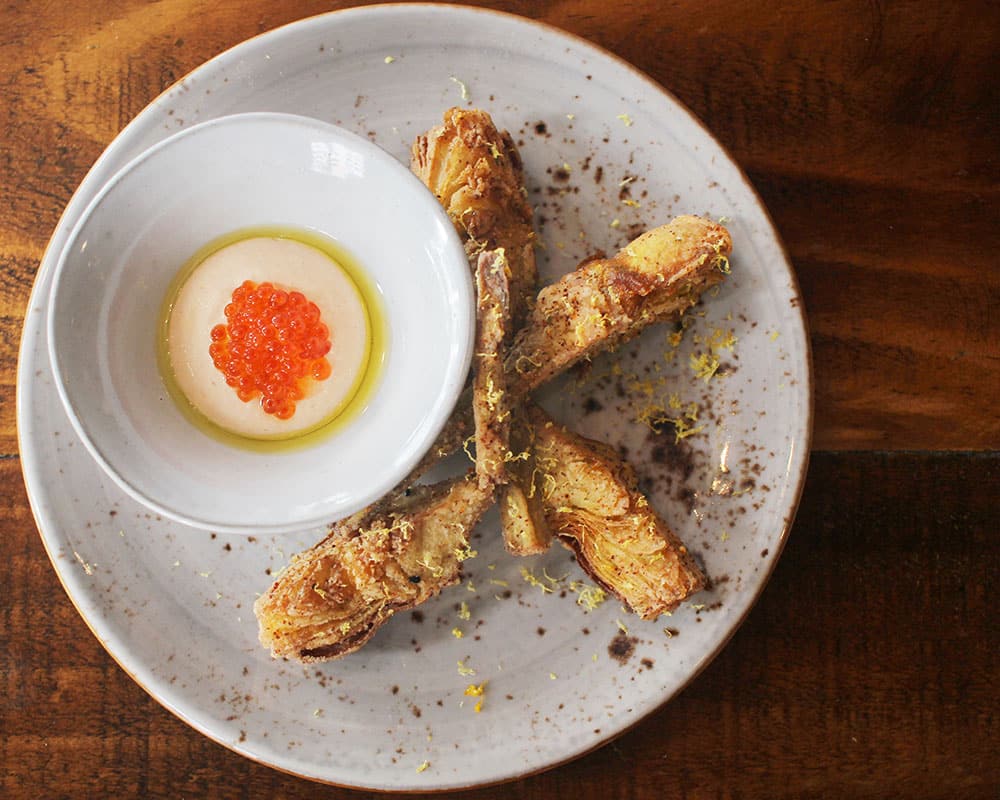 PUBLISHED January 15th, 2018 05:00 am

Practically an institution on Telok Ayer Street, the stalwart Moosehead Kitchen & Bar has been the go-to casual lunch spot in the CBD, with a menu focusing on grab-and-go burgers, healthy salads and a small selection of mains. Come dinner, however, the quick fixes make way for heartier meat cuts, pastas and small plates meant to share. Following their menu refresh, we dropped by once again to feast on an innovative new spread of Mediterranean delights.
Making use of their Inka charcoal oven is the Charred eggplant & garlic dip ($10), where flatbread comes served with a dip made with Inka oven-roasted eggplant, tomato concasse, crushed garlic, chervil, parsley, salt, and lemon juice. The tanginess makes it a great way to open the meal, and carries not a hint of the usual bitterness found in eggplant dishes – Head Chef Seumus Smith hangs the roasted eggplant in a calder until excess liquid is extracted before mixing in the other ingredients.
A unanimous table favourite was the Fried artichokes, taramasalata, salmon roe, lemon ($12) – think tempura fried thistle, quartered and plated with a pale pink blend topped with fresh salmon eggs. The star of the dish was the utterly addictive taramasalata, made from an emulsified blend of mentaiko, bread soaked in milk, extra virgin olive oil and lemon juice.
Whether you're vegetarian or not, pick the Burrata, zucchini, Thai basil pesto, curry leaves ($21). The cheese is sliced garnished simply with salt, pepper, and Spanish extra virgin olive oil, and served with zucchini balls pickled for 24 hours in chardonnay vinegar and sugar, Thai basil pesto, and fried curry leaves. The exquisite mix of creamy, tangy, and spicy flavours almost makes it a must-have.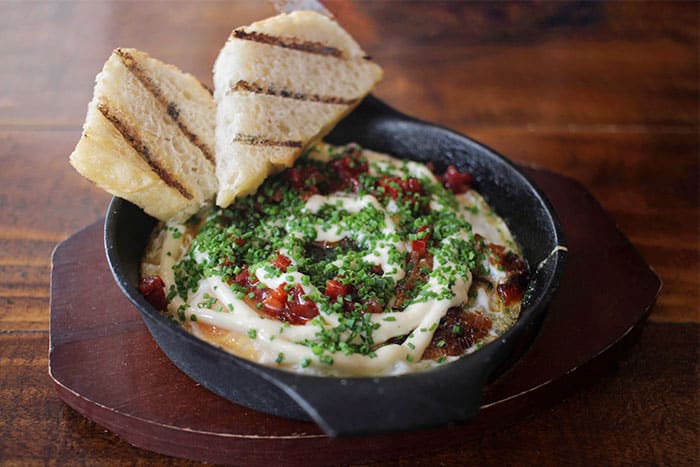 It might sounds like breakfast, but we found that the Inka fried eggs, chorizo, aioli, chives ($12) with a side of bread did a fine job as an evening dish. Topped with confit leeks, sautéed chorizo dice, and a dash of chives and garlic aioli, the fried offering was so tasty that it was quickly finished, and serves well for both a personal or sharing plate.
Meat lovers, the O'Connor beef sirloin 300 gms, mushroom ketchup, roast spring onions ($62) will make your day. Cooked in the Inka oven, the sirloin was wonderfully tender and juicy, and it's matched with a homemade Swiss brown mushroom ketchup and oven roasted spring onions brushed with soy and garlic yakitori sauce – definitely a harmonious meeting of Asian and Western flavours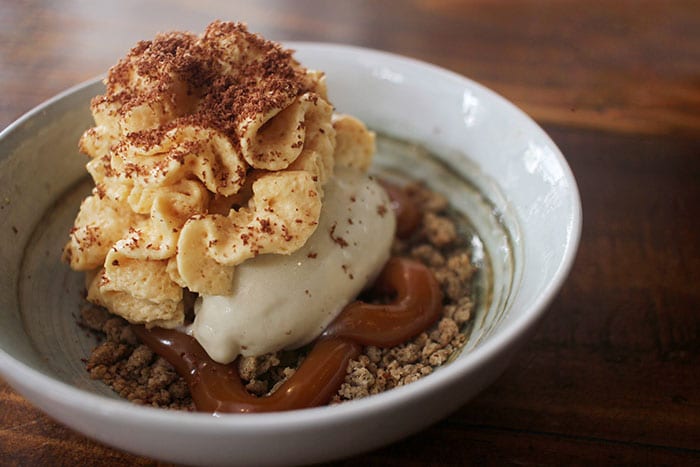 A sweet ending was found in the homemade desserts – the Chocolate mousse, salted caramel, vanilla ice cream ($10) and Banana ice cream, cookie crumble, toffee ($10). The mousse was rich, with a luscious fluffiness to it from the whipped cream mixed with the chocolate crème anglaise. The salted caramel sauce provided the savoury element, the peanut clusters and chocolate soil the crunch. We do prefer the latter; banana ice cream has the potential to taste artificial but the true flavour of the fruit shone with Moosehead's rendition.
The new offerings at Moosehead Kitchen & Bar are definitely worth braving the busy town traffic for. Coupled with a rustic vibe with the wooden floors and an eclectic décor, as well as a comfortable night-time buzz, this is the place to bring your friends and family down for a good time made better by fantastic chow.
Moosehead Kitchen & Bar is located at 110 Telok Ayer Street, Singapore 068579, p. +65 6636 8055. Opens Mon-Fri 12pm – 2.30pm, 6pm – 10.30pm; Sat 6pm – 10.30pm. Closed Sun.

Top image: Fried artichokes, taramasalata, salmon roe, lemon