Music and Kitties: Jaime Wong @ The Company of Cats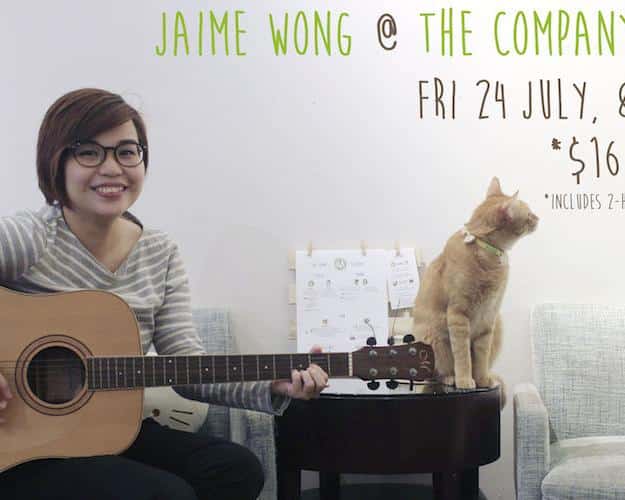 PUBLISHED July 6th, 2015 08:16 am | UPDATED May 9th, 2018 03:13 am
German philosopher and musician Albert Schweizer once said, 'There are two means of refuge from the miseries of life: music and cats.' Come July 24, cat café The Company of Cats is all set to be the most misery-free place in town.
Fresh off her eponymous debut EP, [Jaime Wong](https://jaimewong.bandcamp.com/) will bring her heartfelt and acoustic-folk driven sounds to The Company of Cats. Catch the former recipient of the Noise Singapore Award (2012) perform tracks like 'Skin' and 'To Lost You' while the 11 adorable rescued resident kitties roam amongst you in Chinatown's first cat café. What a purrfect way to end a work week!
About Jaime Wong:
Jaime Wong is a singer-songwriter who writes about life, death and love (or the lack of it). Influenced by the likes of Damien Rice, John Mayer and Ingrid Michaelson, Jaime started off as a regular in the local open mic circle and has gone on to perform at major music events such as the 100 Bands Festival and Baybeats 2014. A recipient of the Noise Singapore Award for Music in 2012, Jaime's first EP debuted at #2 on local iTunes charts and has been described as a "gorgeous folk-pop suite dedicated to lost love" and "essential". Fresh off a sold-out EP launch in May and as one of the 70 bands picked in the region to perform at Music Matters Live 2015, Jaime is set for a regional tour, bringing her music to indie circles in Australia, Taiwan and Malaysia.
The event will take place on 24 July from 8pm – 10pm at The Company of Cats.
Admission costs $16 and includes a 2-hour stay in the cat room (worth $24).
To purchase tickets, please see [Peatix](http://jaimewongatthecompanyofcats.peatix.com/).