Open Door Policy: A Gateway to Gluten-Free in Tiong Bahru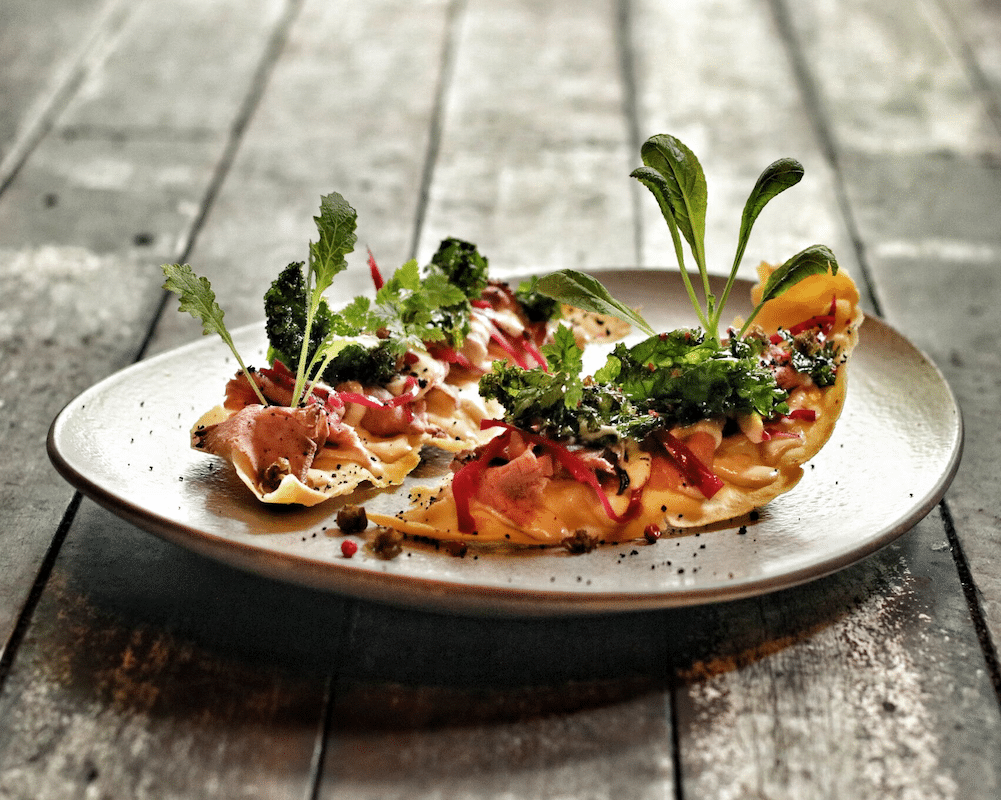 PUBLISHED July 20th, 2017 06:00 am | UPDATED July 21st, 2017 10:25 am
Good news: excessive eating and after-work happy hours may not be the reason for your constant lethargy, tummy upsets, and bloated countenance. Gluten, a protein found in wheat and barley, may be the devil to blame for wreaking havoc on your delicate constitution. Bad news: gluten is everywhere. From pizza to pasta, it seems that gluten, like all things sinful, resides especially in delicious, satisfying food.
This is where Open Door Policy steps in- with dishes that are blessedly gluten-free, yet still taste as good as their counterparts that contain the the substance. To take it a step further, the restaurant has a strict non-dairy policy as well, which makes their menu, full of pastas, soups, and desserts, even more impressive.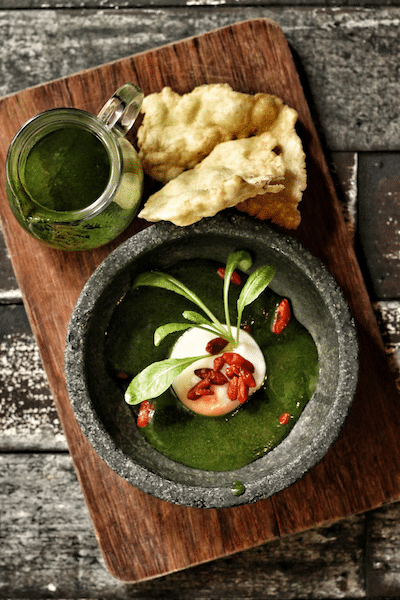 Most of Open Door Policy's dishes are made from scratch, with ingredients either carefully sourced or grown directly in-store, like the herbs and vegetables lining the walls of the outlet. The Watercress Soup ($18) is one such dish, boasting freshly-picked watercress and garnishes accompanied by juicy wolf berries for some bite. Another green soup, the Warm Wasabi Green Pea Scallop Soup ($23), sees Hokkaido scallops swimming in a velvety blend of green peas and nose-prickling wasabi.
To take the edge off the wasabi, the Vitel Toné ($25) is a comforting choice, with cold-cut veal loin, tuna mayonnaise, and pickled purple cabbage atop crunchy fried potato bread. While it seemed out of place, we were pleasantly surprised to find that the tuna was the ingredient that binded the bread, cabbage, and tender sous vide veal together. The Avocado Jumbo Rump Crab Salad ($25) is as refreshing as it promises to be, with crispy kale, charcoal bread, and salted egg yolk crumble lending some weight to the the light salad. Full of contrasting textures and flavour, it's a great start to the meal.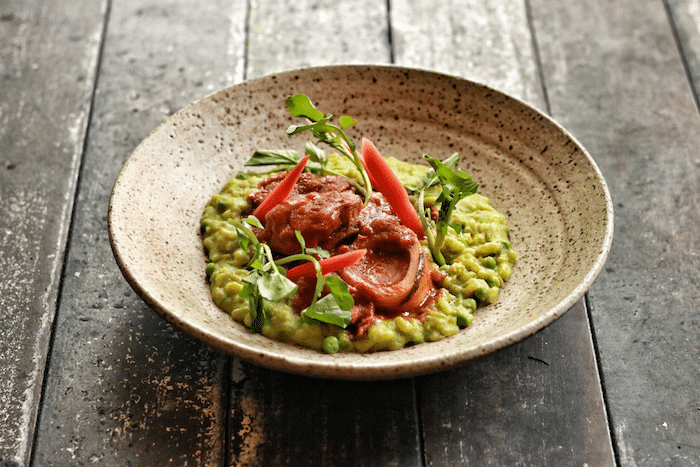 Perhaps as testament to the skill and creativity of the chef, the Braised Veal Ossobucco ($32) is a heavenly risotto main that tastes nothing like the light fairy food you'd expect gluten- and dairy- free dishes to be. Wonderfully tender and perfectly spiced, the veal is a complex, mouthwatering gem crowning a bed of green pea risotto. With the help of yeast flakes and (we suspect) magic, the rice is transformed into a creamy, rich pool of green pea goodness. Definitely one for rainy days and ravenous diners.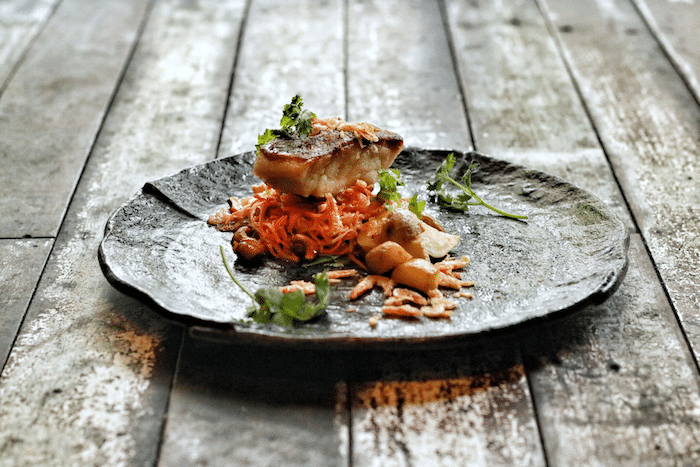 For warmer weather, the Pan Seared Thread Fin ($32) is a summer-worthy alternative, with its invigorating side of Thai mango salad. Topped with cashew nuts and imported Sakura shrimps, it's a little on the sweet side but tempers well with the flaky, fresh thread fin. Similarly bright on the palate, the Vegetable Tempura Risotto ($25) comes with a medley of okra, baby carrot, oyster mushroom, and broccoli. The star of the show, however, is the risotto, studded with finely diced pickled pink ginger for bursts of freshness.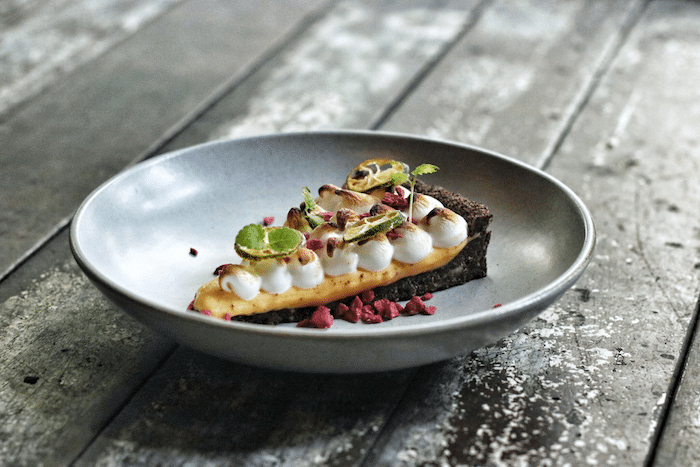 End the meal on a high with a Dairy Free Apple Crumble ($16), which packs the heat with an eight-spice oat crumble. While the spices are strong, they're mellowed out by sweet roasted apple and a cashew milk crème anglaise that keeps things moist. The homemade cashew milk also features in the wobbly Cashew Nut Milk Custard ($16), which is best described as a panna cotta that is mystifyingly creamy and silky despite being dairy-free. Scoring high on presentation is the Calamansi Chocolate Tart ($16), but it's not all looks and no substance- it also aces in the taste department with a vibrant calamansi meringue contrasting beautifully against a no-bake dark chocolate shell.
Creating a gluten-free and dairy-free menu that isn't just rabbit food from start to end is no mean feat- and Open Door Policy has certainly managed to pull it off. With a wide range of offerings, sophisticated flavours, and dishes that give the usual pastas and pizzas a run for their money, this is the blissful solution to your gluten woes.
Open Door Policy is located at 19 Yong Siak St, Singapore 168650, p +65 6221 9307. Open on Monday – Friday 12pm – 11pm, Saturdays and Sundays 11am – 11pm. Closed on Tuesdays. 

Top Image: Vitel Toné