Record Stores in Singapore: Where To Find Vinyls, Turntables, and Cassettes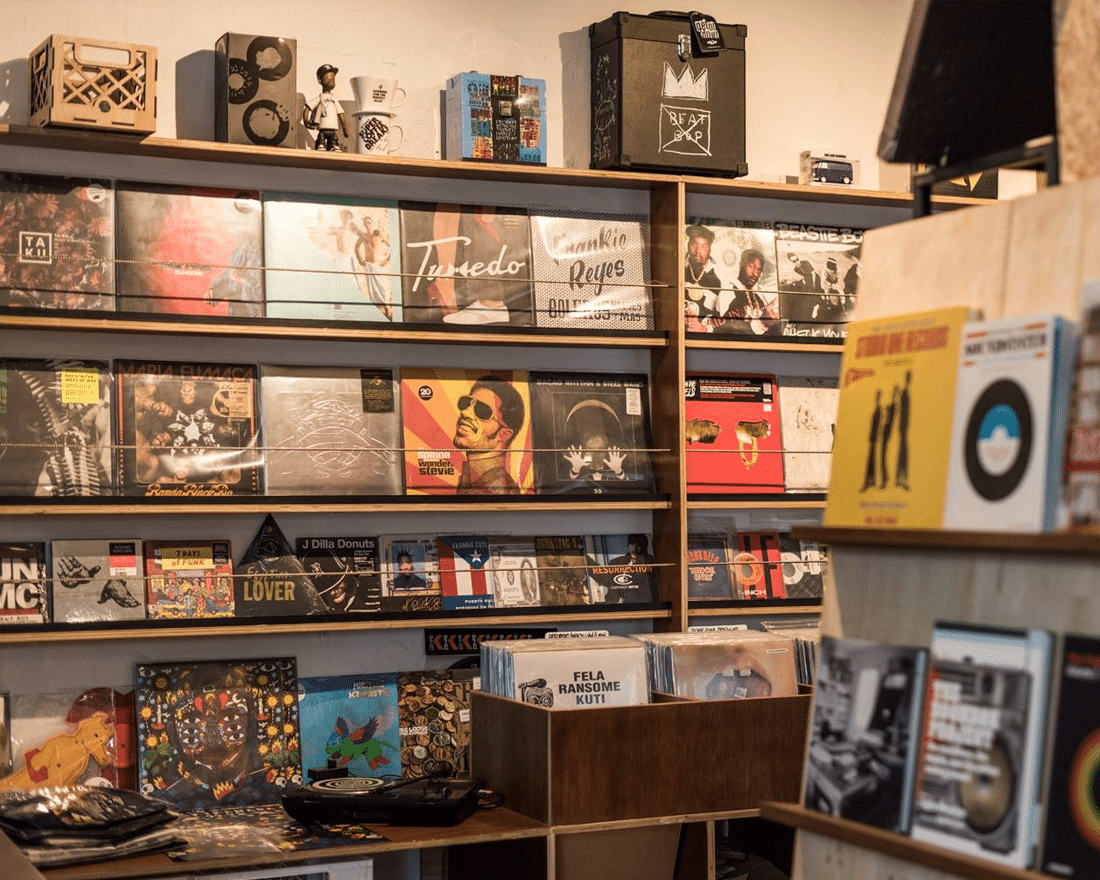 PUBLISHED August 9th, 2017 06:00 am | UPDATED May 18th, 2020 06:35 pm
We know, we know. Why would any want to buy giant black discs when there's YouTube and Spotify? Well, you should know that when it comes to music sound quality, digital MP3 tracks have nothing against the lossless (a type of audio format) quality used by vinyl, CDs, and most cassettes. Plus, there's just something experiential about picking them up from a shelf, removing the sleeves, blowing the dust off, and then placing it on a player to hear a warm, clean sound.
To listen for yourself, here are 10 record stores in Singapore scattered across the island from Jalan Besar to gritty industrial neighbourhoods, where you can get started on your analogue journey – good music taste not included.
Choice Cuts Goods + Coffee

Founded by the established DJ collective Matteblacc, Choice Cuts is a place for music lovers (as well as coffee and beer fans) who have a penchant for all things funk and soul (think Frankie Reyes, Kurtis Blow, Patchworks Galactic Project). Grab a cuppa or bottle of craft beer and proceed to browse the well-stocked shelves of vinyl and other merchandise like street wear. The good folks are constantly organising in-store vinyl sessions, gigs, and parties as well, so you'll want to stay tuned to their social media accounts for that.
Choice Cuts Goods + Coffee is located at 486 Serangoon Rd, Singapore 218151, p. +65 9748 1775. Open Sun, Tue-Thu 12pm – 10pm, Fri-Sat 12pm – 11pm. Closed Mon. (Update: Choice Cuts will be moving out on 21 August 2017 to another location, to be confirmed.)
Simply Music

The go-to spot for jazz and classical musical records, you'll find everything from Ben Webster's The Warm Moods and the London Symphony Orchestra's recording of The Firebird. What the shop lacks in size, the quality of records here are the real deal. Simply Music is also great for entry-level, but extremely reliable turntables, with well-known brands like Rega and Audio Technica starting from as low as $400.
Simply Music is located at #03-46 The Adelphi, 1 Coleman St, Singapore 179803, p. +65 6336 2938. Open Mon-Sun 12.30pm – 7.30pm.
Red Point Record Warehouse

If you're into old-school tunes way back from the 60s to the 90s, check out the immense collection of vinyl-junkie Ong Chai Koon at Red Point Record Warehouse. With Chinese, Tamil, indie and country, pop, and more genres up on offer, there are over a staggering 70,000 records to choose from, and they're replenished every week! Testing stations are available in the warehouse if you'd like to play them out before buying – so you always know what you're getting.
Red Point Record Warehouse is located at 80 Playfair Rd, #06-11 Kapo Factory Building Blk B, Singapore 367998, p. +65 6383 3955. Open Thu-Sun 11am – 7pm.
The Analog Vault

The Analogue Vault caters to those weary of the digital world, offering a tightly curated collection of vinyl, music books and magazines, and other analogue goods for your listening or reading pleasure. There are thousands of used and new records here, mostly in the genres of jazz, hip-hop, soul, electronica, modern classical, world, and local music, the same kind of music celebrated in its Esplanade home.
The Analog Vault is located at #02-13 Esplanade Mall, 8 Raffles Ave, Singapore 039802, p. +65 9026 5215. Open Mon-Sun 1pm – 9pm.
Memory Lane

As its name suggests, Memory Lane is a wonderland for the vintage vinyl collectors, housing a treasure trove of secondhand records from the past. Expect to find much 60s jazz and 70s pop pieces, as well as heavy metal records from the 80s – all going from just $10 onwards. The catch: they're only open on Saturday afternoons, or whenever the owner Gary is free and receives a new shipment. Even then, make sure to go early to get the best picks of the week.
Memory Lane is located at #B1-17 The Adelphi, 1 Coleman St, Singapore 179803. Open Sat 1pm – 5pm.
House of Turntables

Style and substance come together to make the perfect example of modern day record stores. Focused on both top range and entry-level audio equipment such as turntables, amplifiers, and speakers (Audel, Project-Audio, Bamboo Speakers) for the ultimate listening experience, you'll also find more than 10,000 secondhand and new vinyl records on sale at the stylish House of Turntables.
House of Turntables is located at #01-42 Millenia Walk, 9 Raffles Blvd, Singapore 039596, p. +65 6884 4390. Open Sun-Thu 11am – 8pm, Fri-Sat 11am – 9pm.
For The Record

For The Record looks like it might have been around since your parents' era, what with its 80s decor and ancient signboard. Inside sees some 40,000 records from the old days, boasting names like The Beatles, Abba, and Celine Dion to even further back – Beethoven, Rachmaninoff, and Wagner. The owner Mr Alagiry, along with his extensive knowledge and quick witted humour, will help you find anything you need, and even things you may not know you need.
For The Record is located at #04-28 Peninsula Shopping Centre, 3 Coleman St, Singapore 179804, p. +65 9189 9530. Open daily 12.30pm – 7.30pm.
Straits Records

More than just possessing a well-curated range of vinyls and CDs, Straits Records also helps local musicians with promoting their music by offering music merchandise printing, event, and even album production services. As such, you'll find books, tees, and other music-related merch alongside a decent range of Singaporean and regional titles like Mondo Gascaro and Payung Teduh. Don't miss out on their regular shows and pop-ups!
Straits Records is located at 11 Balestier Rd, Singapore 329675, p. +65 8876 3121. Open Tue-Wed 5.45pm – 9.45pm, 3pm – 10pm, Sat 12.30pm – 6.30pm, 7.30pm – 9.30pm, Sun 12pm – 6.30pm.
Curated Records

If you're all about indie music, this little haunt on Tiong Bahru has over 1000 records for you to dig through, and they're constantly bringing in more works from international independent artists they think are too good to be missed. As of writing, the latest arrivals include English singer-songwriter Dua Lipa and American ambient musician Geotic. Who knows, you might just discover an unknown artist right before they appear on the Laneway stage next year.
Curated Records is located at #01-53, 55 Tiong Bahru Rd, Singapore 160055, p. +65 6438 3644. Open Tue–Sun 1pm – 8pm. Closed Mon.
Roxy Records & Trading

The family-run Roxy Records is more than 50 years old, which means that they've had decades to accumulate a magnificent selection of rare records (whether vinyls, CDs, or cassettes) across just about every genre you can think of, even Chinese opera! Roxy's clientele also includes professional DJs and aspiring music producers due to its selection of obscure dance and old school records. Can't find a certain title? Let them place an order for you.
Roxy Records & Trading is located at #02-15 Excelsior Shopping Centre, 5 Coleman St, Singapore 179805, p. +65 6337 7783. Open Mon-Sat 12pm – 9pm. Closed Sun.
Top Image: Choice Cuts Good + Coffee