Restaurant Review: Campari Flagship Bar 1919 Celebrates the Negroni and Italian Comfort Food on Soi Convent, Bangkok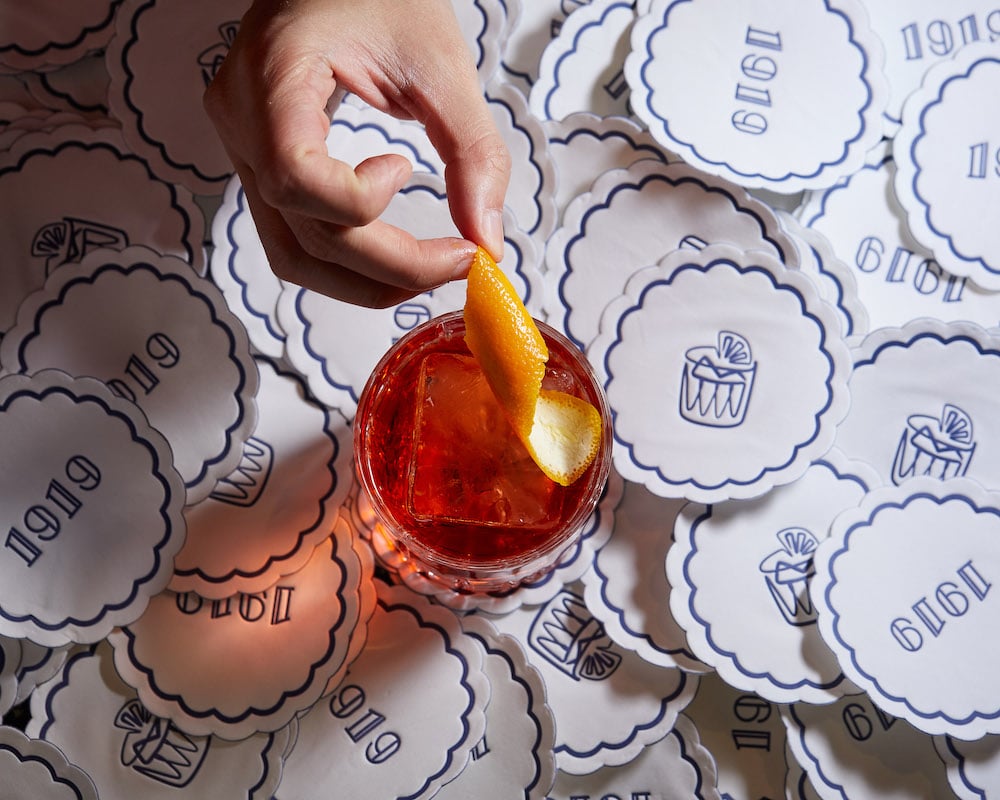 PUBLISHED October 25th, 2019 07:00 am | UPDATED May 18th, 2020 07:10 pm

1919 was the year that a certain Italian Count Camillo Negroni visited a bar in Florence and asked for more 'kick' in his Americano (Campari, sweet vermouth, soda). The bartender Fosco Scarselli switched soda out for gin, and rest is history. 100 years later, the makers of this household name have launched the first Campari flagship bar in Thailand in collaboration with Foodie Collection (aka the folks that brought us Vesper, 80/20, and Il Fumo. With Bar Manager and champion of Campari Bartender Competition Asia 2019, Supawit 'Palm' Muttarattana at helm, 1919 marks a great start to the next 100 years of the Negroni.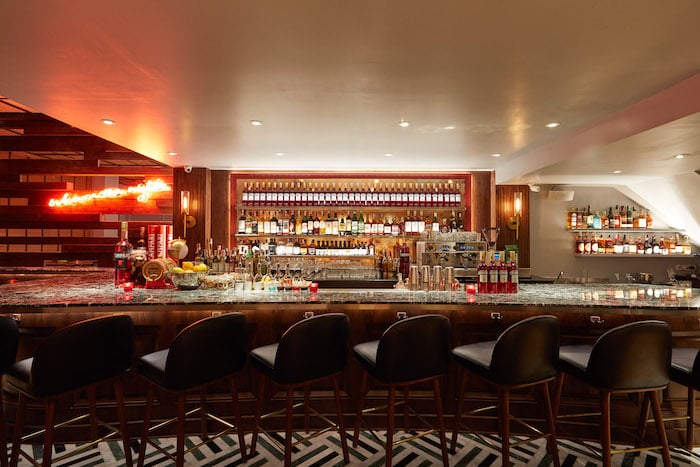 Created in the vein of a classic and classy Italian trattoria-bar, 1919 welcomes guests with retro monochrome floors, vintage Campari memorabilia, and a long bar top reminiscent of Jackson Pollock's paintings. High tables and banquette seating are available, but we parked ourselves at the bar for a better view of the stirring action. Our first drink? Of course it's the Negroni (THB300); the use of Bulldog gin brings a fresh and citrus note to the cocktail, allowing the marriage of Campari and Cinzano Rosso vermouth.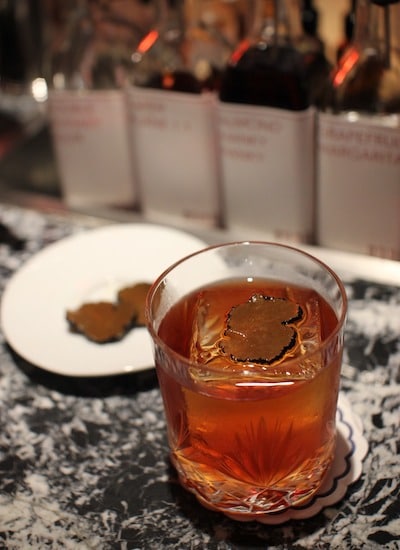 Cocktails here fall into one of the three categories – signature riffs on the Negroni, spritzes and sparkling cocktails, and the classics – and alongside the Negroni, you'll find Palm's competition winning cocktail Spatial Concept (THB360, Campari, gin, vermouth, and espresso milk punch) and the indulgent Truffle Negroni (THB490).
This is not for you if you want something with the aroma of truffle fries; Palm manages to seduce more complex flavours out of Italian summer black truffles by directly infusing them in pre-batched Negroni and a self-sorted solera system. The result is an earthy, nutty, and slightly bitter liquid that almost has a velvety quality to it – completely worth the occasional splurge.
Since we were about to pile on the carbs, we follow up with two low ABV drinks from the refreshing spritz and sparkle section, the 1919 Bellini (THB400) and Bel Pa-E-Se (THB340). Made with a house-concocted peach puree, the former is sweet and dry, and made us think of alcoholic peach jelly desserts. The latter stood out more with its balance between the quinine-laced aromatized wine, honey, and Prosecco, and is freshened up with a spring of mint and tonic water before being served.
Aside from cocktails and spirits, tipplers will also find a full wine list curated by their sommelier, with glasses starting from THB220 and bottles from THB1,300.
On to the carbs. 1919 was previously Foodie Collection's Mediterranean restaurant Via Maris with Sardinian-born Chef-Partner Francesco Deiana, and Chef Francesco continues his affinity with the space and group with a selection of classic & comfort Italian dishes with his personal touch. Portions are kept smaller and with lower prices so that even two people can finish four dishes, have a couple of drinks and dessert, 'cause that's what we did.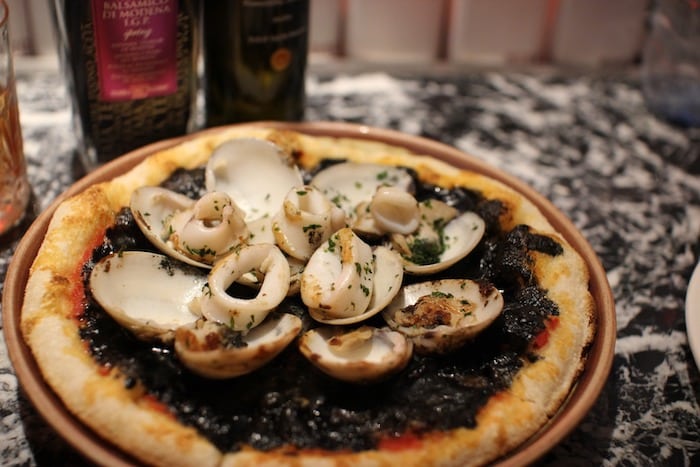 The Black Ink Pizzetta (THB290) is a mini pizza loaded with fresh clams on a bed of san marzano tomato, squid ink, and fresh mozzarella. Boasting a decent char from the oven, the brininess of squid ink accentuates the freshness of the seafood. Truffle again makes an appearance in the pasta section, and we highly recommend the Risotto (THB420) of Luganega sausage and two grams of Italian black truffle. Despite using an expensive ingredient (you can get more at THB190 per gram) that could potentially overpower everything, the homely flavour and al dente grains keep us digging in for yet another spoonful.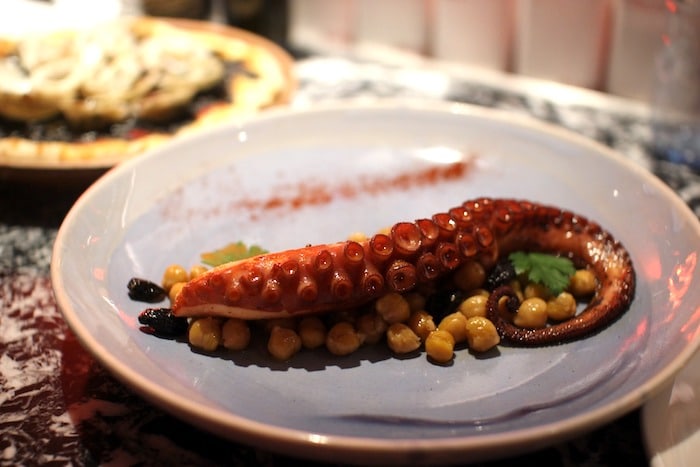 Old regulars of Via Maris would be glad to find some of the old signatures on 1919's menu, and it's no wonder that the Grilled Spanish Octopus (THB740) was amongst those retained. The texture of the tentacle is as good it gets alongside the contrasting chickpeas and seasoned sultanas; we wish there was more charring on the outside but this absence seems to be a trend in the most of Bangkok, even in the yakitori joints.
Rounding up the savoury dishes is the Tagliata-syle Chargrilled Australian Wagyu Striploin (THB420). Served pre-cut into slices with greens, the cut's marbling score of five presents a good balance between fat and beefy flavour, making it easy to eat even though the beef was almost blue in the middle.
For dessert, we took it upon ourselves to try the Strawberry & Champagne Bomboloni (THB120), 1919's take on the filled Italian doughnut. Also available in Tiramisu and Nutella, it was smaller and denser than I imagined, since my only one is Caffe Fernet's fluffier version in Singapore. Light and not too sweet, the strawberry and champagne infused cream retained a slight booziness from the bubbles, making it a perfect end to a night out in Bangkok – if you can resist the call of Vesper to imbibe some more, that is!

1919 is located at 10/15 Convent Rd, Silom, Bang Rak, Bangkok 10500, p.  +66 2 236 5558. Open Mon-Fri 11am-12am, Sat-Sun 5.30pm-12am. Last kitchen order is at 10.30pm with bar food menu served until midnight.