Singapore Staycation Spotlight: Shangri-La Hotel Singapore's Newly Revamped Tower Wing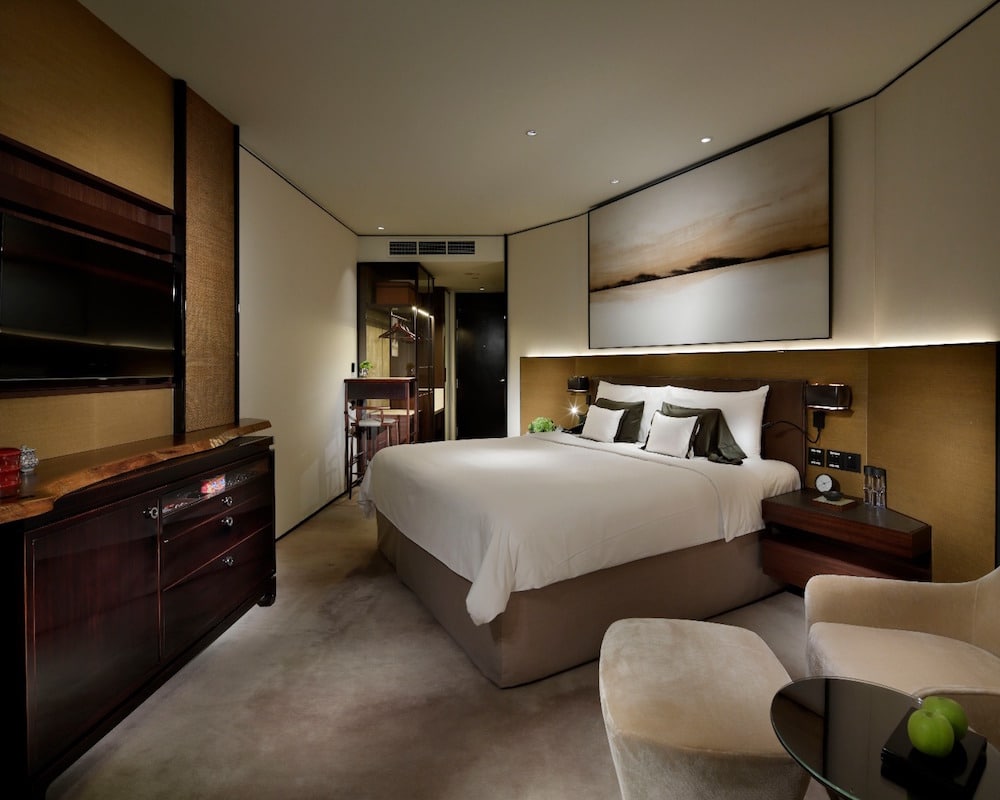 PUBLISHED July 13th, 2017 12:43 pm | UPDATED March 28th, 2019 11:19 am
Did you know that Shangri-La Hotel Singapore is the first of its kind in the world? Well, we didn't, until we finally checked into the Tower Wing last week, which is the real OG of the hotel since the Garden and Valley Wings were added in 1978 and 1985 respectively. The grand dame of Orange Grove Road finally closed for their second revamp in 45 years, and is finally proudly receiving guests with a more contemporarily furnished lobby, and improved Horizon Club lounge, three new restaurant concepts, and updated rooms that retain the Shangri-La spirit of luxury and hospitality.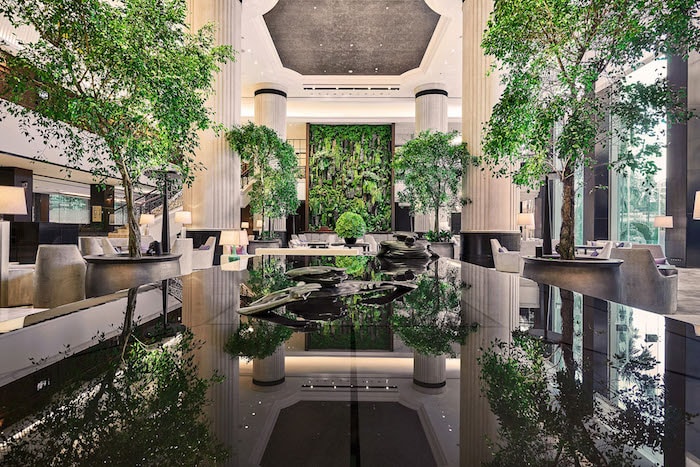 Whether you swing old-school or flashy when it came to the old lobby, one thing was certain, it was dated. The current ivory-hued space is a lot more inviting, peppered with appealing contemporary art installations like the Tree Canopy by Japanese designer Hirotoshi Sawada – look up for thousands of stylized leaves that look like they're cascading from the ceiling – and the Rock Wall behind the Lobby Bar by Australian celebrity landscaper Charlie Albone.
The Tower Wing offers three different room categories, the Deluxe, the Horizon Club Deluxe Room, and the Horizon Club Grand Premier. For the first two, there's no difference in the quality of the stay, except that if you go for the latter like us, you'll be enhancing your experience with perks and privileges offered by the Horizon Club Lounge (more on that later) on the top floor of the Tower Wing.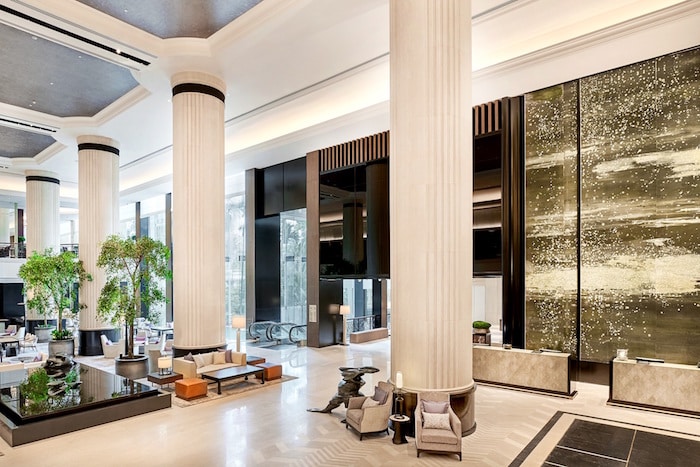 The first thing you'll notice when you walk into the room is that the layout quite angular. It might seem a little awkward at first, but at least it's not just a square room with no character. We asked and heard that the layout was retained from the 1971 blueprint, which was in turn due to some feng shui (a Chinese philosophical system of harmonizing with the surrounding environment) theories. Considering how the Shangri-La group of hotels have grown in the last 50 years, we don't blame them for wanting to keep the harmony at the original.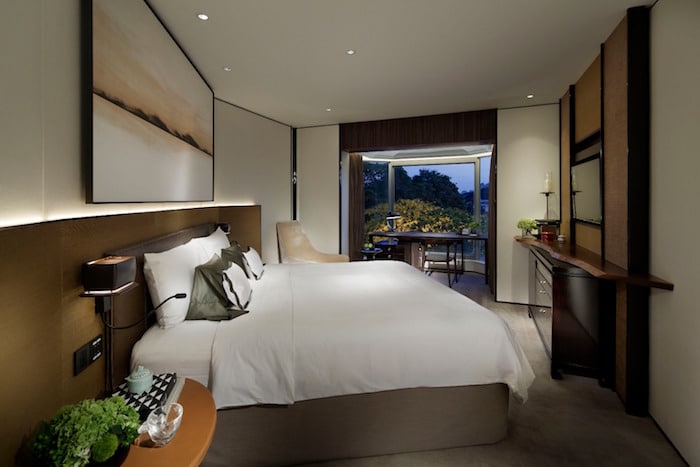 Featuring floor-to ceiling windows (a pity they're partially blocked by the full-sized writing desk), our room came with a lovely view of the city while the rooms across the corridor overlook the pool. Aesthetically, I'm not such a fan of the glass wardrobe but I did love the vintage-style leather-bound writing desk that cleverly doubles as a vanity that hides the hair dryer. The blackout curtains could use some improvement, but more importantly, the bed was exceedingly comfortable and that the hotel's Wi-Fi is excellent.
The latter didn't disconnect from our phones once, even when we travelled from the room to other parts of the property like the pool, the Lobby Lounge, and the Horizon Club Lounge. I was also able to download and upload large files with no issues, so their business hotel reputation is a solid one. If you love your time in the tub, you'll be glad to know that Shangri-La Hotel Singapore has also retained their bathtubs in their marble clad bathrooms, with bath salts readily accessible alongside the other toiletries.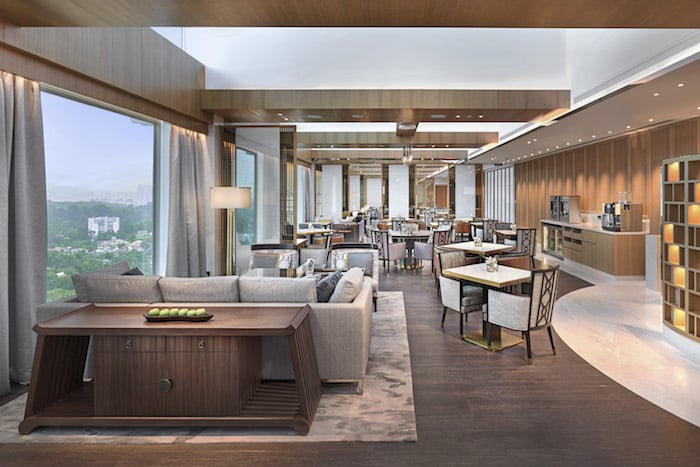 Those booked into a Horizon Club room can enjoy priority check-in and check-out at the Horizon Club Lounge at Level 24. When we arrived after a long work day, it pleased us to find that the lounge was already in the process of serving evening drinks and canapés (5pm-8pm daily). We've been to our fair share of club lounges so trust us when we say that the quality and variety offered here is one of the best. They even have an enomatic machine, which dispenses wine in smaller quantities so you can pretty much do a wine tasting every evening. Aside from wines, there are beers, a decent selection of spirits, and even bar equipment available for DIY cocktails.
Food-wise, you can expect a selection of cold cuts and cheeses, as well as a selection of light bites that change daily. Manned from 6am to 12 midnight, the Horizon Club Lounge is accessible 24 hours a day with soft beverages and refreshments available so you'll never go hungry. Did we mentioned they also offer a buffet breakfast and afternoon tea? Other privileges include a suit pressing, shoeshine service, and hot beverages delivered to your room with your wake-up call.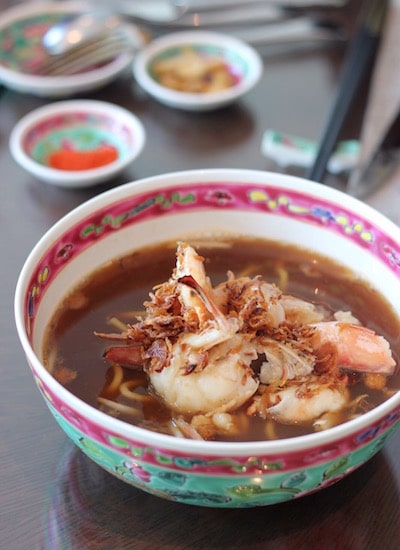 If you suddenly have a craving for local food, head to the new Lobby Lounge for their semi-buffet lunch ($38 on weekdays 11.30am-2.30pm, $45 on weekends 11.30am-5pm), which features authentic hawker fare curated by Dr. Leslie Tay of local ieatishootipost fame. Alongside a buffet of Peranakan delights – we particularly enjoyed the otah and the rendang – lunch-goers can also choose a main from the six signatures that are luxe versions of authentic hawker recipes.
For instance, the Fish Bee Hoon by Ka Soh Restaurant is cooked with hamachi and X.O brandy instead of the usual snakehead fish. The soup base is also made from boiling deep fried fish bones, which accounts for the richness and intensity. I've been eating Beach Road Prawn Mee since I was seven as the shop was on the main road of my primary school, so I was quite happy to see that Shangri-La actually replicated their version quite closely in their Prawn Noodle Soup. The Bak Chor Mee from Seng Kee Mushroom Minced Meat Noodle was over-vinegared in my opinion but I really enjoyed the accompanying soup filled with fish maw, pork slices, stew mushrooms slices, and egg.
The Hainanese Chicken Rice chili was a letdown, it just wasn't vibrant enough to give that lift to the dish that we all love. That said, the rice was fragrant and flavoursome without being too oily and the poached chicken was a joy to eat. And if you miss lunch, the Lobby Lounge also serves a 3-tier Local Signature Afternoon Tea Set on weekdays ($30, 3pm-5.30pm), complete with satay and kueh from local Peranakan dessert purveyor HarriAnns.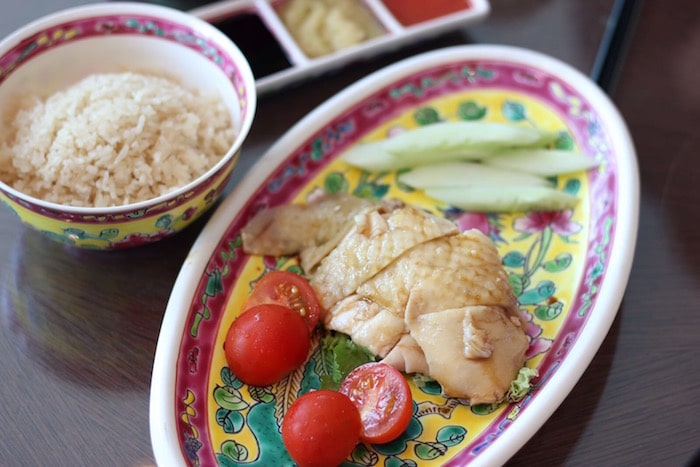 With 503 guestrooms and suites in the Tower Wing alone (792 in total), Shangri-La Hotel Singapore is generally a well-run behemoth of a property. The only hiccup during our stay was that housekeeping forgot to replenish both bath towels in the room after cleaning up after us on the first day. Annoying but not unforgiveable, considering that they reopened less than two months ago.
That said, if you haven't experienced the familial luxury of Shangri-La, there's no better time than now. The folks at Shangri-La Hotel Singapore are offering complimentary breakfast at the Line when you book on their Best Available Rate from now till 31 July 2017.
Shangri-La Hotel Singapore is located at 22 Orange Grove Road, Singapore 258350, p. +65 6235 1666, e. [email protected].
For more staycation spots in Singapore, we highly recommend Villa Samadhi and The Warehouse Hotel!