Shangri-La Sydney: A Gastronomic Sanctuary in the Rocks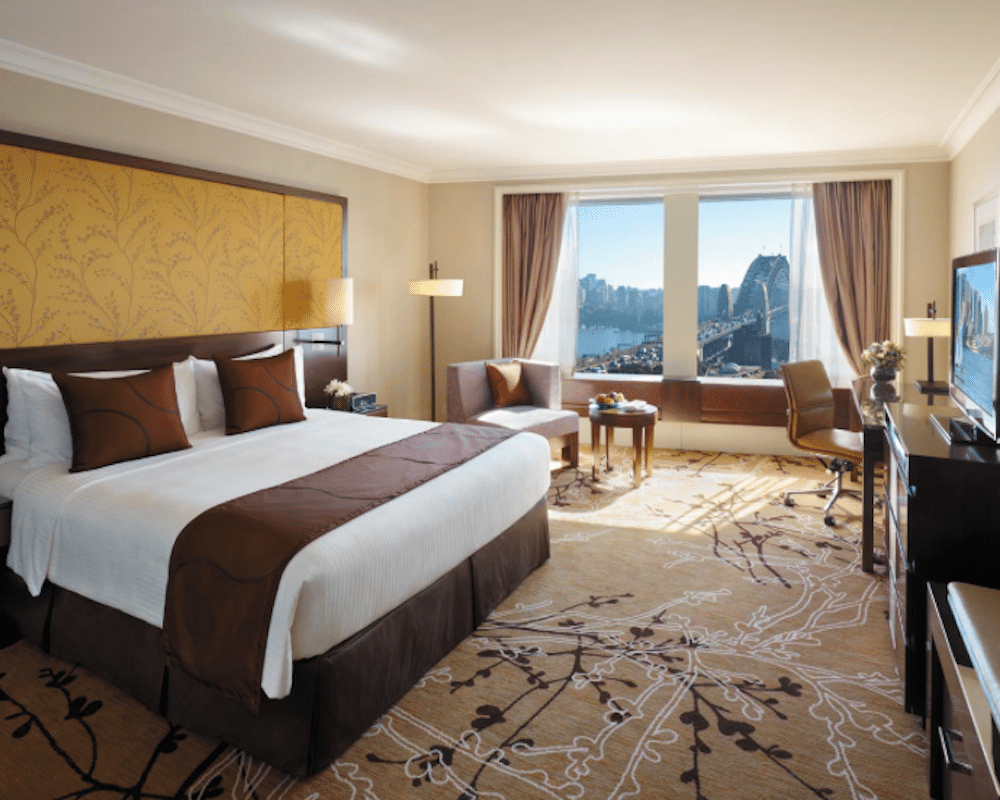 PUBLISHED January 3rd, 2017 01:09 am | UPDATED May 18th, 2020 05:27 pm
Framed by the Sydney Harbour Bridge and the iconic Sydney Opera House, The Rocks is one of my favourite neighbourhoods in Sydney. One of the of the first European settlements in Australia, it's where old meets new – think heritage architecture and cobblestoned laneways to the Museum of Contemporary Art and stylish restaurants. And in the middle of the narrow, winding streets stands Shangri-La Sydney.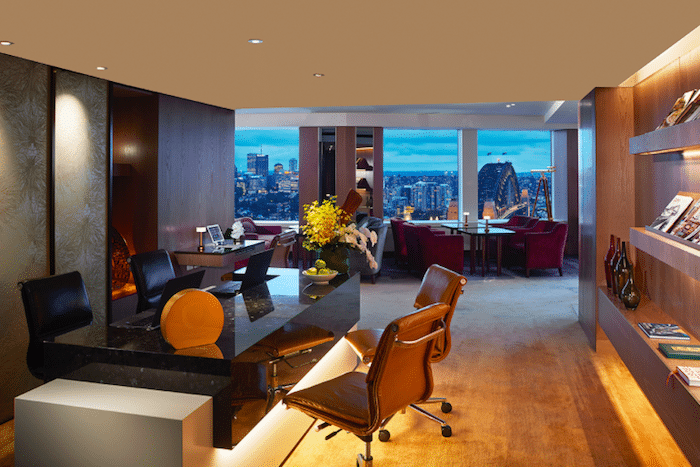 With 565 spacious rooms and suites, the lobby was abuzz with activity when we arrived, so folks who prefer a more exclusive experience can opt for the Horizon Club rooms. Not only do you get to check in and out of your room in the privacy of the Club Lounge, guests also receive other perks like hot beverages deliver to your room with the wake-up call, afternoon tea from 2-5pm, evening drinks and canapes from 6-8pm, and more.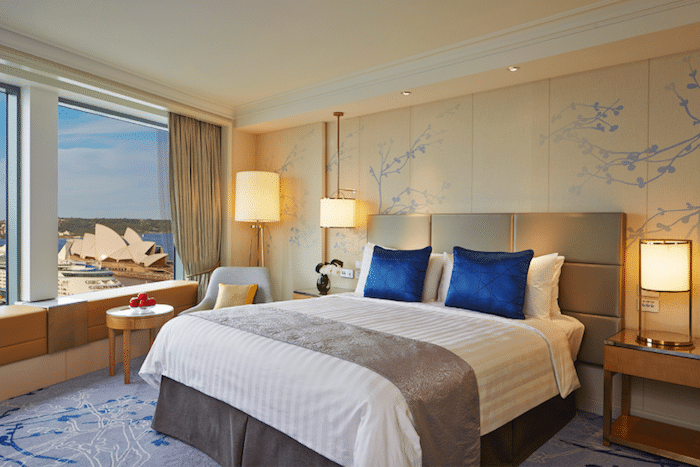 At 45 square metres (484 square feet), the plush, spacious bedroom of our Horizon Club Grand Harbour View Room features a hypnotizing view of the Sydney Harbour, including the Harbour Bridge and the pearlescent Opera House. The marble bathroom has a separate bathtub and shower area, which we made full use of, especially after two nights in a campervan in the Wombeyan Karst Conservation Reserve.
Located on the 36th story, Blu Bar is an attraction in its own right with its equally breathtaking views, enhanced by floor-to-ceiling glass windows. Unsurprisingly, it's a highly sought-after venue for corporate events and a watering hole catering to the white-collar crowd of Sydney city. That said, we popped by for pre-dinner drinks before heading to Altitude Restaurant. While the Rosemary Old Fashioned (A$28) was too sweet for my liking, the Smoking Mistress (A$23) was an enjoyable cocktail of bourbon, peach liqueur, smoked tea, and walnut bitters.
For those who prefer cocktails less heavy on the palate, go for the Burning Passion (A$21) – tequila, Aperol, pineapple juice, passionfruit, and lemon juice topped with a blowtorched pineapple – or the Yamazakura (A$23), winner of a Shangri-La wide competition. The latter is a fruity combination of gin, Aperol, elderflower liqueur, citrus, and egg white.
Having honed his chops at Michelin-starred establishments such as Martin Berasategui in San Sebastian, Sergi Arola Gastro in Madrid, Spain, and The Yeatman in Portugal, 29 year-old Chef de Cuisine Ricardo Ferreira arrived in Australia four years ago. It's not enough for him to put seasonal-produce driven menu on at Altitude; he works with mircro seasons within the season, where some ingredients are only available for a few weeks, thus the menu at Altitude is always changing.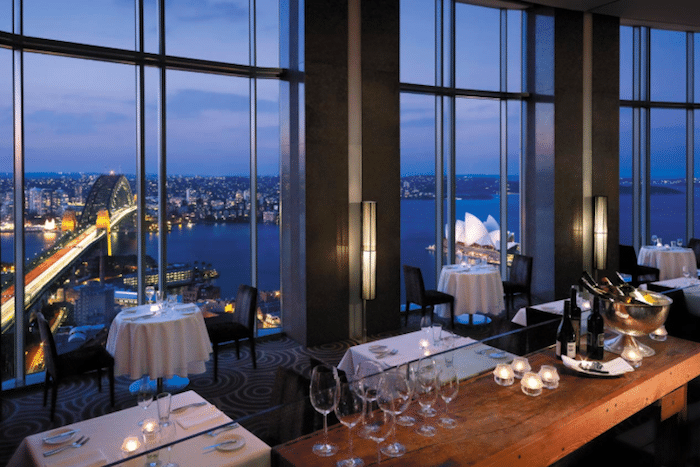 During weekdays, diners can look forward to an a la carte menu while the weekends feature a four-course weekend menu (A$125 per person). We went for the seven-course Epicurious Menu (A$150 per person), which is available throughout the week. Wine pairing was available at an additional A$65 per person, though wine is also reasonably priced by the glass (A$14-20).
We started off with an umami amuse bouche of corn and smoked goat curd sandwiched between crispy chicken skin, followed by the first course of Hiramasa Kingfish, which is indigenous to Australia's Spencer Gulf. Chef Ricardo uses Australian produce wherever possible on the menu, adding his brand of European influences. In this case, fresh is something he's definitely going for here, in pairing the raw, firm, sweet sashimi grade fish with fermented cucumber yoghurt and wild mint.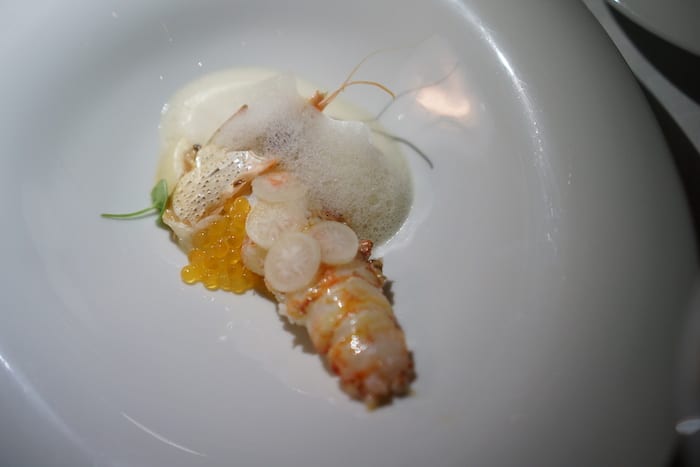 Between the next two dishes from the sea, we favour the Western Australia Scampi over the Razor Clams. Confit in extra virgin olive oil at very low temperature before being put on the grill, the scampi's flavour is enhanced by the lobster foam while the sliced jicama, parsnip purée, and trout roe add texture. The sliced jicama balances the sweetness of the razor clams and the savoury pork consommé (the idea stems from a Portuguese stew) of the latter dish, but the clams themselves are slightly rubbery.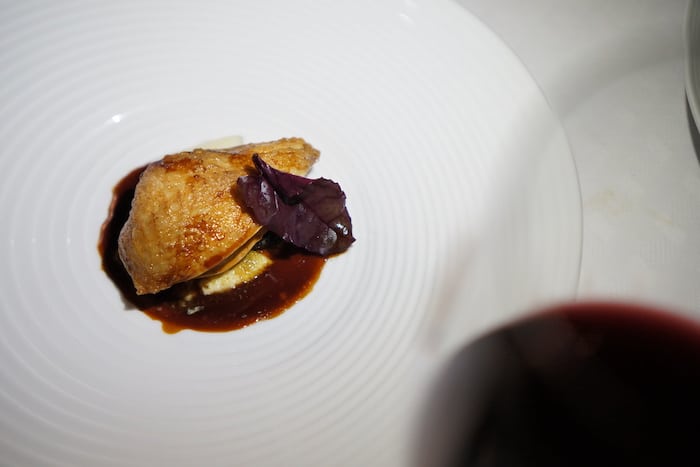 The Pan Seared Local Wild Partridge was another highlight of our evening, despite the accompanying pea powder imparting grittiness but no flavour. The game bird was rich and well cooked, with a well-executed rutabaga puree and an incredibly tasty jus to boot. The Shiro Kin Wagyu MB9+ Striploin was overcooked in our opinion. Derived from Fullblood Wagyu – cattle that are direct descendants of Japanese Wagyu with no outside influences from other breeds -, the beef's char and medium rare middle did blow our minds. Thus, it was a pity about the greyish sides that were a sign of medium-well – we would have liked to enjoy more pink, flavourful beef, especially with a marbling of 9+.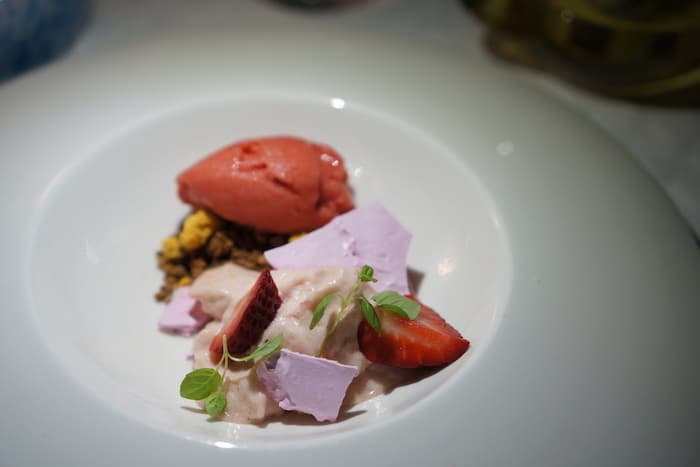 Chef Ricardo's take on Beef Wellington was the last savoury course to arrive. The Riverina Roasted Lamb Shoulder was wrapped in golden toast, and served with pickled fennel and onion, fresh peas, zucchini flowers. Cooked overnight, the lamb meat is picked and set like a chorizo, utilizing its natural gelatin to make it firm. The crunchy toast served as a nice contrast to the tender, tasty lamb. The fresh and pickled veggies helped to cut through the fat. A dessert of Spring Strawberry might not be the most inspiring, but the combination with rose meringue and honey ice cream was a light and refreshing close to the meal.
Shangri-La Sydney is also home to MasterChef Australia regular Chef Anna Polyviou, the mohawk-sporting creator of Anna's Mess (her rendition of the Eton Mess). Her pastry team is the force behind all the sweet treats you see on property, so you food lovers have more than enough reason to stay at Shangri-La Sydney!
Shangri-La Sydney is located at 176 Cumberland Street, Sydney NSW 2000, Australia.
Top Image: Executive Grand Harbour View Room