Sunday brunch at Starfish Bloo – The W Retreat – Seminyak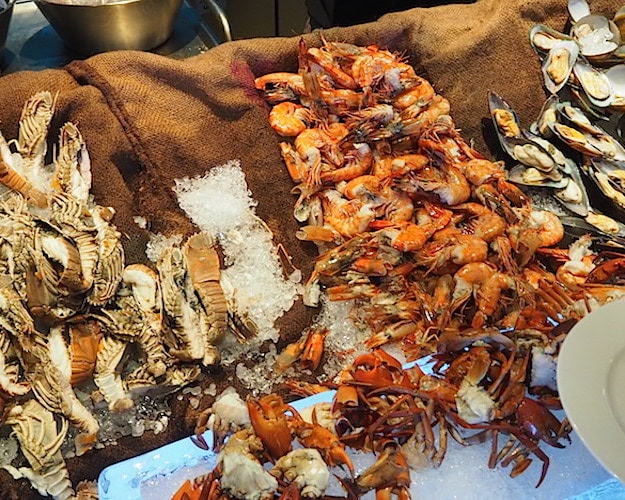 PUBLISHED June 4th, 2015 10:00 pm | UPDATED March 27th, 2016 12:55 pm
I think I speak for pretty much anyone who has even been to Seminyak, the W Hotel along Jalan Pettitenget is one of the most stunning hotels in the world. In many ways it sets the standard for the rest fo the W Retreats around the world. It's style is unique and modern and the design is more akin to a contemporary art museum. But enough about the hotel, that's for another time. You've visited this page to read about Starfish Bloo, the W's main restaurant and where they hold their sumptuous Sunday brunch.
So, as you might expect, the setting at atmosphere is gorgeous. Located just next to their section of private beach, the restaurant itself looks out over the ocean and has the soothing soundtrack of the sound of the ocean waves combined with a host of international and local DJs that spin throughout the day and night.
The entire restaurant is al fresco, and considering the cool breeze than tends to blow in off the sea, making the overall experience just beautiful.
As for the cuisine itself, the broad menu offers a Indonesian twist on the standard 'hotel brunch' menu. The staple items; sushi and sashimi, roast meat at the carving station, an assortment of seafood and cheeses are all there of course. However there's a few more interesting and unique flavours thrown in to the mix such as their fresh made roti canai, or their beef and lamb curries or the impressive babi guling – their suckling pig laid out for carving to be freshly sliced for patrons.
If you have a sweet tooth, you can always venture to try their fresh made pancakes made from a pleasantly light batter. Add on sliced almonds, fresh fruit or one of the fruit preserves and voila, delicious. If ice-cream is your gig, then you'll love their fresh made scoops. Personally, I couldn't get enough of the peanut butter flavour, topped with some crunchy cookies. Yum!
Brunch at Starfish Bloo costs IDR 495k++ per person for food and soft drinks, however if you want to make it boozy, pay IDR 1.100k++ and you'll get free-flow beer and wines. If you want to go all out, IDR 1.750k gets you all of the above and freeflow champagne. Oh yes.
Children age 3 – 11 years old will be charged 50% of each package. Check their website for information on bookings.
Bahasa Indonesia
Saya pikir saya telah berbicara cukup banyak dengan orang yang telah berkunjung ke Seminyak, W Hotel di Jalan Pettitenget adalah salah satu hotel yang paling menakjubkan di dunia. Dalam banyak hal W Retreats telah menetapkan standart yang sama di seluruh dunia. Gaya yang unik dan modern dan desainnya yang lebih mirip dengan sebuah museum seni kontemporer. Cukup sekian pembahasan tentang hotel ini, akan ada pembahasannya dilain waktu. Anda telah mengunjungi halaman ini untuk membaca tentang Starfish Bloo, restoran utama di W, yang merupakan tempat mereka mengadakan Sunday brunch mewah.
Jadi, seperti yang Anda harapkan, atmosfer indah yang sang at dirasakan dari pengaturannya. Terletak persis di samping beach club mereka, restoran itu sendiri terlihat seperti di atas laut dan memiliki suara menenangkan dari gelombang laut yang dikombinasikan dengan sejumlah DJ internasional dan lokal yang memutarkan musik sepanjang hari.
Seluruh restoran adalah al fresco, angina sejuk dari pantai seminyak, membuat keseluruhan pengalaman anda menjadi sang at indah.
Adapun hidangan yang mereka sajikan, mereka menawarkan menu perpaduan Indonesia pada menu standar 'hotel brunch'. Bahan pokok; sushi dan sashimi, daging panggang di pos carving, bermacam-macam makanan laut dan keju semua tentu saja ada di sana. Namun ada beberapa rasa yang lebih menarik dan unik dilemparkan ke dalam campuran segar seperti membuat roti canai, atau daging sapi dan domba kari mereka atau babi guling mengesankan – babi gulingnya ditata menarik yang akan baru diiris untuk para pelanggan.
Jika anda menyukai makanan yang manis, Anda harus mencoba pancake segar terbuat dari adonan pancake yang ringan, ditambahkan sedikit irisan almond, buah segar atau salah satu buah yang diawetkan dan ohlala, sangat lezat. Jika es krim adalah tujuan Anda, maka Anda akan menyukai es krim segar yang mereka sajikan. Menurut saya, rasa peanut butter dengan beberapa cookie renyah di atasnya ini membuat saya tidak dapat berhenti untuk menikmatinya, Yum!
Harga untuk menikmati Brunch di Starfish Bloo adalah Rp 495k ++ per orang dan anda akan mendapatkan makanan dan minuman ringan, namun jika Anda ingin mabuk, anda bisa membayar Rp 1.100k ++ dan Anda akan mendapatkan bir gratis secara terus menerus dan juga wine. Jika Anda ingin mendapatkan semuanya, anda harus merogoh kocek sebesar Rp 1.750k plus freeflow sampanye. Oh ya.
Usia anak 3 – 11 tahun akan dikenakan biaya 50% dari masing-masing paket.