Singapore's Best Coffee Spots: Cafes for Flat Whites, Cold Brews, Pourovers, and more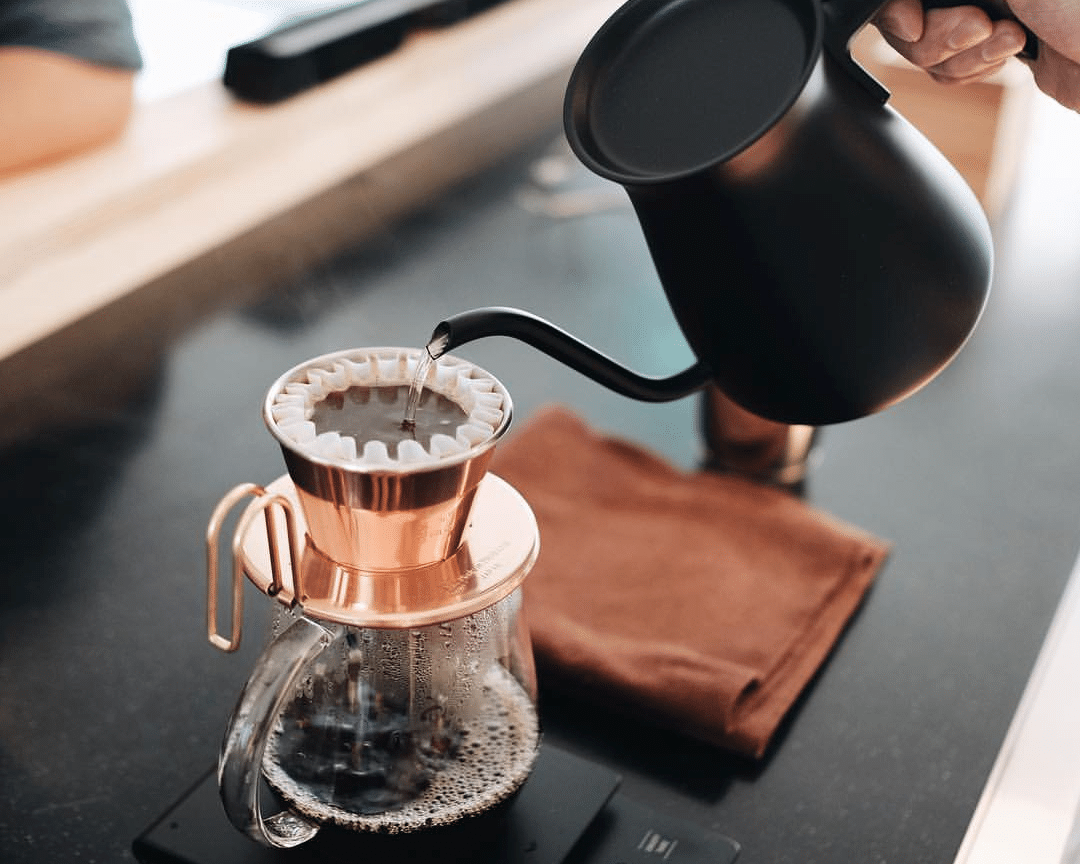 PUBLISHED September 6th, 2017 06:30 am | UPDATED May 18th, 2020 06:58 pm
Can you smell it? That gorgeous, seductive aroma wafting out into the streets of Singapore. That is what freshly roasted coffee beans imported from the finest sources in the world smells like. If you're a serious coffee nut, then you'll have spent this recent era of the hipsters revelling at the sound of every new, artisanal coffee roaster or café that's been opening here, as we definitely have. After months trying coffees and many sleepless nights later, we have narrowed it down to what we think are the top 18 spots for coffee in Singapore!
---
See Singapore's best cafes for freelancers and our guide to cafes that open early in the morning.
---
Kurasu

Straight from Kyoto, Japan, is artisanal coffee shop Kurasu with its beautiful selection of beans shipped in from the land of the rising sun. Think Ethiopia Guji Shakiso Decaf and Indonesian Wahana by Taoca Coffee, as well as a selection from All Seasons Coffee in Tokyo. You'll want to try the marvellous cold brew, that's well balanced from 20 hours of steeping.
Kurasu is located at 331 North Bridge Rd, Odeon Towers #02-01, Singapore 188720, Open Mon-Fri 8am – 5pm, Sat 11am – 3pm. Closed Mon.
Pacamara Boutique Coffee Roasters

Pacamara, started by the team behind Oz Speciality Coffee, is just as much known for its excellent coffee as they are its food. Offerings rotate on a weekly basis and include a single origin Huila Timana from Colombia, Nano Challa from Ethiopia, Don Eli from Costa Rica, and El Matazano from Honduras, which was recently ranked in Cup of Excellence.
Pacamara is located at 185 Upper Thomson Rd, Singapore 574333. Open daily 9am – 11pm.
Common Man Coffee Roasters

Common Man Coffee Roasters is a genius of a café, offering their loyal customers a selection of house blends that suit every sort of mood, this joint can be easily regarded as one of the major to-go places for quality coffee on the island. They use only the freshest coffee beans sourced from places around the world and, plus, they also serve unbelievable all-day breakfasts.
Common Man Coffee Roasters is located at 22 Martin Rd #01-00, Singapore 239058, p. 6836 4695. Open Mon-Sun 7.30am – 6pm.
Nylon Coffee Roasters

Nylon is truly a hidden gem, and you'd really never know about it unless you lived on the block or heard whispers from a friend. There aren't any seats here, and the place is tiny, but we say this is irrelevant as the coffee is truly outstanding: strong, flavourful roasts, with a beautiful HDB al fresco area to enjoy as your setting. You can tell from the crowd drinking there that they have very loyal followers.
Nylon Coffee Roasters is located at 4 Everton Park #01-40, Singapore 080004, p. 6220 2330. Open Mon 8.30am – 5.30pm, Wed-Fri 8.30am – 5.30pm, Sat-Sun 9am – 6pm.
Chye Seng Huat Hardware
Popular amongst the hipsters as it is the purists, Chye Seng Huat never gets old – I still come here to grab a cold brew or latte and I have never been disappointed. I'm the guessing the same applies for the queue that is always lining up for coffee no matter what time in the morning or afternoon it is!
Chye Seng Huat Hardware is located at 150 Tyrwhitt Rd, Singapore 207563, p. 6396 0609. Open Tue-Fri 9am – 7pm, Sat-Sun 9am – 10pm.
Caffè Vergnano 1882

One of Italy's oldest family-owned roasters, Caffè Vergnano 1882 is where you'll find centuries-old heritage brews like the Caffe Gianduja, an intensely rich drink that sees hot chocolate and espresso topped with whipped cream, as well as the Espresso Shakerato mocktail – premium espresso sweetened with syrup and shaken with ice.
Caffè Vergnano 1882 is located at #B1-17 South Beach Ave, Singapore 189768, p. +65 6385 5579. Open Mon-Fri 8am – 9pm, Sat-Sun 10am – 6pm.
Artistry

It's been a long time since Artistry has opened and it's seen quite a fair bit. It's been redesigned and has a lot of changes, one of which is the quality of their coffee. To my pleasant surprise, their coffee has gone from good to superb. A great place to sit outside, enjoy some occasional live music and have a cup of joe with quality cakes.
Artistry is located at 17 Jalan Pinang, Singapore 199149, p. 6298 2420. Open Tue-Fri 10am – 11pm, Sat 9.30am – 11.30pm, Sun 9.30am – 4pm.
Dapper Coffee

You'll find more than just lattes at Dapper Coffee – a result of creative brainstorming by co-owner George and head chef Christine. Forget your standard cold brews, the bottles here are punctuated with an extra touch of magic dust, made with a unique house blend sourced from the world over. Once night strikes, the cafe turns into The Spiffy Dapper, one of Singapore's best spots for gin cocktails.
Dapper Coffee is located at 73 Amoy St, Singapore 069892, p. +65 8742 8908. Open Mon-Fri 8am – 5pm.
Sarnies

I am a Sarnies regular (as are basically 90% of their customers). Food is great, staff there are super friendly and seem to know everyone's name. My go-to here is their cortado (essentially a double shot short latte) or espresso martini, which is actually better than any cocktail bar version I've had.
Sarnies is located at 136 Telok Ayer St, Singapore 068601, p. +65 6224 6091. Open Mon-Tue 7.30am – 10.30pm, Wed-Fri 7.30am – 11.30pm, 8.30am – 4pm.
*Closed* VXX Co-Operative

VXX Co-operative is the newest joint on this list, but it already has all the ingredients for a brilliant coffee shop: great brews, delectable fare, and knowledgeable staff. The brews available here include Sweden's Koppi, Norway's Tim Wendelbow, and Malaysia's Cloud Catcher. Prefer tea? Enjoy some premium oriental selections from Tea Chapter. Read our review here.
VXX Co-Operative is located at 20 Foch Rd, Singapore 209261, p. +65 8720 0093. Open Mon-Fri 10am – 10pm, Sat-Sun 9am – 6pm.
*Update* VXX Co-operative has closed its Foch Road location
Toby's Estate

Toby's rocks! Think a massive long wooden communal table, the al fresco seating area, the yummy sandwiches and wraps, and of course, above all else, the consistently excellent coffee. Look to the side of Toby's and you'll regularly see the fresh beans being roasted right before your eyes, all in the name of preparing for some more of their super coffee offerings. And the smell is just mmm.
Toby's Estate is located at 8 Rodyk St #01-03/04, Singapore 238216. Open Sun-Wed 7.30am – 6pm, Thu-Sat 6.30am – 10pm.
Jewel Cafe and Bar

Jewel Cafe and Bar has certainly proved its worth when it comes to speciality coffees. Roasting its own beans every day, you can choose from single origin coffees, cold brews, Chemed brews, and even V60s. With two spacious levels of well-lit seatings and very knowledgeable staff, we're sure you'll love this place, coffee nerd or otherwise.
Jewel Cafe and Bar is located at 129 Rangoon Rd, Singapore 218407. Open Tue-Thu, Sun 9am – 10pm, Fri-Sat 9am – 11pm.
Forty Hands
Forty Hands serves up hundreds and hundreds of coffees every day. They are strong, smooth, beautiful and very, very tasty. It's no wonder that, like a Duracell bunny, their coffee keeps the residents of Tiong Bahru going, and going, and coming back for more.
Forty Hands is located at 78 Yong Siak St #01-12, Singapore 163078, p. +65 6225 8545. Open Mon-Sun 7.30am – 6pm.
Ronin

Ronin has been a mainstay along the trendy HongKong Street since 2013, offering its iconic Genovese 'Super Brazil' coffee along with a short but much-lauded repertoire of sandwiches and breakfast items. The place is usually very crowded, so I'd recommend heading down on off-peak hours!
Ronin is located at 17 Hongkong St, Singapore 059660. Open daily 8am – 6pm.
MAVRX Coffee Apothecary

MAVRX may be just a little monochrome hole in the wall in the bustling heart of Duxton Hill, but this hole serves nothing but delicious coffee brewed with love. Featuring the famous Carmello blend by Australian coffee roasters Allpress, don't miss out on the intriguing cold brew served in medical syringes.
MAVRX Coffee Apothecary is located at 1A Duxton Hill, Singapore 089587. Open Mon-Fri 8.30am – 4.30pm, Sat 10.30am – 4.30pm.
1KS

The folks behind Park Bench Deli also opened 1KS, which replaces The Daily Roundup along Keong Saik Road. They've worked with two boutique roasters, including Papa Palheta, to create two unique blends: one customised with Guatemalan and Indonesian beans for a smooth chocolate texture with notes of toffee and fruits, and another which combines Guatemalan and Colombian beans, resulting in a rich and nutty profile.
1KS is located at 1 Keong Saik Rd, #01-02, Singapore 089109, p. +65 6221 1792. Open Mon-Fri 8am – 9pm, Sat-Sun 9am – 6pm.
Oriole Coffee + Bar

One of the pioneers of the coffee movement in Singapore, it's no wonder Oriole is on the list. Try the innovative house blends Yellowbird and Raven – concocted by award-winning baristas who've trained in the coffee capital of Melbourne – whether brewed with a filter or espresso-based. The food here is pretty decent too.

Oriole Coffee + Bar is located at 96 Somerset Rd, #01-01 Pan Pacific Serviced Suites, Singapore 238163. Open Sun-Thu 10am – 11pm. Fri-Sat 10am – 12am. Grab & Go, daily 8am – 5pm.
Candour Coffee

Bringing you filter coffee and espresso-based beverages from Melbourne's Market Lane Coffee and Dukes Coffee, have a taste of the coffee capital right in the heart of Singapore. The staff are friendly beyond doubt, and would rather throw out a bad batch of beans than serve it to you. Expect new beans from all over time to time, including London's Square Mile Coffee and Hong Kong's Cupping Room.
Candour Coffee is located at 41 Beach Rd, Singapore 189680, p. +65 9457 0070. Open daily 8am – 9pm.
Top Image: Kurasu