Theatre Power: Singapore's Most Anticipated Productions Taking the Stage February 2018 till June 2018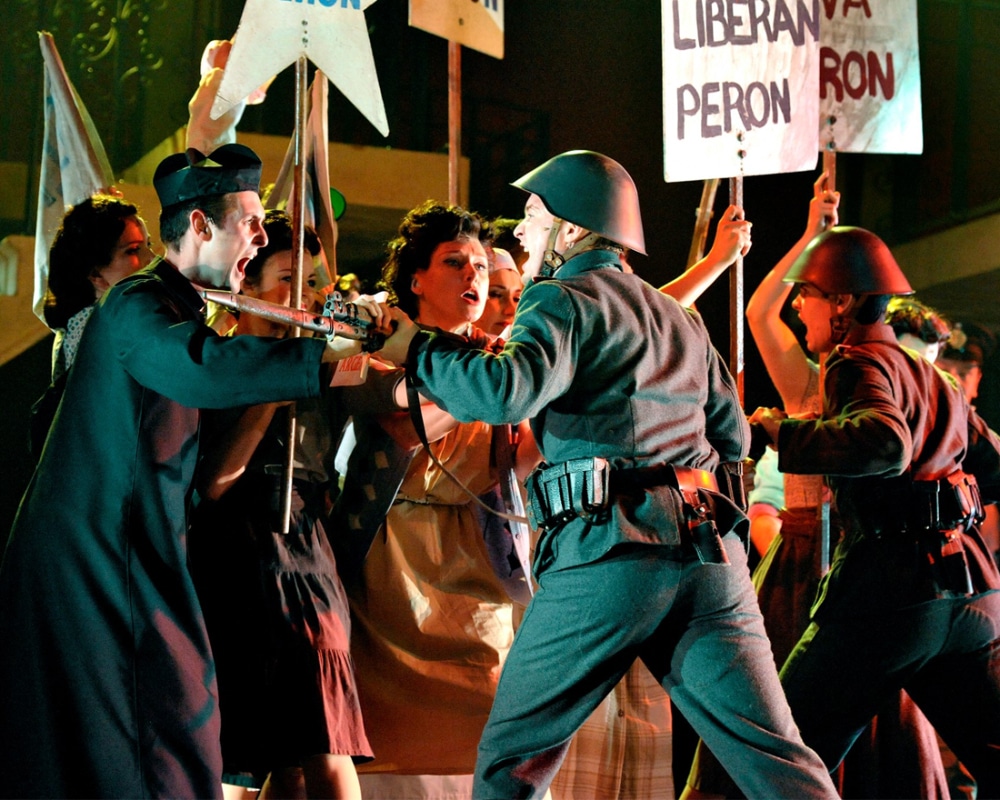 PUBLISHED February 12th, 2018 05:00 am | UPDATED May 18th, 2020 06:35 pm
Who says Singapore is boring? At least, not when it comes to the arts (or the food and drink). Every half a year, we'll trawl through the upcoming arts season and pick out promising new musicals, revivals, plays, and arts productions bursting with potential. This time, look forward to world-famous musicals like Evita and The Lion King from Broadway, thrilling award-winning plays such as The Curious Incident of the Dog in the Night-Time, as well as music concerts that will surely serenade your heart. Remember to get the best seats by booking in advance!
Evita
23 February to 18 March 2018 | Mastercard Theatre at Marina Bay Sands
This year sees the legendary Tim Rice and Andrew Lloyd Webber musical Evita coming to Singapore. With more than 20 major awards to its name, the Hal Prince-directed showstopper charts the story of Eva Peron, wife of former Argentine dictator Juan Peron, through her humble beginnings into extraordinary wealth, power, and status. And of course, some of the most beloved songs in musical theatre, from 'Don't Cry For Me Argentina' to 'Another Suitcase in Another Hall'.
Tickets for Evita are priced from $55 to $185, available here.
Kumar50
28 Feburary to 11 March 2018 | Capitol Theatre
Fifty shades of gay? Singapore's iconic drag queen and comedian celebrates his golden jubilee with a show to remember, and darn if it doesn't get personal. Regaling us with stories from his bouncy birth to his beautiful girth, Kumar's been top in school, top signaller in National Service, top act at Haw Par Villa, and well – he's always on top. Along with his fabulous showgirls shaking their booty and lip-syncing to the very best, it's safe to say SG50 has nothing on this.
Tickets for Kumar50 are priced from $55, available here.
The Curious Incident of the Dog in the Night-Time
29 March to 8 April 2018 | Esplanade Theatre
The acclaimed National Theatre arrives in Singapore for the first time with its staging of The Curious Incident of the Dog in the Night-Time, which won five Tony Awards and seven Olivier Awards. Based on the best-selling novel by Mark Haddon, it tells the adventures of young Christopher Boone, a fifteen-year-old with an exceptional mind but whose behaviour suggests a mild form of autism, as he goes on a search for the killer of his neighbour's dog. This is a phenomenal blend of storytelling and theatrical magic that tackles the issue of mental conditions with extraordinary direction by playwright Simon Stephens.
Tickets for The Curious Incident of the Dog in the Night-Time are priced from $48 to $138, available here.
Jay Chou's THE SECRET
6 to 15 April 2018 | Mastercard Theatre at Marina Bay Sands
Time to fess up, if you spent countless hours singing along to Chinese pop-star Jay Chou during your younger years. We definitely did. Based on his multi-award-winning directorial debut, THE SECRET is a romantic musical adaption that travels through time as piano major Xianglun falls in love with the beautiful and mysterious Xiaoyu. Created by a veteran Broadway team and featuring 25 of Jay Chou's most famous songs, hits include 'Clear Stars' (星晴), 'Listen to Mother's Words' (听妈妈的话), 'Nocturnes' (夜曲), and 'Sailors Afraid of Water' (水手怕水).
Tickets for THE SECRET are priced from $48 to $148, available here.
Giselle Presented by Singapore Dance Theatre
12 to 15 April 2018 | Esplanade Theatre

Is it better to have loved and lost than not to have loved at all? Find out if the sentiments ring true in the hauntingly magical story of Giselle, which features choreography by Jean Coralli and Jules Perrot, and an equally beautiful score by Adophe Adam. The breathtaking visual spectacle of romance and betrayal is a ballet in two acts, and remains one of the longest-standing and well-received classics in Singapore Dance Theatre's repertoire since 1999.
Tickets for Giselle are priced from $35 to $75, available here.
1984 by George Orwell
26 to 29 April 2018 | Esplanade Theatre
"Big Brother is watching" – sounds familiar? George Orwell's dystopian classic becomes reality in UK theatrical innovators Headlong's rendition of 1984, set in a world when an invasive government keeps a malevolent eye on its citizens in every aspect of life. The international phenomenon, first staged in 2013 across West End and Broadway, comes at a time when state surveillance and identity is more relevant than ever. Seen by over 500,000 worldwide and performed by some of British theatre's fastest rising stars, the show is curated as part of the Singapore International Festival of Arts 2018.
Tickets for 1984 by George Orwell are priced from $35 to $80, available here.
SSO Gala: La Bohème
27 to 28 April 2018 | Esplanade Concert Hall

Fans of classical music, revel in luscious melodies by the Singapore Symphony Orchestra and Choirs as resident conductor Lim Yau takes you through four acts of young love and chance meetings in Paris, trapped by circumstances and liberated by poetry in this gala performance of Puccini's groundbreaking opera La Bohème. As one of the most beloved operas of all time, this is as good as any a time to see this rare one-of-a-lifetime performance live.
Tickets for SSO Gala: La Bohème are priced from $25 to $168, available here.
Yiruma Live in Singapore 2018
28 April 2018 | The Star Theatre
You've probably heard of Yiruma, the popular Korean contemporary composer and pianist that's best known for signature pieces such as 'River Flows in You', 'Kiss the Rain', and 'Love Me'. For his latest concert in 2018 (after sold-out tours around China, Malaysia, Australia, Europe, and recently New York's esteemed Carnegie Hall), the charismatic King's College-trained musician will premiere tracks from his new chart-topping album f r a m e, which has easily accumulated millions of views online, making him the most successful composer-pianist globally today.
Tickets for Yiruma – Live in Singapore are priced from $98 to $288, available here.
Shakespeare in the Park – Julius Caesar
2 to 27 May 2018 | Fort Canning Park
After Singapore Repertory Theatre's Shakespeare in the Park series took a hiatus last year due to lack of financial support, we worried about what would happen of the crowd-favourite event. Thankfully, it's making a highly-anticipated return in May with Julius Caesar, as ambition, power, and greed collide in this canonised political thriller. Brought to life by director Guy Unsworth (Hand to God) against the backdrop of modern-day international relations and current affairs, we can't think of a more memorable evening under the stars, with meticulously curated picnic baskets to boot.
Tickets for Shakespeare in the Park – Julius Caesar are priced from $45 to $109, available here.
The St Petersburg Ballet – Swan Lake
8 to 13 May 2018 | MES Theatre at MediaCorp
First performed in St Petersburg in 1895, Tchaikovsky's immortal love story Swan Lake is a familiar one for dance and ballet fans. After two sold-out seasons here in 2015 and 2016, the world-renowned St Petersburg Ballet Theatre will be bringing it back to tell the love story of Prince Siegfried and the innocent Swan Princess Odette, a young woman transformed into a white swan by an evil sorcerer. If you only watch one ballet in your lifetime, this is it.
Tickets for Swan Lake are priced from $75 to $175, available here.
Legally Blonde: The Musical
10 – 27 May 2018 | Mastercard Theatre at Marina Bay Sands
A snappy brand new production from New York, Legally Blonde: The Musical is all about the blonde and the pink. Featuring an all-New York cast and based on the 2001 rom-com hit starring Reese Witherspoon, follow sorority queen Delta Nu and fashionista Elle Woods and they make their way to Harvard Law School in pursuit of boyfriend Warner with help from new friends Paulette, Emmett, and her trusty chihuahua Bruiser. It's really the sort of feel-good show of the season that everyone needs from time to time.
Tickets for Legally Blonde: The Musical are priced from $65 to $195, available here.
Dragonflies
18 May to 3 June 2018 | Victoria Theatre

Pangdemonium's Dragonflies is brilliant, and it goes like this. The year is 2021 – climate change is wreaking havoc, Donald Trump has been re-elected US President, and Brexit is in full effect and causing chaos all over Europe. With the coastline and life as he knows it crumbling down, Leslie Chen is forced to abandon his home in England and move his family back to his birthplace, Singapore, where he is now made to question the meaning of home. And with war escalating in the Middle East, relentless attacks by radicals, he struggles to protect his family.
Ticket pricing for Dragonflies is to be announced.
The Lion King
27 June to 7 September 2018 | Mastercard Theatre at Marina Bay Sands
There's no way you haven't watched this one growing up. Over 90 million people around the world have experience the phenomenon of The Lion King, and now one of the world's favourite musical returns from Broadway to Marina Bay Sands with instantly recognisable musical numbers ('Circle of Life', 'Can You Feel The Love Tonight', 'They Live in You'), award-winning choreography, and a spectacular set design that's sure to bring back all the feels, one roar at a time.
Tickets for The Lion King are priced from $65 to $230, available here.
Top Image: Evita The Musical