Thrift Shopping in Shimokitazawa: Tokyo's Secondhand Store Haven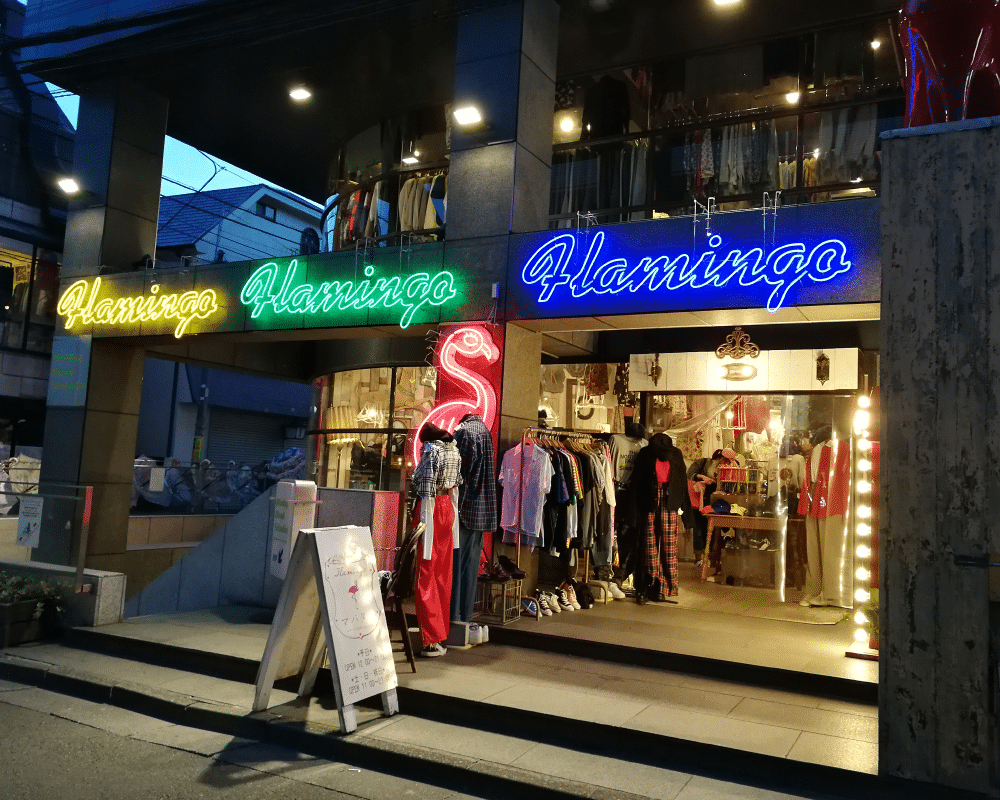 PUBLISHED July 24th, 2017 06:00 am | UPDATED March 26th, 2019 12:16 pm
Just as gaudy fashion reigns king in Japan's Harajuku and whisky bars fill the streets of Ginza, Shimokitazawa – in western Tokyo city – carves its own niche to attract curious tourists and savvy locals alike. The thriving neon district is home to a dense concentration of secondhand, vintage, and too-cool-for-you antique stores that drawing crowds each day for its alternative vibes, music, and porkpie hats, making it a worthwhile adventure for any visiting hipster to immerse in.
From clothing stores that specialise in lace to one of Tokyo's best-known craft beer bars, we share our top haunts in this boho dream come true.
---
You'll also want to check out our guide to the top must-eats when in Tokyo and consider the Four Seasons Hotel at Marunouchi for your accommodation.
---
Shimokitazawa Garage Department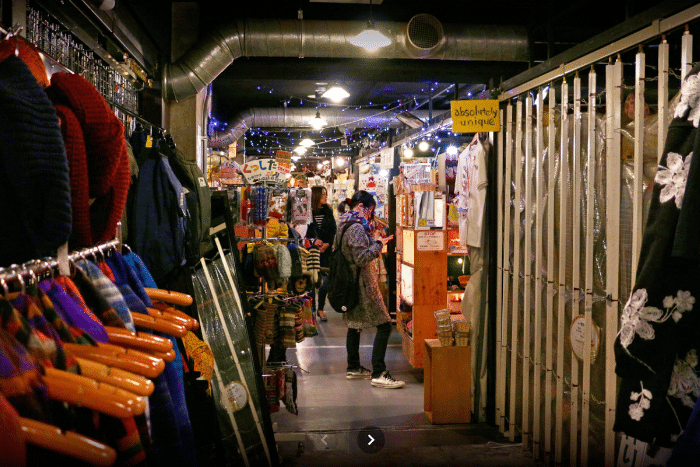 Shimokitazawa Garage Department is easy to spot, what with their wares spilling out on to the street. Rather than a single shop, think a large garage space that full of cosy cubbies for local artisans and retailers to sell their wares – secondhand, handmade, vintage, and otherwise. Expect to find quirky and unique items from old army boots and fur scarves to costume jewellery and even bicycles up for grabs, making this place a frequent haunt for local treasure hunters.
Best for: Handmade artisanal goods and quirky vintage items
Shimokitazawa Garage Department is located at 2-25-8 Kitazawa, Setagaya Ward, Tokyo, +81 334 816 844. Open daily 11am – 8pm.
Chicago

Chicago may have several locations in Tokyo, but its Shimokitazawa branch is by far its largest. The clothing here are very reasonably-priced and include recognisable big brands as well as obscure vintage finds. Perhaps the biggest draw is its varied range of genuine kimonos and yukatas from just 1500 yen, along with the accompanying footwear, obi, and even designer silk scarves! If you're planning to walk around the city in a yukata, this might just be cheaper than renting.
Best for: Secondhand kimonos and yukatas
Chicago is located at 5-32-5 Daizawa, Setagaya-ku, Tokyo 155-0032, +81 334 192 890. Open daily 11am – 8pm.
Haight & Ashbury

Haight & Ashbury is a high-end operation, boasting carefully handpicked pieces and a great collection of authentic American and European clothing from the 19th and 20th century. While the chic store caters to mostly women, you'll find a select range of modern clothing for the guys. Look out for one-of-a-kind luxury bags, shoes, and a vintage section stocked with Victorian-era embroidered antique dresses, summer floral pieces, and all the lacy stuff. That doesn't mean the clothing aren't relevant though – everything is curated by professional buyers who keep up to date with the latest trends.
Best for: Vintage dresses and lace pieces
Haight & Ashbury is located at 2-37-2 Kitazawa, Setagaya Ward, Tokyo, p. +81 354 534 690. Open daily 12pm – 9pm. 
Flamingo

Walk past the Insta-worthy neon tropical mascot outside to find Flamingo, which stocks a mix of American vintage garb and newer items, their provenance ranging anywhere from the 40s up to the 90s. There's a good selection of both men and women's clothing – refreshed on a daily basis thanks to its US-based buyer – at rock bottom prices. In fact, look out for their occasional sales for the real steals.
Best for: American vintage buys
Flamingo is located at 2-25-12 Kitazawa, Setagaya Ward, Tokyo, p. +81 334 677 757. Open Mon-Fri 12pm – 9pm, Sat-Sun 11am – 9pm.
2nd Street
With some 250 stores strewn over Japan, 2nd Street's Shimokitazawa outlet is one of their largest and boasts equally well-stocked men and women's sections. You'll find an impressive range of both Japanese street labels and a smaller selection of international high fashion brands including United Arrows, Beams, Comme des Garcons, and Allen Edmonds. There are premium one-of-a-kind pieces too – we could have sworn we saw a dragon-embroidered Valentino satin baseball jacket going for just a couple hundred.
Best for: Japanese high street clothing and jewellery
2nd Street is located at 2-3 Kitazawa 2 No. 30-13 Fine Court Shimokitazawa 2F, Setagaya Ward, Tokyo, p. +81 357 385 115. Open daily 11am – 10pm.
New York Joe Exchange

What used to be a public bathhouse is now an exchange both by name and literally. New York Joe Exchange is a store where you can trade in that past season sweater for store credits, which you can then use to purchase other clothes in the store. While it sees huge sales (300 yen jeans and polo sweaters, anyone?) several times a month, most of the items here are imported and non-branded, so it's unlikely that you'll find any treasures here. But don't take our word for it, that's the fun of thrift shopping, right?
Best for: Modern second-hand clothing
New York Joe Exchange is located at 3-26-4 Kitazawa, Setagaya Ward, Tokyo, p. +81 357 382 077. Open daily 12pm – 8pm.
Disk Union

Of course, we're not just going to talk about clothes. If you're in the mood for collecting new music, Disk Union has a massive selection of vinyl records, CDs, and cassettes across pretty much every genre, as well as turntables and record bags. While records start from around 400 yen per piece, most of the decent stuff are in the 700 to 2000 yen range. Looking for rare original pressings? A special room holds all the collector stuff, and they go for 10,000 yen or more.
Best for: First pressing vinyl records
Disk Union is located at Kashiwa 3rd Bldg, 1-40-6 Kitazawa, Setagaya Ward, Tokyo, p. +81 334 673 231. Open daily 11.30am – 9pm.

Antiquaille

For an exciting scavenger hunt, head over to the vintage store Antiquaille for all sorts of ancient knick-knacks and antiques from eras past. This store, in particular, specialises in Japanese China, and if you're in luck, you might even come across some treasures that date back to the 19th century and earlier. If nothing else, Antiquaille is a fantastic place to get unique (and very Japanese) souvenirs for your family back home!
Best for: Antique Japanese China
Antiquaille is located at 2-5-8 Kitazawa, Setagaya Ward, Tokyo, p. +81 334 191 033. Open daily 12pm – 7pm.
Ushitora Beer Bar

This isn't a thrift shop, but you're bound to get a little peckish after all that shopping. Ushitora is Shimokitazawa's resident craft beer temple, with some 35 rotating beers on tap between two adjacent spaces: Ushitora One is a sit-down affair with a fusion food menu that sees everything from deep-fried octopus to Japanese-style tacos, while its neighbour Ushitora 2 sees a cosy standing izakaya with the likes of kushiage and oden. Nearly all the beers are from boutique Japanese breweries and are otherwise impossible to find anywhere else.
Best for: Japanese small batch craft beer
Ushitora is located at 2F, 2-9-3 Kitazawa, Setagaya Ward, Tokyo, p. +81 334 859 090. Ushitora One is open 5pm – 2am daily. Ushitora Two is open Tue-Fri 3pm – 11.30pm, Sat-Sun 11.30am – 11.30pm. Closed Mon.