Corporate Team Building in Singapore: Fun activities, Games and ideas for Companies Outside the Office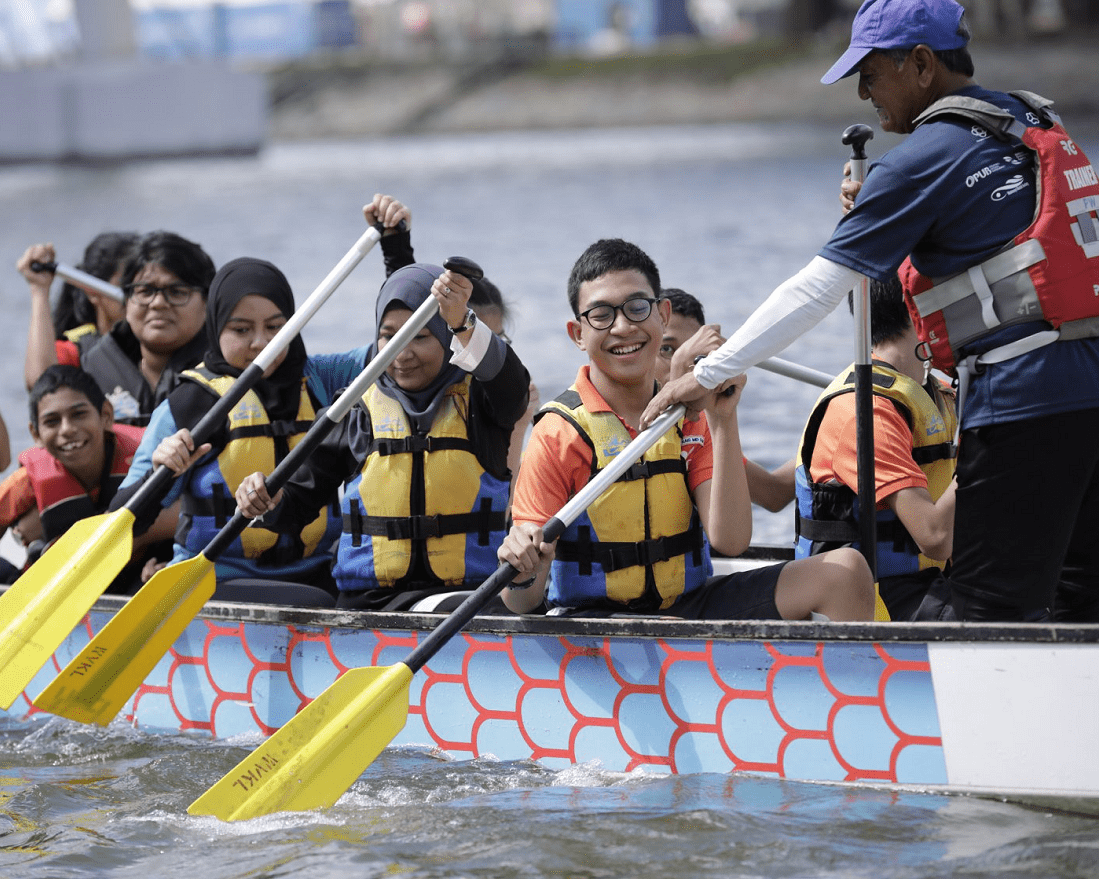 PUBLISHED March 18th, 2019 10:00 pm | UPDATED March 26th, 2019 05:12 pm
Teamwork makes the dream work – you know it's true! Creating a friendly workplace environment isn't just some attitude that social climbers adopt, it's good for your mental well-being at work and at home (it's actually proven with actual science). But if you're on the lookout for fun activities for you and your cubicle comrades, consider our roundup of exhilarating games for your next retreat. Don't just settle for bingo games and droning seminars, show Susan from Accounting that you really care.
Cruise Along Marina Bay with Singapore Sailing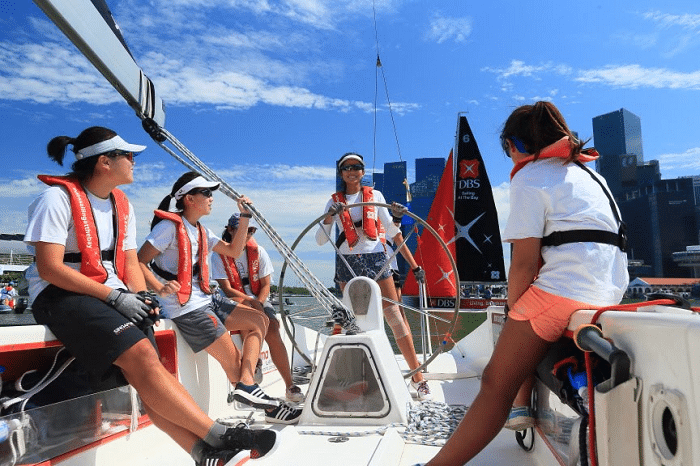 Even though your office may be a stone's throw from the bay, you've probably never experienced the beautiful marina like this. Singapore Sailing offers a plethora of activities ranging from the chill to the thrilling, from a relaxing sunset sail to team racing in the iconic bay. So whether you're looking for a scenic tour of Marina Bay or a gritty race against departments, they've got a truly unique experience to offer. Not willing to spend a whole day out of the office? Then wine and dine your team in an intimate setting lit by the dazzling city lights. The events cater to people of all needs and requirements, and what's more, everything is 100% sustainable and doesn't pollute our river.
The Singapore Sailing Federation is located at 1500 East Coast Parkway, National Sailing Centre, Singapore 468963, p.+65 6444 4555. For more information, enquires and booking for Marina Bay Corporate Sailing, click here.
Water Sports Park with WOW Experience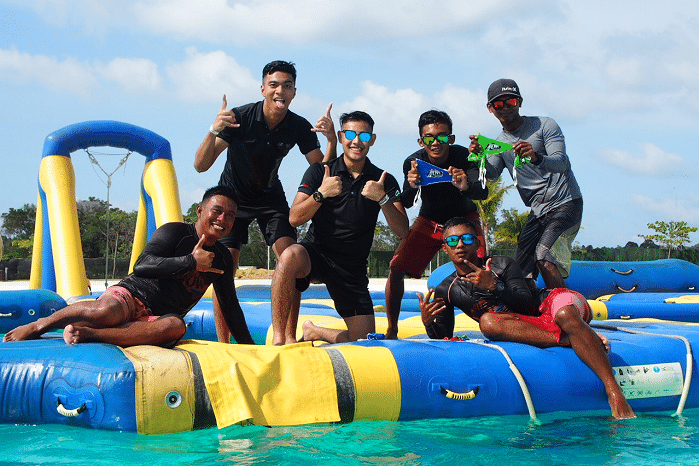 Don't dismiss water sports just because you think you'll get a major sunburn or pull a muscle — it's actually really safe and fun if you do it right. WOW Experience's collaboration with Bintan Water Sports Park hosts the thrilling Water Sports Park Teambuilding Challenge that includes two fun experiences: an inflatable obstacle course run, and good ol' Amazing Race-styled games. Watch your colleagues bounce around a giant inflatable waterpark in their challenging obstacle-course race, or catch some non-fluorescent rays by trying your hand at relay activities like stand-up paddling, kayaking and water-biking. For a dose of healthy competition, WOW Experience also offers Running Man-esque challenges with a fun-run chockablock with minigames, and mass games à la Battle Royale style. Remember to bring sunscreen!
For more information, enquires and booking for the Water Sports Park Teambuilding Challenge, click here.
Reach New Heights at iFly Singapore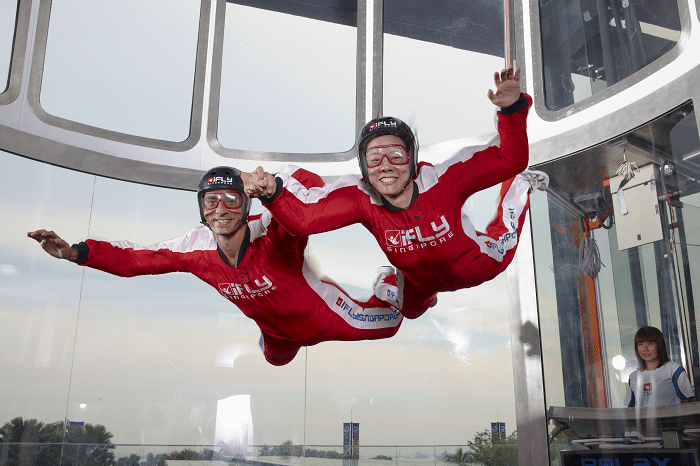 If trust falls just don't do enough for you, this adrenaline-thumping version certainly will. For an experience to take the whole team to new heights, head to Sentosa for everyone's first indoor skydiving experience. Just a couple feet away from Siloso Beach, the iconic iFly Singapore is a confidence-booster that'll give participants a great chance to overcome fears and get a good rush of feel-good endorphins. If you're looking for an event locale for full-day events, consider their Sky Garden venue packages — which frames the evening sunset beautifully. And with twice-nightly fireworks, it's the perfect end to a day of fun in the sun, wouldn't you say?
iFly Singapore is located at Sentosa Island, 43 Siloso Beach Walk, #01-01 Singapore 099010, p.+65 6571 0000. 
Get Wild at Forest Adventure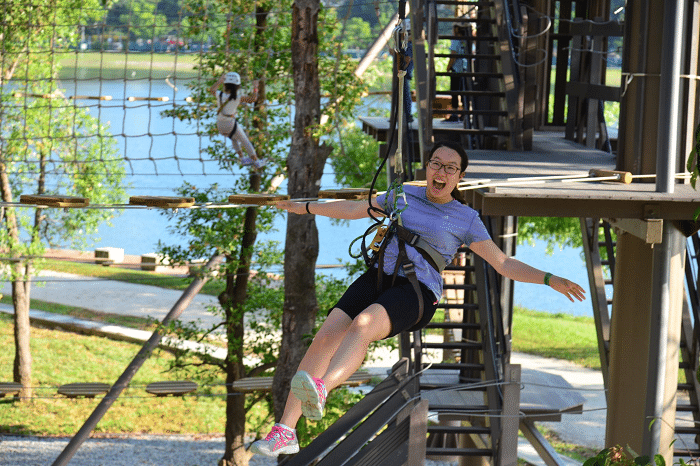 You don't always have to take expensive trips out of the way to find adventure – Singapore's largest treetop adventure park is nestled right in the heartlands of Bedok Reservoir. Expect ziplining over the reservoir, scaling trecherously high wooden ladders, and wobbling across suspended tightrope trails that will require a whole lot of chutzpah to brave through. And it's right next door to PA Water Venture, so consider completing your day out with a fun canoe ride or a friendly dragon boat race. If you're looking for an activity that teaches your team to look out for one another and cheer each other on, this is definitely a must-do.
Forest Adventure is located at 825 Bedok Reservoir Road, Singapore 479244, p.+65 8100 7420. 
Bond over Brunch at Palate Sensations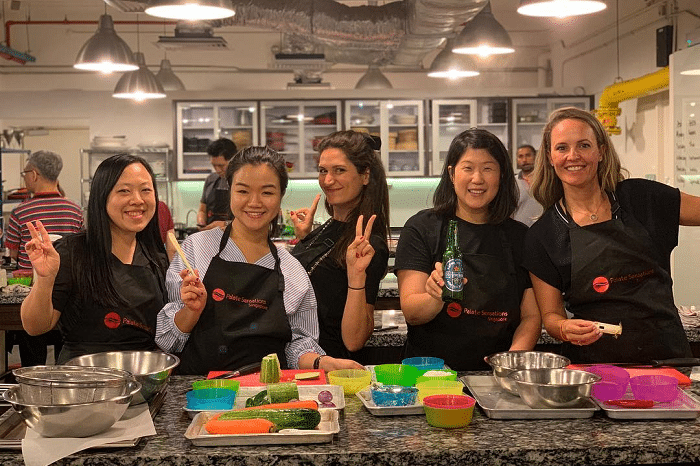 Food has always had an effect on bringing people together, and in this case, too many chefs won't spoil the soup. Forget going out for dinner, up the ante on bonding over mealtimes with Palate Sensations. With patient teachers heading their corporate cooking classes, feel at ease as the experts guide your team regardless of your level of expertise. Spend an afternoon learning the makings of a delicious meal, and wrap up your experience dining on the fruits of your labour over an ice cold beer.
Palate Sensations is located at Chromos #01-03, 10 Biopolis Road, 138670 (Opposite Buona Vista MRT and MOE Building). Tel: +65 6478 9746
Colour Outside the Lines at My Art Space
Tired of looking at excel sheets all day? Let your creative juices flow for a day at My Art Space. Take the team for a session of art jamming, where you can paint freely as an individual or collectively as a group. Choose to unleash your inner Da Vinci or release some stress by venting on the canvas. Besides obvious benefits such as stimulating creativity, art jamming also boosts critical cognitive abilities and problem-solving skills (vital elements in performing well at work)!
My Art Space is located at Istana Park, 31 Orchard Road, 238888, p.+65 6222 1662.
Become Professional Sleuths at The Escape Hunt Experience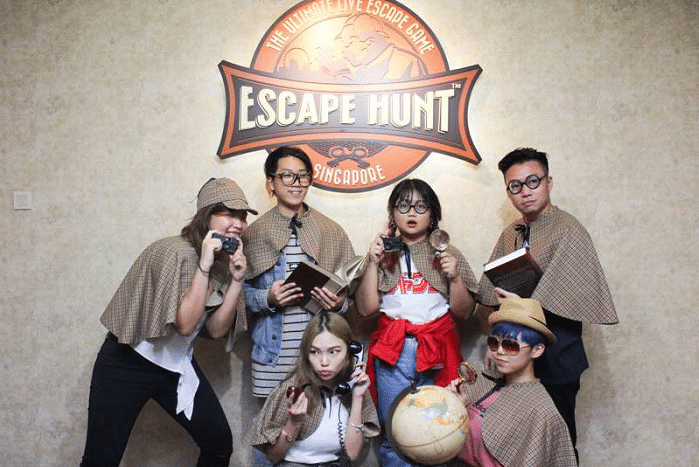 The escape room hype may have come and gone for most, but it's still a pretty fun option, and comfortable, too. Immerse your team in a world of mystery and mayhem and work together to solve crimes and murders like true detectives. Live out your Sherlock Holmes fantasies and dive deep into puzzles of The Whitechapel Murder, or channel 007 in their latest Secret Assignment.
Singapore Escape Hunt is located at 100 Orchard Road, Concorde Hotel & Shopping Mall, #02-43, Singapore 238840, p.+65 6100 0828.
Have a Friendly Firefight at Red Dynasty Paintball Park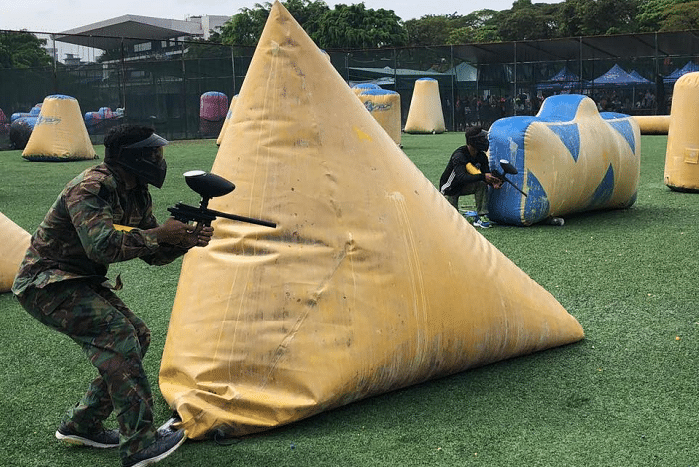 For younger crowds itching for something more physically challenging, visit Red Dynasty Paintball Park. Dive, dodge and defend your team while raining rainbow-coloured fury at the enemy. It's a great option to build confidence, too, as you'll definitely feel a new sense of courage and power as you wield your very own "weapon" and weave through obstacles. Besides, where else you you get a chance to give your boss a playful pelt on the hiney?
For more information, enquires and booking for the Red Dynasty Paintball Parks, click here.
Retreat Back to Nature at Pulau Ubin
Just and $3 boatride and 20 minutes away, getting to Pulau Ubin is much easier than you may think. Retreat back to the peace and quiet of kampong life and cycle through hilly paths, stroll along the boardwalk and appreciate the wildlife at the Chek Jawa Wetlands, and even enjoy an evening barbeque along the beach. A small island in itself, you can easily do all that in a day, and even consider camping overnight. Bike rentals go for super cheap at the port, just remember to check the weather and load up on mozzie repellent.
To get to Pulau Ubin, take a ferry from Changi Point Ferry Terminal.
Brace the Waves at Bedok Reservoir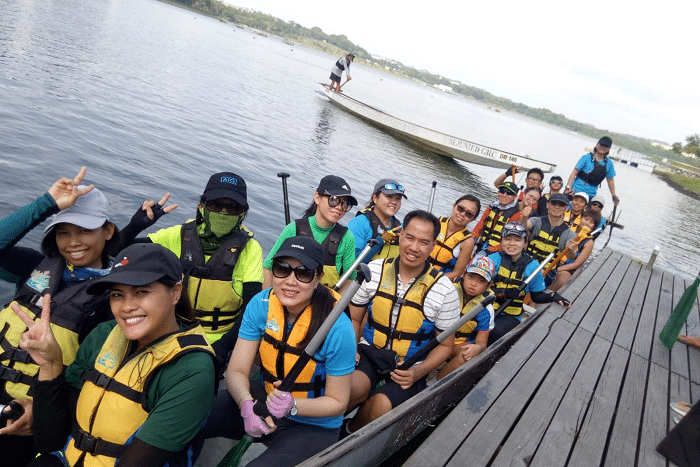 If you're looking for pristine water, sweet afternoon breeze and warm sunshine, take your team to Water Venture at Bedok Reservoir for a splashing good time. If you prefer traditional sports, get your feet wet and try own the age-old tradition of Dragonboat. Good for teams of 10 to 20, load your Vitamin-D deficient friends into a Seagull and grab a paddle. The lovely folks in charge will ensure safety and fun. Renting a Dragonboat or a kayak can cost considerably less that sailboats, so if you're working on a budget, this is a great option too.
Water Venture (Bedok Reservoir) is located at 911 Bedok Reservoir Road, Bedok Reservoir Park, Singapore 479311, p.+65 9710 1697.