Top 5 things to do in Singapore this week: 19th – 25th May 2014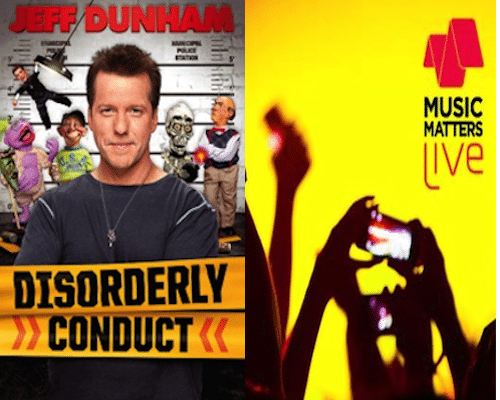 PUBLISHED May 19th, 2014 01:10 am | UPDATED May 18th, 2020 04:31 pm
In our round up of top events to catch this week, we're excited to usher in some awesome music with Music Matters Live with HP, some crazy-ass comedy involving some out-of-line puppets with global comedy sensation Jeff Dunham, and to lose ourselves and probably some of our bank balance at the Affordable Art Fair. If all that sounds too exciting, take the edge off with a tribute to all that is rosé with the Rosé Revolution Party and for fashionistas, if you've got any cash left to splash after last week's Blueprint Emporium, swing by to Flea Titan and see what blogger delights you can bag.
1. Jam up your soundwaves at Music Matters Live with HP
Four huge nights of music magic with over 60 bands, from 18 countries and over 170 shows, Clarke Quay is going to be transformed from urgh! to awesome as an army of buzz-worthy and magnetic bands jam up the bars in the area. With everything from electronic rockers to K Pop, there's going to be something for everyone.
Music Matters Live with HP is taking place on 21st – 24th May at various locations in Clarke Quay. For more information, including line up see here.
2. Get disorderly with comedian Jeff Dunham
Global comedy sensation Jeff Dunham (aka the awesomely hilarious ventriloquist) rolls into town with his entourage of signature comedy puppet characters. With half a billion You Tube views, a plethora of sold out shows world-wide and holding the banner of "the most popular comedian in the United States" by Time Magazine, let's see what he's got in store for Singapore!
Jeff Dunham's "Disorderly Conduct Tour" is taking place on 21st May at The Star Theatre, The Star Performing Arts Centre, 1 Vista Exchange Green, #04-01, Singapore, 138617. For more information and ticketing see here.
3. Be inspired at the Affordable Art Fair Singapore
The honour of the 100th Affordable Art Fair falls to Singapore this year! Be inspired in a big woop woop of a celebration with paintings, sculptures, prints and photographs being showcased from galleries all across the world. Even if you've only got $100 in your pocket, you too can walk away with something of you own. Or if you're not in the market for buying, just treat it as the epic art exhibition it is.
The Affordable Art Fair Singapore is taking place on 23rd – 25th May at F1 Pit Building, 1 Republic Blvd, Singapore, 038975. For more information and ticketing see here.
4. Burn some bucks at Flea Titan II
Music, clothes and food plus plenty of hype thanks to this chance to snap up apparel and sweet treats from your favourite bloggers, as the second edition of Flea Titan swings into town. Get your bucks and elbows at the ready and get down!
Flea Titan II is taking place on 24th May at Club Dream and Playhouse, 3C River Valley Road #01-06, Singapore, 179022. For more information and updates see their Facebook page here.
5. Get your blush on at the Rose Revolution Party
Arriving in Singapore after four years in Hong Kong, Cannes and Sydney get ready for this two day wine tasting extravaganza which will see 24 different rosé wines, Asian cuisine pairings and live music come together under the banner of this global wine movement. Santé!
The Flying Winemaker's Rosé Revolution Party is taking place on 24th –  25th May at Scoop, 19 Ann Siang Road, Singapore, 069699. For more information and ticketing see here.
__
Written by Ms Demeanour