Top 5 Things to Do in Singapore This Week: 8th – 14th September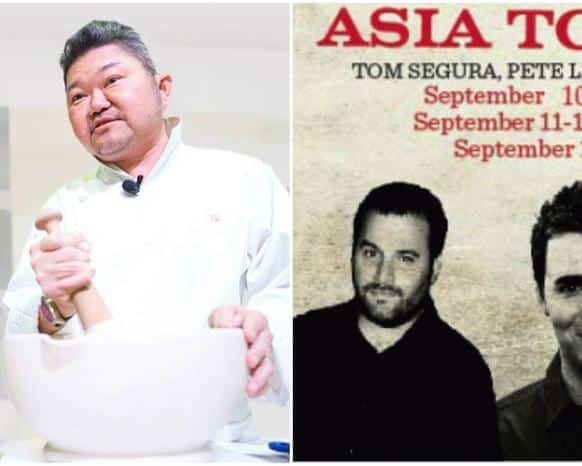 PUBLISHED September 6th, 2014 04:00 pm | UPDATED March 28th, 2016 10:09 am
As the whole city is revving up for the F1 Grand Prix, life goes on for us men on the street. Here's what we're looking forward to this week, so brush off those Monday blues and get ready to booze, laugh, eat, and shop your way through to Sunday!
For G&T; connoisseurs – East Imperial Gin Jubilee Challenge
15 of Singapore's best bars and their head bartenders will be vying for the Silver Jubilee Tankard and bragging rights to Singapore's best gin & tonic. Reigning champion Mark Thomas at Bacchanalia, as well as Ricky Paiva (Manhattan Bar), Jeremy Chua (28HKS), and Nicholas Quattroville (The Library) are some of those in the running. To vote, try as many of these limited edition g&ts – totally possible to try 'em all, it'll be a really happy week – and hashtag #GinJubilee2014 and your favourite bar.
East Imperial Gin Jubilee Challenge is running 8-12 September 2014 at 15 bars across the island. For more information and the full line-up, see East Imperial's Facebook Page.
For those who could do with a laugh – Acme Comedy Co. Asia Tour 2014
The Acme Comedy Co. brings three top-of-the-bill stand-up comedians from the USA to Singapore. Featuring Chad Daniels (the Conan O'Brian Show and the Tonight Show), Tom Segura (the Conan O'Brian Show and Showtime), and Pete Lee (the David Letterman Show and Last Comic Standing), the Vault is going to be a riot this Wednesday. Plus, they'll be filming the live show so you can be sure it's gonna be a good one! Tickets are priced at $25, inclusive of 1 drink.
Acme Comedy Co. Asia Tour 2014 is happening 10 September 2014, 8pm-10pm, at The Vault, 23 Circular Road, Singapore 049379. For more information and tickets, see website.
For the all-grown-up fans of J.M. Barrie's classic – Peter Pan
Part of Singapore International Festival of Arts 2014, Robert Wilson's rendition of Peter Pan detours from the Disney version we all know. This unique bilingual production (English and German) plumbs the emotional depth of J.M. Barrie's novel, and sees the titular character clad in black leather – more of a gaunt, haunting teenager than a wide-eyed wonder boy. Watch the pain of the Lost Boys, the violence of Captain Hook, and the unrequited love of Tinkerbell for Peter Pan play out.
Peter Pan is running 11-13 September 2014, 8pm, at Drama Centre, Level 5 National Library, 100 Victoria Street, Singapore 188064. For more information and tickets, see SISTIC.
For the gastronomy hobbyists – Epicurean Market
The highly anticipated Epicurean Market is back at Marina Bay Sands – with a sophisticated indoor picnic theme this year and more 50 restaurants, wineries, and gourmet brands. There are also over 30 free masterclasses by top chefs (including the resort's stellar cast of celebrity chefs like Long Chim's David Thompson and Waku Ghin's Tetsuya Wakuda), wine connoisseurs, and mixologists to attend. A 3-Day Passes is priced at $23 with a free pair of premium wine glasses by Schott Zwiesel valued at $37. See here for the full line-up.
Epicurean Market is happening 12 September 12pm-9pm, 13-14 September 11am-9pm, at Hall D & E, Sands Expo and Convention Centre, Marina Bay Sands, 10 Bayfront Avenue, Singapore, 018956. For more information and tickets, see website.
For the design-driven patriots – KEEPERS: Singapore Designer Collective
A showcase of Singapore designers and artisans across all disciplines (fashion, furniture, homewares, perfume, and food), KEEPERS is the amalgamation of Singapore's best. On top of permanent residents like Aijek, Carrie K., In Good Company, and Gnome & Bow, the five-month pop up will also see monthly guest stars – this month's roster includes beauty brand Mandy T, Magpie Magazines, and Hypergrand. The icing on the cake is definitely (sometimes free) performances and workshops – poet Marc Nair and guitar-violin duo Zsa + Claire are up this weekend.
KEEPERS: Singapore Designer Collective is running 12 September 2014 – 15 February 2015, 11am-10pm daily, at Orchard Green (junction of Cairnhill Road and Orchard Road). For more information, see website.
---
Written by Emily S