LongPlay: Haji Lane's Vinyl-Only Restaurant Bar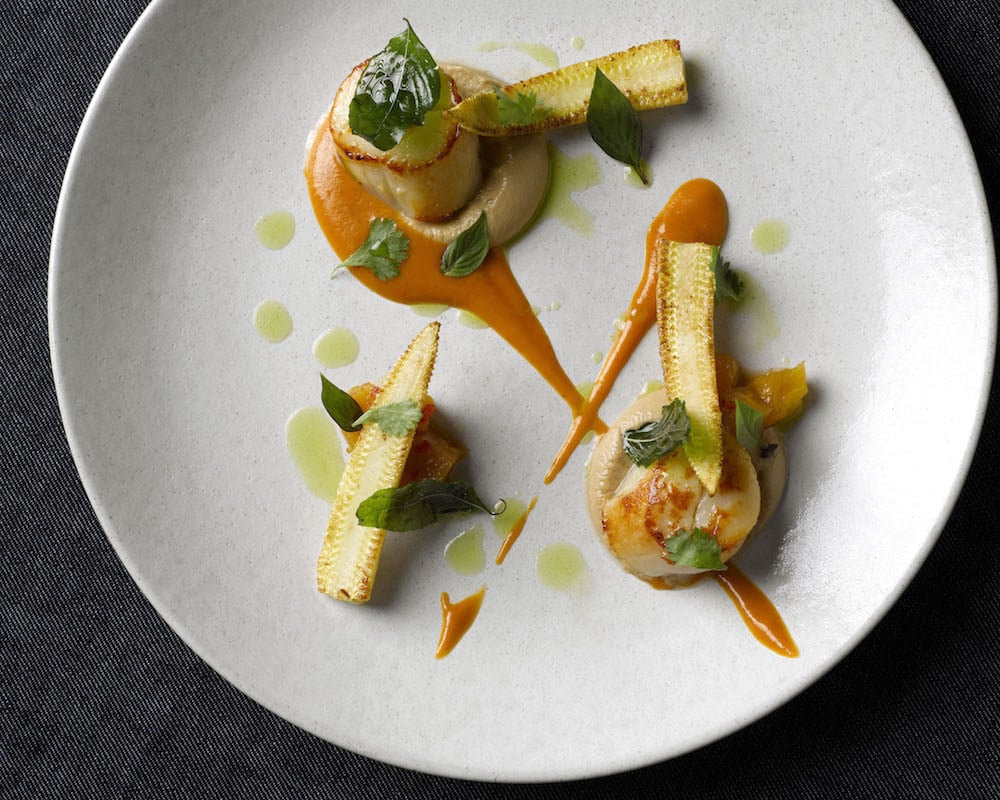 PUBLISHED March 21st, 2016 12:00 pm | UPDATED May 18th, 2020 04:27 pm
For two years now, LongPlay has been catering to your aural and oral pleasures. While they still have the same groove going with thousands of records culled from the 1950s to the 1970s, they've upped the ante when it comes to satisfying your hunger pangs with Chef Jorge Valderrama (hailing from Latin America) in the house.
Previously, the sustenance at LongPlay was focused mostly on savoury bar bites to go with their cocktails. We were glad to see larger plates, as well as more complex and better thought out dishes with Valderrama's overhaul of the food menu.
For instance, the Chipirones Rellenos ($18) features squid stuffed with chorizo, apple, and caramelized onions. Served on pea puree and finished with saffron butter, the sweet, spice, and savoury come together in a nicely balanced and textured dish.
The Pan-seared Hokkaido Scallops ($22) is Valderrama's spin on a familiar flavour. Two large, juicy scallops sit pretty on piquant red Thai curry and rich toasted cashew puree, which are tempered by bits tart caramelized pineapple.
Yet another robust dish on the menu is Neruda's Caldillo ($30), a classic Chilean dish named after Chilean Literature Nobel laureate Pablo Neruda. Although caldillo can be prepared with other types of protein, Valderrama's choice of a firm, poached New Zealand Ling fish fillet highlighted the addictive, pepper-based broth.
The Beef Onglet ($33) packs more of a punch then just being the token meaty item on the menu as well. Think grass fed hanger steak, celeriac puree with mushrooms, parsley chimichurri, and beef jus. The chimichurri is, for sure, one of the best we've had in Singapore.
Those looking to snack can try the Charcuterie ($8 per item, $24 for four) board. With some help from sister restaurant 5th Quarter, they're serving up moreish duck ham, Saucisson Sec, and Pork Cheek Terrine. However, the Pickled Mussels, on this occasion, appeared to be over pickled, with none of the natural shellfish's flavour coming through.
We could never turn down cheese – especially blue cheese – so we had the Fried Choux Bites ($12) for dessert. Crispy on the outside, the deep-fried, honey-coated choux pastry held warm, slightly pungent blue cheese cream. Paired with fresh pear and a sprinkling of candied walnuts? Divine.
Don't forget to have a cocktail or two with your meal either. Inspired by iconic musicians and quintessential songs of the past, music fans would appreciate the thought that goes into the drinks menu. For example, with a combination of apricot liqueur, Riesling, and gin, the Fred Ast'air'e pays tribute to Astaire's performance in Singing in the Rain.
And with the evolution of the bar scene in Singapore, we'll say that LongPlay definitely made the right move by focusing on a unique culinary experience it has the ability to provide with Valderrama!
LongPlay is located at 4 Haji Lane / 33 Arab Street, Singapore 189197, p. 6291 3323. Open Tue-Wed 6pm – 12am, Thu-Sun 4pm-12am.
Top Image: Pan-Seared Scallops