Where To Hike in Singapore: Southern Ridges, Windsor, Bukit Timah, MacRitchie, Pulau Ubin, and More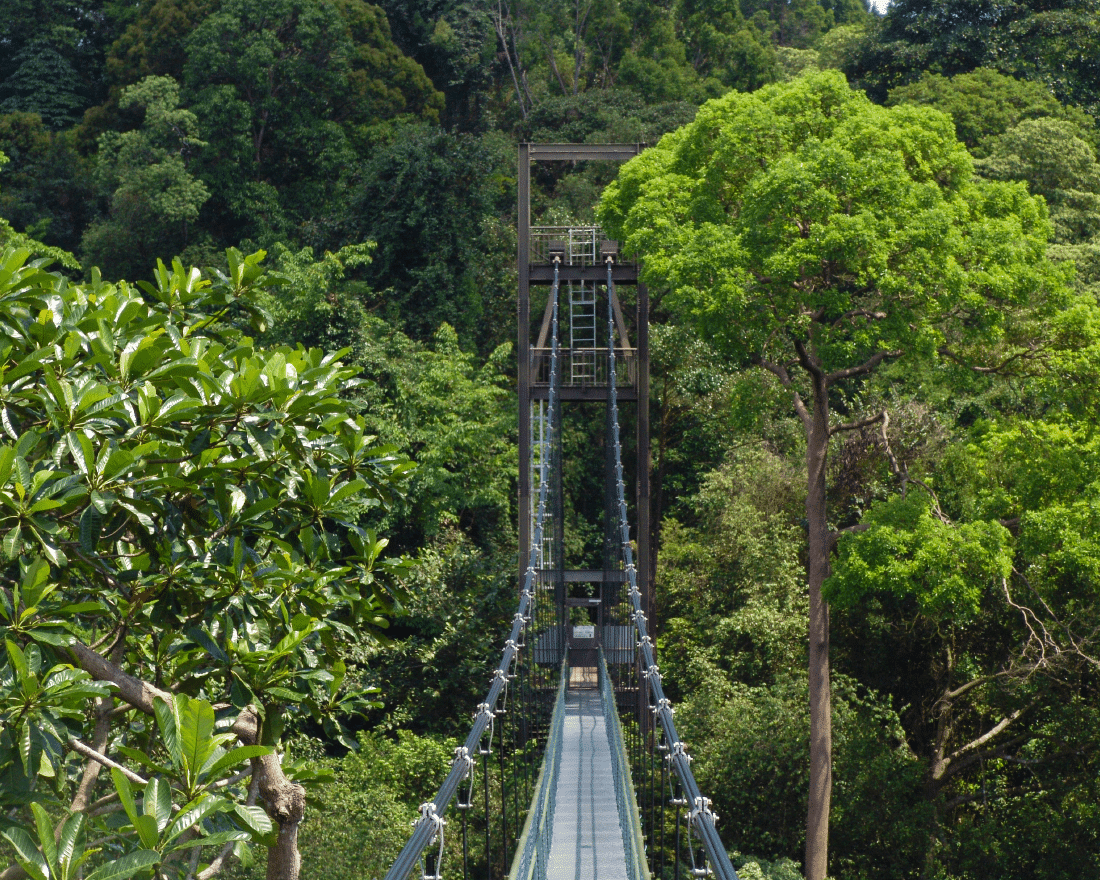 PUBLISHED November 15th, 2017 07:00 am | UPDATED May 18th, 2020 07:24 pm
If your image of Singapore is limited to bustling shopping streets and high-rise buildings, you're not alone. And that's what we're here for, to share with you that there's more to the Lion City that just the bustling city. Like nature and like to hike, or simply looking for an outdoorsy day with the kids? Then get spoilt for choice with these scenic nature parks and pastorals havens dotting the island. And remember to slap on some mosquito repellent – those things can be pesky.
Southern and Central Singapore
Southern Ridges
How massive is the Southern Ridges? Well, it's a sprawling 10km span that connects five national parks: Mount Faber Park, Telok Blangah Hill, HortPark, Kent Ridge, and Labrador Nature Reserve. Ideal for those who adore nature as much as their history, take a walk through history past iconic highlights like the 36m-high pedestrian bridge Henderson Waves, which offers clear panoramic views of the city, and the Canopy Walk – for immersing in all things flora and fauna, including the distinct 'Adinandra Belukar' forest. See here for a detailed route.
Start from: Marang Trail at Mount Faber Park
Nearest MRT station: Harbourfront Station
Open: 24/7
Fort Canning Park 
Fort Canning Park isn't just home to some of the city's best music festivals and plays in the park. It's also the location where the British surrendered to the Japanese during World War II – a dark spot in Singapore's history. Thankfully, the park has taken on a much brighter personality since then, hosting a multitude of arts events and the educational Maritime Corner. Frequented by locals and tourists alike, a trip here ensures you get your fill of Singapore's heritage and greenery, though we also recommend visiting the nearby National Museum, the country's oldest museum, for a comprehensive experience of the Lion City.
Start from: Any entrance
Nearest MRT station: Fort Canning Station, Clarke Quay Station, or Dhoby Ghaut Station.
Open: 24/7
Windsor Nature Park 
Located right off Upper Thomson's Venus Drive, Windsor Nature Park is a green buffer for the Central Catchment Nature Reserve and is home to a couple of specially curated trails. Rewind while admiring some rare native flora on the Hanguana Trail, and then head to the Drongo Trail to get a closer look at the understory of a regenerating secondary forest – especially calming as you get to listen to the trickling waters of the freshwater streams all around the park.
Start from: Off Venus Dr
Nearest MRT station: –
Open: 7am – 7pm daily
Western Singapore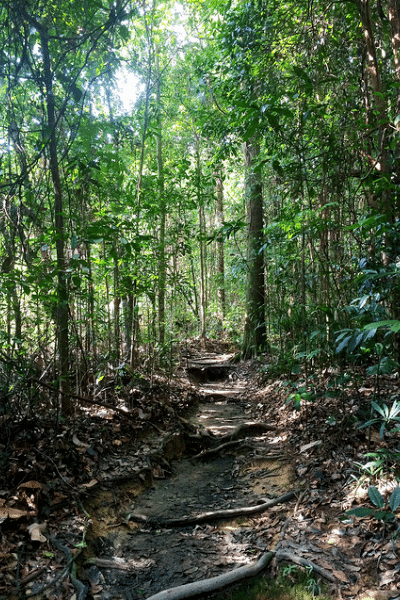 Bukit Timah Nature Reserve 
It may have closed for two years of restorations, but the Bukit Timah Nature Reserve's various trails officially re-opened last October.
Home to over 40% of Singapore's flora and native fauna, the reserve and its 163 metre-tall Bukit Timah Hill is a must visit for learning about the diversity of Singapore's rich ecological systems. For one, it retains one of the few areas of primary rainforest (undisturbed greenery that's never been cut down before) in the country, so you're essentially trekking in the wilderness of Singapore since its very beginnings.
The forest has also been a botanical collection ground for more than a century, where first known specimens of many Malayan plants species have been obtained.
Start from: End of Hindhede Dr
Nearest MRT station: Beauty World Station
Open: 7am – 7pm daily
MacRitchie Reservoir Park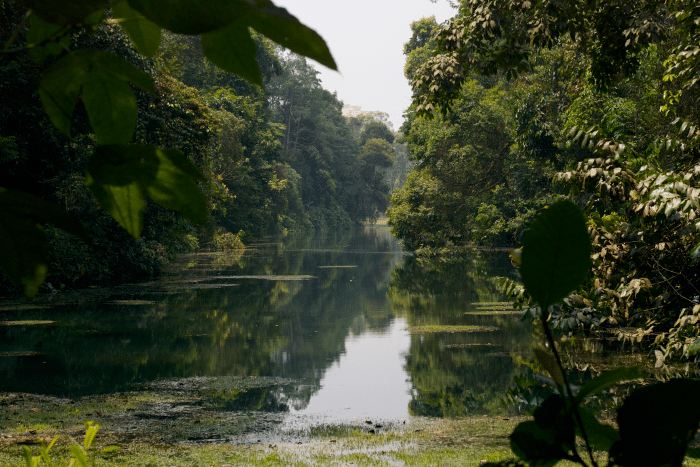 A sprawling 12-hectare patch of green surrounding Singapore's first reservoir, many of us have memories of our schools hosting cross-country races here, running on trails with tons of foliage and fresh air around us. You don't have to be a marathon-runner to enjoy MacRitchie Reservoir Park, though; you can choose from languid walks by the water's edge or a hike through the park's serene forested areas. If you're tired of being on land, rent out a kayak or a canoe and spend the day paddling in the calm waters to your heart's content.
Start from: Along Lornie Rd
Nearest MRT station: Caldecott Station
Open: 24/7 daily
Sungei Buloh Wetland Reserve
The sprawling Sungei Buloh Wetland Reserve is an ecological wonderland, and is one of the ideal places for avid birdwatchers to catch a glimpse of migratory birds that come from as far as Australia and Serbia. Begin your trip on the shady boardwalk, where you get to walk on the wooden tilt structures while being surrounded by the mangroves. Come during low tide to see the mangrove tree's serpentine roots, or look out for crabs, mudskippers, and mud lobsters scuttling on tree trunks at high tide. It's not uncommon to see artists and their sketchbooks; Sungei Buloh's picturesque vistas make for a perfect landscape painting, and will prove to be a great activity for those with their family or those who relish solitude.
Start from: 301 Neo Tiew Crescent (Wetland Centre) or 60 Kranji Way (Visitor Centre)
Nearest MRT station: –
Open: 7am – 7pm daily
Dairy Farm Nature Park 
This pastoral 63-hectare nature park isn't really home to a farm. What it does have are rustic nature trails, a former quarry, and the Wallace Educational Learning Lab, where you can learn more about the changing landscapes of the Dairy Farm Nature Park and Bukit Timah Nature Reserve, including a quarry-turned-wetland habitat. A great place for taking the younglings to, for exploring nature trails and carrying out research on soil, water, and the native insects.
Start from: Along Dairy Farm Rd
Nearest MRT station: Hillview Station
Open: 7am – 7pm daily
Off the Mainland
Coney Island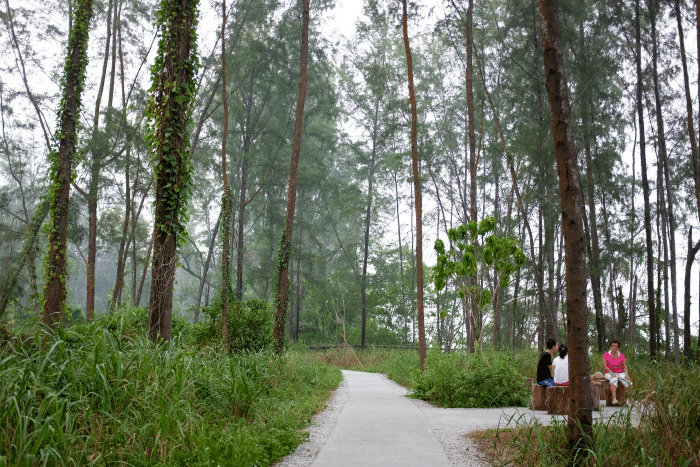 One of Singapore's 'newer' parks, the northeastern Coney Island is home to a variety of natural habitats like coastal forests, grasslands, and woodlands – spaces that have been left untouched until 2015. While technically off the mainland, the bridge across to the island is a mere five-minute walk. Spend the day at the Casuarina Exploration Course while keeping an eye out for some of the island's 80 bird species, or head over to the boardwalk and Punggol Waterwalk for a tranquil walk down by the water. Nearby, you can get in a quick horse ride at Gallop Stables, and know you can pay to feed the ponies if you find yourself getting attached to them.
Start from: Along Punggol Promenade Walk
Nearest MRT station: Oasis Station
Open: 7am – 7pm daily
Pulau Ubin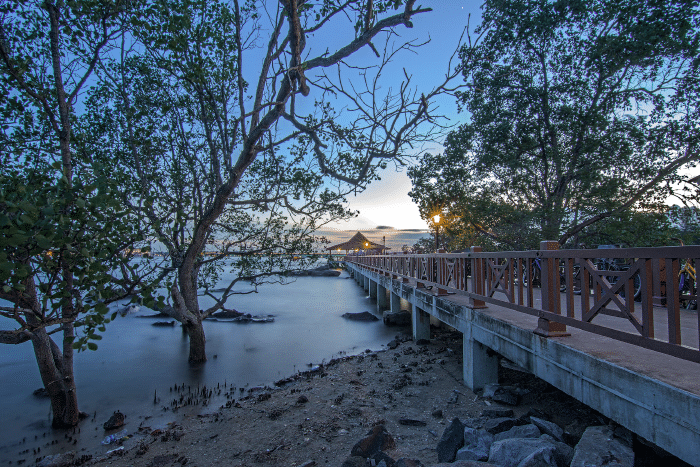 If you're looking to leave urban life behind just for a bit, take a bumboat out to Pulau Ubin, an island off eastern Singapore that's considered to be the nation's very last kampong. Catch a glimpse of the rustic village life as you embark on trails through shaded plantations and chill out by the island's secluded beaches. Watch how the tides ebb at mangroves of Chek Jawa, or visit at low tide to check out the rocky shore and seagrass lagoon; both ecosystems are home to a rich variety of marine life, which are rarely seen if you spend most of your time in the concrete jungle of the mainland.
Start from: Changi Point Ferry Terminal (boat fare to and from Pulau Ubin is
$3 per trip)
Nearest MRT station: –
Open: 7am – 7pm daily