A 10-Day Itinerary to the Best Sights of Myanmar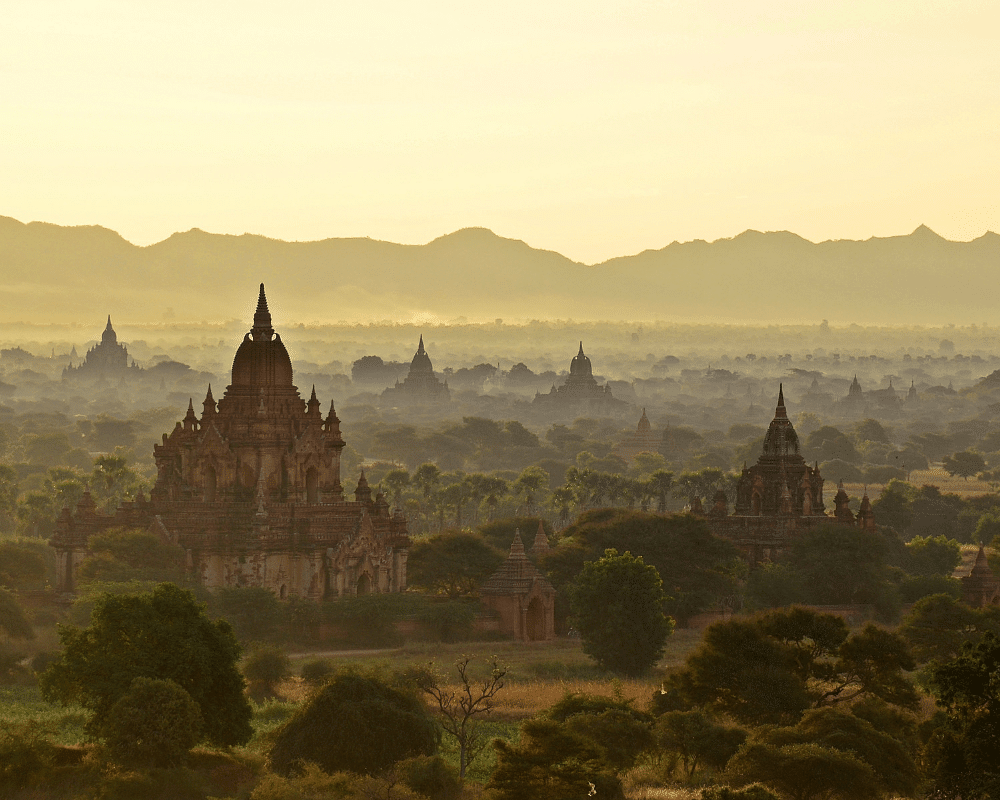 PUBLISHED May 6th, 2017 06:00 am
Five decades of military rule may have previously deterred travellers from visiting Myanmar, but following an electoral victory by the National League of Democracy, the country is starting to open up, with new reforms encouraging tourism (such as Singaporeans not having to apply for a visa anymore). Now, a land of ancient temples, teak monasteries, unsullied beaches, and a curious, friendly population awaits…and here's our 10-day itinerary to the hot spots of this breathtaking country.
Day 1 – 2: Yangon
From most countries, Yangon International Airport is the only gateway into Myanmar. Depending on what time you arrive, take at least a day to experience the colonial-style city centre. Be sure to visit the superb Shwedagon Paya, the most important pilgrimage site in the entire country. The best time to visit is at the crack of dawn or in the evening, where rays of light would reflect off the glistening gold stupa, which rises some 100 metres above its surroundings.
Head downtown and take a gander through the iconic Bogyoke Aung San Market, with hundreds of food, clothing, handicraft, and gem stores to trawl through, keeping you occupied for hours. Continue down to another important landmark, Sule Pagoda, to see the Buddha images, and perhaps get your fortune read by one of the many palm-readers lining the perimeter.
As sunset approaches, make your way to Kadawgyi Lake, an artificial reservoir that reflects the glittering Shwedagon in its calm waters, as well as a large Hamsa-shaped barge. The boardwalk, which runs along the southern and western sides of the lake is great for a stroll (be careful as certain planks of the boardwalk might be in disrepair). If you have more time to spare and, you might also want to visit the Chaukhtatgyi Pagoda, where the world's largest reclining buddha is situated.
Alternatively, call it a night and visit one of Yangon's top watering holes, the polished Strand Bar – offering an impressive range of foreign liquor during happy hour – or 50th Street Bar and Grill, known for live music on the weekends, a western menu, and an extensive drinks list.
Day 3 – 4: Bagan
Located on the bank of the Irrawaddy river, Bagan is a majestic plain that's home to the largest concentration of Buddhist temples, stupas, and pagodas in the entire world – even the famous Angkor Wat pales in size. Flying to Bagan's Nyaung U Airport from Yangon takes an hour and 20 minutes; alternatively, an overnight bus takes approximately eight to nine hours.
You could hire a driver for a sightseeing tour, but our preferred mode of transport here are e-bikes, easily rented in Nyaung U, New Bagan, and Old Bagan. Then, spend an entire day scouring through some of the 2,200 structures dotting the archaeological complex, all of them in various stages of disrepair. Most tourist maps highlight only about 20 of the larger temples, but you'll find tons more along the way – many of them abandoned. The beauty lies in the fact that you can be completely alone in the middle of nowhere for hours, with nothing but the romantic albeit rusty red structures for company.
The golden gourd-stupaed Shwezigon Pagoda is one of the most treasured sights here, visited by many Burmese people and tourists alike. Built in 1087, this is the original predecessor of Yangon's Shwedagon. Other must visit pagodas and temples include the whitewashed Ananda Temple, which contains four massive buddhas facing the cardinal directions; the temple of omniscience Thatbinnyu; and the scalable Shwesandaw Temple where crowds gather every evening to watch the spectacular Bagan sunset. The nearby Shwe-Gu-Gyi is also popular during dusk.
If you're not all templed-out by the next day, follow up with more temples like Damayangyi and Pyitthagyi after breakfast, or visit some of the handicraft and lacquerware workshops ubiquitous in Old Bagan. A day trip to Mt. Popa is also high recommended – rising high above its surroundings, ascend 777 steps on the solitary volcanic crag to reach the summit. It's worth noting that Mt. Popa is also home to Myanmar's most powerful 'nats' – spirits that are associated with Buddhism and worshipped in the country.
Day 5 – 6: Mandalay
It's a five-hour bus journey or a 30-minute flight from Bagan to Mandalay, the second-largest city in Myanmar. Firstly, head to Maha Gandayone Monastery, where you can watch hundreds of young monks going about their daily lives, from having meals to lessons. You can take all the photos you want without doing anything too ostentatious, and do leave donations. The famed U Bein teak bridge – built back in 1728 when Mandalay was still royal capital – is a short walk away, curving one kilometre across the shallow Taungthaman Lake.
Spend an afternoon around Mandalay Hill as you wait for the spectacular sunset views at the top. Kuthodaw Paya is the site of the world's largest book, with 729 white stupas containing the complete text of the Tripitaka, Theravada Buddhism's most sacred text. Also at the foot of the hill, you'll find Shwenandaw Monastery to be satisfyingly fascinating. Made entirely out of teak wood with intricate carvings, it is the only authentic part of the Royal Palace that remains, after suffering the complex suffered much damage during World War II.
The next day, revisit the rest of the Royal Palace. Do note that tourists are only allowed to go in from the east gate, as you will be charged for a five-day ticket. Although it was rebuilt with metal instead of the original teak, the reconstructed design is fairly faithful to the original, containing several pavilions, chambers, throne rooms, and Madame Tussaud-style models of Kings Mindon and Thibaw. At the palace's west end, you'll find plenty of memorabilia on display, such as religious artefacts, court ritual implements, dresses and uniforms, palanquins, armoury, and photo exhibits.
Move on to Inwa, an ancient city near Mandalay known for religious structures left over from the 14th to 19th centuries, especially the dominating Bagaya Kyaung monastery, and the brick-and-stucco Maha Aungmye Bonzan monastery that dates to the 1800s. There's a crypt too!
Day 7 – 9: Inle Lake
The nearest airport from Nyaungshwe – the town at the north end of Inle Lake – is Heho Airport. Getting to town via taxi takes about one hour and will set you back quite a bit, so you might want to bus over from Mandalay instead, which takes just six hours and brings you straight to Nyaungshywe.
A full-day trip on the lake is a must do, and you can either book a tour via one of the many agencies dotting town, or hire one from the jetty from the boatmen directly. Be sure to firm out all the details, especially with regards to where you want to go, or risk being taken to plenty of tourist traps like silversmith workshops and souvenir stores, at their benefit. That way, you can also assess his level of English. As of February 2017, the price for a boat is 15,000 kyats. Each boat seats five, so get other travellers to join you and split the fare.
Go see the local fisherman at the lake entrance as they balance precariously on the ends of their boats, floating markets, the Hpaung Daw Oo Pagoda (the most important religious site in the Shan state), as well as the Jumping Cat Monastery where you'll plenty of cats lying around. Unfortunately, they don't actually jump. A type of shop you might be interested in visiting is the cigar workshop, as you witness young ladies hand-rolling cheroots – an open-ended cigar unique to Myanmar – in front of you. There are also unique lotus-weaving factories that sell tough-as-nails lotus cloths that make great gifts.
For lunch, visit one of the restaurants on the lake for an extraordinary dining experience with brilliant views. Be sure to head to the hidden Indein Village, a small pagoda complex on the western bank of the lake with hundreds of ancient stupas overgrown with weeds. Watch farmers and water buffaloes ploughing paddy fields, and climb the pagoda hill for a refreshing cool breeze.
There's more to do back in Nyaungshywe too. Rent a bicycle and cycle twenty minutes out to the Red Mountain Winery for local French-style wines onsite. They aren't fantastic, but you get what you pay for. Plus, as far as sunset views in town go, the winery is unbeatable. Many homes in town also offer cooking classes – nothing like learning to prepare a series of delectable Shan dishes from local housewives.
Day 10: Yangon
There are daily flights between Yangon and Heho Airport, but buses are significantly cheaper and just as comfortable, taking around nine hours. Take it easy for your final day in Myanmar – revisit your favourite sites from the first leg of your trip, indulge in amazing street fare along Chinatown, enjoy an authentic Burmese massage (a combination of Balinese-, Indian- and Thai-style), or have a coffee at one of these cafés. And of course, remember to allocate about an hour of travel time from downtown Yangon to the airport. Safe travels!
General tips for travelling in Myanmar:
Myanmar is one of the safest countries in Asia, primarily due to the fact that most locals are strict adherents of Buddhism. But as always, take precautions with your luggage and money.
To save time, you might want to take domestic flights to your different locations. Though more expensive than buses or trains, time is sometimes more precious than cost. In any case, do book your transport in advance to avoid being stranded.
Many hotels and service providers accept USD, EUR, and SGD as a mode of payment, but be sure to bring extra as they are particular about the condition of the notes – older notes may be rejected.
Myanmar is perpetually hot in the day, though temperatures soar to the extremes from March to June. Do not try to rush around from site to site or you will be exhausted. Also, put on sunscreen!
In contrast, nights and early mornings can see temperatures as low as 16 degrees, so be sure to pack a sweater or light jacket.
Pack slippers, as all temples and pagodas do not allow footwear on their premises.
The best way to get around towns and cities are taxis and shared pick-ups, but be sure to settle on a price before getting on.
---
Top Image: Jennifer Stahn