10 Questions with Violet Oon, Chef & Owner of Violet Oon's Kitchen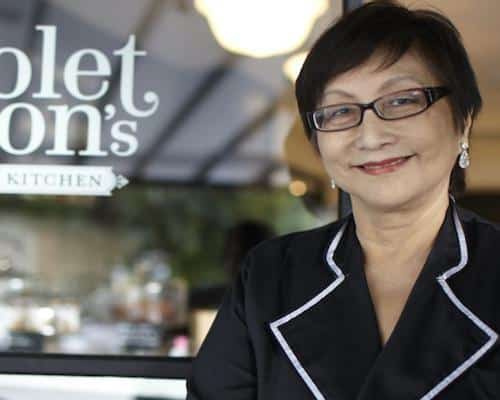 PUBLISHED May 27th, 2014 12:59 am | UPDATED May 18th, 2020 04:55 pm
It's no secret at City Nomads that Chef Violet Oon has a very fond place in our hearts. One of Singapore's leading food gurus, and a bit of a national treasure, she is a leading authority on Asian cuisine and her own speciality, Nonya cuisine.
Her reputation as a chef and food specialist spans the international arena, and having shared her culinary experiences and cooking skills through her books and to TV audiences, her most recent endeavour – Violet Oon's Kitchen – brings it all back home. One of our favourite restaurants, Violet Oon's Kitchen is the culmination of all her culinary and family memories bundled up into one scrumptious and comforting bundle of Nonya goodness.
And so without further ado, it's time to find out more about this grande dame of local delights:
1. Tell us about what you do…
Now I am kept busy with Violet Oon's Kitchen the bistro and the catering business started by my 2 children and myself – Violet Oon's Kitchen, which is about to turn 2. The F&B business is very challenging and volatile and we have to all be nimble and be able to meet each challenge and opportunity as it presents itself. I am involved with the kitchen with the challenge of cooking and presenting our repertoire of food tastefully and unearthing dishes and menus from my repertoire of dishes from around the world.
2. Talk us through a typical day for you…
Now that I'm at Paul McCartney's landmark age of 64, I find that I function very well if I sleep in a little! Once I'm up, I'm at my computer at my home office answering emails, putting together menus and planning new dishes to offer for our catering as well as the odd spot of consulting for clients. The hours between 9am to 11am are ideal for going to the market or for meetings. I try to get into Violet Oon's Kitchen before lunch to see to the cooking.
For 2 to 3 afternoons a week, it is food testing and experiment time in the kitchen when I showcase a few dishes to the culinary crew. After seeing to the food in the kitchen, and the crew is now very well prepared, I sometimes take off around 7 to 8 pm. Sometimes I stay for dinner to meet guests and to be around as the working partner.
3. What has been the happiest moment in your career to date?
The happiest moment in my career was when my 2 grown up children Su-Lyn and Ming, said that they wanted to re-start the brand Violet Oon's Kitchen. I did not know how happy I should have been till I met a few friends who also started their own businesses. They told me, "Violet, you are so lucky and fortunate that your children want to carry on your torch and build on what you have achieved and make it even better."
4. What 'rules' do you live by?
I always try to treat people fairly and this includes our staff and I am always appreciative of what people do for me – and this includes the janitor in my building, the construction workers who build our city and every single person who works hard so that I can have an easier life.
5. What was the worst piece of advice you have been given?
I cannot remember any bad advice – only the good advice that I have been given
6. What was the last memorable meal you had?
My goodness – I cannot remember. Perhaps it could be the steamboat dinner we had for Chinese New Year? It was a great time of family sharing.
7. What is your secret indulgence?
My not so secret indulgence is to lie in bed reading a murder mystery and peeling the local fruit called Duku Langsat and eating about 3 to 4 kg of it! Since the season is only for 3 months or so a year, I have to treasure these secret indulgent moments.
8. If you could only eat one Singaporean dish for the rest of your life, what would it be and why?
Nasi padang – so much variety!
9. What's your favourite dish on the menu at Violet Oon's Kitchen and why?
Kuay Pie Tee- it reminds me of my childhood and my aunts who taught me how to cook.
10. Can you share with us one easy recipe for our readers to make at home?
Ikan Bilis salad
Ingredients:
3 tbsp dried anchovies called "ikan bilis" (buy the ones that are ready halved and without the intestines)
1 small red onion (about 60g)
1 red chilli or a sprinkling of chilli flakes
2 to 3 local limes called Limau Kesturi (also known as calamansi)
Method:
Lightly wash the dried anchovies and drain immediately on a sieve. Slowly dry it out in an oven at 140 degrees C for about 30 minutes. Cool and store in an air tight container. Dice the tomato into 1inch pieces. Pat dry with paper towels (this ensures that the tomato stays fresh in the fridge for up to 2 days). Peel and finely slice the onions vertically so that you get nice round slices. If they are too long, cut each into 2. Cover with cling film and put in the fridge.
Just before serving, cut the chilli into thin slices and cut the limes into 2 and squeeze out the juice. Keep come chilli slices for garnish. Toss the tomatoes, remaining chillies and onions in the lime juice, put into a small serving bowl, top with the dried anchovies and remaining chilli. If you are using chilli flakes, toss the flakes with the tomatoes and onions.
You can find Violet Oon at Violet Oon's Kitchen at 881 Bukit Timah Road, Singapore, 279893. For more information on Violet Oon's Kitchen see their website here or click here to make a reservation.

---
Written by Ms Demeanour