Yoga Classes In Singapore: Best Studios To Sweat, Meditate, And Flow Your Way To Zen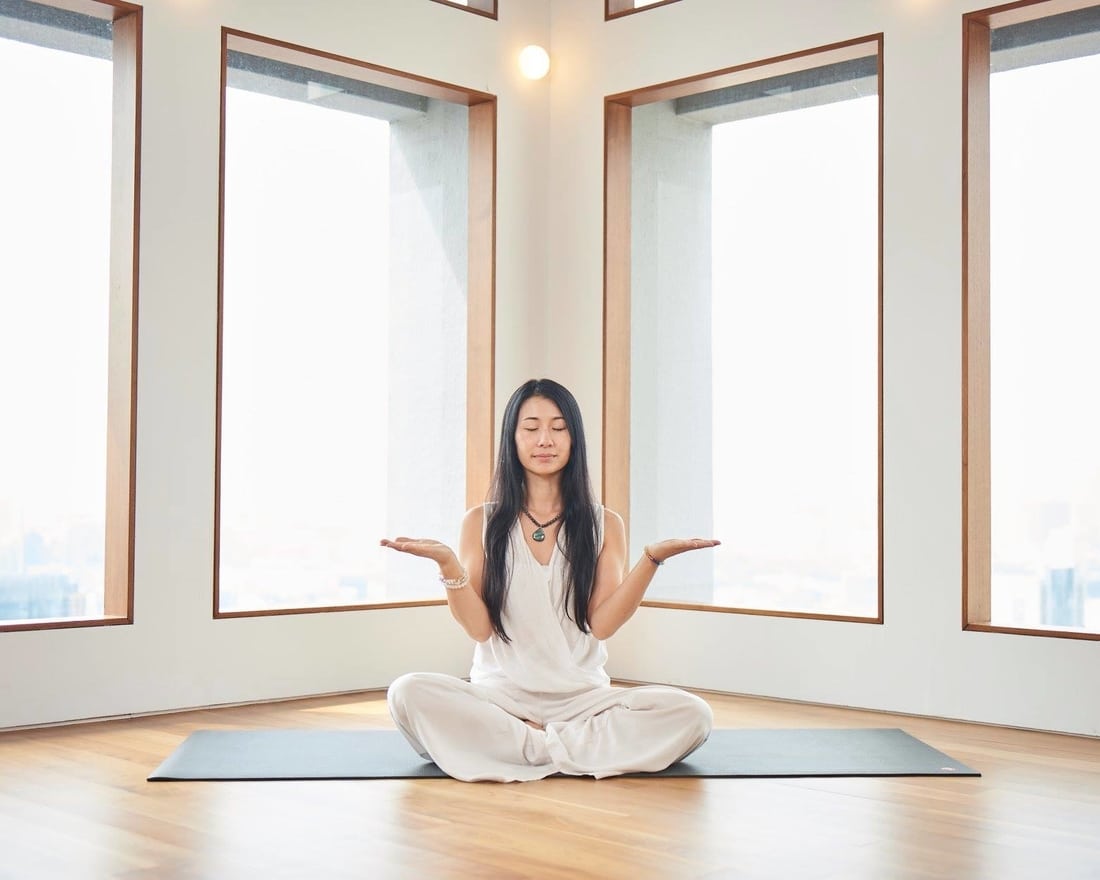 PUBLISHED October 10th, 2019 05:00 am | UPDATED May 18th, 2020 07:24 pm
Yoga's popularity has surely endured the flux and flow of fitness trends, and for good reason too. Whereas Pilates, martial arts, and good ol' gymming is all about toning up, yoga strengthens and heals both your mind and body. Getting aches and anxiety from your daily grind? A spot of hot yoga or power flow class is the holistic tonic you need.
If you're wondering where to unroll your mat, don't stress. We've rounded up some of Singapore's best boutique yoga studios – studios that boast the elusive harmony of personalised classes, amazing facilities, and interesting techniques – so you can get your flow on!
Jal Yoga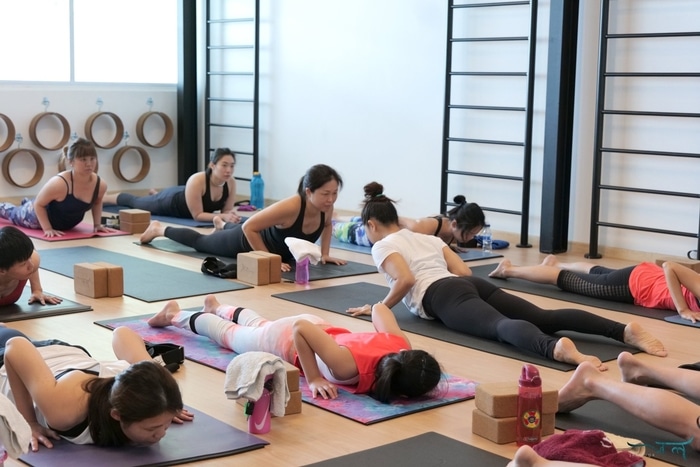 Named after the Hindi word for "water", Jal Yoga wants to help you channel your body's fluidity to achieve calm strength and self-transformation. With five outlets islandwide, look out for over 30 styles of yoga for every kind of need, from Aerial Yoga to Runner's Yoga. Need some heat to ease your muscles but can't stand the traditional and sweaty Hot Yoga? Check out Jal's unique specialty Infrared Heat Yoga, the first of its kind in Singapore – featuring infrared panels that deliver therapeutic warmth directly to your skin and muscles from the inside.
Pricing: Unlimited membership packages begin from S$125/month, with first trial class free of charge. Check out class schedules here.
Jal Yoga has five outlets across Singapore, in Alexandra, Upper Bukit Timah, Katong, Upper Thomson, and Woodlands.
The Yoga School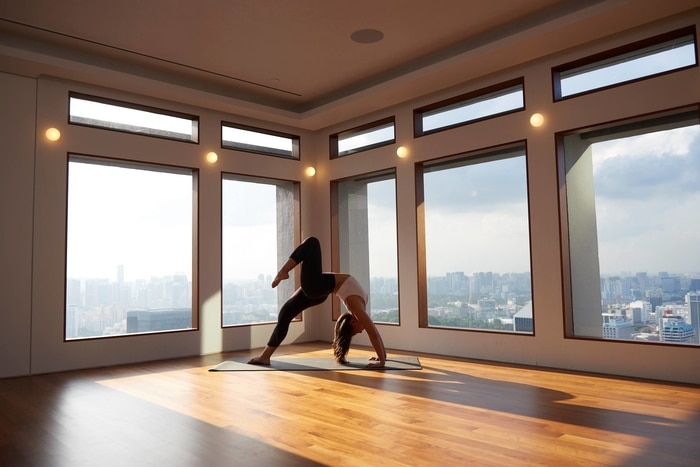 Get an eyeful of the city's magnificent skyline while practising your asanas at The Yoga School. High up above on the 39th floor of OCBC Centre, this serene haven boasts full-length windows and a palette of pale tones – all the better for soothing your frazzled mind. More unusual options here include Universal Yoga in the western science-inspired tradition of Andrey Lappa, and deep relaxation technique Yoga Nidra. And with luxuriously soft Ploh towels and personalised toiletries provided free of charge, what more pampering could we want?
Pricing: S$38 per class, or S$280 for 10 classes. Check out class schedules here.
The Yoga School is located at 65 Chulia Street, #39-01, OCBC Centre, Singapore 049513, p +65 6532 8228.
Kate Porter Yoga


This friendly studio is all about offering yoga for Normal People, whether you be young or old, bendy or less flexible. From Yin-Yoga to Myo-Yoga, Kate Porter offers a wide range of classes to suit all levels and timings. Our go-to is the Restorative Yoga class, which focuses on stretching out all the aches and pains we've picked up over the week. At the end of each class, chilled aromatherapy towels and refreshing cups of homemade wellness tea await you – a caring touch we love.
Pricing: S$34 per class, and S$280 for 10 classes. Check out class schedules here.
Kate Porter Yoga has two outlets in East Coast and River Valley. The East Coast branch is located at 5000G Marine Parade Rd, Laguna Park, Singapore 449290, p. 9781 3403. The River Valley branch is located at 468 River Valley Road, Singapore 248353, p. +65 8189 2054. 
Yoga+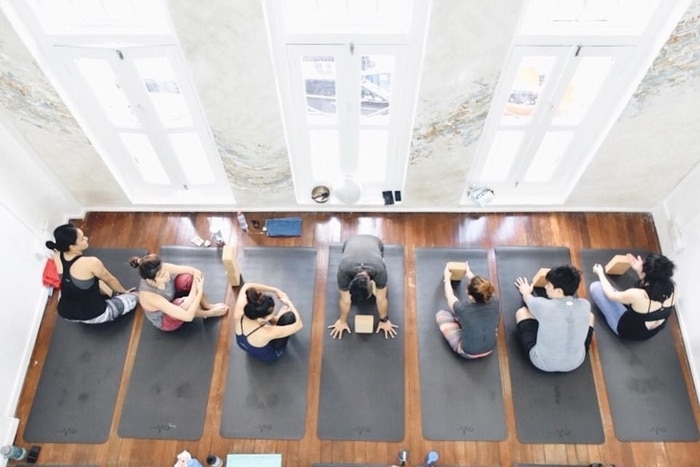 From CardioFlow to Yoga Dance, Yoga+ has a fascinating range of hybrid classes which will bring a new spark to your practice. What we love even more, however, is that yoga isn't just a weekly class or two here – it's a way of life. Through collaborations with local arts studios and bookshops, this studio aims to take your yoga journey beyond the mat – expect to find art jams and book clubs taking over the space on the regular. Yoga+ also organises special classes to raise funds for meaningful social causes, such as breast cancer research and youth empowerment.
Pricing: S$30 per class, or S$140 for 5 classes. Check out class schedules here.
Yoga+ has three outlets across Singapore, in Pagoda Street, Arab Street, and Tanjong Pagar. Click here for more location info. 
Ziva Yoga

There's no better place to bliss out than this spacious, light-filled studio in beautiful Tiong Bahru. Ziva is a big believer in breath – regulating your breathing in order to smooth out your mental state – and their open-air studio will have you drawing in deep lungfuls of fresh air. Classes include basics like Hatha, Vinyasa, and Hot Classic, along with Forrest Yoga and Yoga Therapy for more intense self-healing.
Pricing: S$30 per class, or S$250 for 10 classes. Check out class schedules here.
Ziva Yoga is located at 10 Seng Poh Road, Singapore 168895, p. 8615 1280.
OhmSantih Yoga


Tucked in a shophouse overlooking vibrant Kampong Glam, OhmSantih offers tailor-made yoga lessons based on your specific needs. Class sizes usually remain at a cosy 5 to 6 students, ensuring that teachers can correct your poses and give you personalised tips more effectively. Work on your breathing and posture with their Ashtana Yoga courses, or explore your inner self with the Meditation & Mindfulness Course. If you're serious about yoga as a lifelong journey, this is where you can find your tribe.
Pricing: S$30 per single class, with more options for class pass packages. Check out class schedules here.
OhmSantih is located at 50A Bussorah St, Singapore 199466, p. +65 9336 2556.
Zattva Yoga


Down in the Little India enclave, you'll find a gem of a studio in the form of Zattva. Founded by Shyamaram Ramadas, who honed his practice in the ashrams of India, Zattva offers Hatha Yoga courses that combine yoga, meditation and reflection. With a strong focus on achieving true relaxation and control –  as opposed to purely physical fitness –  classes here will bring peace to both your mind and body.
Pricing: S$30 per class, and S$240 for 10 classes. Check out class schedules here.
Zattva Yoga is located at 70B Race Course Rd, Singapore 218572, p. +65 9006 9624. 
Master's Yoga Sadhan

Get a respite from the CBD hustle and bustle at this charming Tanjong Pagar sanctuary. Masters' Yoga Sadhan offers a range of classes in traditional styles like Hatha and Vinyasa, along with unique classes tailored to your health and lifestyle needs. Healthy Back Yoga will help correct those hours of desk-bound slouching, while Wall Rope Yoga is great for beginners to build strength and flexibility quickly.
Pricing: S$210 for 10 classes, and S$570 for 30 classes. Check out class schedules here.
Master's Yoga Sadhan is located at 77A Tanjong Pagar Rd, Singapore 088498, p. +65 9774 8494. 
Sweatbox Yoga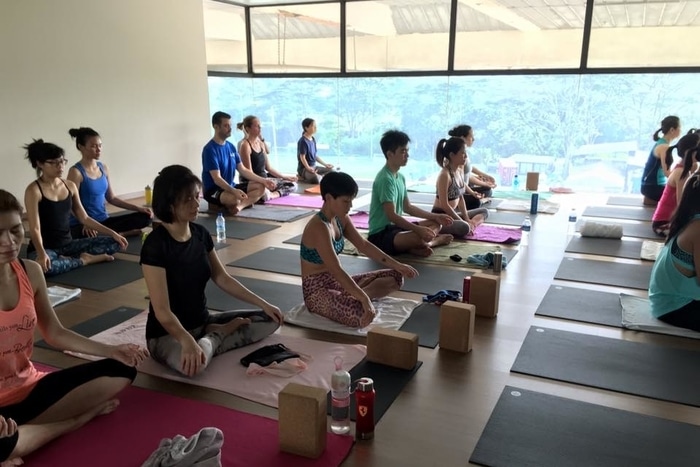 If you like it hot, Sweatbox Yoga is where you need to be. As its name suggests, Sweatbox specializes in hot classes of all levels, from the traditional Hot 26 to the high-intensity Hot Flow. Their challenging range of non-hot classes will have you sweating no less, with strength training options like HIIT Yoga and Power Hatha. As you drip your way into zen, enjoy cool views of lush greenery through their studios' full-length windows.
Sweatbox Yoga has three locations across Singapore, at The Grandstand, OUE Downtown Gallery, and Far East Shopping Centre. See here for more location info. 
The Yoga Mandala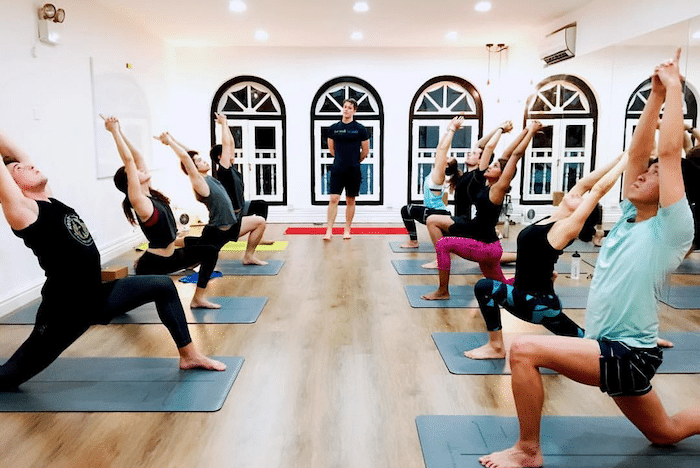 Leave behind the work stress at this airy Telok Ayer studio, with its supportive yoga gurus and extensive array of yoga courses. Besides the usual core, strength, and flow classes, The Yoga Mandala also conducts intensive 50-hour, 75-hour, and 100-hour workshops for a weeklong spiritual retreat. Combining physical and theory practice, these classes will help you build a strong foundation for a healthier you.
Pricing: S$30-35 per class, or S$220 for 10 classes. Check out class schedules here.
The Yoga Mandala is located at 134B Telok Ayer Street, Singapore 068600, p. +65 6221 6683.
Freedom Yoga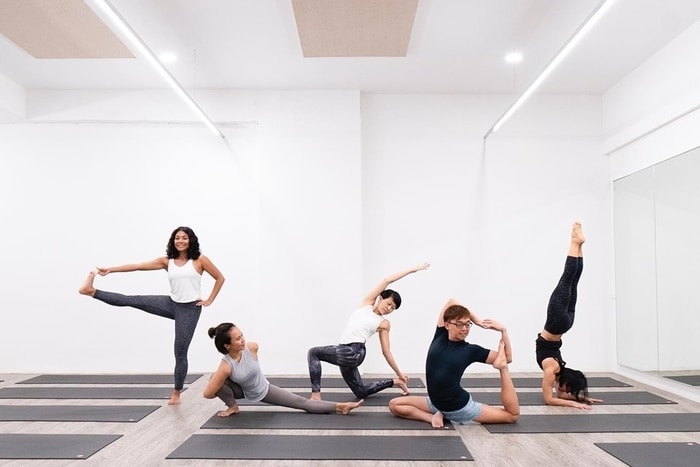 Free your mind and muscles from humdrum tensions in Freedom Yoga's tranquil studios. If silent yoga is not your style, many classes here explore the use of music to get you in the flow. Crunch and lunge to groovy beats in Freedom Blaze, or sink into the mellow rhythms of any chosen song in Inside Flow. For an extra-soothing ambience, try out their Candlelight Flow, where you can flow your way through asanas in the lulling glow of candlelight.
Pricing: S$35 per class, or S$270 for 10 classes. Check out class schedules here.
Freedom Yoga has three outlets across Singapore, in Cecil Street, Amoy Street, and Holland Village. Click here for more location info.
The Yoga Space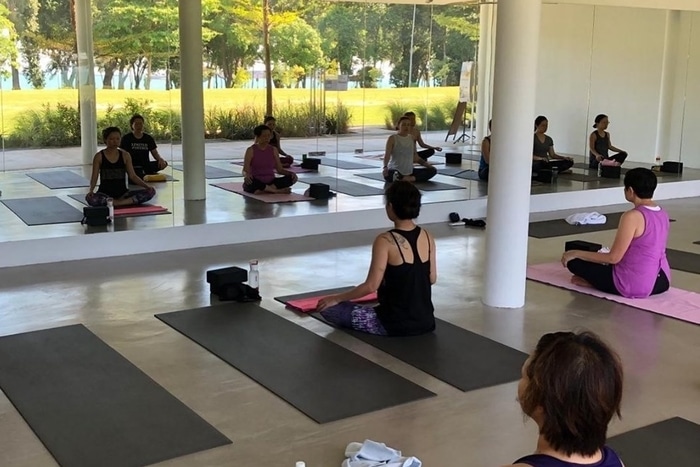 Easties, this one's for you. Nestled in East Coast Park, The Yoga Space offers lovely views of sea and nature as you sweat your way to greater health. Classic styles like Hatha, Flow, Yin, and Hot 26 are all available here, but if you're game for a challenge, the cardio-based Bootcamp is sure to tone up your abs and back.
Pricing: S$23 per class, or S$180 for 10 classes. Check out class schedules here.
The Yoga Space is located at 920 East Coast Parkway, #01-11, Singapore 449875, e. [email protected] 
Top Image: The Yoga School