Bottomless Brunch in Singapore: Modern Asian-Influenced Brunch Plates at Adrift by David Myers, Marina Bay Sands Singapore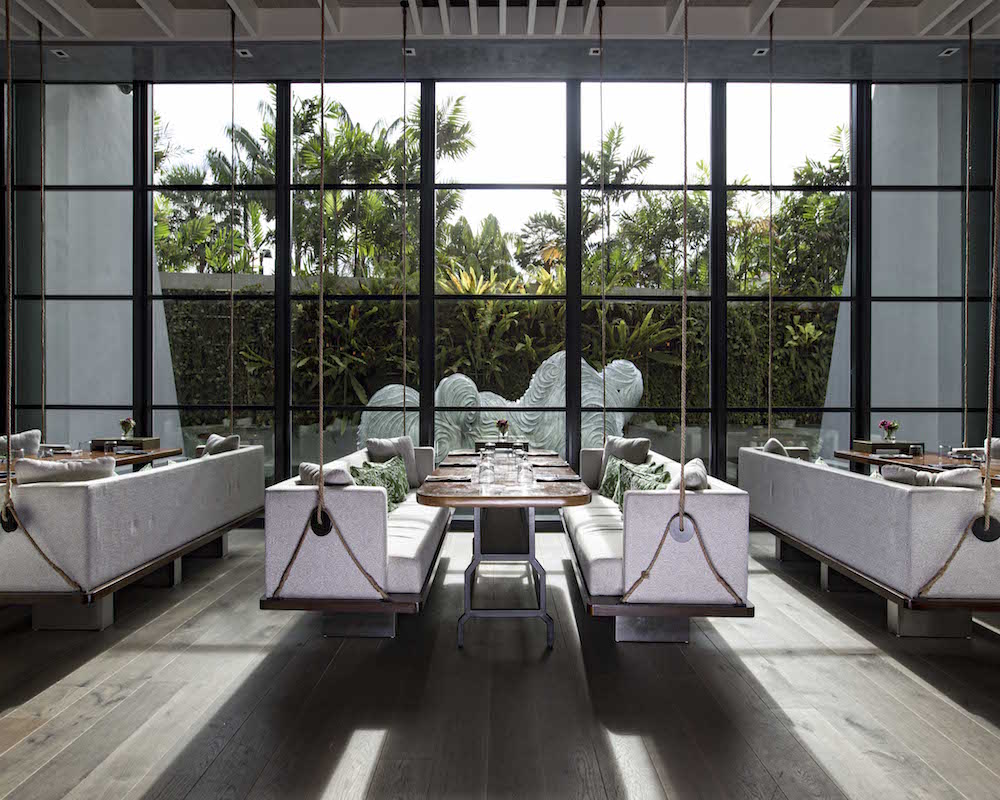 PUBLISHED November 27th, 2017 05:00 am | UPDATED August 7th, 2019 03:39 pm

After stuffing ourselves with dim sum alongside glasses of Ruinart at Yan Ting last month, we head to Marina Bay Sands this month for brunch plates with a modern Asian twist, courtesy of celebrity chef David Myers. The floor to ceiling windows and greenery outside of the main dining room of his Californian-style izakaya, coupled with swing couches where we sat, seem to be inspired by a secret garden.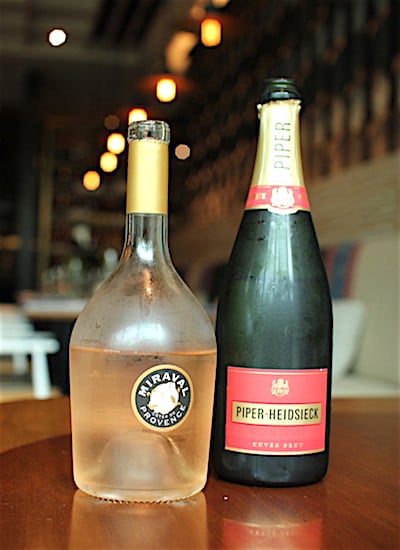 Though the restaurant is located at the Tower 2 lobby of the mammoth hotel and seats 160 people in total, the daytime atmosphere isn't incongruous with one that you might find at a café in Robertson Quay or Dempsey Hill. The a la carte brunch menu, split into starters, brunch plates, and meatier mains, might perhaps be a bit more refined – it's definitely a globetrotter of a list with the different culinary influences present. And for $70++ per person, you have the option of free-flowing Piper Heidsieck Cuvée Brut,  (Hollywood followers might recognize this vineyard because it still belongs to Brad Pitt and Angelina Jolie), and house spirits from 12 noon to 3pm during the weekends.
After placing our food orders, the restaurant's signature snack of rice crackers arrived and naturally, we sampled the boozy options first. Pinot noir and pinot meunier make up more than 80% of the medium-gold champagne, which is quite flavourful with notes of toasted brioche and nuts amidst a vibrant acidity and creamy, mineral-tinged finish. The Provencal rosé comes in a champagne-like bottle and was a pretty light salmon pink. Think wild strawberries on the nose and a refreshing acidity with a slightly saline finish on the palate. Both options went down well with the first starter of Hamachi ($19), which is also one of our favourites.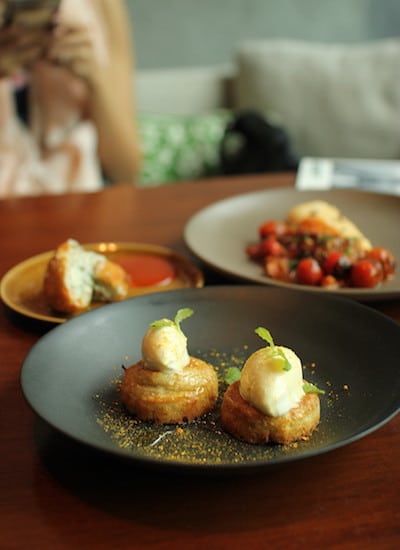 Served in sashimi-thick slices, the Japanese yellowtail was fresh, luscious, and buttery in texture. The pumpkin juice it's served with is actually cooked down with fish stock, thus resulting in a velvety consistency and a more savoury edge. Toppings of pumpkin seeks and yuzu kosho (green chilis that have been fermented and salted) give the dish more depth in terms of texture and flavour.
We jump from Japan to the United Kingdom with the next arrival – Crumpets & Honey ($12). Admittedly, I have no idea what the perfect crumpet tastes like, but I really enjoyed Adrift's version. The savoury griddle cake came golden brown and crusty and was less spongey and doughy on the inside then previous renditions I've had. The sprinkling of mandarin powder and the accompanying whipped ricotta made a great trifecta. Like all curious Singaporeans would do, we also ordered the Chili Crab Omelette ($26). Unfortunately, the meat (deshelled from fresh Alaskan king crab legs) was overcooked and fibrous and the sauce lacked the piquant punch that made chili crab our iconic dish on the international culinary stage. Despite the perfect fluffy texture, the egg itself was also quite bland so the true highlight here was the juicy, slightly charred cherry tomatoes.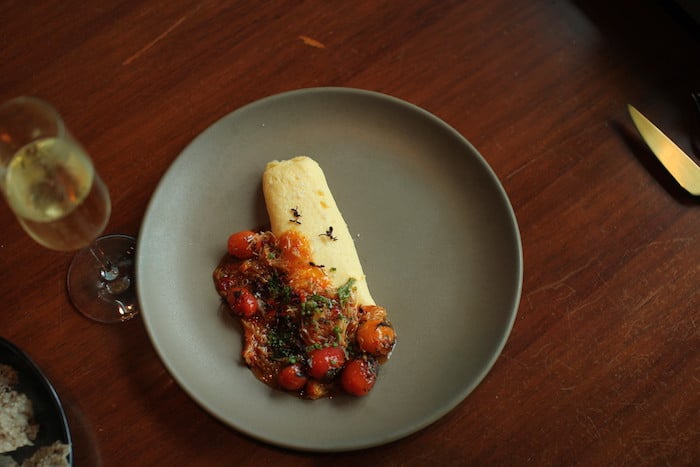 If you're thinking about gyukatsu upon ordering the Kagoshima Wagyu Katsu Sandwich A4 ($55), you might be a little disappointed because the A4 Kagoshima wagyu striploin essentially becomes a hamburger patty. While the quality of the meat and the excellence of the fry cook is undeniable, we would have preferred a different kind of bread – one that doesn't stick to the roof of your mouth when you're trying to enjoy good beef.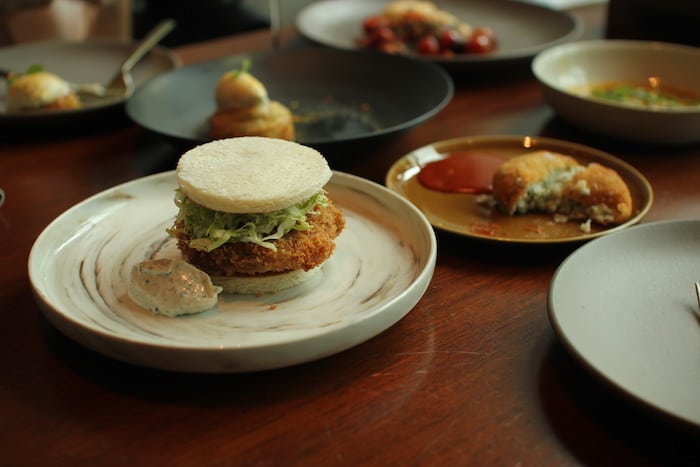 The accompanying black truffle aioli was absolutely delicious though. Another great schmear can be found in the Charcoal & Black Beer Battered Cod ($31), which comes with bottarga aioli and horseradish slaw. The texture and flavours were all on point; the only downfall was that the crispy batter kept falling off the fish when we cut into it. It's not a major problem for us so it's a dish we would go back for.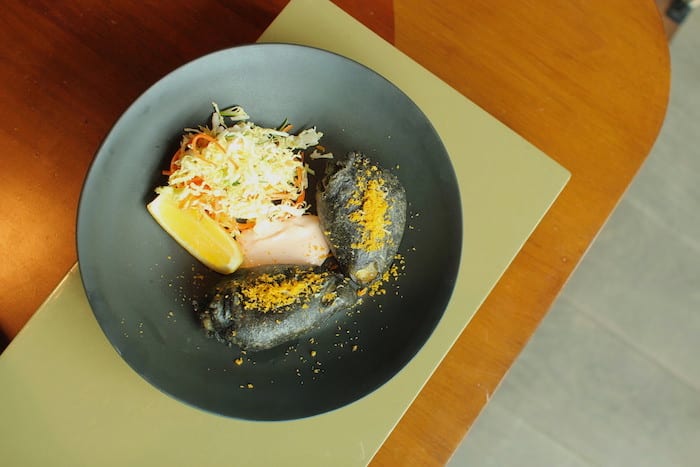 By the time we were done with the savouries, we were more than four glasses into the champagne so a light dessert was called for. Those who enjoy desserts with sweet-sour profiles should definitely go for the Broken Meringue ($16) served with a dollop of delicate rose cream, yuzu sorbet, and pieces of Japan's prized Kyoho grapes. The dessert menu also sported digestifs, amongst which was the greatest espresso martini of all time. It probably is one of the best espresso martinis I've had in this lifetime so the $30 price tag is worth it if you love your caffeinated tipples.
Despite some hits and misses, what we liked about Adrift is that the a la carte menu caters to people across different budgets and dietary restrictions (pescatarians have plenty of options here). We really don't have to repeat ourselves about it being a lovely space to hang out with an intimate group of friends over free-flowing quality booze either.

Adrift by David Myers is located at Marina Bay Sands, Hotel Lobby Tower 2, 10 Bayfront Avenue, Singapore 018956, p. +65 6688 5657. Weekend brunch is available Saturday and Sunday, 12pm-3pm.