Best Wanton Noodles In Singapore: Top Hawker Stalls & Eateries For This Iconic Noodle Dish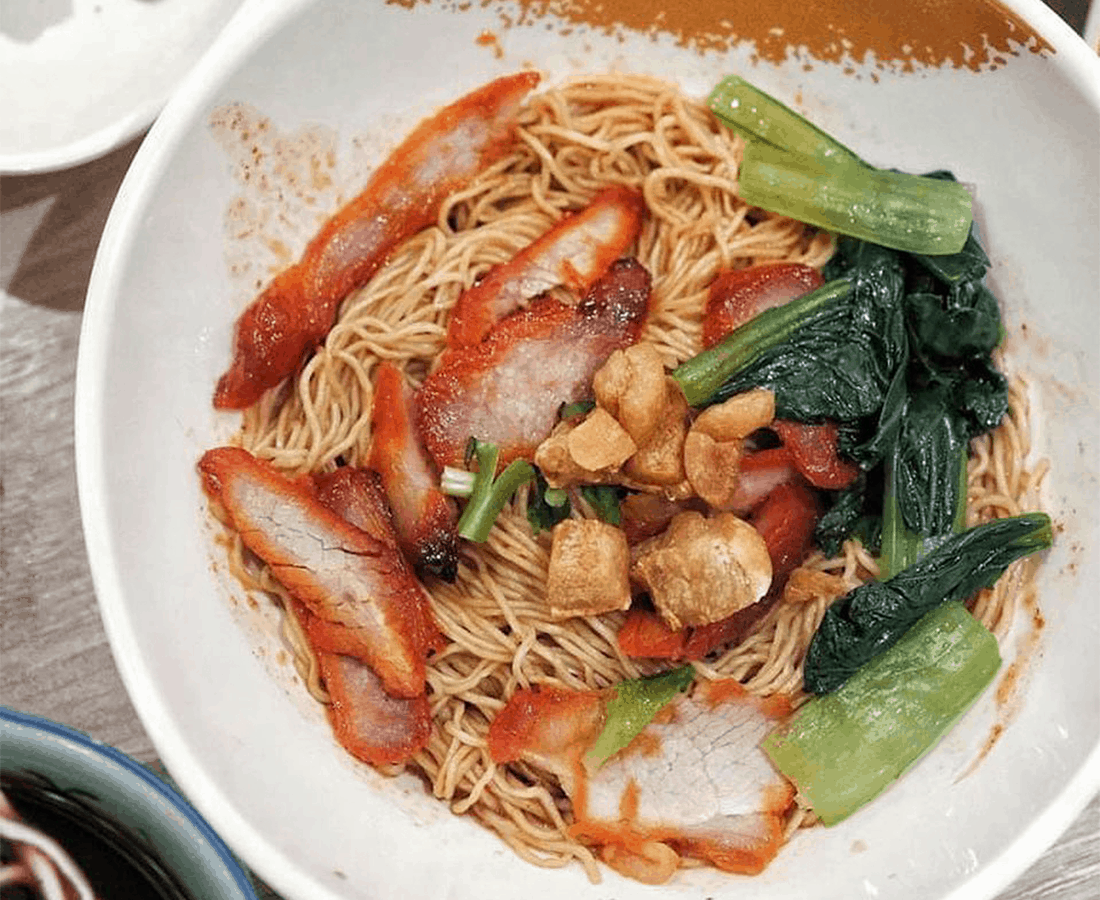 PUBLISHED December 8th, 2020 06:00 am | UPDATED December 20th, 2020 01:00 pm
Hawker centre food is a staple in the life of a true-blue Singaporean and among the many beloved dishes – char kway teow and hokkien mee, to name a few – is wanton noodles. The true delight is being able to find a place that does all the ingredients – from the noodles and wantons to the soup and sauce – equal justice. After some hawker-centre-hopping, here's a list of the best wanton noodle stalls in Singapore. Brace yourselves for the occasional long line!
Chef Kang's Noodle House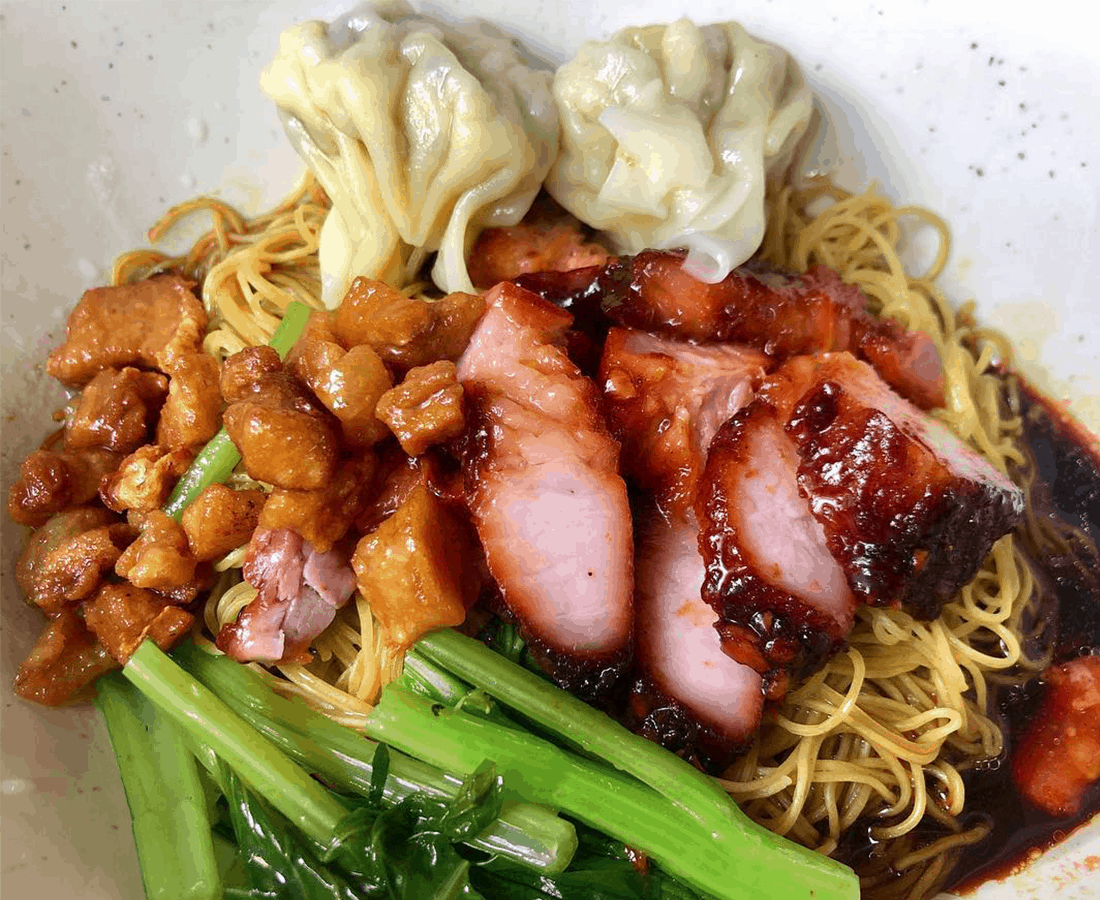 As expected of hawker stalls that have been awarded with a Michelin Bib Gourmand, be prepared to spend a good amount of time in line. But we say the Noodle with Char Siew and Wanton (S$5) at Chef Kang's Noodle House is worth the wait. Bathed in fragrant dark soya sauce, revel in the springy noodles peppered with generous chunks of crispy lard before sinking your teeth into the hefty caramelised char siew slices. Even the rich chicken broth deserves praise of its own as you slurp it up together with the juicy, plump wantons stuffed with pork, shrimp and water chestnuts. 
Chef Kang's Noodle House is located at Jackson Square, Block A, 11 Toa Payoh Lorong 3, Singapore 319579. Open Tues-Fri 8am-4pm, Sat-Sun 8am-2pm. 
Fei Fei Roasted Noodle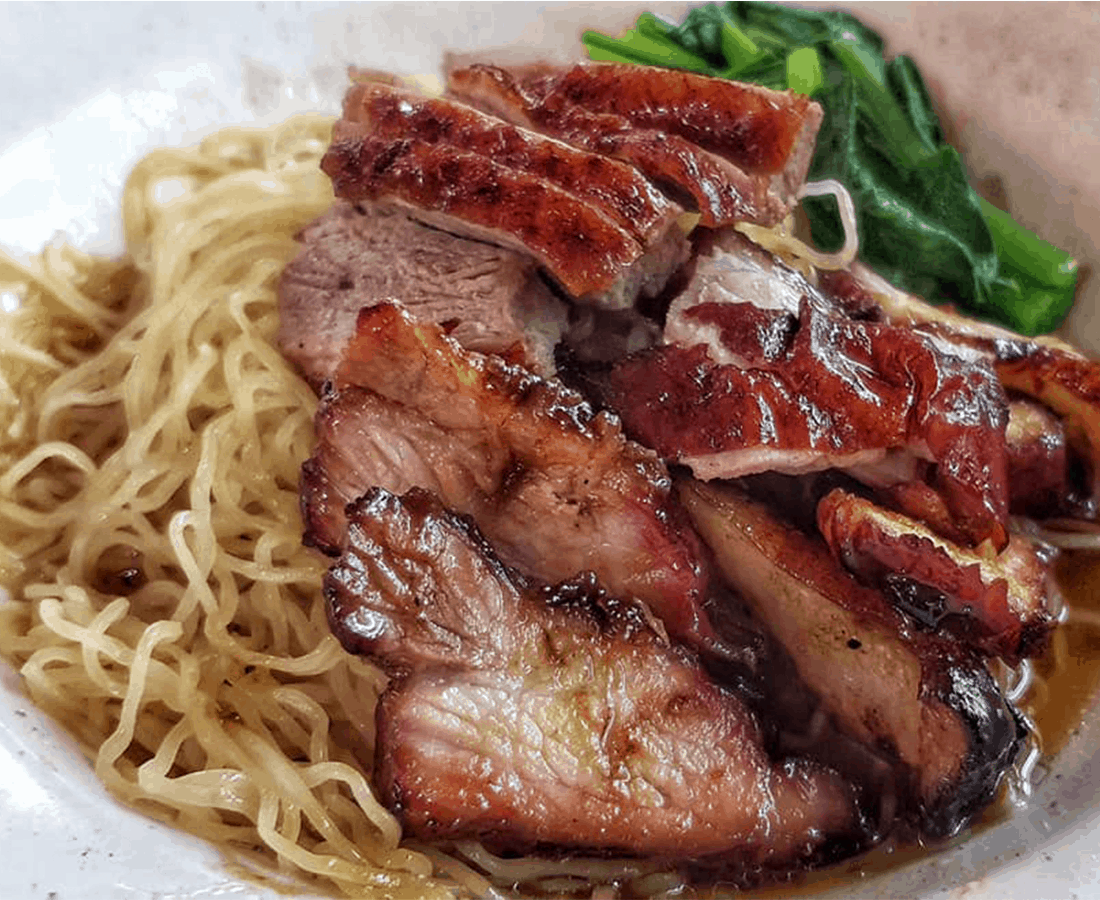 Not to be confused with the other Fei Fei at Joo Chiat, this Fei Fei is a family-run business that has been running for over 40 years. While we are happy with the minced pork and prawn paste wantons in the Wanton Noodles (S$3), the spotlight shines on their charcoal-grilled char siew. Even the name of their stall is a testament to how deliciously fatty the beautifully charred meat is. And as if the rush to get your hands on a plate before they close in the early afternoon isn't enough, they often run out way before then so we'd recommend coming down for an early breakfast. 
Fei Fei Roasted Noodle is located at #01-28, Yuhua Village Market & Food Centre, 254 Jurong East Street 24, Singapore 600254. Open Mon & Weds-Sun 9am-1pm. 
Hua Kee Hougang Famous Wanton Mee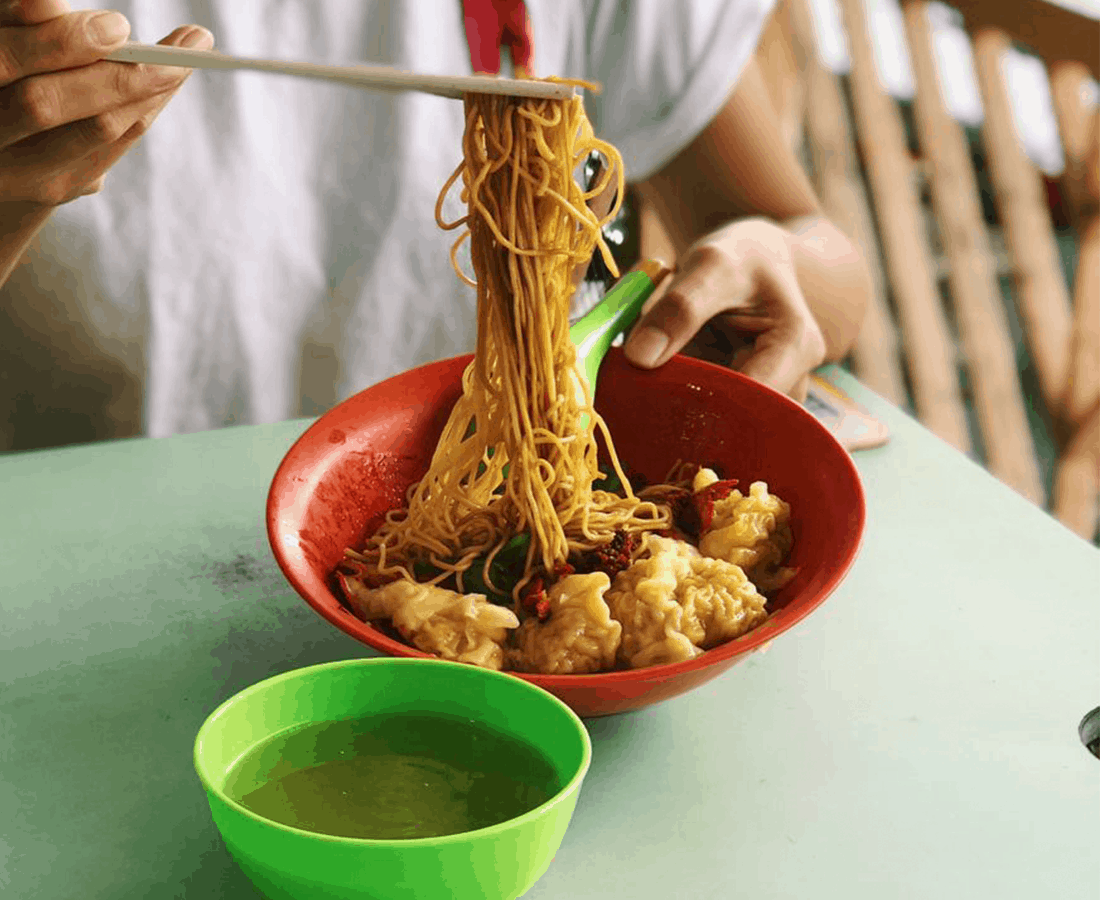 Another family-run business on our list, Hua Kee Hougang Famous Wanton Mee's kitchen is helmed by the fourth generation of the family. The Wanton Mee (S$5) is served with a mini mountain of fried shallots and bits of pork lard atop light and bouncy egg noodles. Give it a toss in their special blend of gravy-like sauces and smoky chilli to get the best of its flavours. While the wantons aren't our favourite in this round-up, we appreciate the amount of filling they pack in.
Hua Kee Hougang Famous Wanton Mee is located at #01-02, Old Airport Road Food Centre, 51 Old Airport Road, Singapore 390051. Open Mon, Weds-Sun 10am-10pm.
Ji Ji Wanton Noodle Specialist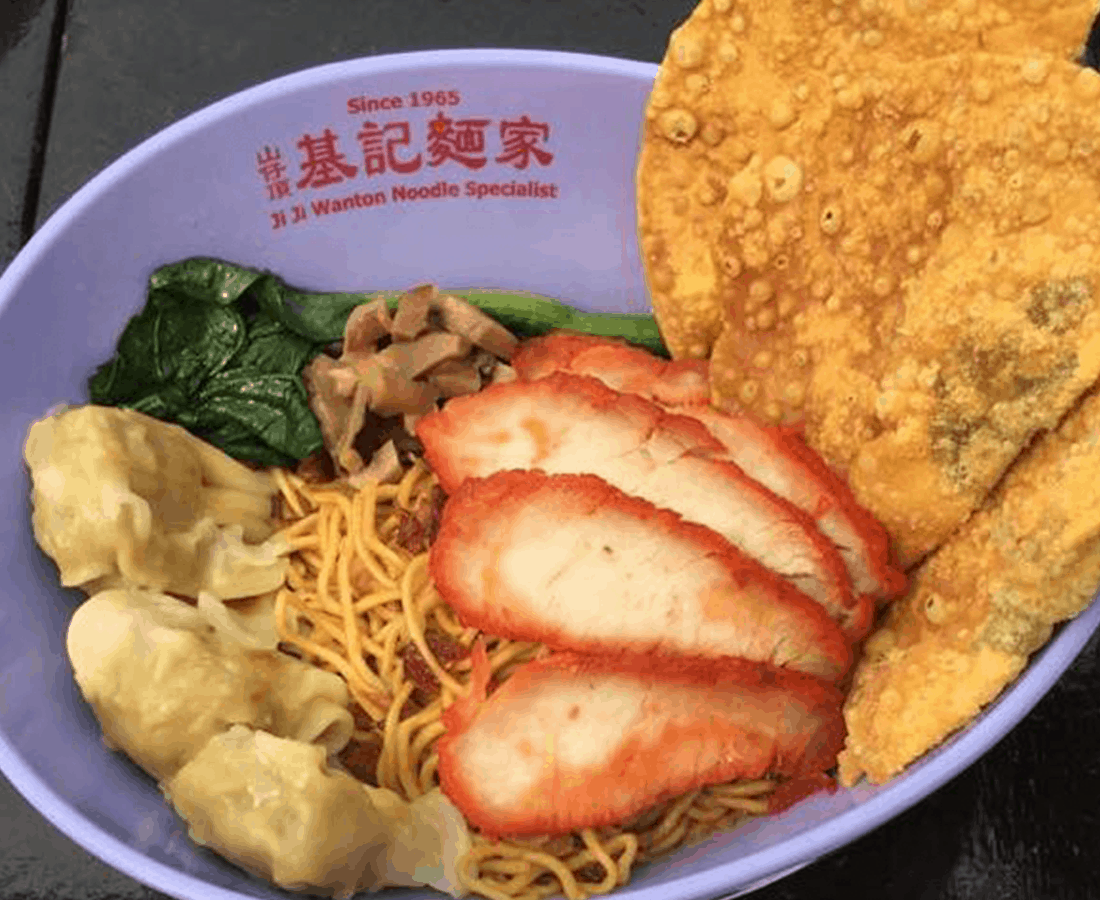 Having been around since 1965, the three-generation hawker stall sets itself apart from regular wanton mee with their specially sourced noodles. Slightly thicker with a chewier bite, they're less oily, healthier and in our humble opinion, more delicious. While they have quite the menu offering a number of dishes, the Char Siew Wanton Noodle (S$4/5/6) is far and away the fan favourite, with the noodles tossed in a house-blend of sauces and best eaten with chilli. Their wantons, both fried and boiled, are filled with a savoury pork filling.
Ji Ji Wanton Noodle Specialist is located at Hong Lim Food Centre, #02-48/49/50, Blk 531A, Upper Cross Street, Singapore 050531. Open daily 7am-7pm. 
Kok Kee Wanton Noodle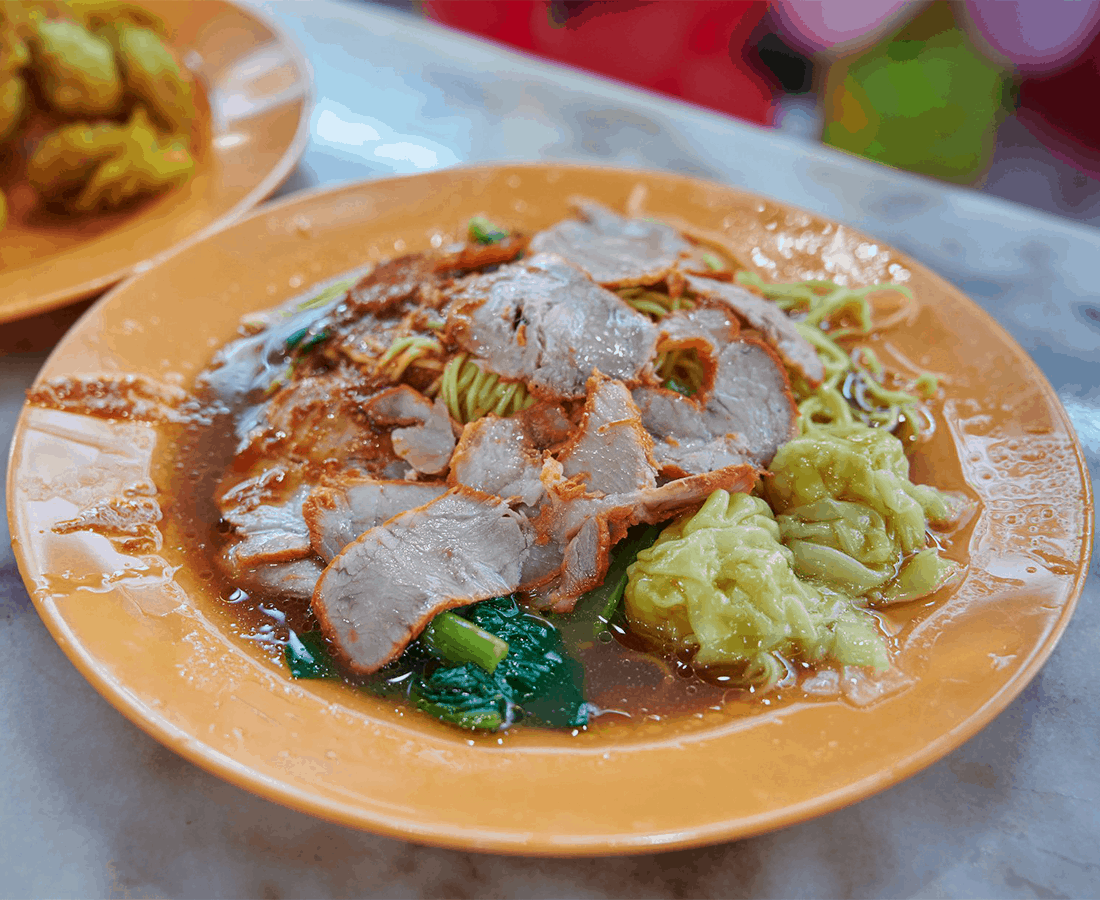 Touted as "the legendary wanton mee in Singapore", the stall's at 30 Foch Road sees loyal fans and new customers alike gunning for a taste of the famous Wanton Mee (S$5). What we love is how the springy egg noodles don't clump together and the secret recipe lard-based sauce worth S$2 million. The Dumpling Soup (S$5/6) is soothing and aromatic, and the Fried Wantons (S$7) are crispy and addictive. 
Kok Kee Wanton Noodle is located at 30 Foch Road, #01-02, Singapore 209276. Open daily 12pm-7pm. 
Koung's Wanton Mee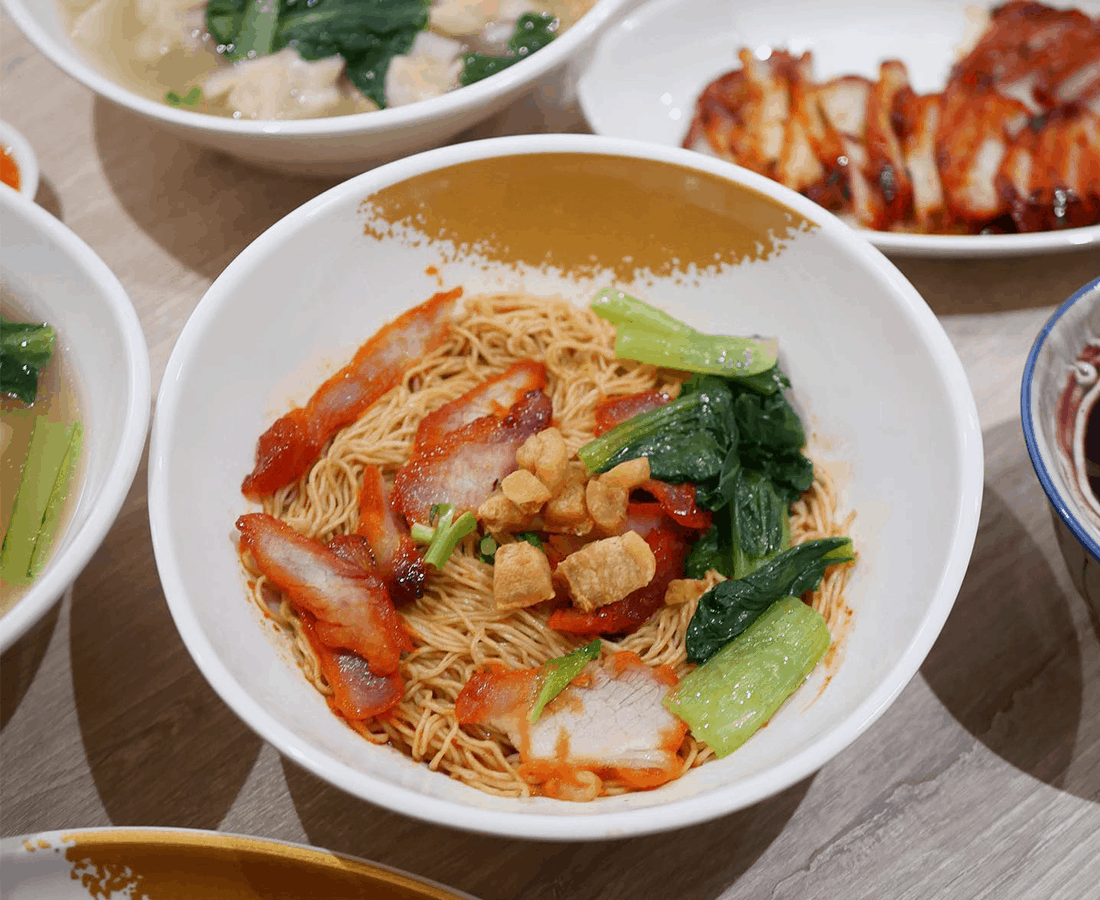 Uncle Koung has been dishing out hearty bowls of traditional Wanton Noodles (S$4/5) since 1964 in Geylang and luckily for the Westies, their first mall outlet is in JEM. The dry version sees egg noodles tossed in homemade chilli sauce accompanied by greens, slow-roasted char siew and smoky pork lard, paired with a bowl of plump, flavourful wantons bobbing in peppery soup. The soup version doesn't fall short in taste – in fact, we actually enjoy it more. The clear broth is made with a mixture of natural ingredients such as pork bones, herbs, dried scallops, and the wantons are also considerably bigger. 
Koung's Wanton Mee has two locations at 205 Sims Avenue, Geylang Lorong 21A, Singapore 387506 and JEM, #B1-K14, 50 Jurong Gateway Road, Singapore 608549. Open Mon 8.30am-7pm, Tues-Sun 8am-8pm at Geylang. Open daily 10am-9.30pm at JEM. 
Lo Chan Kee Cantonese Wanton Noodle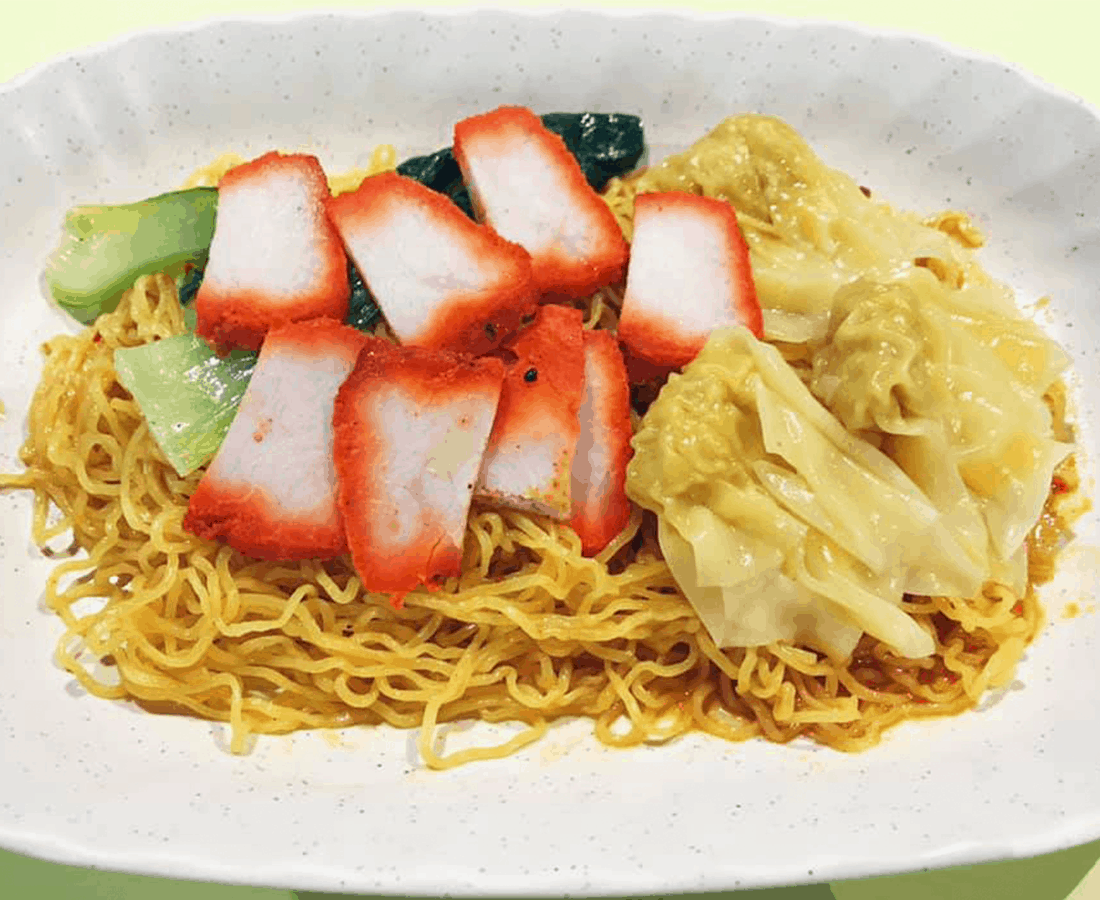 Tuck into Canto-style Wanton Noodles (S$3) at this hidden gem tucked away at Holland Drive Market & Food Centre. Handmade pork wantons, vegetables and slices of char siew adorn a bed of bouncy noodles in a flavourful sauce. For a more piquant punch, a request for more chilli will elevate this dish even further. The wantons themselves are on the smaller side, which is a bit of a pity because the succulent meat just keeps you wanting more. The Prawn and Pork Dumpling Soup (S$3) will do the trick.
Lo Chan Kee Cantonese Wanton Noodle is located at Holland Drive Market & Food Centre, #02-23, 44 Holland Drive, Singapore 270044. Open Mon-Thurs, Sat-Sun 5.30am-1.30pm. 
Wong Kee Wanton Noodles & Roasted Delights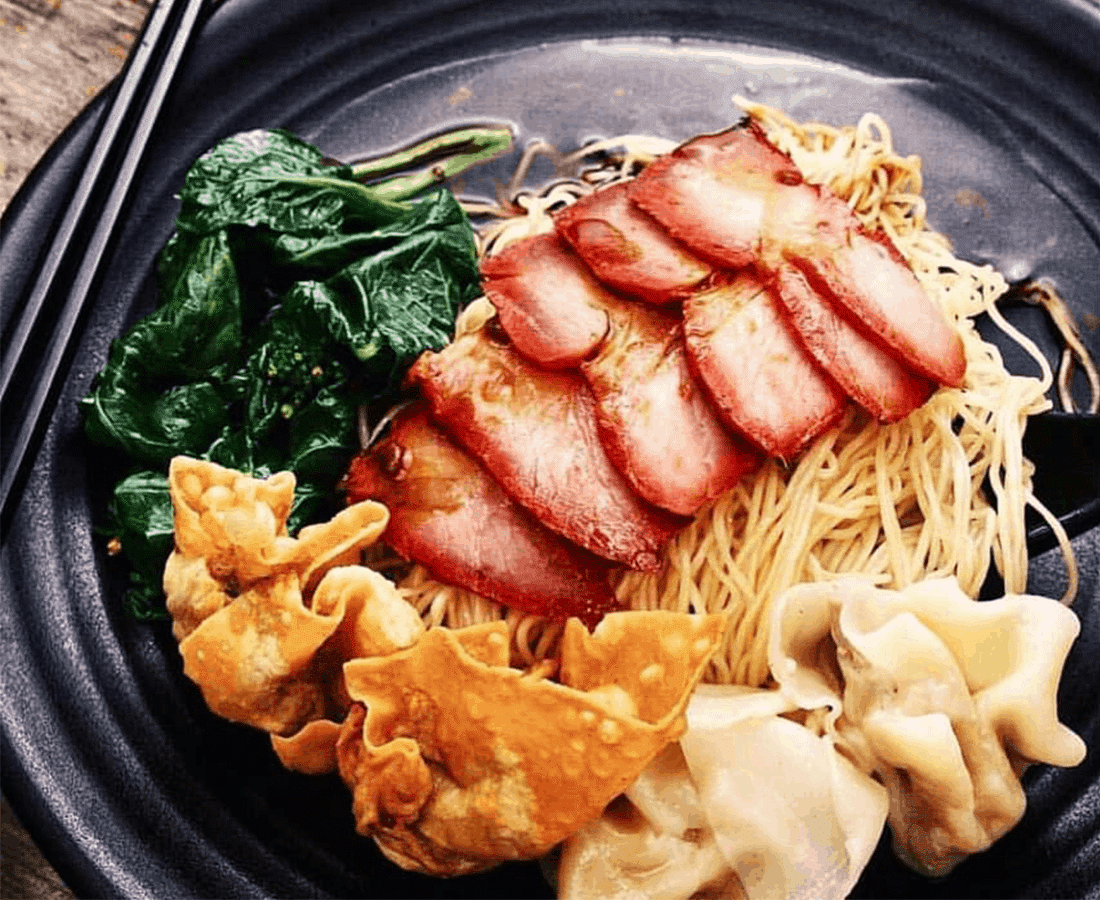 Join the long lines snaking through Timbre+ and Funan Mall for one of the most ingenious bowls of wanton mee on the island. Having switched from the banking industry to being a food business owner, Kelly Wong maintains quality control in the kitchen by preparing all her ingredients in-house from the chilli to the noodles. The latter comes in the original egg, spinach and tomato flavours and invites a vibrant shine to the dish. A little pricier than the average bowl of noodles, but the Char Siew Wanton Noodle Soup (S$10.60) will make you a believer. 
Wong Kee Wanton Noodles & Roasted Delights has two locations at Funan Mall, #B1-28, 109 North Bridge Road, Singapore 179097 and Timbre+, #01-06, 73A Ayer Rajah Crescent, Singapore 139957. Open daily from 10am-9.30pm at Funan Mall. Open Mon-Fri 8am-3.30pm, Sat 7am-2.30pm. 
Yong Chun Wanton Noodle
This is one for the early risers in the Bukit Merah vicinity. The shutters of this humble hawker stall go up at 5.30am to serve their customers who wake up at the crack of dawn with piping hot bowls of Wanton Noodles (S$3/4/5) and Shredded Chicken Horfun (S$3/4/5). What sets them apart from the other wanton mee stalls in the area is their 'Ma-Jie' style of cooking lean cuts of char siew in a wok instead of roasting it. The egg noodles stay springy over time and the wantons are meaty balls of minced pork and water chestnuts for the crunch wrapped in thick layers of skin. 
Yong Chun Wanton Noodle is located at 115 Bukit Merah View Market & Hawker Centre, #01-56, Singapore 151115. Open Mon-Weds, Fri-Sun 5.30am-1.30pm. 
Top Image: Koung's Wanton Mee