5 Things To Do This Week in Singapore: 16 October to 22 October 2017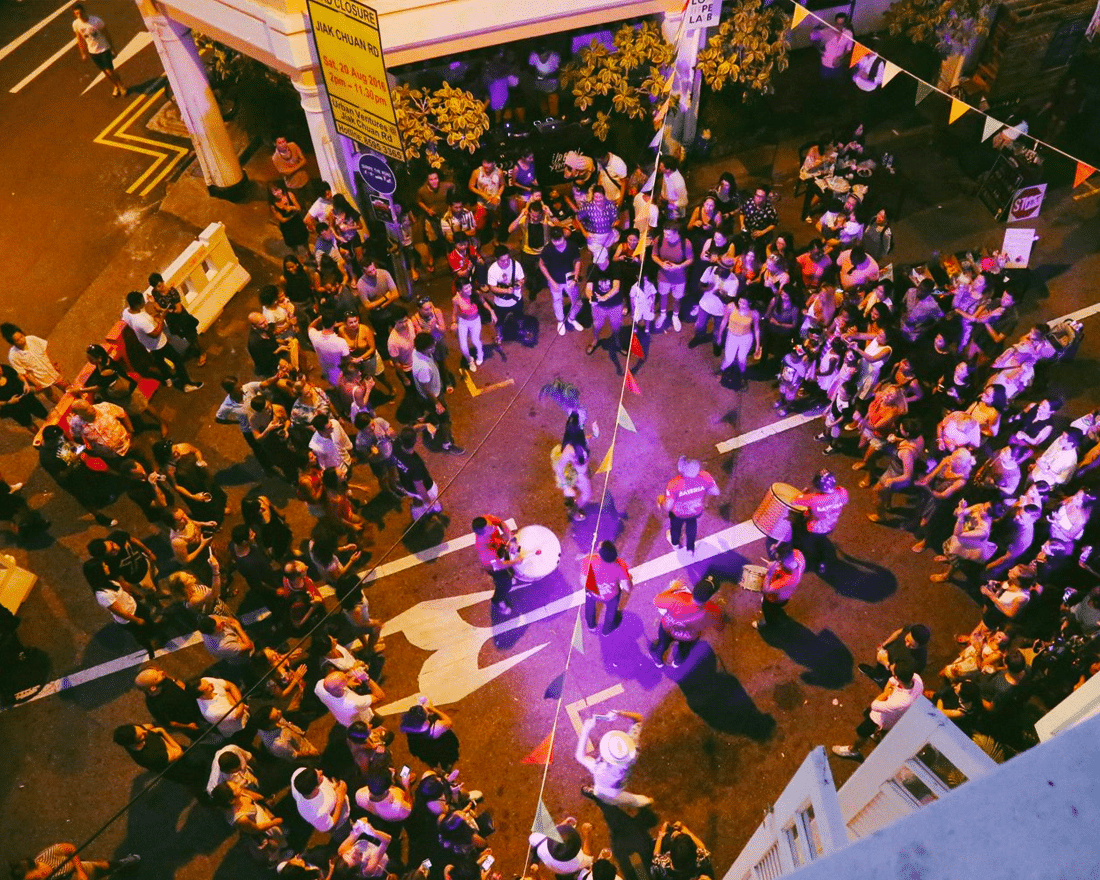 PUBLISHED October 15th, 2017 06:00 am | UPDATED May 14th, 2018 12:12 pm
This week, celebrate Symmetry's fifth birthday with free-flow BBQ at Kampong Glam and watch some of the world's most thought-provoking films at Singapore's only student-run film festival. Feel the itch to dance? Revel at Play by Ear's inaugural pool party series, and immerse in an epic street festival along Keong Saik Road over the weekend!
Symmetry turns five this month, and to celebrate, they're putting themselves under the knife, you know, for a little operation replete with free-flow BBQ food and stimulating drinks. There will be impressive live music and throwback tunes, a tarot card reader on hand to read your fortune, new artworks by street art maven Tell Your Children and illustrator AMIEN, as well as on-site activations by the cool Kelly Limerick and The Good Karma. Because a little partying never hurt anyone.
Celebrate Symmetry's 5th anniversary on Friday, 20 October 2017 at Symmetry from 6.30pm – 9.30pm. Priced at $50 nett, make your reservations via the Facebook event page here.
The annual Perspectives Film Festival is back to inspire, provoke, and engage from Friday this week. Run by students from Wee Kim Wee School of Communication and Information at Nanyang Technological University, this 10th-anniversary edition sees the theme of 'Rebels', featuring films such as the grueling City of Ghosts (nominated for Grand Jury Prize – Documentary, Sundance Film Festival), a digitally restored Black Girl, and a seminal representation of the swinging sixties in Blow-Up (Winner of Palme d'Or – Cannes Film Festival). And to close off the festival, how about Wong Kar Wai's masterpiece, Days of Being Wild?
Perspectives Film Festival is running from 20 to 29 October 2017 at various locations around the island. For more details, check out the Facebook page.
We also see Singapore's first and largest independent animation festival, Cartoons Underground, returning for its sixth year, bringing with it a new set of awards for the best animation from the region and the world. This time, you the audience are the judges for the inaugural 'People's Choice Award' for best local film, so grab a heaping bucket of popcorn and watch away. Highlights this year include award-winning animated films by directors like Spela Cadez, Nari Jang, Javad Khajavi, and Miyako Makio – just three out of 13 awesome films to be screened. Everything is free, but don't forget to donate if you enjoy the festival.
Cartoons Underground 2017 is happening on Saturday, 21 October 2017 at Kult Kafé from 6.30pm. Admission is free with registration via EventBrite. For more details, check out the event page here.
Play by Ear is launching its very first edition of the Elemental pool party series, featuring tunes powered by DJs Satish Kannan and Jeevan Leroy from Singapore, Jeck Hyde of the popular Rehyderate series, and Derechef, a regular in the French DJ circuit. Nestled in a rooftop garden full of lush foliage and a sparkling pool, expect delectable small plates from $8, drinks and fresh juices from $7, and complimentary metallic tattoo art to spice things up!
Play By Ear presents Elemental is happening on Saturday, 21 October 2017 at One Farrer Hotel & Spa from 4pm – 12am. Priced at $15 (advanced, book here) or $25 (door), inclusive of a standard drink. For more details, check out the event page here.
The Urban Ventures movement, which has taken over the streets of Keong Saik Road many times over, has returned to become the talk of the town. Come dressed in your grooviest party outfit and be entertained by local musicians like Terrible People and Subsonic Eye, watch Singapore's best drag queens (Yeast Monster, Lily Elle, and Dahlia Rose), shop the artisanal market, and enjoy scrumptious F&B offerings by Park Bench Deli, Ho Rang I, Neon Pigeon, and plenty more. Also new this time is a fascinating sunset beer yoga session, a Segway obstacle course, a pop-up by the Affordable Art Fair, and a 'Stories of Keong Saik' historical tour!
Urban Ventures 7 is happening on Saturday, 21 October 2017 along Keong Saik Rd from 4.30pm – 11pm. Admission is free. For more details, check out the event page here.