Where to Eat in Kampong Glam, Singapore: Restaurants and Cafes For Halal Food, Middle-Eastern Cuisine, and More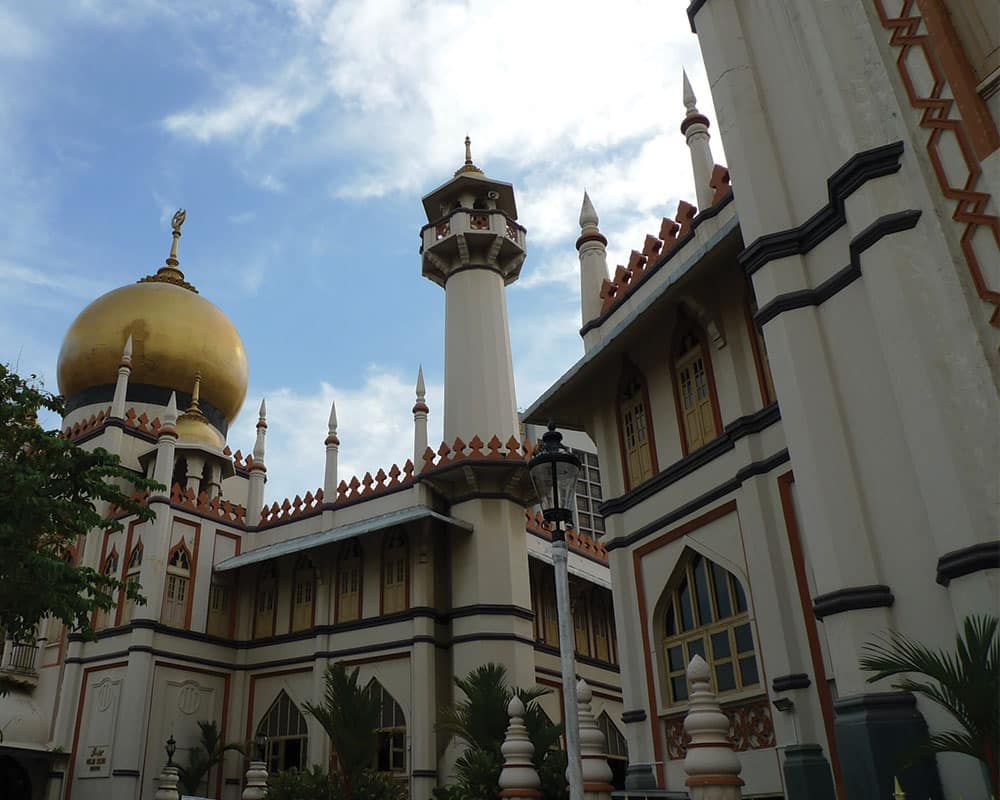 PUBLISHED September 15th, 2017 08:00 am
The Kampong Glam neighbourhood in Singapore, symbolised by the exquisite Sultan Mosque, has been synonymous with Malay and Muslim culture since time immemorial. Post shisha ban, the precinct has seen new restaurants and cafes popping up in the pretty shophouses that line the narrow lanes, in particular: Bali Lane, Haji Lane and Kandahar Street. Here are 9 dining spots that encapsulate the story of Kampong Glam, showcasing some super traditional Malay food, Arab-esque cuisine, and a couple of places catered to the millennials.
---
For more eat & drink hubs in Singapore, why not check out our guide to the still gritty 'hood of Jalan Besar or the more polished Tras Street?
---
Kampong Glam Café: The quintessential Arab Street eatery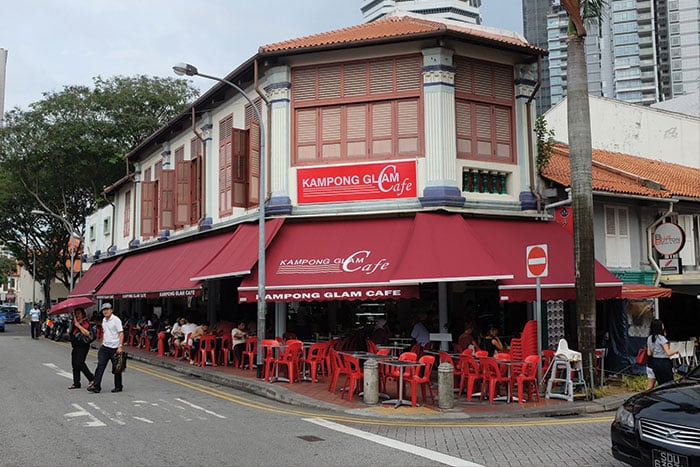 It's pretty much impossible to miss this place. Taking up the entire corner of Bussorah Street and Baghdad Street, Kampong Glam Café is something of an institution. While most people opt for their nasi padang and nasi lemak, their best two dishes in our opinion are their roti kirai (noodle pancake with chicken curry sauce) and mee rebus. Their mee rebus on the other hand, topped with crispy onion and chilli, offers a superb spicy coconut curry sauce for the sumptuous egg noodles.
Kampong Glam Café is located at 17 Bussorah St, Singapore 199438, p. +65 6294 1697.  Open daily 8pm – 2am.
Bumbu: Indonesian and Thai flavours combined in a beautiful Peranakan setting
Bumbu combines classic Indonesian dishes with Thai flair. This is a great place to come as a family or big group and really go to town on the orders. Whilst the majority of the menu (halal-certified) is crammed with flavour, we would recommend three dishes specifically: the tahu telor (deep fried tofu egg dish), olive fried rice, and the coffee chicken which is out of this world. Be sure to try some of the 'curried' dishes as well to soak up the rice.
Bumbu is located at 44 Kandahar St, Singapore 198897, p. +65 6392 8628. Open Tue-Sun 11am – 3pm, 6pm – 10pm. Closed Mon.
Beirut Grill: Bussorah Street's Middle-Eastern Haven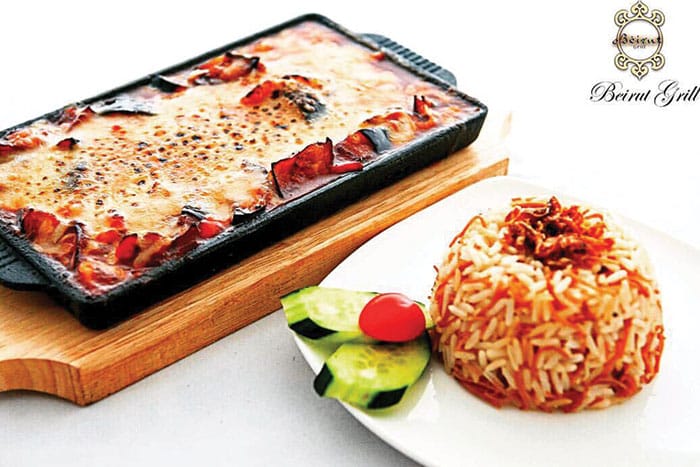 Whilst the Arab Street area is lined with Middle-Eastern and Turkish restaurants, one of our go-to spots is this restaurant located down the quieter Bussorah Street: Beirut Grill. Offering traditional cuisine with authentic ingredients from Lebanon, feast on favourites such as creamy hummus, baba ghanoush, tabouleh and juicy kebabs. If you fancy a drink afterwards, just head upstairs to their Magic Carpet Lounge.
Beirut Grill is located at 72 Bussorah St, Singapore 199485, p. +65 6341 7728. Open Mon-Thu 11am – 11pm, Fri-Sun 11am – 1am.
The Beast: American meat and booze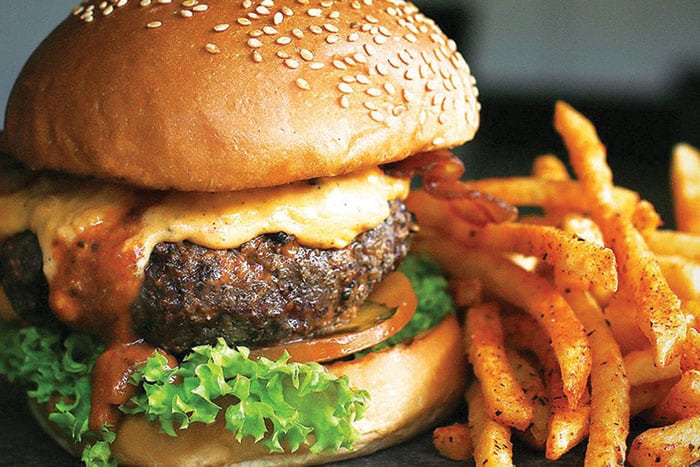 At the total opposite end of the Arab Street spectrum is The Beast. With a superb range of American whiskies and cocktails dominating the shelves, expect typical American BIG stuff, like their 'The Beast Burger', 1.6 pounds of juicy beef patty, one pound of slow cooked pulled pork and 1 pound of southern buttermilk fried chicken in this total monster of a burger – it takes four people to finish this dish. At night, the first floor at The Beast turns into a chill bar with live music, open mic nights and reasonably priced beverages.
The Beast is located at 17 Jalan Klapa, Singapore 199329, p. +65 6295 0017. Open Mon-Wed 5pm – 12am. Thu-Fri 5pm – 1am. Sat-Sun 11am – 12am.
Working Title Burger Bar: Serving Up Halal Patties in Toast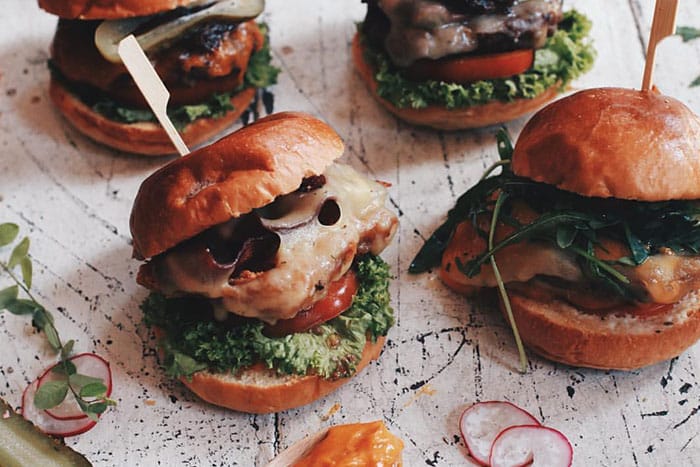 Burger lovers will also be pleased to check out Working Title's menu of patties sandwiched between toasted buns. With over 15 burgers available, treat yourself to the gourmet offerings with their signature smoothies to match. Best of all, the ingredients used are halal – keeping the place accessible to all.
Working Title Burger Bar is located at 48 Arab St, Singapore 199745, p. +65 8248 2841. Open Mon-Thu 11am – 10pm, Fri 11am – 11pm and Sat-Sun 10am – 11pm.
Byblos Grill: Firing Up Authentic Eats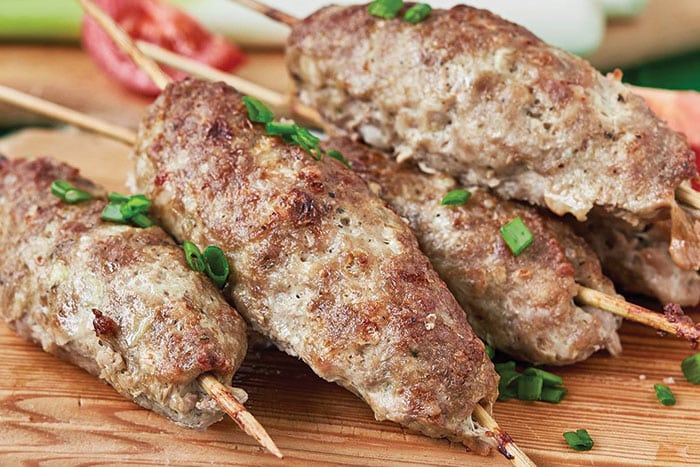 Another of our favourites for Lebanese cuisine, Byblos Grill on Bussorah Street serves straight from the grill to your plate. Through signature recipes from Mohamed Salim, a chef with over 15 years' experience in food and beverage worldwide, enjoy charcoal-grilled highlights including the Byblos Beef Steak and Lamb Kofta. A "like" on their Facebook page entitles you to 15% off your meal as well, so check out their social media promotions.
Byblos Grill is located at 14 Bussorah St, Singapore 199435, p. +65 6296 8577. Open daily 11am – 1am.
Piedra Negra: For Authentic Mexican Grub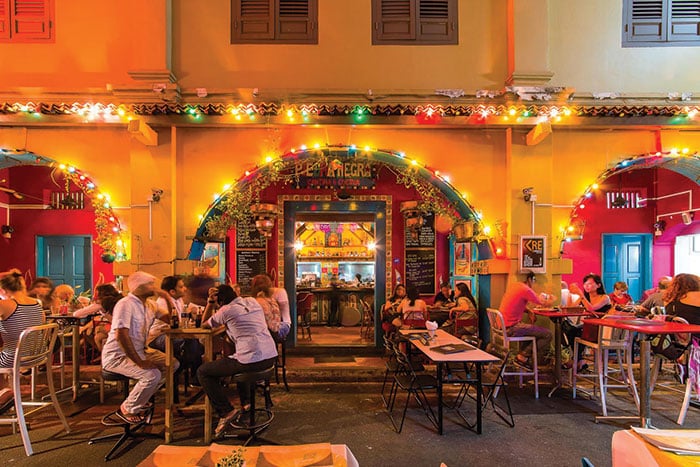 Within popular tourist spot Haji Lane is Piedra Negra, home to traditional Mexican cuisine for you to get your fix. Brightly decorated in bright, Mexican-inspired motifs, order up Guacamole with Tortilla chips (served in a mortar) and Mango Madness Ceviche with a Margherita to match with a group of friends and toast the end of the week – or any day that calls for a celebration.
Piedra Negra is located at 241 Beach Rd & Haji Ln, Singapore 189753, p. +65 6291 1297. Open Mon-Sat 12pm – 1am. Closed Sun.
Pita Bakery: Bread and Hummus Unite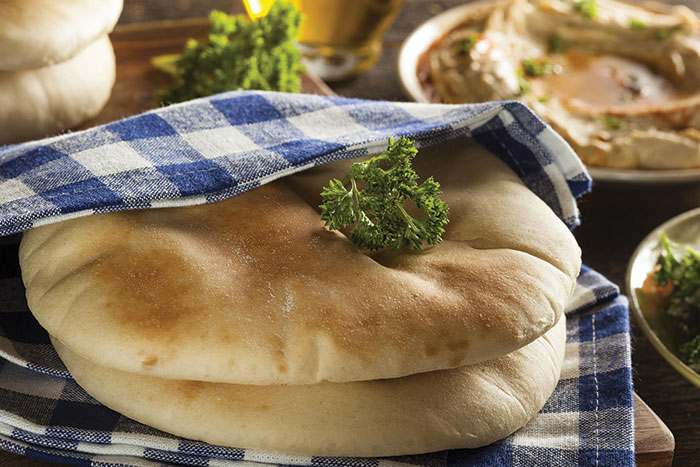 Think of a round flatbread paired with hummus, baba ghanoush and other ingredients and you'd think of the Middle Eastern pita. It's a rather difficult bread to find fresh in Singapore – unless you've heard of Pita Bakery in Bali Lane, where a large variety of homemade (now vegan) spreads are available for the picking. Take a trip down to enjoy the bread straight from the oven, starting from just $1.
Pita Bakery is located at 29 Bali Ln, Singapore 189865, p. +65 6635 6256. Open daily 10am – 8.30pm.
13% Gastro Wine: A Toast to European Sharing Plates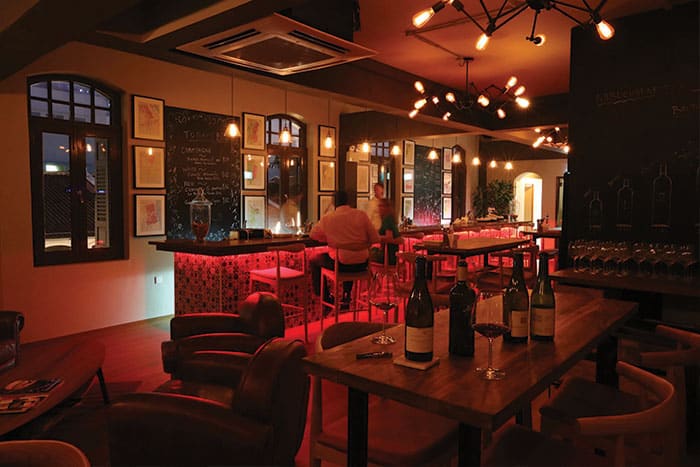 Best known for their quality wine from a curated list of vineyards, 13% Gastro Wines offers sharing portions of Modern European dishes with their pours. Not feeling like a huge meal with your glass? A selection of imported cheeses is also available – or you could go with the signature 13% Camembert (Baked Camembert, honey and thyme twist, grilled bread) bread and cheese all in one dish.
13% Gastro Wine is located at 14A Aliwal St, Singapore 199907, p. +65 6291 6816. Open Tue-Sat 5pm – late. Closed Sun-Mon.

Top Image: Courtesy of phuongkim1981