8 Women – A stylish murder mystery with a touch of "Je ne sais quoi"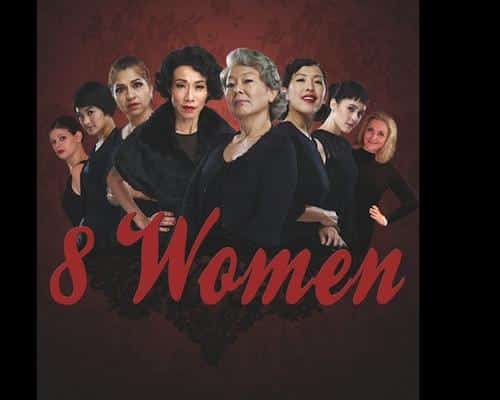 PUBLISHED March 13th, 2013 01:31 am | UPDATED May 17th, 2016 05:12 pm
If you relish Agatha Christie's murder mysteries and playing 'the detective', Sing'Theatre's upcoming production of 8 Women is right up your street.
The murder mystery play is set in 1950's France, a few days before Christmas.  A man is found murdered in his country mansion but who could have 'dunnit'?  The plot of the play by Robert Thomas seems to have a familiar ring to it: a wealthy patriarch is found in his bed with a dagger in his back. It is the middle of winter and his secluded country mansion is surrounded by deep snow. The telephone line has been cut and the car tampered with (remember Agatha Christie's play 'The Mousetrap'?).  There are eight characters with both motive and opportunity for murder. But then the difference hits you: all eight of the main characters are female. The only male is dead.
In 2002, French director, Francois Ozon's film 'Huit Femmes' (8 Women) was a huge hit.  The film of the play was made as a murder mystery musical and its cast list included the crème a la crème of French cinema – Catherine Deneuve, Isabelle Huppert, Fanny Ardant and Emmanuelle Beart (to name a few).  Each actress played tongue-in-cheek caricatures, from a scheming sister to a glamorous wife and bookish daughter, dressed in 50's couture.  Similarly, Sing'Theatre's production, directed by the hugely talented Samantha Scott-Blackhall, features a very accomplished and multi-generational cast of well-known names such as Tan Kheng Hua, Daisy Irani and Neo Swee Lin.
The plot unwinds like a live action game of Cluedo.  Was man of the house murdered by his powerful and beautiful Singaporean wife (Tan Kheng Hua), with a knife or his spinster sister-in-law (Serene Chen), with poison? Or was it his miserly mother-in-law (Neo Swee Lin), with a rope?  Or maybe it was the seductive French chambermaid (Morgane Stroobant) or the devoted Indian housekeeper (Daisy Irani), with a pillow? The perfect elder daughter (Sophie Wee) and the playful younger one (Julia Abueva) are not beyond suspicion either. A surprise visit from the victim's sister (Kimberly Creasman) sends the household into more confusion!  As events unfold, we discover each woman has a motive, each a plan, and someone is hiding the biggest secret of all – the Murderer!
Director Samantha Scott-Blackhall gives us her insights on the play:
What is the appeal of 8 WOMEN?
The play captured my attention from the word go. It's got murder, it's got mystery and it's got eight women, all suspects, trapped in a house with nowhere to run! Armed with some of Singapore's best talents, I'm very excited to showcase the once very famous French film to our audiences here.  I can confess my excitement about the conceptualization of this play. After several missed windows to work with Sing'theatre we finally have a chance to embark on this production of mayhem and mystery together. And I can't say too much, but I have a few secrets up my sleeve too…
Will there be any similarities to the Francois Ozon Film?
My attraction to directing the play came in part from watching the film. Francois Ozon adapted the play script in such a way that simplified the story and upped the comedy-thriller element. His cinematic vision injected a certain 'style' and 'sexiness' that the play did not. Of course, I am not directing the film on stage. However, I've been inspired by Ozon's direction and am hoping to incorporate a sense stylisation that finds its roots in film, such as 'close-ups', crossfade, mis-en-scene and underscoring. On top of which I'm working with an awarded cast of women…that kind of matches what Ozon did too!
Why will this play appeal to an audience in Singapore?
Because it's a MURDER MYSTERY! Who doesn't like the guessing game of such a plot! This play is like Cluedo meets CSI meets Steel Magnolias! And the women keep you on your toes with their wit, backstabbing and buffoonery! The fun part is trying to work out "who dunnit?" And I promise, you'll be shocked by the answer…
Any comments about the cast of 8 women actors?  What are the challenges they face in this production?
I'm thrilled to be working with such incredible actresses! Not just pretty faces, these eight women are intelligent and talented and know how to have fun. It's a bit like going to a party when going to rehearsals! Everyone talks at the same time, has something relevant to say and wants to just get on their feet! The challenge is letting them have fun but pulling in the reigns when there's decisions to be made! But don't worry, I'm like the Mama-san, totally in control of the house.  The biggest challenge with a play like this (besides managing EIGHT women!) is crafting the dramatic elements to support the suspense in plot. I try to channel the spirit of Alfred Hitchcock!!!  This murder-mystery dark comedy will keep you entertained and guessing until the very, end!
About Sing'Theatre :
Sing'theatre, helmed by Artistic Director, Nathalie Ribette, is a non-profit theatre company created in 2006 to promote cultural exchanges and to contribute to Singapore's nationwide efforts to bring arts and culture to everyone, everywhere, every day.  'It is the first local company to present shows in English with Singapore-based artists drawing on French cultural heritage', says Nathalie, who has produced shows such as 'No Regrets – A Tribute to Edith Piaf' and 'A Singaporean in Paris', which starred some of the best Singapore-based artists such as Hossan Leong and the late Emma Yong. Sing'Theatre's Asian Premiere of 8 Women also celebrates International Women's Day, which falls on the 8th March every year.  Nathalie is keen to involve Sing'Theatre in outreach projects.  The theatre group is working on a large Community Outreach program, to bring theatre and music to the ones who have no access to it, like in the hospitals.
I would like to share with you a very exciting project we are launching: 'The Music Day at Singapore General Hospital', on 21st June. This event will bring music all day long throughout the SGH and engage the whole hospital community.  We hope to set a date to remember for the whole Singaporean hospital Communities. » says Nathalie.
"The Music Day @ SGH" will feature a series of 60 musical performances with artists performing in wards, corridors, cafeteria, gardens, and lobbies…
So, a murder mystery on stage and performances in hospitals – keep a lookout for more interesting developments from Sing'Theatre….
8 WOMEN will run from 29 March to 7 April 2013 at SOTA DRAMA THEATRE.  Ticket prices start from $50 and are available through SISTIC here.
For those interested, Balzac Brasserie is offering a three course menu @ S$58 with a free glass of wine to 8 Women Tickets holders from 29 March to 7 April.