A Weekend at Villa Templeberg, Galle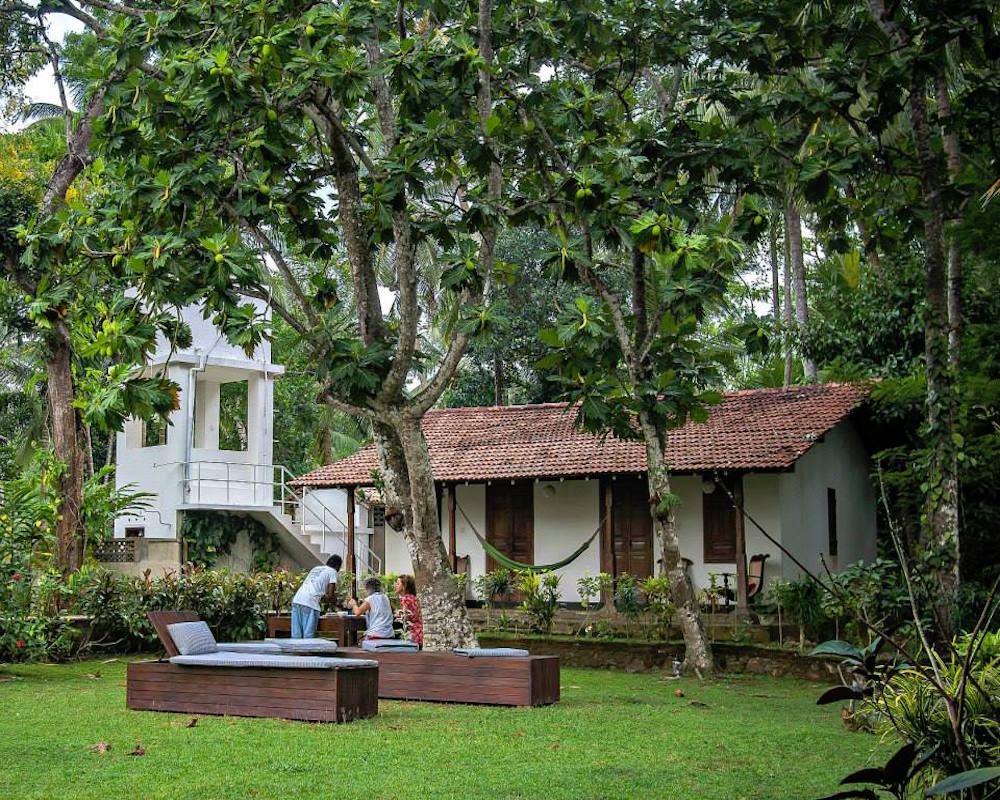 PUBLISHED September 30th, 2014 04:00 pm | UPDATED June 11th, 2017 10:58 pm
A largely Buddhist country steeped in ancient folklore and the traditions of Ayurvedic medicine, a deep peace hangs in the air of Sri Lanka. As one guide put it succinctly, 'In your country, I hear, the women work like machines, here the Sri Lankan women have much time to relax and to sleep and to amuse themselves'; it's as good a reason to sample the Sri Lankan life as any I have heard.
Our home for the weekend – it felt much more like a home than a hotel – was Villa Templeberg, a stunning, Dutch colonial villa complex perched on a hill above Galle, the administrative capital of Sri Lanka's Southern Province dotted with coconut plantations and ancient temples. Here, your days begin and end as you choose. Some guests rise at dawn to drink tea in the garden and await the daily arrival of the local purple-faced monkeys dashing through the surrounding jungle in search of jackfruit, while others laze their mornings away in the beautiful rooms sleeping in, reading, or catching up with the day's news (yes, they have working wifi!) before emerging to greet this idyllic world.
Meals, served whenever you wish, are a constant delight. Talented, passionate and always on the verge of laughter – particularly during our cookery lesson when faced with my ineptitude! – Trixie, the cook, is a force of nature. Following the Sinhalese tradition of lightly spiced curries infused with coconut milk, fresh curry leaves, tamarind and garlic in various combinations, each meal (charged at a flat rate of $15 per person) contains no fewer than 6 elements: meat or fish, 4 different vegetable dishes and rice and/or poppadoms). We were hooked!
Breakfast, included in the room rate, begins with a feast of homemade yoghurt, cornflakes and a huge platter of exotic fruits, followed by the day's local surprise. My personal favourite was 'egg hoppers', a thin pancake cooked in a bowl shape, with a poached egg inside, served with homemade chutney and onion sambal, but we also sampled delicious thdosai and a kind of brown rice cake.
Keen to explore? There are two stunning ancient temples a short walk from the villa. For trips further afield, one of the villa's charming staff will drive you around the local region in a tuk tuk. Sample the delights of the Ayurvedic Herb & Spice Garden (free to enter, but donations requested for a demonstration massage, and the inevitable 'exit through the gift shop'), a local Kosgoda Turtle Conservation Centre (Rps. 500 entry), and the Handunagoda Tea Estate, a 140 year-old, family-owned tea estate still powered by its original 250-year old engine made by the same company who built The Titanic.
On our second day we ventured out to Galle Fort, a blend of the ancient and the modern as the 17th century citadel walls are now lined with boutique shops and little cafes. This is one of the best opportunities for shopping during your stay, look out for the beautiful jewellery.
If all of that sounds a bit too much, stay in with a book, a cup of tea and the sounds of the jungle while you await the arrival of the supremely talented Ayurvedic masseur. As both an experienced consumer and a tough critic, this massage definitely made it to my top 3 massages ever. For a blissful 90 minutes, you're gently lulled into a state of utter relaxation with essential oils and long sweeping strokes which quietly remove the tension from your muscles, and your mind.
As the sun sets each evening and the monkeys retreat from view, the world naturally slows a little. And despite being hardened night owls, it was all we could do to keep our eyes open past 9pm.
As much as we couldn't bear to leave this little piece of paradise after just 3 days, we returned to Singapore with minds and bodies more relaxed and refreshed than they have been in years. If we work like machines in Singapore, then a good tune-up like this is exactly what we need!
We flew from Singapore to Columbo, followed by a 2.5-hour taxi ride to Galle (US$100 each way). For more information and to book your stay at Villa Templeberg, see website. Rates start from US$95 a night.
---
Written by Lucy Berry