Bar Review: Flower Powered Cocktails and Comfort Food at Fancy, North Canal Road, Singapore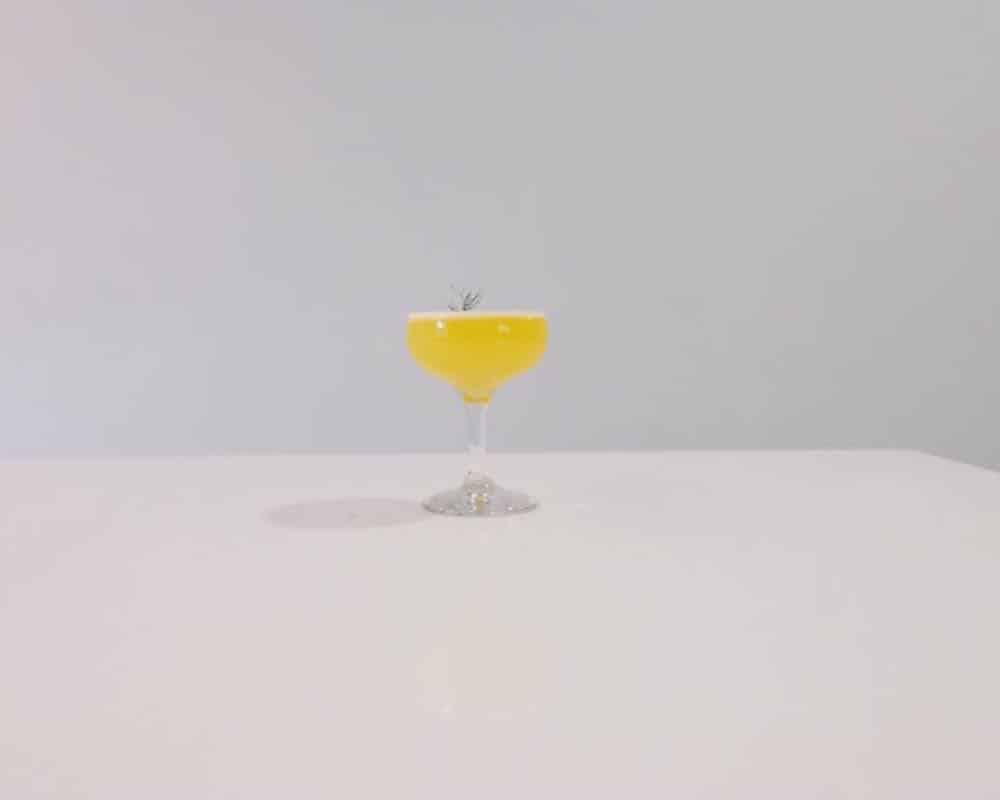 PUBLISHED June 19th, 2018 05:00 pm | UPDATED May 18th, 2020 04:23 pm
Step into the threshold of Fancy for a heavy dose of irony, because contrary to the name, there's nothing fancy about this relatively new bar – they opened March this year – on the fringes of the CBD. With bare white walls (save a lightbox with quirky messages) and monochrome furniture, you'll be hard pressed to find a more minimalist bar, or even restaurant, in Singapore. While we're contemplating if they were too heavy handed in trying to be unpretentious, the youthful and earnest team managed to swing it around.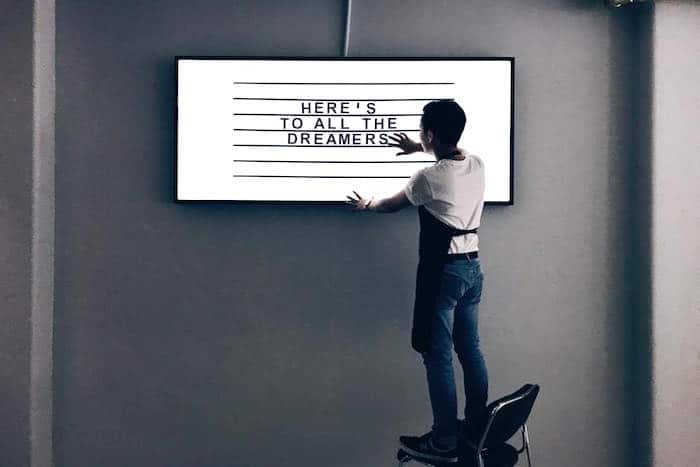 Guests are in good hands; both Principal Bartender Sin Kim Shin and Senior Bartender Jayden Ong were formerly from Amoy Street classic cocktail bar Jigger & Pony and the rum-and-grill focused Sugarhall respectively. Expecting Fancy to be a cocktail bar in essence, we were surprised to meet Head Chef Tay Yi Xian, whose previous stints include the now defunct Angeleno's, and seemed poised to deliver food more refined than the usual bar grub (and he does).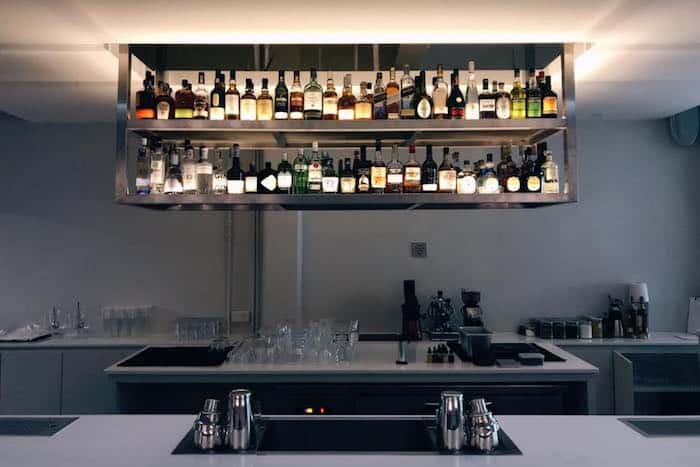 Priced at $22++ per cocktail, Fancy's current tipple menu is made up of classic cocktails enhanced with a dash of flower power, and all 12 are named after the particular bloom that's the featured ingredient. Lavender, for example, is a twist on the Bellini with pear, orange, sage, and bubbly. A tricky ingredient where a little goes a long way, Fancy's Lavender balances the floral notes with the fruitiness of the pear, slight herbacity of the sage, and a dry finish with bubbly. The Rosella is also well used in a refreshing and fizzy cocktail with rum, grapefruit, sparkling water, and Campari to give it abit of an edge. In catering to larger groups and parties, these two cocktails are available in a punch bowl format at $210++.
We gave the vodka-based Elderflower a whirl, and we reckon it's too subtle in Fancy's version of the Bloody Mary. The floral notes got slightly lost in the savoury clamato juice (tomato juice flavoured with spices and clam broth) and jalapeño. The Saffron, made by shaking tequila, pineapple, orgeat, lime, and egg white, was the hot favourite of the night. Possibly one of the best tequila sours in Singapore. Good foam, impeccable balance, and they made this unlikely combination work. If you're feeling in the mood for Harry Potter (this is not a joke), the Orange Blossom is in fact, inspired by butter beer. A shaken cocktail of calvados (apple brandy), butterscotch, egg white, and orange blossom water, the texture of this aromatic cocktail is lovely.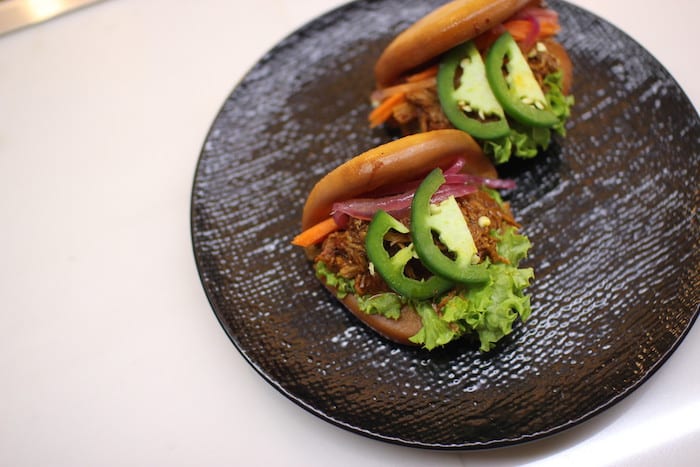 In between drinks, we tried Chef Tay's Pulled Pork Buns ($20) and Pan Fried Risotto ($22). We've had many baos since fusion kitchens started mushrooming up across Singapore, but we haven't seen one made with this much care in a bar setting. Despite the deep fried mantou, it's more Mexican in DNA than Chinese. The pulled pork is covered with banana leaves and cooked for four to five hours before going between the bun alongside pickled carrots, onions, and jalapeño. All the vegetables are pickled differently – the onions in Japanese vinegar, and the carrots in apple cider, star anise, cinnamon and coriander – which add to the different layers in the dish.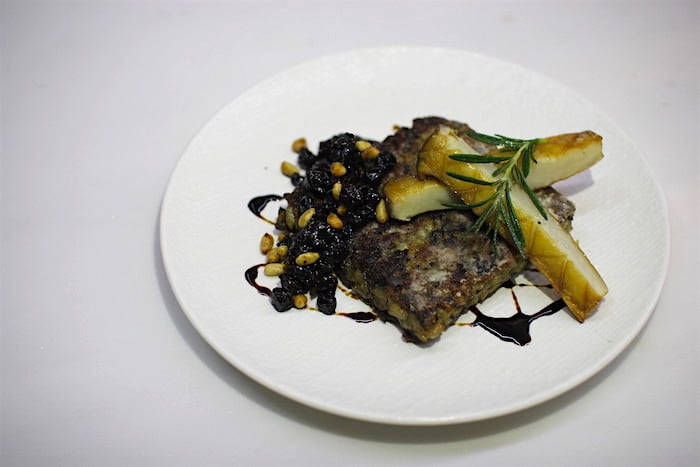 The colours might not be beautiful and it also felt more confused, but the vegetarian risotto was on the right side of tasty. Presented more like a glutinous rice dumpling, this crisp exterior of the risotto belied the moist interior while the balsamic glazed currants and pine nuts gave more acidity and texture to the umami mushroom flavour.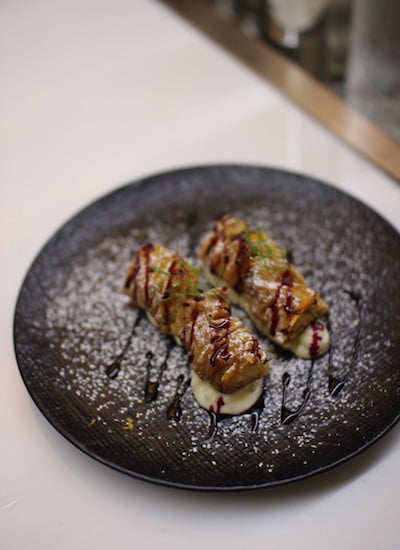 We finished up our night at Fancy with a Rolled Filo ($16), something we've been looking forward to since we spotted it on the menu. Filled with ricotta cheese infused with cardamom and orange zest, the crisp filo rolls are accompanied with an assortment nuts and topped with orange zest and a drizzle of balsamic vinegar. Calorific it may be, but worth ordering – great balance of flavours here.
For an establishment that so many people have defined as a cocktail bar, the food is a little too good (and a little pricey) if you're just looking for bites to go with those pollen-themed tipples. There seems to be no clear direction with the food menu, which might or might not work in Fancy's favour.
However, for those who are avoiding the spot due to the floral cocktails, the bartenders manage that part of things well, with most of the cocktail well-balanced on the palate. Fancy has a lot of potential, it just needs more polishing. We've already been back a few times for drinks, and we'll be awaiting their next cocktail menu in anticipation.
Fancy is located at 35 North Canal Road, #01-01, Singapore 059291, p. +65 6535 0332. Open Mon-Sat 5pm-12am. Closed Sun.
Top image: Saffron
Food images courtesy of Sylvester Fedor.