Bar Review: MO BAR at Mandarin Oriental Singapore Has an Adventurous New Menu Inspired by Urban Asia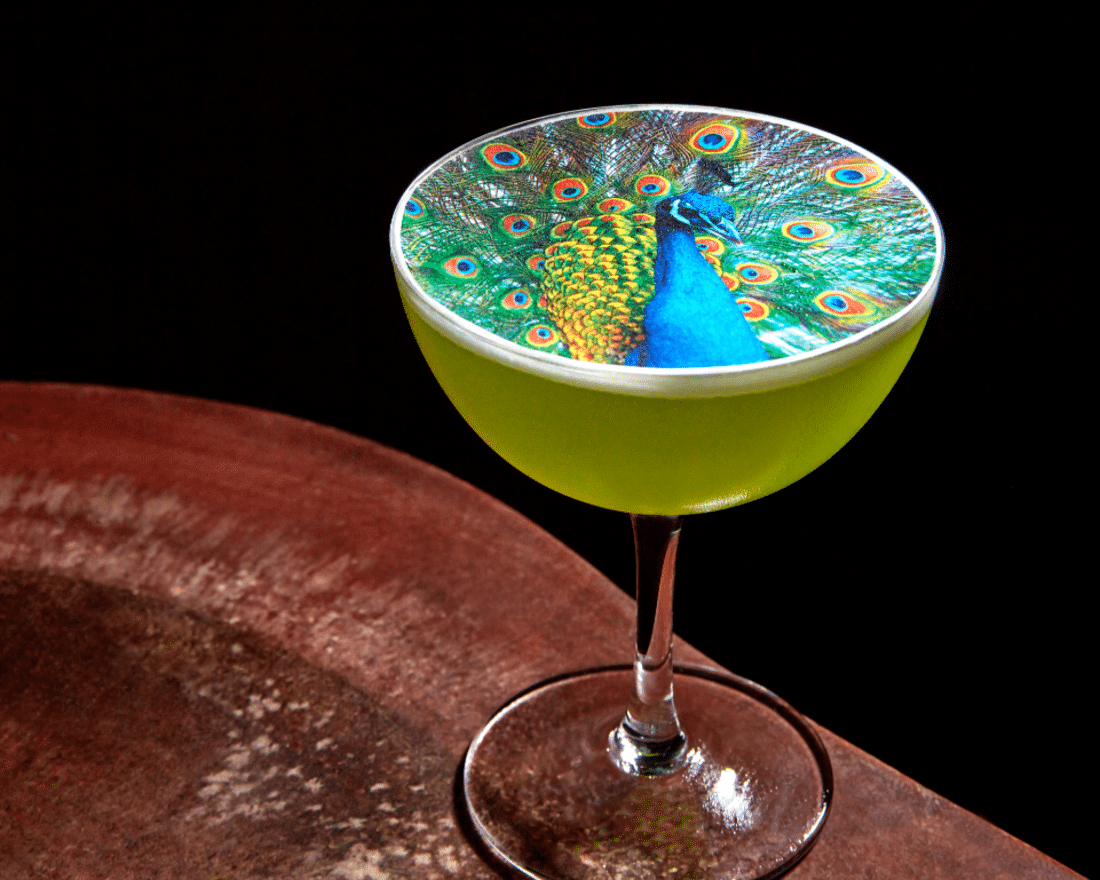 PUBLISHED January 13th, 2020 05:00 am | UPDATED May 18th, 2020 06:52 pm

Those with a taste for travel will find kindred spirits in MO BAR, Mandarin Oriental Singapore's swanky watering hole with a view. Having set sail all across Asia-Pacific waters with their previous nautical-themed menu, Bar Manager Michele Mariotti and his team are taking us deep inland with their intriguing second volume of tipple adventures, freshly launched last December.
The past year has seen the MO BAR team a-questing across urban Asia as part of their 'Nomadic Foragers' programme, exploring markets with local experts and nosing out herbs and spices unique to each city. Now, they've become tour guides in their turn. The revamped spread of 16 drinks (including four mocktail options) amount to a tippler's tour of cultural flavours in the region, both traditional and modern.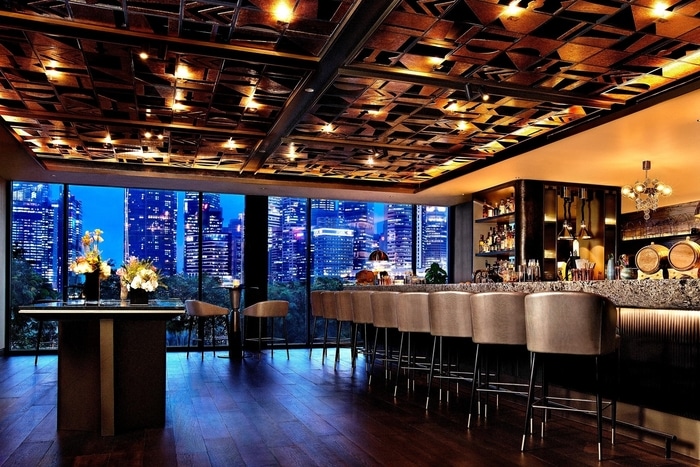 Like a storybook – or passport, Michele suggests – each exquisitely crafted page on the menu regales us with the travel experiences behind each tipple, peppered with sketches of the folks and finds that inspired them. The bar has also taken the unusual step of arranging all drinks from lightest to heaviest alcohol content – a handy roadmap of sorts for your night, though straying off the beaten path is certainly welcome.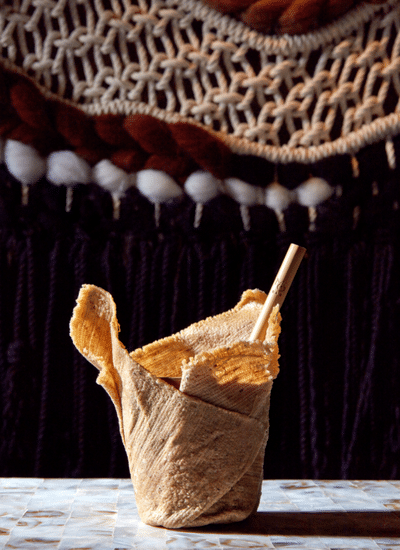 As dusk falls, we sink into plush loungers and ease into things with a mocktail. The Shanghai-inspired Silk Market (S$12) offers a light opener to mark the golden hour (dazzling against the Marina Bay skyline through the bar's full-length windows). Presented in a vessel clothed in woven pineapple fibre, this smooth serve balances tangy mandarin with buttery honey and corn.
For the inveterate tipplers, there's also a lovely if pricey alcoholic version (S$24). A dose of Peddlers Gin –  China's first locally-distilled craft gin – accentuates the drink's floral notes and adds a surprise zing of peppery warmth to the finish.
We foray into Hong Kong with T and T (S$22), a refreshing homage to Michele's guest shift at agave-centric bar COA. Arquitecto tequila, lemon verbena, and fig aren't quite flavours you'd think of as native to Hong Kong, but this bright, fizzy tonic deliciously captures the city's cosmopolitan buzz.
Those familiar with MO BAR's previous menu might recall the Halong Bay-themed Mother of Dragons – a striking pink number, topped with an intricate dragon print that was much immortalised on Instagram. Their fresh tribute to Vietnamese myth is just as show-stopping. The Harvest Queen (S$24) shows off a plumage of peacock feathers printed on rice paper, sitting pretty atop a ripe blend of apple and guava laced with grassy-sweet Sampan rhum. With a dash of egg white to enhance the guava flesh's silkiness, this tipple slides down the throat a treat.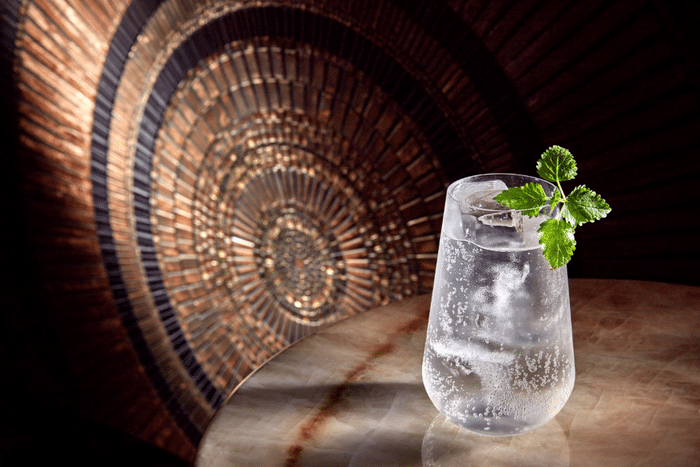 The night deepens, and so do our drinks. Expedition (S$24) distills the famed coffee plantations of Chiang Mai into an unexpectedly herbaceous serve. Opening with bold aromas of dried fruits, this vermouth-based potion is shadowed with astringent, woody notes from green coffee, nicely lightened with a spritz of grapefruit. Its higher-ABV cousin is the Nomadic Forager (S$24), the memorable lovechild of a Negroni and espresso martini. It strikes a heady medley of bitter, floral notes thanks to vermouth amaro and Mr Black Cold Brew Coffee Liqueur. The sweet tooth in us appreciates the thoughtful garnish of rich, apricot-studded white chocolate.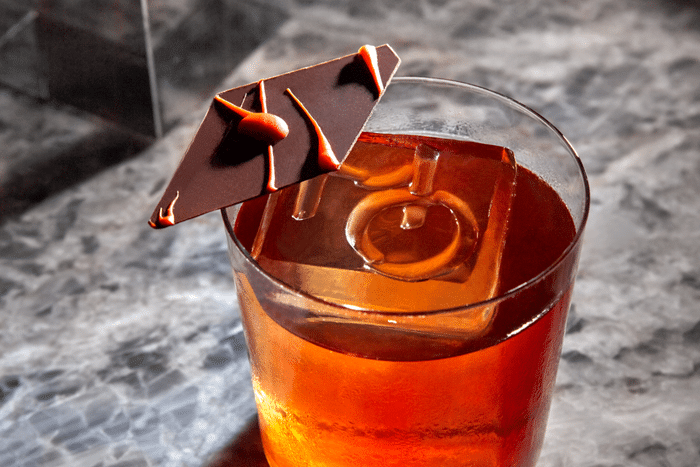 We tuck in for the night with a Bitter Sweet (S$22) nightcap, a nostalgic tribute to Filipino labourers who began migrating to the Middle East in the 1980s. On the rare occasions they could return home, they brought back prized gifts of gold, chocolate, and whisky for their families – the very ingredients used to craft MO BAR's cocktail. Though built on a bittersweet tale, this gold-flecked concoction is all sweet and comforting as spiked chocolate milk. After our little odyssey through Asia, it has the taste of homecoming.

MO BAR is located at Mandarin Oriental Singapore, 5 Raffles Avenue, Marina Square, Singapore 039797, p. +65 6885 3500. Open Sun-Thurs 11am–1am, Fri-Sat 11am–2am.